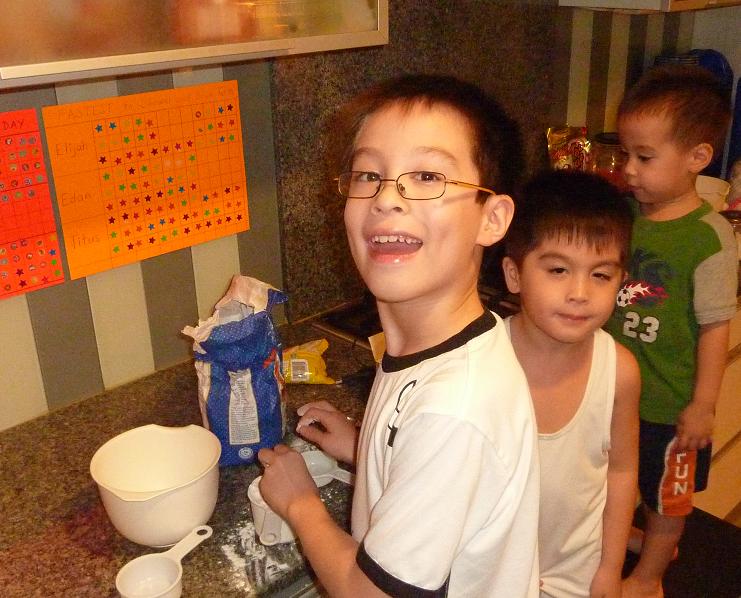 Baking cookies is a fun way to teach several important skills which I have listed here:
Character – Everyone wants to have a role so they learn how to cooperate, be patient, and take turns (social development). They also learn how to be careful (don't touch the hot tray or oven), put things back, and clean up.
Fine motor – They learn how to scoop and pour.
Gross motor – My sons get their arms worked out when they mix the dough. I don't use the mixer for Chocolate Chip Cookies (but it does taste better when you mix everything with a mixer)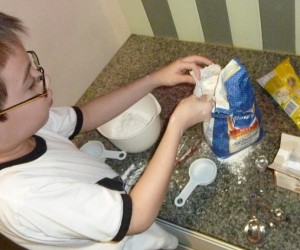 Math – Measuring using a cup or spoons (fractions). They also learn estimation because we don't put in all the sugar or salt that the recipe calls for. You can also ask questions like, how many cookies do you think we will be able to make with this dough?
Language – We communicate, dialogue together and they need to listen to instructions. For my eldest, Elijah, he can read the instructions himself.
Science – Although we didn't cover this the last time we baked, there is something to be learned about chemistry and how matter changes from solid to liquid to solid.
Home Economics – They are learning how to use and handle tools in the kitchen.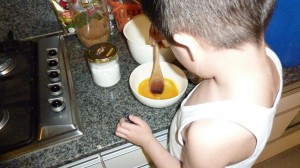 And of course, the best part is there is a reward for all that work and effort – yummy dough (but don't eat too much because of the raw eggs) and yummy cookies! I don't have a picture to show because we ate them all!