I've always resisted buying a Bible curriculum for my kids because I want them to develop the habit of reading the Bible as a way of life. Elijah started reading his Children's Bible when he was five and then graduated to an NIV Adventure Bible for Christmas 2010. He read his 300+ page Children's Bible many times over and then asked for "a real Bible." I was thrilled!
This morning he said to me, I love writing in my journal about what I'm learning in my Bible. I have been asking him to write down one verse every day from what he reads. If he is not sure what verse to pick out, we will think of a summary of what he read. Because he is just 7 (going 8 by Saturday), I don't expect him to make long journal entries. It has always been a challenge to get him to write, but he is now enjoying his journal writing.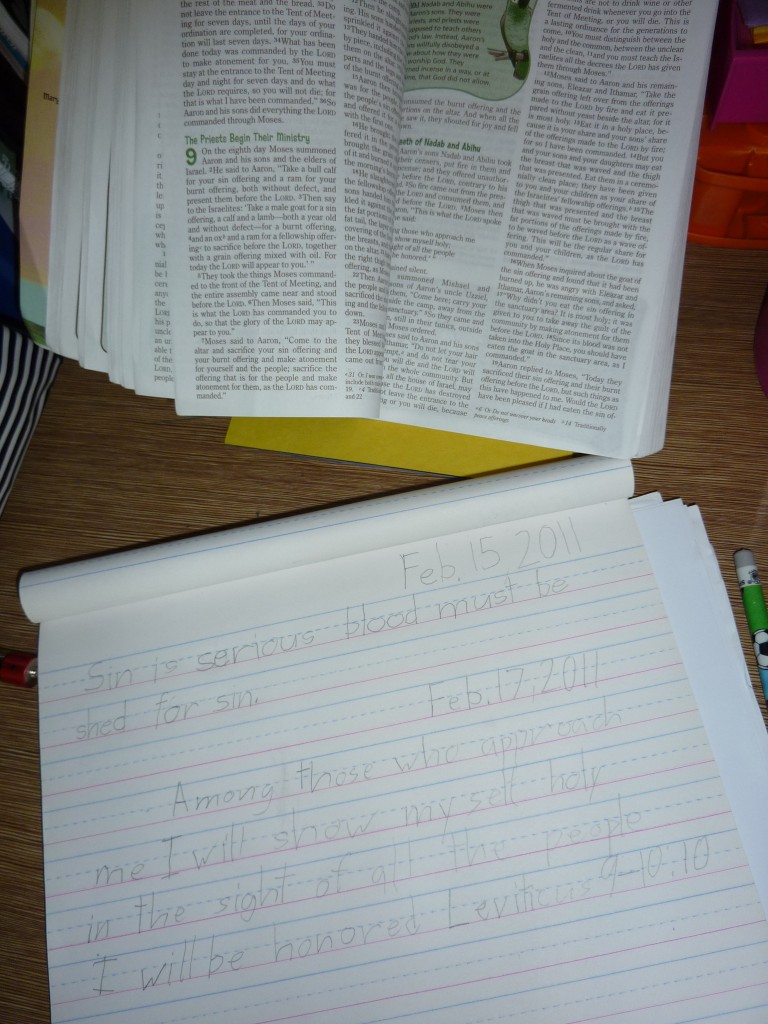 My intention is to develop in him the desire to write down what God is teaching him everyday. Eventually, I want him to have the habit of journaling his own thoughts and meditations on God's word. For now, I don't make it complicated. I just ask him to write down one verse and he uses lined paper which makes it easier for him to write. Keeping a journal also helps him to know what the date is, too.
What blesses my heart the most is that he is more faithful at reading his Bible than I am! He will get it almost every morning after he wakes up, sit in the study room and read three or four pages. He started in Genesis in January and now he is in Leviticus! I don't even know if he understands everything but when he has questions he asks me, and I do believe that God's word is powerful and rooting itself into his heart.
With Edan and Titus, we just do Bible stories for now. But eventually, I pray they develop the same passion for God's word, too.