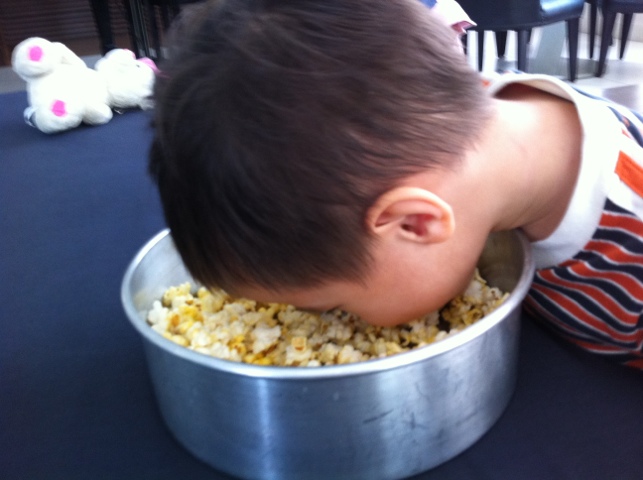 Death by popcorn? Not quite. Just my Titus showing me his new way of eating popcorn. Yes, that's my three year old…my creative, persistent, active child who is a constant source of entertainment. And with that kind of a personality comes the emotional, volatile, and moody side which needs guidance and leading.
For example, when he brought his ice pop into the master's bedroom and onto our bed, I said to him, "Hon, no eating on the bed." He replied, "But look, mom, it's in my mouth." He showed me how there was no possible way to make a mess with his method of sucking on the ice pop. "I still want you to get down and not eat on the bed." Titus inched over to the edge of the bed and said with a smirk, "I'm not eating." And it was true. He was "drinking" his ice pop. He wasn't eating anything. (Smarty pants!) "Okay, but you still have to do that off of the bed" was my response. He did obey but this was an example of how he tends to insist on his will over mine (We are working on this).
God gave me my Titus to teach me dependence and humility. I have had to lift up my son in surrender every time I reach the maximum human capacity meter for parenting a strong-willed child. And I have been brought to my knees in humility, recognizing how inadequate, unworthy, and clueless I am to raise a son who needs extra special attention.
Having a son like Titus has taught Edric and I how to be more sensitive to the needs of our children, and how to be more patient as we train them. Lately, we have stepped up our "game" by being more intentional with Titus. And it has been working.
Two days ago, Edric took him to buy Pixies Bangus for a dinner we had to go to. They bonded together as they waited for the fish to be cooked. Edric bought him a "special" juice drink. And when he got back to the rest of us, he said, "Dad bought me special juice and I really like it." He went on to narrate about how he squeezed the glass of juice and it spilled on him, but that it was okay because he got to change his shorts. In the meantime, my two other sons asked if they could drink Titus' "special juice" and he let them. I could tell he was very happy because he animatedly chatted about his glass of juice some more.
Another positive Titus moment was when Edric was teaching him how to pray. Titus used to have a difficult time praying. When it would be his turn to say grace, he would either mumble or not say anything. Edric decided to try a different tactic. During one of our family devotions, he picked Titus up and put him on his lap. While hugging him and holding him close he said, "Go ahead Titus, you pray." Titus was quiet for a few seconds and then he spoke the sweetest prayer, "Dear Lord, please help us to memorize our verse. And please help Ging to come back." (Ging is our househelp who went to the province for a long vacation.) I felt like crying when I listened to him pray. These were just simple words but they were heartfelt and sincere. Finally! A prayer that was all his! Edric and I talked afterwards about how holding him must have made him feel secure and confident.
Why were these seemingly small moments significant to me? Because Titus is sandwiched between two older brothers who are very close to one another and a baby sister who gets a lot of attention. So Edric and I make extra effort to make him feel equally loved and important.
My dear Titus is a constant reminder that God gives parents the grace to raise all kinds of children. Each one can be unlocked, discovered, trained and gently ushered in the direction God wants them to go.
When Titus showed me how to eat popcorn like a dog, it was God's way of reminding me that I need to "chillax." Have fun parenting Titus! Don't force him into a mold! He has a God-ordained purpose. Enjoy and cherish him and his unique perspective on life, but keep training him in the way he should go. God will supply the grace and capacity!