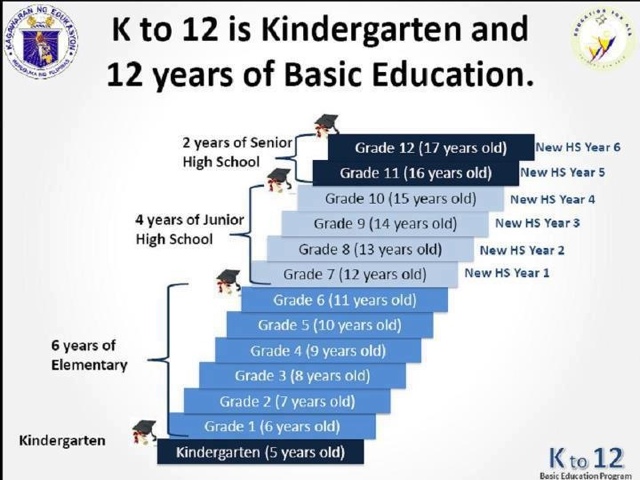 This is what basic education is going to look like for Filipinos. Instead of calling Grades 6,7,8 Junior High, the Philippines will have Grades 7,8,9,10 as Junior High and Grades 11 and 12 as Senior High School.
Kindergarten is a mandatory requirement for children entering Grade 1 this year.
For homeschoolers enrolled with an umbrella program or accredited organization, the transition to the new system will be managed by the program or organization they are connected with, Independent homeschoolers who are not enrolled with an accredited organization, will still have to take validation or placement tests with the Department of Education if they plan to transfer their students to an accredited school or homeschool.
As an independent homeschooler, how do I know if my child needs the PVT or PEPT?
If you keep records of your child's schooling and follow the prescribed grade levels of DepEd, you can ask for a PVT. PVTs are give to students who are NOT connected with DepEd accredited institutions. "PVTs are intended to validate learnings acquired by those who enrolled in elementary/secondary schools without permit; those who dropped out of school by force of circumstances before the school year ends; and those who studied in non-graded school." (Source:NETRC)
For example, if your child is entering Grade 5 and has "home made" report cards and portfolios to prove that he finished his previous levels, you can request for a PVT to validate his previous levels. This PVT will then serve as an official report card to enter accredited schools or homeschools.
How do you get a PVT?
PROCEDURES AND REQUIREMENTS (c/o Edric Mendoza)
1. Prepare documents for submission to DepEd-NCR (Behind SM North Edsa)
• A letter of request for a validation test or placement test signed by requesting parent.
• A photocopy of birth certificate (better if NSO certified copy, bring along original just in case)
• A photocopy of previous report cards (bring along original just in case)
• Bring several back-up photocopies just in case
• Addressed to Regional Director
Contact info:
Mr. Rizalino Jose T. Rosales
Officer-in-Charge
Office of the Director, NCR
928-0104; 921-4274
453-8374 fax
2. Submit documents to Record Division for stamping and sign acknowledgement book
• Docs in item 1
• DepEd-NCR, Window personnel, Record Division
3. Submit stamped documents to corresponding division: elementary or high school, then wait for endorsement letter from Director Domalanta (for testing validation)
• Docs in item 2
• DepEd-NCR, official rep, Elementary or High School Division office
4. Prepare documents for submission to DepEd's NETRC (located in former ULTRA)
• A certification letter addressed to Mrs. Domfelia Pagatpatan, Senior Education Program Specialist, NETRC, prepared by parent-teacher that contains:
• materials used in each grade level
• number of years child was homeschooled and the respective grade levels
• Evidences of homeschool activity of previous year/s, well-filed and aesthetically acceptable (the more the better):
• Workbooks used
• Quizzes, long tests, quarterly tests done
• Report cards
• Art works
• Other material to show that substantial work was done
5. Submit documents to Mrs. Domfelia Pagatpatan and await comments/feedback for final testing date (note: date may not be given on same day as submission; must be parent-teacher who submits)
• Docs in item 3 and 4
DepEd NETRC – 2/F Mabini Bldg., Meralco Ave., Corner St. Paul Road, Pasig City
Test Administration Division
Presently, this position is vacant
Chief, Test Administration Division
tad-netrc@deped.gov.ph
631-2571
631-2571
Test Development Division
Aurora F. Fernandez
Chief, Test Development Division
tdd-netrc@deped.gov.ph
6312589
Notes:
Subjects of validation tests are Science, English, Math, Filipino, and Araling Panlipunan (for Grade 1 & 2, no Science)
Filipino and Araling Panlipunan are given in Filipino (Tagalog), all else are in English
To pass validation level, child cannot fail 2 or more subjects; passing mark is 75%
Cost of PVT is P100 per level per child
Results of PVT are given about 1 month after, depending on discretion of DepEd NETRC (so pls ask to clarify)
Special thanks to Cathy Borja for organizing this list on her blog. 🙂
Most independent homeschoolers will take the PVT, but in some cases where parents have not tracked their child's levels, have no evidence of work done, and have no idea what grade level he should be in, they may opt for the PEPT. The PEPT places students in the formal school system, accrediting and validating knowledge and skills acquired over the years. The requirements for the PEPT are: birth certificate, two 1 x 1 photos, and transcript of record of the LAST grade/year level passed.