We just got back from Bataan. What a weekend! It was a joy to serve CCF Bataan. Edric gave today's Sunday message, and yesterday, we did a parenting talk for young families. Well, it was supposed to be for young families, but there were some people there who knew a lot more than we did about raising kids. Nevertheless, we shared principles from God's word and borrowed mom and dad's talk on Motivating Your Children (tried and tested content they've shared with others for many many years). This was an incredible help because we didn't have to re-invent anything.
For the first time, we also asked our eldest son, Elijah, to give a testimony about the importance of spending time together and open communication. We told him that he would be doing this to be a blessing to others and bring glory to God. So the night before, he dictated to me what he was going to share and I helped him organize his thoughts. Here's what he came up with…
I like being homeschooled because I am with my parents a lot. And I really feel that I get to enjoy my childhood. We spend a lot of time together as a family. We play board games, we eat out together, we take walks, we laugh a lot, we talk a lot, and we have family devotions.
My mom also teaches me and my brothers in the morning. And there are days when my dad has "boys time" with me and my brothers. This is a very special time when my dad, my brothers, and I will go out to a place together and we have fun. We talk about how to be a gentleman. We talk about God and character.
And when I need to ask my dad questions about life, he spends time with me one-on-one. We sometimes go biking. This is an activity we both enjoy a lot because my dad is into it and I am into it also.
I also have talks with my mom. Sometimes we go out together, just the two of us, like a date. And we talk about life and spiritual things. For example, one time my mom talked to me about my attitude. I knew I was wrong and I knew I had to improve. But she wasn't angry with me when she corrected me. We sat down in a private room and she talked to me. She taught me about how it is dangerous to let anger, pride, bad attitude and other sin stay in our hearts. She drew a picture for me of how sin gives the evil one a passage into our hearts to influence us. So she taught me how to confess my sins before the Lord and she reminded me about the verse in 1 John 1:9, that if I confess my sins, God will always forgive me. When she was telling me this, I started to get teary-eyed because I knew that I was wrong. I told her I struggled with pride, which was my major issue at that time. My mom also got teary-eyed and we prayed together and I told her after that it was one of our best conversations.
I really feel like I can open up to my parents about anything, no matter what it is. Even if it is embarrassing. We can talk about anything. I know that they will love me no matter what I say or do, and they also try to help me and train me in ways to improve. They also ask me how they can improve. And I tell them. For example, I told my dad before that he needs to improve with spending time with us and he changed a lot. With my mom, I told her that we should homeschool more regularly and she improved in that area.
One thing I am grateful for is that my parents keep teaching me about Jesus. There was a time that I really struggled about whether Jesus was real, if the bible was true, or if I really would go to heaven someday. I had already accepted Jesus into my heart when I was little but I had doubts when I got older. It took a while for me to fully understand what it means to believe in God. My dad told me to take the little faith that I had and let it grow. My mom told me about the verse in Romans 10:9, that if you confess with your mouth Jesus as Lord, and believe in your heart that God raised Him from the dead, you will be saved. My mom also told me that if I keep seeking God I would find him. She made me read the passage in Jeremiah 29:12 which says, You will seek me and find me when you seek me with all your heart. That was also the verse I had read in my quiet time. She also gave me kids books to read on apologetics — about creation, the bible, heaven.
To learn about Jesus I just kept reading my Bible. I started reading my bible regularly when I was almost 7. Then I asked for an adult bible when I was almost 8, and I got it for Christmas. So I read it almost everyday and my brother wanted one like mine. He also got one that had a hologram on the front page and it was a newer translation of my NIV. Anyway it took me a year and a half to finish my Bible. I might have skipped some parts accidentally, but I tried my best to finish it.
When I finished it, we celebrated by going to a Japanese restaurant because I love Japanese food. That was an important event for me. My dad told me that every time somebody finished their bible there would be a celebration.
My mom and dad asked me if I wanted to share a testimony to be a blessing to others. At first, I didn't really want to but I wanted to bless others and give glory to God so I wrote this with my mom. And I want to end by saying that the most important thing that I have learned so far is to love God with all my heart, soul, mind and strength. And that I need to grow in wisdom, stature and favor with God and men. My dad taught me and my brothers that verse in Luke 2:52. 
Just to let you know this is my first time to give my testimony on stage. Thank you so much for listening.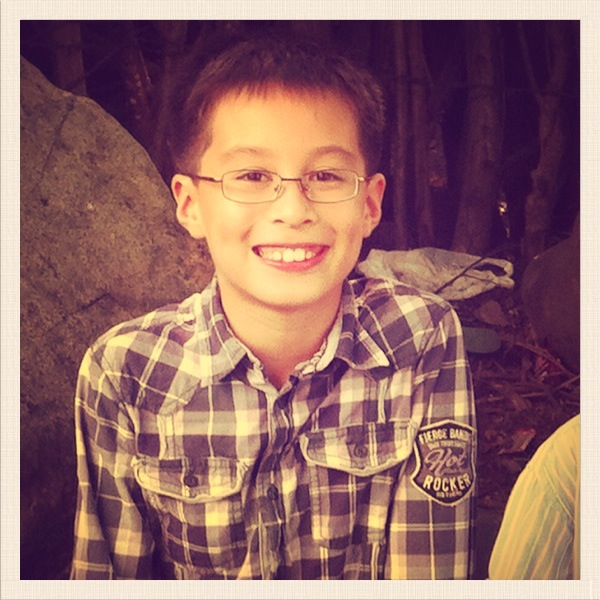 The experience was momentous for him. It was his first time to ever do anything like this. We prayed together before he shared because he was feeling nervous. But he delivered his testimony well. People came up to him afterwards to tell him that they were blessed.
When I asked him what the highlight of our Bataan trip was, he said, "I'm so glad I was able to be a blessing to others." He had this euphoric feeling after serving the Lord alongside us. And it made Edric and I realize once again, how important it is to involve children in ministry work, even at a young age. It makes them catch the vision of leading others to Jesus.
I remember how my own parents involved my siblings and I in ministry when we were little. As homeschooled kids, we would travel everywhere with them and go to their bible studies. We would be included in many of their counseling sessions, where we were allowed to give our input and perspective on issues. My parents did not make us feel like ministry took them away from us. It was a way of life and we were all a part of it. So we never grew up averse to being pastor's kids. We thought that we were incredibly blessed to be able to interact with so many people from all walks of life, to learn from their victories and triumphs, and to watch our parents share the gospel, counsel, or teach the bible to others. Somehow, being so close to the "action" made us desire to do the same. We saw how Jesus transformed people's lives and what a difference he made in people who were hurting and lost. So we hoped to bring Jesus to others as we grew up.
Edric and I are praying that our children will develop a heart for serving God, too. And the great thing about homeschooling is that they can start early! They are not so tirelessly caught up in the regimen of school, homework, and more school. We are enjoying the flexibility that homeschooling affords us to prioritize training and exposing our children to experiences that we believe are really worth their time. For our family, this means getting our kids to be part of God's work while they are young. As Paul said to his disciple, Timothy…Don't let anyone look down on you because you are young, but set an example for the believers in speech, in conduct, in love, in faith and in purity. (1 Timothy 4:12 NIV) 
Let's recruit our children into God's service while they are young! There is no age requirement to serve God!