Hello, Asia! Edric and I are back in Manila. Home sweet home…
As much as I enjoyed gluttonously soaking in the sights and experiences of our Europe trip, I am happy to be back. I missed the kids terribly. Getting away was a whole lot of fun, but Manila is still my residence of choice.
Some things I will NOT MISS about Europe. Like bread. I could not take bread for much longer. If I had to eat another dry loaf of bread or croissant, I would have preferred to go on a hunger strike. I dreamed of my rice meals, stinky fried fish, Paksiew, Adobo, and all those wonderfully saucy dishes. The day we left Paris, I ordered chicken at a restaurant and they served it with French fries. Sigh. I was tired of potatoes, too.
The other thing I didn't appreciate about Europe was their potable water situation and toilets. We had to pay 2 Euros or more for a small bottle of water. And I had to hunt for a W.C. and get charged 1.50 Euros to pee. Why?! Waaahhh. (I hardly drank water to avoid having to use the toilet.)
And then the cold…The day we arrived in Paris was crazy cold. It had been raining. The sky was gray. There was no sun. We were on the Champs Elysee and my jaw was cramping. So, we looked for the nearest store. "Spare no expense," said my Knightly husband. "Get whatever you need to keep warm."
Really, sweetheart? I am about to walk into H&M. Do you know what this means? You won't be able to find me for the next two hours. Okay, I was reasonable. I didn't want to be carrying around shopping bags. So, I made it out of there with a hat, scarf, leg warmers, a big sweater, and just a few other things. Then I snuck into the Mc Donald's toilet and put it all on, on top of my existing three layers of insulation. Ten pounds of clothing later, I was back on the Champs Elysee, braving the chilly wind and walking towards the Arch de Triomphe. I was a cozy puffalump. (As a side note…European women are skinny ladies. Under layers of clothing, they still look statuesque and trim.)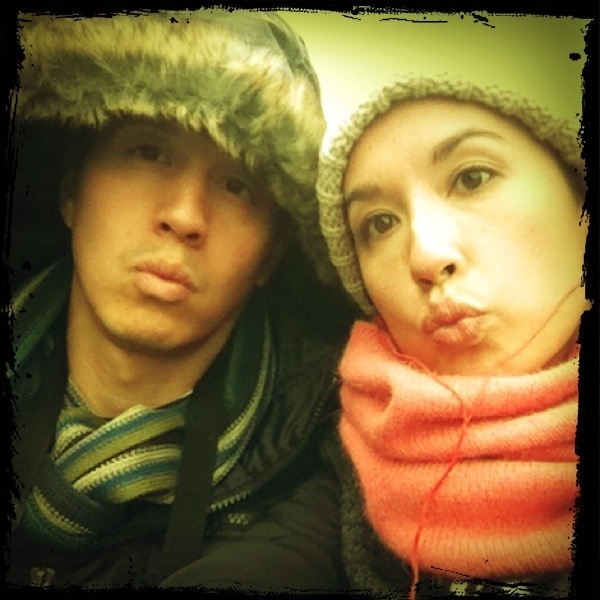 There are things that I WILL MISS. One of the highlights of the trip for me was seeing each city on foot. Edric and I took long walks everywhere we could. Sometimes we had no idea where we were going, but I never felt quite lost as long as I was beside Edric. He was an incredible navigator. In fact, I was very impressed with his ability to get us from point A to point B, to C, to D and so on. Very attractive…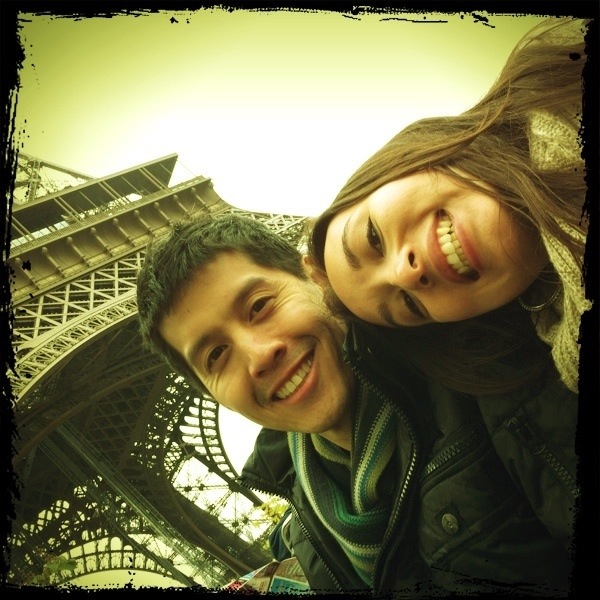 This was my third time to Europe, but my first time to experience it with Edric. Seeing it again with Edric, the love of my life, was like a sweet dream. Every bridge, tree-lined street, the avenues, squares and gardens, the churches, monuments, palaces, facades, the splendid colors of fall, and even the lampposts were an invitation to beauty and joy, to moments of ponder and quiet reflection.
I learned (or re-learned) three valuable lessons about marriage during this trip. The first was, enjoy the journey, the highs and lows. Sometimes, you won't know what you are doing or where you are going as a couple, but that's okay. Stay together, stay one. Don't blame each other. Don't separate. It is better to be lost together than to get lost alone. Just keep referring to your map (the Bible, for us) to get back on track. I stuck to Edric like glue. The last thing I wanted was to be separated from my navigator extraordinaire. If he made a wrong turn, I made a wrong turn with him and we would laugh our way back to where we came from or we would pray to find the landmark we needed to get to.
The second lesson…trust your husband's leadership. I trusted Edric's leadership even if he wasn't correct all the time.There were instances when I felt like he had the map upside down or his internal compass was skewed. But challenging him didn't help. So I had to keep silent and let him figure it out. It worked better that way. Instead, I would try to say, "You are so good at this. I trust you." And I really meant it. Edric appreciated my confidence in his leadership. At the end of the day, he got us to where we had to go. God guided him, too.
God has hardwired men to take charge. Sure, women can be great bosses and lead organizations with exceptional ability, but in a marriage, God designed a man to be the head. We can fight that reality as women or encourage our husbands to be the leaders God has chosen them to be.
During this trip, God reminded me once again that my role is to respond positively to my husband's leadership, even when I may question his style or method of leading. For example, we had an issue with our Eurail pass that stressed Edric out a lot. He found out that we had to re-book one of our tickets and would have to pay a sum that was not part of his planned expenses. At first, he wasn't acting very cool under pressure. As a result, I started to correct his attitude. My timing was terrible, but I felt compelled to be a "helpmate" by letting him see the spiritual perspective. "We need to trust God, hon. He let this happen for a reason." This was my appeal. I also started to make lots of suggestions about what he could do. Wrong timing again. He was highly emotional and affected.
Instead of appreciating my input, he motioned for me to keep silent by putting his finger to his lips. What the?! I felt annoyed and dismissed. So I was tempted to keep at it. But God reminded me to be still, be quiet and gentle. I just prayed for him. About an hour later, he apologized to me and we prayed together. The Holy Spirit worked in his heart. Eventually, there was a fix to the problem.
The third lesson: Ssshh!. Sometimes I talk too much as a woman. I start to panic when it seems like Edric "doesn't have it together" and I butt in to try and fix him or the issue. But he usually just needs space to think through his actions, decisions, or brainstorm a solution to a problem. More importantly, he needs to be able to hear the prodding of the Holy Spirit. (Oh, and Edric is more inclined to ask me for my perspective or opinion when I am not such a nag!) Worst case, a husband learns from his mistakes. When this has happened with Edric, he humbly asks for forgiveness from me, the kids, and the Lord. But he needs that leeway to make mistakes and become a better leader through them. When he feels the burden of his responsibility to lead and my dependence and confidence in him to do so, he steps up to the position he was made to occupy with great resolve and determination to make wise and prayerful decisions for the good of the family. I praise God that he has given me a wonderful leader in Edric. I feel incredibly blessed.
However, the reality is, it takes faith to entrust ourselves to the leadership of our husbands. Every once in a while, they will make big mistakes that make us feel insecure, worried, or tempted to take the reigns. But, ultimately, we have to remember that they are accountable to God as the head of the marriage and family, and we are accountable to God for the way we respond to their headship. Because God designed husbands to lead, he is also committed to equipping them and directing them. I have seen this happen so often in my marriage and in the marriage of others. Our role, however, is critical. We need to build up our husbands, pray for them, and respond positively to their leadership.
These marriage lessons became very apparent to me during this trip. Removed from home and in a completely new environment, the struggles did not change. The same things I struggle with as a wife in Manila — submission and respect — were transported to Europe. God used these past two weeks to deeply minister to my heart and expose areas I need to keep improving on.
It's really not the continent you are on that matters, but the presence of God wherever you are. As amazing as Europe was to me, it was God's presence at work in my relationship with Edric that made the time most beautiful.
Psalm 32:8 I will instruct you and teach you in the way which you should go; I will counsel you with My eye upon you.