When you serve me, it makes me fall in love with you again a million times! This was Edric's dramatic statement as he kissed me a few mornings ago before leaving for work.
His language of love is service. (Dr. Gary Chapman talks about 5 Love Languages — Time, Touch, Affirmation, Gifts and Service.) I had hoped that service would NOT have been IT for him. But God is a matchmaker extraordinaire. He gave me a husband who deeply desires to be served because he knows that I have to improve in this area.
In contrast, I am more about self-service. I grew up in a home where my mom taught us to serve ourselves. If we needed a glass of water, we knew where the refrigerator was. It was no mystery. If we wanted a snack, we knew where to find the popcorn or peanuts. (Yes, that's about all my mom gave us to snack on. My parents didn't like to feed us a lot of junk food.) My mom did not want us to grow up dependent on househelp. So she taught my siblings and I to do the laundry, iron clothes, cook, bake, wash the dishes, make our beds, straighten our rooms, pick up after ourselves, clean the showers and toilets, etc.
But here is a big HOWEVER. I knew how to do all the domestic stuff and yet, this didn't translate to joyful service on my part when I got married. I didn't mind cooking, laundry, cleaning, but I would grumble when Edric made requests that seemed "above and beyond the scope of my responsibilities." Late night massages, a glass of water when I was already tucked in bed, second dinners…Most of the time, I would do what he asked but I would be huffing and puffing inside.
Part of the issue for me was my interpretation of his requests. I felt that there were instances when he was insensitive. For example, I would be at the buffet table holding several plates to get food for the kids. After getting back to the table, Edric, would ask me something like, "Hon, can you get me salad?" And I would feel very hurt. Seriously?! Did you not see me octopusing four plates?! It is not like you can't do it for yourself…
I know Edric. He doesn't intentionally want to make my life miserable. He is an incredibly loving person. But he DOES want to be served by me and that's not going to change. There would be instances when I would catch him standing in front of the refrigerator or peering into the cabinet where the snacks are kept and I would be shocked to see him serving himself. (Because he rarely visits the kitchen, it seems odd when he is moving about in it.) I asked him one time, "How do you know where the snacks are?" His reply was, "I know where everything is, I just choose to be helpless when you are around." We both laughed because this is so true! He calls it "giving me the privilege of serving him." Oh really?! Well, over the years, I have learned to accept that this is the way he likes to be loved by me. End of discussion.
God has a way of giving you the very spouse you need to develop your character. When I have thoughts like, Why does Edric have to be like that or like this?! God reminds me, "his personality is exactly what you need to grow in character so be thankful because I hand picked him for you. He is my instrument to transform you into Christ-likeness. You need him! So accept his desire for service with joy! Service is something I want you to learn."
When I read my bible the morning I began writing this entry, I came across the story of Jesus washing the disciples' feet. I have read this passage many times but in light of my meditations on serving my husband, I began to weep.
Now before the Feast of the Passover, Jesus knowing that His hour had come that He would depart out of this world to the Father, having loved His own who were in the world, He loved them to the end… got up from supper, and laid aside His garments; and taking a towel, He girded Himself. Then He poured water into the basin, and began to wash the disciples' feet and to wipe them with the towel with which He was girded. (John 13:1, 4, 5 NASB)
I fall so short of God's standard of selfless service! Jesus was about to suffer a most painful death knowing "His Hour" had come. He was well aware of how his disciples would abandon him. And yet he wanted to give of himself to those he loved…to stoop down and clean their feet, an act that was for the lowliest of servants, a job that no one wanted to do.
Wow, I am not like this! But this is the kind of heart that God wants me to develop, not merely towards Edric but towards everyone.
"…You know that the rulers of the Gentiles lord it over them, and their great men exercise authority over them. It is not this way among you, but whoever wishes to become great among you shall be your servant, and whoever wishes to be first among you shall be your slave; just as the Son of Man did not come to be served, but to serve, and to give His life a ransom for many." (Matthew 20:25-28 NASB)
I am not going to pretend to be a perfect helpmate to Edric. Even though I try to serve him with gladness, I mess up every now and then when I let my selfishness get the better of me. But through the years, God has been teaching me the secret to serving the way he wants me to. It is about humility, dying to my self-centeredness, not keeping "tabs", rejecting the idea that it must always be fair. Above all, it is focusing on Jesus' example. He put our interests and needs above his. He valued our lives before his own.
The Bible says, Do nothing from selfishness or empty conceit, but with humility of mind regard one another as more important than yourselves; do not merely look out for your own personal interests, but also for the interests of others. Have this attitude in yourselves which was also in Christ Jesus, who, although He existed in the form of God, did not regard equality with God a thing to be grasped, but emptied Himself, taking the form of a bond-servant, and being made in the likeness of men. Being found in appearance as a man, He humbled Himself by becoming obedient to the point of death, even death on a cross. (Philippians 2:3-9 NASB)
This is an impossible, divine standard that requires God's grace at work in me. If I do not walk with the Lord, I cannot love Edric so selflessly. Beyond the choice to humble myself, it is recognizing my inability to do this unless I come before the Lord and say, "Teach me to delight to serve Edric."
In the garden of Gethsemane, Jesus prayed, "Father, not my will but yours be done." Well, I need to have the same mindset. "Lord, help me not to think of what I want all the time but what you want me to do, what you want me to become."
Love so very often requires doing what is sacrificial. It is not convenient. It is not easy. It means giving of yourself even when you don't feel like it, when you feel like it is unfair, and when the person you are choosing to love behaves in undeserving ways. If you cannot accept these realities, don't get married! Don't have children. Don't have friends. Live on an island with coconuts for company.
There is no human relationship on this earth that will not require us, at some point, to make a sacrifice. But be encouraged by this: Whatever we give up for Christ, we gain immeasurably more in this life or the life to come. My dad used to say, "If you really think about it, there are no martyrs in God's kingdom." God says he is a rewarder of those who seek him. (Hebrews 11:6) The blessings may not always be immediate, but they are certain.
How does God reward me when I delight to serve Edric? A happy, well-served husband is an amazing person to live with! When Edric feels like he is prioritized and important, he bubbles over with happiness. There is renewed inspiration to be tender, sweet, and caring towards me.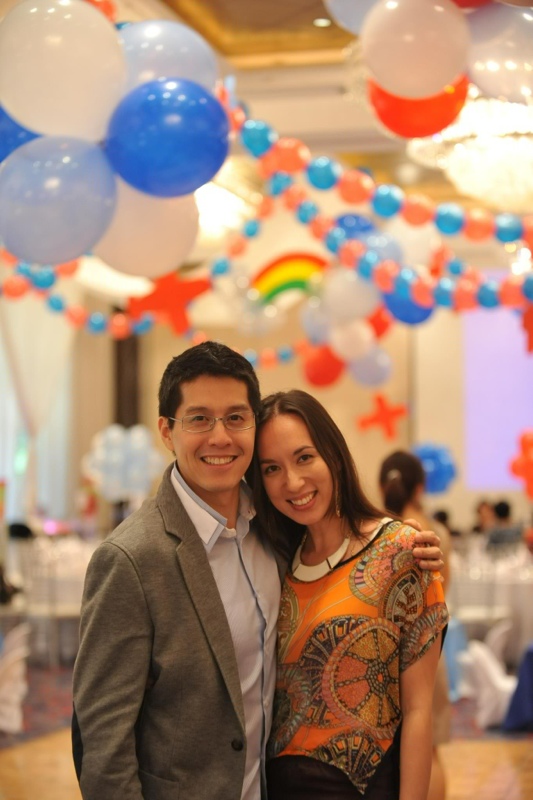 As wonderful as it is to hear Edric say, "I feel so in love with you," ultimately, I don't do things for him. I want God's favor! I want his presence in my life! So my hope is in God and in his goodness when I do things like wake up early to pack Edric his lunch, walk to the refrigerator half asleep to get him a glass of water, or massage his feet before going to bed (I outsource this to Massage r Us every now and then, he he). Getting the googley-eyed lovey dovey glances are a great bonus but even if I may not always get this kind of a response, I know this…"The LORD is my portion," says my soul, "Therefore I have hope in Him." The LORD is good to those who wait for Him, to the person who seeks Him. (Lamentations 3:24, 25 NASB)