It's inevitable that four kids will argue, dispute, compete, and be at odds on occasion. When I say on occasion, I mean at least once a day. That's a pretty good ratio considering the fact that I used to be referee several times a day and it drove me nuts. Edric and I had to give our kids large doses of character instruction to teach them how to get along and love one another. (We still have to.)
Recently, I overheard Elijah raise his voice when he was playing with Edan. "Edan, you are selfish!"
"Mommy!" Edan called out.
I asked them to come into my bedroom and sat them down on the bed.
I wanted to find out what started all the bickering so they gave me a background. My vocal Elijah was quick to give his perspective. "Edan had marbles that he was playing with but he left them. So I took them and used them but he got upset and said they were his." Edan, my short-answers-kind-of-guy, simply explained that he was still using the marbles.
The thing is we have made it clear that there is no "mine" when it comes to toys. You may be responsible for a certain toy that has been entrusted to you, but you are to share it willingly with your siblings.
It was perfect that the evening before, Edric had the kids memorize Ephesians 4:32: "Be kind and compassionate to one another, forgiving each other just as God in Christ Jesus has forgiven you."
So I asked them, "Were you being kind and compassionate towards one another?" They had guilty faces and admitted that they hadn't been either. "How can you apply what you learned last night during our family devotion?"
Both of them talked about how they needed to share and be more forgiving. And then I said, "You both need to ask for forgiveness from one another and hug for ten seconds." They did so and even started to laugh and wrestle.
That was the end of it. They went back to their game and I went back to my peace and quiet.
Getting our kids to memorize scripture has really helped them to put character into practice. The authority is the word of God. Edric and I don't have to force them to agree with our perspective or our ideas about values and principles. When we do, we know there is something amiss with our parenting. As much as possible, we want the Scriptures to speak to their hearts. And because we know they have a personal relationship with Jesus Christ, we let them be accountable to what his word says and what it requires of them.
My parents had the same type of approach with my siblings and I. When I was younger, I was curious about Marijuana because my friends were trying it. My parents didn't lecture me or get angry when they found out that I wanted to try it. They asked me questions, dialogued with me to understand the why behind my curiosity, and they reminded me about who I am in Christ. As a result, I came to the conclusion that it wouldn't be profitable for me to open that door and I didn't.
Looking back, I'm thankful that my parents weren't the ballistic type who panicked, reacted franticly, or lost their minds whenever my siblings and I would make mistakes, struggle with choices, or get plain lost along the way. In fact, I can't remember a single time when they gave me a lecture or shoved spirituality down my throat. They simply steered my siblings and I in the right direction by making us consider what God's word says, encouraging us to look past the present to the possible consequences or results of our decisions, and they would pray for us faithfully.
The secret was in the early years of our instruction – bringing us up to know God and love God even as children. One way of doing this was encouraging us to study the Bible. In doing so, this pointed the compass of our hearts God-ward. And when we got off course, we knew we had to return to the roadmap – God's word. The blessing was that we had parents who helped us out with directions. Their style would be pretty consistent. They would remind us that we were accountable for our own actions in accordance with God's word. This communicated to us that following God was a decision we each had to make. It wasn't something our parents could do for us.
This reality has often sobered me as a mom. I learned from the example of how my parents raised us that I can't make my kids love God or manipulate them to embrace Christianity. The only thing within my control is maximizing this season of parenting, when my kids are hungry to learn, eager to listen, uncorrupted by worldliness and destructive habits, and willing to unlearn wrong behaviors. In short, their hearts are still pliable.
But each day brings with it new challenges, seen and unforeseen, and I cannot imagine coursing through parenting without God's word. The Bible says, "For the word of God is living and active and sharper than any two-edged sword, and piercing as far as the division of soul and spirit, of both joints and marrow, and able to judge the thoughts and intentions of the heart." (Hebrews 4:12)
Edric and I teach our children to read their bibles and we model what it means to have a quiet time with the Lord because we know that the transforming work of the Spirit happens when they encounter truth and apply it. My prayer is that our children will acquire faith convictions when they are young and live by them when they are older. However, this is not going to happen unless they fall in love with God's word. Otherwise, we merely pass on traditions of men and not the substance upon which they can anchor their faith. Romans 10:17 says, "So faith comes from hearing, and hearing by the word of Christ."
Sometimes, I make the mistake of yacking and nagging so loudly and so often about how my kids ought to behave they can't hear God speaking to them through his word. However,  the recent incident between Elijah and Edan with the marbles taught me once again that a gentle reminder from God's word can turn bickering brothers into best buds quicker and more effectively than a 30-minute lecture on sharing can!
Found this old photo of my boys (pre-Tiana). Sigh. Why does this picture make me feel like crying?!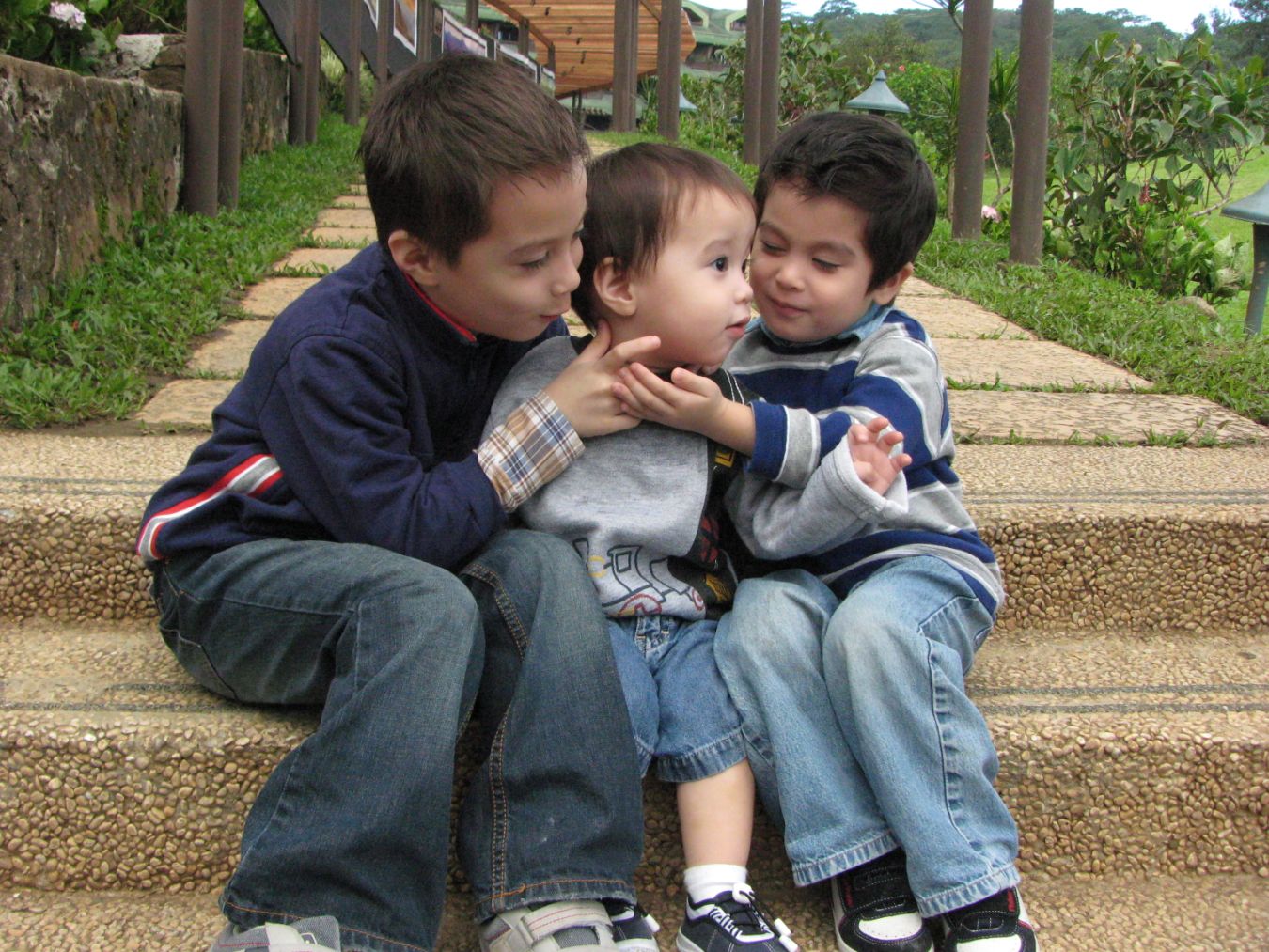 Oh, I know why…because now they look like this and they are growing up so fast…(I feel like crying again…)