Boys. I have three. They are all strong-willed in some form or another. And they often exert their manhood upon each other by insisting that their own rules are followed; that they are in charge; that they are right; that they ought to be listened to, etc. I feel like a judge in a courtroom at times, as they bring to me their concerns: "Titus is not listening!" "Edan is not letting me play!" "Elijah is interfering."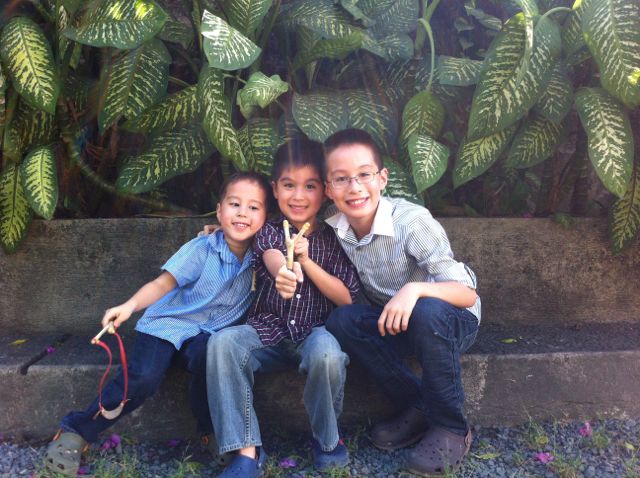 Whatever the appeal or the accusation, I've got to listen to this kind of talk almost every day. It does get tiring. But I also know that I can't abdicate the responsibility of training my kids. My mom used to tell me, "You haven't finished training until your kids have been trained." In other words, until my kids internalize the principles Edric and I are trying to teach them, we have to keep going.
Although I'm tempted to be dismissive when issues are repeatedly brought to me, I know that I-AM-IT when it comes to the daily training. Edric certainly helps out in a major way but I'm with the kids almost 24-7 so I see it all. And if I don't step in to work on the heart issues of my children, well…I'm setting them up for future failure in the character department. And if they don't grow in character, they won't be successful adults either.
So, I have no choice. I have to deal with all the testosterone that comes my way. Some things, the boys can discuss among themselves. But other things need intervention.
A few afternoons ago, Edan and Titus had a friend over and they were playing a number of different games. Titus didn't like losing so he was becoming a difficult participant. Edan was getting frustrated with his attitude. Naturally, they came to me for mediation or perhaps to pronounce judgment. This went on with several games.
It was timely that I gave a bible devotion that morning on Philippians 4:5…"Let your gentleness be known to all men, the Lord is near." I had brunch with some dear ladies and we discussed the meaning and applications of this verse. Well, I had to apply it right away! The kids were pushing my patience button. I wanted them to settle their own disputes. But I knew that there were some character issues that needed fixing.
One of the games the kids were playing was called Hide the Pillows. According to Edan, Titus kept on "cheating." Titus was spying on what Edan was doing by tiptoeing so he could see where Edan was hiding the pillows. Titus didn't care that it bothered and upset Edan. He told me, "But I want to tiptoe."
So, I took Titus aside, "Hon, you need to learn to follow instructions. If you were in charge of a game, would you want others to follow your rules?" He nodded his head. He certainly understood what I was trying to explain, but I knew that he wanted to insist on his way. In the meantime, I had Edan standing to his left making all kinds of accusations. "Edan, I'm talking to Titus. Please stop talking first."
After dialoguing with both of them for a while, I realized that this was a power struggle between two boys who wanted to be in charge. So I came up with a plan. "Titus, you can be in charge of the next game and Edan will follow your rules, but while you play Edan's game, you will follow Edan's rules."
They were both amenable to this and ran off excitedly. Titus wanted to play Hide and Seek after Hide the Pillows. However, when he proposed it to everyone, Edan came back to report. "Mom, no one wants to play Titus' game."
"Okay, then you have to help him out and make it sound exciting!"
Edan got it. He went to the room and announced. "Hide and Seek is so fun! Let's do that first and then we can read books!" I heard cheers from Tiana, Titus and their friend. Edan's enthusiasm got every one on board about Titus' game.
I thought this was a good example of how we need to teach our children the relational principle: "Do unto others as you would have them do unto you." My parents used to call this the "golden rule." Since the majority of my kids' conflicts stem from self-centered thinking, this biblical principle is like a hit-ten-birds-with-one-stone kind of principle. If the kids learn this, I mean really learn this, the rest of the relational attitudes and behaviors will follow – kindness, forgiveness, understanding, patience, grace, etc. (Of course, the most important thing is teaching them to love the Lord and one another. But the golden rule for relationships is an application of loving one another.)
Being around to witness how they grow relationally is one of the reasons why I enjoy being a stay-at-home mom. It does get wearying at times. But that's parenting! That's the cross I have to carry. That's discipleship. While it is hard work, it is incredibly rewarding. I derive great joy from hearing my kids say things to one another like, "Will you forgive me?" "I'm sorry for…" "I love you…"  "You are my best friend."
And by God's grace, the kids do get along more often than not. Our home is filled with the sound of their laughter and their happy voices. But, like I said, every day involves training of some sort and that is the inescapable but wonderful reality of being a mom, especially to young children. I do imagine that in the future I will look back on these days and miss it all. So I am trying to enjoy this stage of motherhood and manage my own female hormones while managing my sons' testosterone!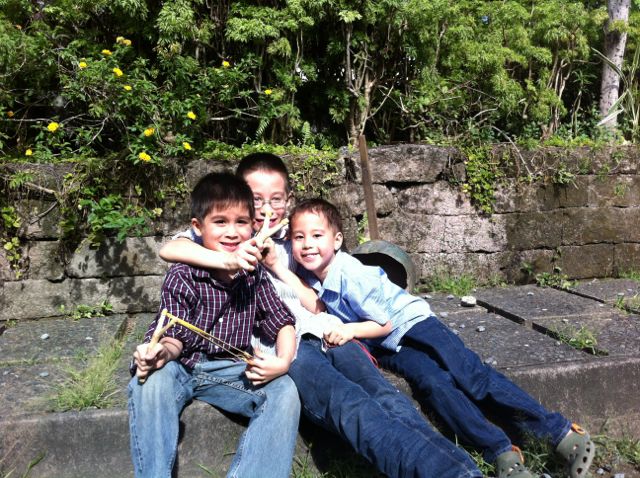 "There is an appointed time for everything. And there is a time for every event under heaven." Ecclesiastes 3:1