There are days when my kids have a rough time dealing with homeschooling and all they need is a big, long hug to make it through. Yesterday, I was homeschooling Elijah at Edric's office. I took the four kids with me, armed with art supplies and a couple of their books so they could be productive while waiting for me finish some last minute details for an event we had today.
It was my brilliant idea to have no help with me but I thought, it will be a good chance for the kids to step up and take care of one another. They were great. I was at the office from 8:30 AM to 7 PM and they made it through. In the morning, I sat them around a small table and assigned them their tasks for the day. There was a little bit of complaining, but for the most part, they did as they were told. Titus, who needs more one-on-one instruction, only got through 1 page of math work. But I thought, aw heck, it's okay, we'll make it up another day. I didn't have time to sit down beside him. Elijah looked at his Language Arts material and started to get upset. "I can't do this, mom! I can't do this right."
I came over to his side and said, "I know what you need. All you need is a big hug. Come here. Come to me." Since Elijah is an affectionate child, he will never turn down the opportunity for a hug from mommy or daddy. He stood up, collapsed into my arms and I held him really tightly. "I love you, hon." And I hugged him in the most reassuring way I could and he began to smile. "Do you feel better?" I asked him. "I do, mom. Thanks." He sat back down in front of the same book and completed his work.
Titus (who is also very affectionate), called out to me, "What about me, mom? Can you hug me, too?" I also took him in my arms and gave him a very big hug.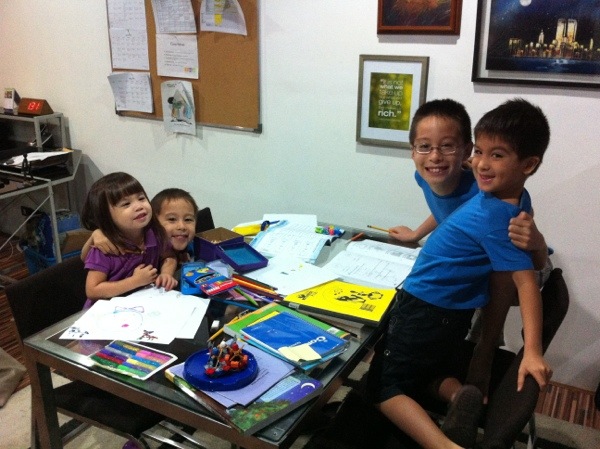 Touch and affection have proven to be helpful remedies to my children's frustrations, especially when they are studying. During many occasions I have used a back rub, massage, hug or kiss on the cheek to calm my kids down so they feel relaxed when they are learning. I've had instances when Edan has cried out, "Mom, I need help!" And I will come over to where he is sitting and he will say, "Can you massage my back?" So I will rub his back for a while and then, when I forget to keep going, he will point to his back again and say, "Mom…massage…"
Sometimes, I don't have the spiritual presence of mind to be so tender towards my kids, especially when I'm focused on accomplishing a goal. I can be a verbal "slugger" used in the sense of "someone who delivers hard swinging punches." Like, mouthing out bible verses, lecturing about attitude, yakking about what they ought to do and how they ought to behave. But after attending a talk on the power of touch, I thought that maybe I could use it with my kids during homeschooling. And it has worked wonders to motivate them when they are struggling through a lesson. It also helps to keep me composed so I can respond in a gentle, spirit-filled way. Hugging makes me relax, too! How can I be annoyed while I am embracing my kids?! When I hug them I realize how much I do love them, how much I want to be a mom that is an encourager. So it is mutually beneficial!
My children can be "weak" emotionally speaking because they are still in the process of maturing so I like how 1 Thessalonians 4:14-15 reminds me to," admonish the unruly, encourage the fainthearted, help the weak, be patient with everyone. See that no one repays another with evil for evil, but always seek after that which is good for one another and for all people."
Too often we underestimate the power of a touch, a smile, a kind word, a listening ear, an honest compliment, or the smallest act of caring, all of which have the potential to turn a life around. Leo Buscaglia