One of the opportunities that the homeschooling lifestyle has opened up for our family is involving our children in ministry with us. Edric and I encourage our children to participate in areas where they can so they develop a heart to be used by God and bless others. We want them to catch a vision for how God can use them early on. So we assimilate them into our ministry. Elijah, our eldest, has already shared with us a few times during speaking engagements.
When Edan, our second son, began to express his interest in doing the same, we decided to include him in the last retreat we spoke at. We were going to talk about marital roles to prepare the singles that had invited us to speak. They wanted us to share about relationships and Edric and I knew that at the end of the day, it boils down to what you need to work on in your self, as a man or woman…being the right person before looking for the right person.
At first Edric and I were like, "Marital roles? How is Edan going to talk about anything related to that as a 7 year old boy?" And God gave us the idea of asking him to share about what it means to be a gentleman, from his perspective. There was a portion in Edric's talk where he was going to emphasize how a man needs to nurture, care for, and love his wife. And the plan was to say, you are never too young to start cultivating the traits of a gentleman. At this juncture, Edan would give a quick sharing.
Earlier in the day, I asked Edan what he remembered and had applied about being a gentleman. He read it to Edric who said, "Okay, I can insert that into my talk."
I asked Edan to practice reading his testimony aloud several times and I put spaces in between his points so that he knew when to look up at the audience and when to pause. I also took a home video of him speaking so he could see and hear himself. From there we discussed how he can improve by emphasizing certain words or making his voice louder. Being the very methodical thinker that he is, he internalized all of this. By the time he got up on stage, he felt ready and excited.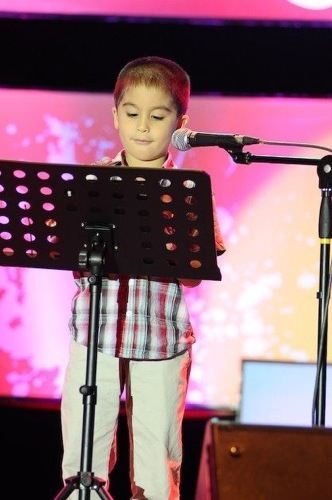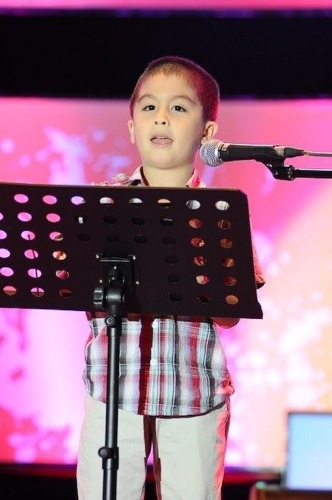 Here is what Edan shared…
Hi my name is Edan. I just turned 7.
When I was five years old, my dad taught my brothers and I how to be gentlemen.
My dad taught us several things:
One of them is letting ladies go first.
For example, when you go into a room or inside an elevator, you should let ladies go ahead of you and hold the door open for them.
He also told us that we should help people, like if someone is carrying a lot of things, I can help them carry them.
I must also learn to have good manners and be polite.
For example, if my mommy and daddy are talking with someone or to someone else, I should not go in front of them when I want to ask them something. Instead, I should stand and wait for them to be done talking.
When I am meeting someone new, I should introduce myself. I should look at them in the eye, tell them my age, and shake their hand.
My dad also taught us not to make fun of others when they are doing something but can't really do it. Or, if they have an accident, like they drop something and slip on the floor, I shouldn't laugh at them.
We are also not allowed to make obnoxious sounds like yelling when we are in public or being too loud when we are in the car.
When I leave the table because I am done eating, I must ask to be excused and bring my plate to the kitchen.
When I visit people's houses I should not make a mess. But if I do I should clean it up and take care of other people's things.
He also taught my brothers and I to take care of my mom and my sister, and to protect them.
So last month when we didn't have any yayas, I fixed all the beds and I taught my little sister how to take a bath. I also taught her how to do things for herself.
My older brother, Elijah, helped my mom clean the kitchen and the bathrooms so she wouldn't be so tired.
It's important to be a gentleman because Jesus is a gentleman.
He was kind to ladies and he helped others.
I want to be a gentleman because I want to make Jesus happy. Please pray that I will become a better gentleman as I grow up.
—-
This was his first time to speak before an audience of about 400 people. I watched him standing behind the little podium they had set up for him as he delivered his short talk. Of course I was praying for him! In fact, I forgot to take a video of him speaking until he had gotten several lines into his testimony. Watch the link here: A Little Gentleman
Because our children spend a lot of time with us and watch our lives closely, they know that we are burdened for ministry. And since they like to do what we do, we take advantage of passing on the same burden to them while their hearts are pliable and tender.
I think of the example of Jesus as a young man, at 12 years old, dialoguing with the teachers in the temple and amazing those who heard him. Sure, he wasn't just a child, he was God in the flesh. But when our children come into a relationship with Jesus, he gives them the same power through his Spirit to do great things for the glory of his name.
We don't have to buy into the idea that "they are just children." Do we let our children play and enjoy their childhood? Of course! But Edric and I also know that everything that our children do now — the appetites, interests, and activities they devote themselves to — will shape their passion and love for God. Our prayer is that they will be wholly devoted to God. Since this is our goal, our present role is to prepare them and help them to love him now, and give them opportunities to put that love into action.
They can start simply. Edan's testimony was not extraordinary. It was plainly written and the content was child-like. However, the experience allowed him a foretaste of the joys of serving God and others. He got to see what it is like to bless others and do something that pleases God.
Will Edan be a speaker someday? Maybe, maybe not. That's not the point. The point is wherever God leads him or any of our children, will they desire to please Him? Will that desire be familiar and ingrained into who they are — their default posture before God and others? If that is the point, then what are we doing about it now? Are we just hoping it will happen or are we purposefully preparing them?
For You are my hope; O Lord God, You are my confidence from my youth. By You I have been sustained from my birth; You are He who took me from my mother's womb; My praise is continually of You. (Psalms 71:5, 6 NASB)
Remember also your Creator in the days of your youth, before the evil days come and the years draw near when you will say, "I have no delight in them…"(Ecclesiastes 12:1 NASB)