About the same time last year I wrote about my eldest son, Elijah, and his eye sight. For a ten year old, his eye grade is pretty high: 450/425.
I don't know what God has purposed for his eyes. He hasn't gone through puberty yet so his eyesight could get significantly worse. (Doctors say that puberty will cause a dramatic increase in the grade of his eyes. As he grows, his eye balls will elongate further.) But, I am trusting that God has a better plan, that he will save Elijah's eyes and cure him miraculously. It can happen if God wills it. And if God does not cause this to happen and his eyesight keeps getting worse, surgery is an option when he turns 19. In the meantime, Edric and I have tried to encourage him to hope in the Lord — that he has a loving reason for this handicap.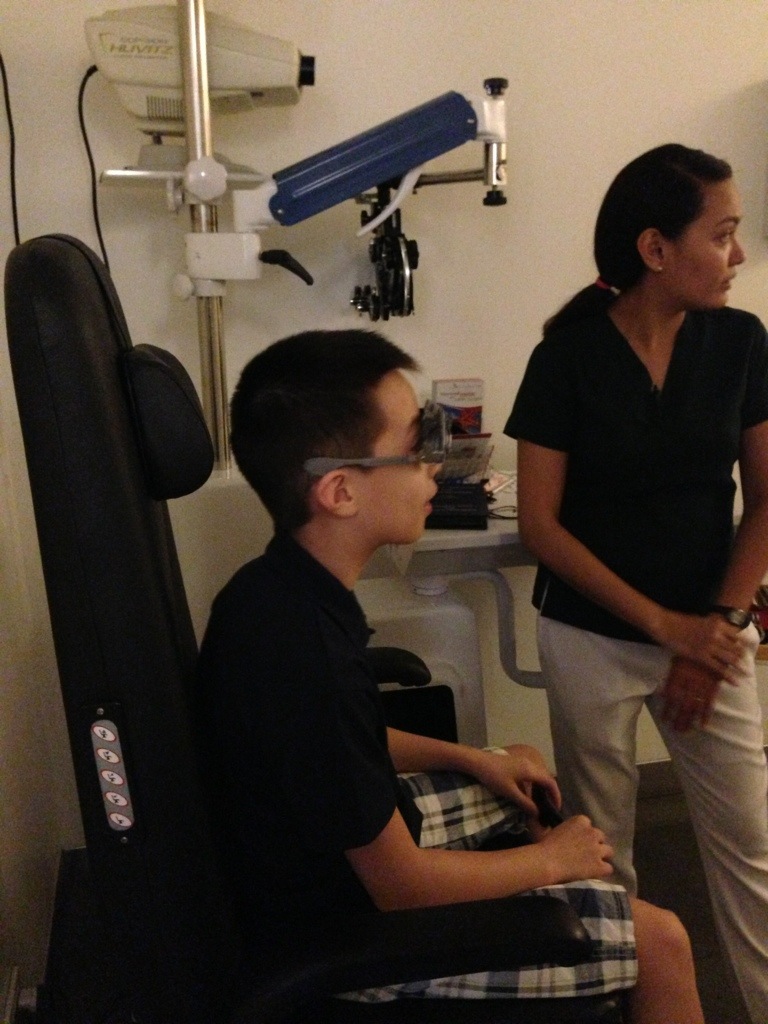 The day we went to the ophthalmologist for a follow-up check-up, Elijah prayed for his eyes again. To prepare his heart, I told him, "No matter what the results are, I want you to remember that God has given you special eyes. You can see and discern invisible things — spiritual truth — and that is more important that mere physical sight."
We found out that his eye grade increased (not too badly) but the doctor also advised that he be checked for glaucoma as a precautionary measure. The doctor saw a suspicious nerve in Elijah's eye. Elijah heard this and he was troubled. His fear of going blind was resurrected. It's probably nothing to worry about because glaucoma is rare in children. But the doctor said to get the test done just to rule it out.
Watching our children deal with difficult circumstances has taught Edric and I the importance of having the right perspective and passing this on to them. Our kids are bound to encounter loss, failure, trials, and disappointments. These things are inevitable in the fallen world we live in. Realistically, our children will not always get what they want. So we have to equip them to come out of their trying experiences as victors and not victims.
Sometimes, I can panic when my kids' well-being is at stake. However I have to remember that my responses are a catalyst for their own responses to trials. Faith is contagious just like doubt and disbelief are. Therefore, to encourage our children to trust in God, Edric and I need to model being at rest with God.
It is also important to teach our kids how to process what they go through with spiritual lenses. We need to let them see the bigger picture — God is sovereign and in control, always at work, personally involved and committed to refining us for his greater purposes and glory. If we seek, love, obey, worship and live for him, then we can rest assured that he will cause all things to work together for our good, too. If we consistently highlight God's character and his attributes, the bigness of God will make problems we face minuscule.
Satan is on a mission to destroy the faith of our children. If they are not prepared, he will implant all kinds of lies about God. My quiet time has brought me back to the book of Job. It's always a challenge to read this part of the Bible and not be troubled. But it dawned on me anew that this story reveals one of Satan's strategies for hurting us. He specializes in making God look like the bad guy. And he will use emotional and physical afflictions, as well as ill-advisors to breed doubt about God's love and goodness. He wants God to be perceived as unloving and unconcerned, distant and impersonal so he can snuff out the desire to have a relationship with him and discourage us from following him or submitting to his will.
Unless our children are equipped with the truth, they are bound to form a concept of God based on circumstances and false portrayals of him. My dad used to tell me the real battlefield is in the mind. Satan harasses us with all kinds of wrong thoughts. The Bible tells us so…For though we walk in the flesh, we do not war according to the flesh, for the weapons of our warfare are not of the flesh, but divinely powerful for the destruction of fortresses. We are destroying speculations and every lofty thing raised up against the knowledge of God, and we are taking every thought captive to the obedience of Christ (2 Corinthians 10:3-5 NASB)
Our children need to be intimately acquainted with God and encounter him personally through his Word to combat the lies of Satan. One of the best ways to do this is to get them into the habit of reading their Bible so they can discern truth from falsehood.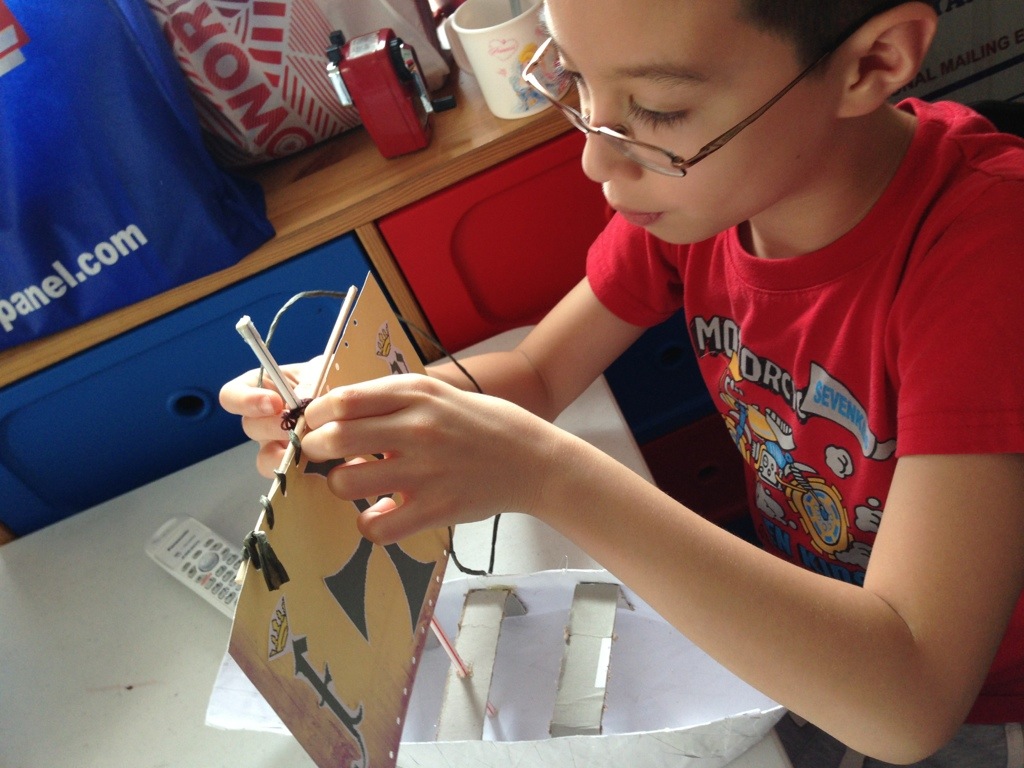 Elijah's eyesight has been a big faith test for him. Every time he gets his eyes checked he is in suspense. And whenever he finds out that his eye grade has increased he is naturally disappointed. However, by the next day, he tends to accept his predicament with a level of maturity that is surprising for his age.
The secret is he has sought to know God at a young age. It is only by God's grace that he loves God and has a personal relationship with him. He is diligent about his scripture readings and has read through the Bible twice. I see him reading his bible almost every morning, setting aside the first part of his day to be with the Lord. He sits on the living room couch reading the Bible on his Kindle. As a result, God speaks to him and ministers to him through his word.
The day after his eye check up, we talked about how he was feeling. He responded with this…
"God answered my prayer, mom. He allowed me to read about Joseph in my Bible. I woke up and I was feeling sad. But when I read my Bible I really felt God speaking to me. He didn't give me the answer I wanted but it was the answer I needed."
Elijah shared with me how he was impacted by Joseph's attitude towards all that he suffered — seeing God's hand and purpose.
When I asked him to articulate how this applied to him this is what he said (similar to what I had told him.)…
Even if I do go blind, God will give me spiritual sight which is greater and more important. Greater than having physical sight is being able to see and understand truth. God will teach me to see. The best thing about true sight is seeing things that cannot be seen. Some people have sight but no insight.
Well said, son.
But blessed are your eyes, because they see; and your ears, because they hear. For truly I say to you that many prophets and righteous men desired to see what you see, and did not see it, and to hear what you hear, and did not hear it. (Matthew 13:17 NASB)
I do get concerned about Elijah's eyesight and I wish I could heal him. My heart goes out to him, especially when I see him struggle emotionally over it. He tries to be strong and not cry because he thinks of himself as a young man. And when he fights off his tears it makes me want to hold him and comfort him like I would a little child. However his example of turning to the Lord gives me confidence that God is using this handicap for good in his life. As he gets older and his physical vision deteriorates, his ability to see from a spiritual perspective increases.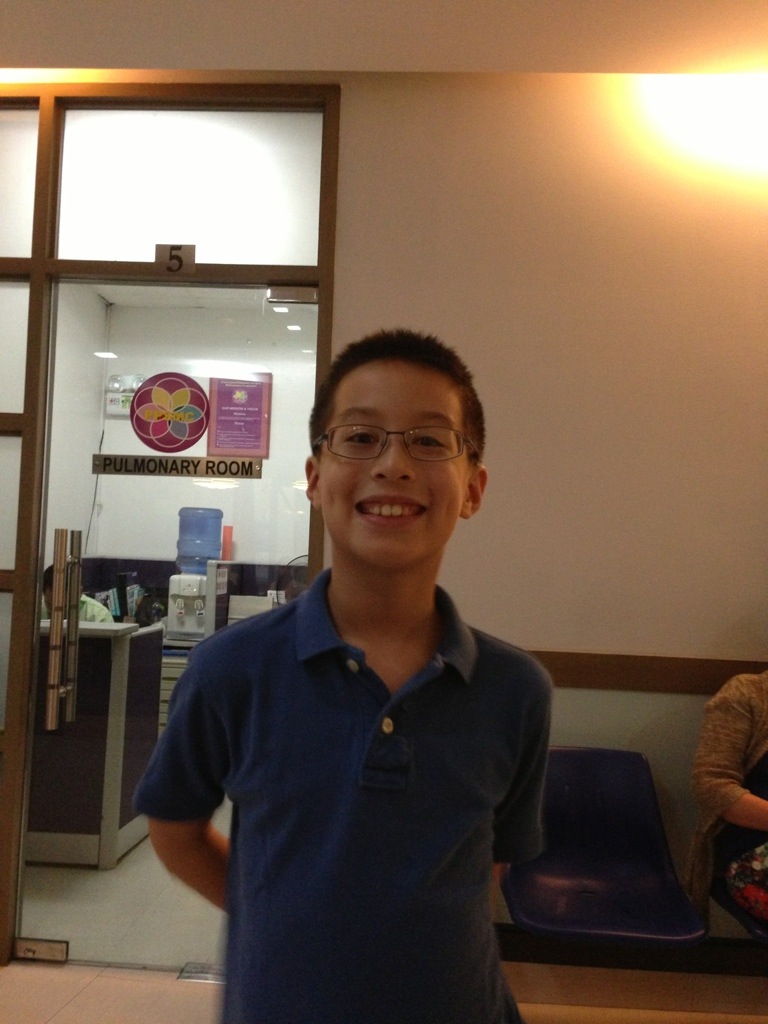 Sometimes the cure we want is physical and material in nature. We want to be delivered from the problems that are visible to us. But God's priority is our spiritual wholeness. He brings us to that point in our lives where we can be complete in him. He is committed to doing this in the lives of our children, too.
Consider it all joy, my brethren, when you encounter various trials, knowing that the testing of your faith produces endurance. And let endurance have its perfect result, so that you may be perfect and complete, lacking in nothing. (James 1:2-4 NASB)