For the past seven days, Edric and I have been living in the hospital while our daughter, Catalina, is confined in the Intermediate Care Unit of St. Luke's Medical Center. She was picked up from our hospital room in an incubator Sunday evening, August 11, due to unusually elevated white blood cells. After a second CBC the results showed an even higher WBC count. If the norm is 0 to 20,000 for babies, hers went up to 48,000.
Dr. Lourdes Gozali, the pediatrician who was attending to her, required that she be given a round of antibiotics shortly after. One of her concerns was I had GBS when I gave birth. This could have put Catalina at risk for sepsis, meningitis and pneumonia. It just so happened that infectious diseases is Dr. Gozali's specialization so our daughter was in good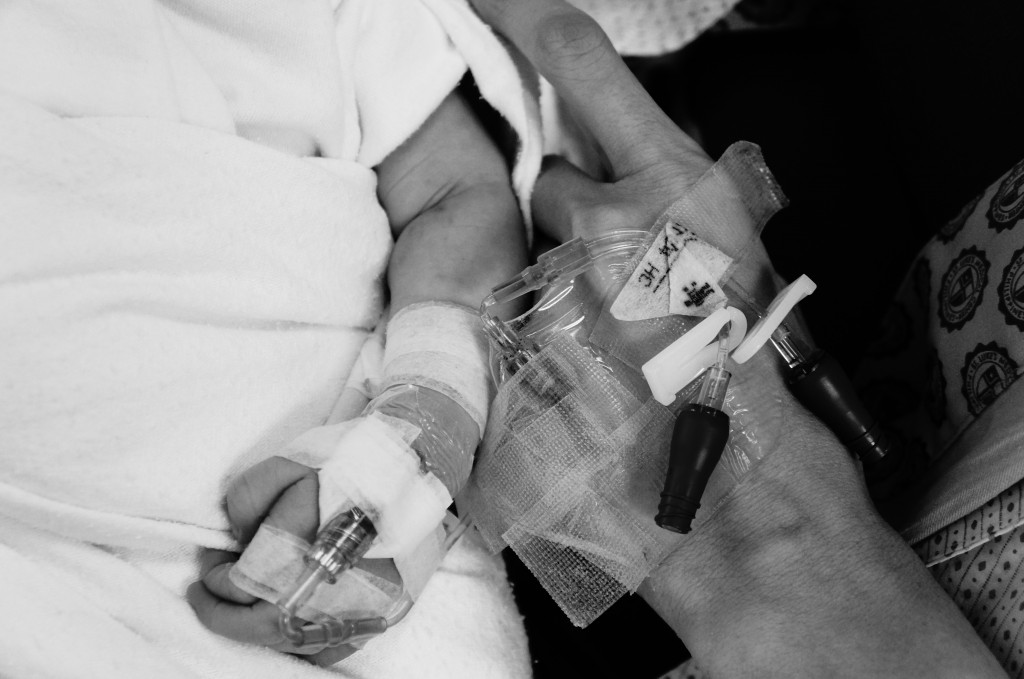 Even if I understood the necessity to go this route, I was so upset and depressed about the turn of events. When Catalina was wheeled out of our room and her empty crib remained, my heart broke. I put her outfits back into the bag I brought for her because she wasn't allowed to wear them in the IMCU. (Naturally, they need to be a bit overkill about preserving a sterile environment.)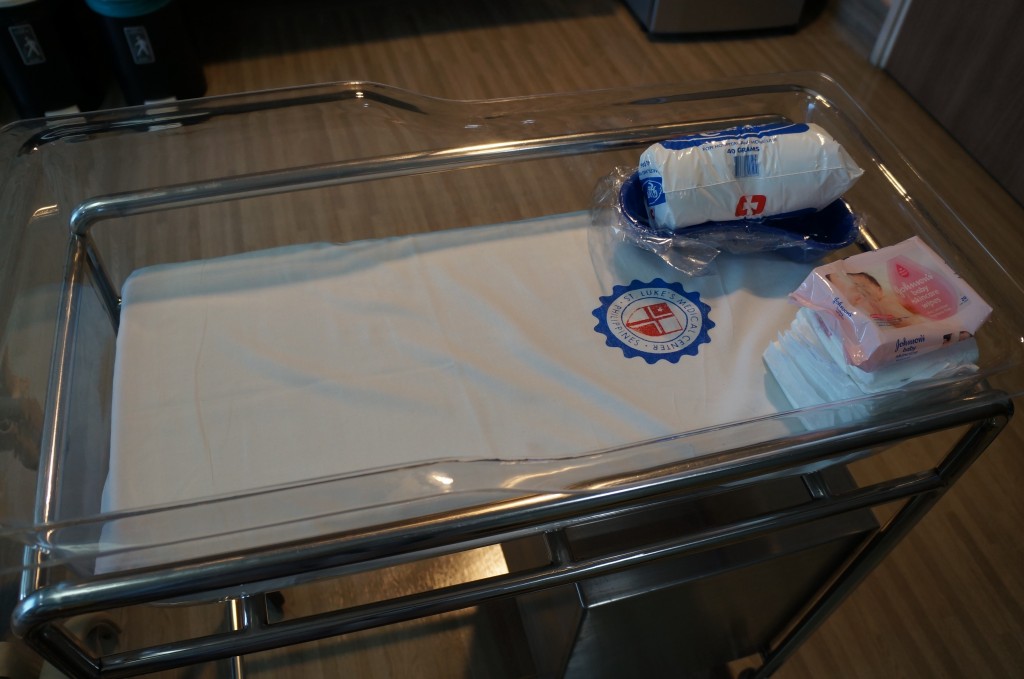 I started packing her things and I kept looking at the crib, imagining what it would be like if she was in it…wishing she was in it. This was not helpful. It just made me cry.
Edric felt sad, too, and so did the kids. We had never had a baby confined before. Leaving the hospital was a highlight in the past — family members eagerly waiting to celebrate our arrival…the first days at home.
We checked out Tuesday and I came home to a childless house. The kids were with mommy and papa (Edric's parents), so the quiet only magnified my feelings of gloom and doom. This wasn't the happily-ever-after-with-my-baby that I had fantasized about.
Even if we had checked out, we had to go back to the hospital. Well, camp out was more like it. I had to hang around the IMCU in case Catalina got hungry. And she certainly did! I was in there so often and the fatigue started to kick in. After all, I had just given birth. I was supposed to be recuperating, too. But instead of being able to rest at home, Edric and I made a make-shift room in a corner of the IMCU lobby. Picture two homeless looking people sleeping on the benches of a train station, but then up it a couple of notches because we had a laptop playing movies, comfy pillows, and a whole lot of food around us. We were sophisticated vagabonds.
"Someday, we will look back on this experience as a good memory," we said to one another as we laughed at the comedy of it all. Nobody else was sleeping in the IMCU lobby for good reason.
First, it was sort of the hang out place of the maintenance people in the evening. That's where they watched TV. Second, the airconditioning was set to freezing so no one could tolerate the temperature for too long. Third, we were the clueless parents who did not realize that the hospital had hotel rooms for family members of patients.
The next day, after a terrible night of NO sleep, we got a room. The lobby was not going to be a sustainable option. Since my doctor didn't want me to give her anything but my own breast milk, (no donations allowed to avoid other channels of infection), checking in to the hospital again made sense.
The "hotel" rooms are kind of spartan but they are comfortable and a fraction of the cost one would pay for a hospital room. I am just four floors away from my baby which is convenient. They call me on the phone and I go down, awake or half asleep, dressed up or in very unattractive house clothes and slippers. I have decided to treat this place like a temporary second home.
Edric said I kind of looked like that scary Sadaku character from the horror film, The Eye, when I started to get really complacent, so I went back home and upgraded my house clothes so they are at least cute. Nobody really cares though. The people I run into are all preoccupied with their own reasons for being at the hospital.
I can finally write about this week because I finished my spiritual wrestling with the Lord a few days ago and I surrendered Catalina to him. Initially, I was entertaining all this self-pity and worry. A cloud of negativity went with me everywhere I went. It was stuffed full of burdensome questions like…What is ailing Catalina? What kind of bacteria will the blood culture reveal? Did she have symptoms of a gbs infection? How long will she have to stay in the hospital? What is it going to cost? How will I cope with her feedings? How are the other kids going to deal with the disappointing reality that their baby sister is sick and confined? What about taking care of our four other kids and our home? Is Edric going to be able to hold out and last ten days with me taking a leave of absence from my wifely duties? How am I going to finish turning in my kids' portfolios and get them to meet with their academic consultants for their year-end evaluation? What about all the house-building related decisions that have to be made on the interior areas?
God really dealt with my heart this week. He reminded me that I could make the choice to be grateful and hopeful instead of negative and worrisome. Catalina's condition was beyond my control, but I could choose to trust in God as her healer. I could also choose to make the most of my time and be a blessing.
I started reading the Bible to Catalina while I breastfed her. I began to reach out to the nurses in the IMCU.
I have been trying to get to know them by initiating conversations that revolve around their work, relationships, the Lord.
They have been such a blessing to me this past week. Catalina has been receiving 24/7 care in one of the best hospitals in the country, watched over and dotted on by wonderful nurses who treat her like a little princess. She is in a germ-free environment set to the perfect temperature. I don't have to change her diapers, swaddle, bathe or dress her. They do all of that.
As for me, I get to sit in a lazy boy holding her when she is hungry. I get to enjoy her and feed her. We get to bond and be together without being distracted by her four other siblings.
It's been costly to have her confined but I praise God we can pay for her stay. I think of the many people who can't afford to have their children treated when they have serious diseases and by God's grace, we can. Last year, Edric set aside an emergency fund after he learned about the importance of doing so during one of his TV interviews. This will help alot.
Staying at St. Luke's has been very pleasant, too. The kids hang out in our room and they can easily go to and from the house because we live a few blocks away. We got a room very near the elevators so I don't have to walk down a long hallway every time the nurses call me to go down to the 3rd floor. Plus there are a bunch of yummy restos to eat at on the ground floor. I have enjoyed puto bumbong four times at Via Mare. S&R is next door so I have gone over there to buy snacks like my big bag of G.H. Cretor's Chicago Mix popcorn and go to the grocery.
Amazingly, Edric had no tapings for his TV show this past week so he was able to stay with me. Today, work was also cancelled due to the rain. Wednesday will be another holiday. God timed this crisis perfectly.
I didn't expect Edric to clear his schedule to be with me. But he was set on it. So he is working from the hospital. He told me, "I can't give birth for you and endure the pain for you, but I can be here for you." Everyday he stays the night and he is present when he doesn't have urgent errands.
Of course the good news is Catalina's health. Thankfully, she didn't have to stay in an incubator because she was able to regulate her temperature. And, except for the mysterious source of her infection, she wasn't diagnosed to have any other complications. Praise God!
Her WBC has now gone down to normal. She is eating alot and gaining weight. No bacteria grew on either blood cultures or the urine culture. The yellowing color of her skin (which I was afraid would progress to jaundice) has been arrested and she is now able to excrete bilirubin through her pee and poop. According to Dr. Gozali she can be discharged on Thursday morning and we can finally take her home. Thursday still feels far away but at least it is something definite.
Perspective is always a choice. We can keep focusing on the empty cribs in our lives — symbolic of stolen joy, broken dreams or unmet longings and allow ourselves to become bitter. Or, we can give the emptiness to God in faith. He doesn't always remove our problems right away and this can make us doubt if he is at work or present. Yet, he gives us something far better…the opportunity to grow in Christlikeness and experience his supernatural strength and joy. Instead of becoming bitter, he helps us become better, for our eternal good.
I can honestly say that despite the emotional and physical fatigue, I am enjoying living in the hospital. It's not something I would like to do forever but it's certainly an experience that Edric and I will be able to look back on and smile about because God brought us through it.