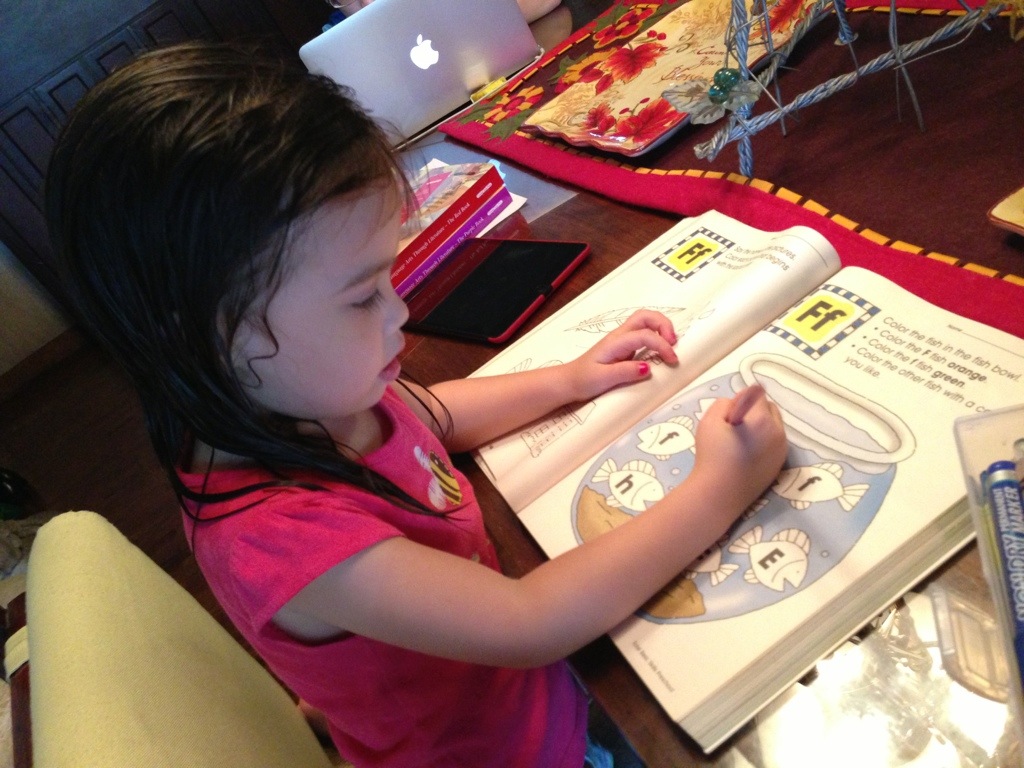 Alot of eager-to-teach-moms ask me what I do with my 3 year old daughter, Tiana, so they can get ideas. Honestly, I don't spend too much time laboring over academic material. I feel that she is too young to be learning to read or mastering her numbers. My older boys were more ready than she was at the same age. She has her own time-table so I don't want to compare. Our homeschooling is more "come what may" at this point.
I encourage parents to be sensitive to their child's readiness. Not all children are ready for academics at age 3. They can be forced to learn but it is easier to wait a few months or even a year or two. When they are ready, they will absorb material much quicker and more confidently. This will eliminate alot of the battling that goes on between an impatient parent and a frustrated and pressured child.
Trust me…I have tried to pressure my kids to learn concepts against their time-table mostly because of pride and this approach turned out to be disastrous. I wanted to showcase homeschooling or I wanted my kids to get ahead of others their age so people would say, wow, look at their family. Choke and gag me. How insidious pride is!
So what to do, what to do with a 3 year old…
1. Let them tell you. I let my little kids ask for work. It takes an amount of trust to wait for this point. But kids are naturally curious and eager to learn. When there is no pressure to perform, they actually want to move on to more intellectually challenging activities. All my kids after Elijah were the ones who wanted to be included in our homeschooling. I would only "test the waters" by introducing concepts but if they weren't ready, I would leave it for a later time or change the methodology — more games and play as a teaching tool.
Tiana is at the stage when she wants to do work. Almost everyday she asks to do "work." Her question is, "Can I do my work?"
One day she asked me about 10 times while I was still eating breakfast. I kept on telling her, "Yes, we will do your work, but you have to wait." She trailed me all the way to the study room to ask again. I finally said, "I told you we will do your work but you have to wait," with a little more conviction. "Okay, mommy." A few moments later he was about to ask the question again but she stopped herself and melodically said, "I REALLY like doing my work!" just to make sure I did not forget.
2. Start slow. A child's interest may indicate readiness but it may not always mean they can take on loads of content. Their enthusiasm may simply mean they want to be included in the day's homeschooling to be like their older siblings. However all they need is a piece of paper to draw on and they are content. But it could also mean they are ready to learn their numbers and letters and shapes and patterns and whatever else we consider to be sooo important to the survival of the human species.
In this case, break them in gently. I made the mistake of assuming that Tiana could identify numbers 1 to 10 in one sitting. Wrong. We both ended up in tears. She could count but that was completely different than knowing what the numbers actually looked like and what quantities they represented. So I decided to tackle one number at a time. (She is three years old. Slowing down the pace is not going to kill her future.)
3. Make learning very natural. You don't need a black board or white board. Homeschooling is side by side learning and teaching. It also involves a lot of dialoguing as you go about your day.
For example, I started to panic when Tiana did not know her colors because her same-age cousin did. So I tried flash cards and books and she didn't seem to get it. Since this wasn't working, I took her outdoors instead and we went for walks, identifying colors as we went along and playing games like, "I see the color red, can you point to something that is red?" I also modified it to, "What color is this gate? What color is the grass? What color is that car?" to see if she could name the colors. Well, with the exception of gold and silver, she knows the basic color wheel now.
4. You can use work books but proceed with caution. I understand how workbooks can make a teaching parent feel incredibly secure. After all, everything has been laid out by supposed experts and all you have to do is go through each page faithfully and that constitutes educating a child. No, honey. A workbook can be a reference and if your child likes it then yippee. But don't feel discouraged if filling out workbook pages with answers doesn't appeal to them. Workbooks aren't even the best way for a child to learn. Real life should be the main context for learning. Workbooks are a supplement.
Titus wasn't really into workbooks at Tiana's age because he wasn't writing yet. And when a child isn't able to write proficiently, workbooks are difficult. So, I had him draw and color a lot first. After a few months of doing this, he started writing letters and names and spelling words. Recently, I let him write out words more formally but I waited until he was comfortable with holding a writing instrument.
If a child clamours for a workbook but needs help handling a writing instrument, then assist them. That's ok. No one is looking over your shoulder. It's not cheating. It's allowing your child to develop confidence while they don't have very good finger dexterity yet. Give them some time and they won't need you anymore.
5. Use manipulatives to concretize the learning experience. Young children learn better when they can involve more of their senses. I'm always on the lookout for educational toys. This year, I got Mathtacular for my kids. It's a great math program that includes manipulatives, a DVD, and an instructional guide with all kinds of math-related activities to explore. I got the educational package for my younger kids.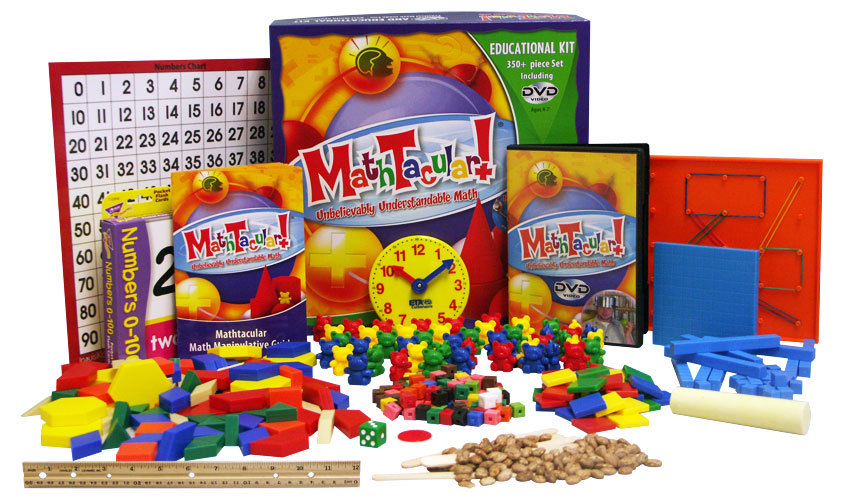 6. Prioritize phonics instruction. I like to get my kids to learn their phonics sounds even when they are young. This can be done very informally. For example, I use Sing, Spell, Read and Write (SSRW) music to teach the sounds of the letters. I got Tiana the All Aboard Book but I go through it very slowly. She is only able to learn one letter per week.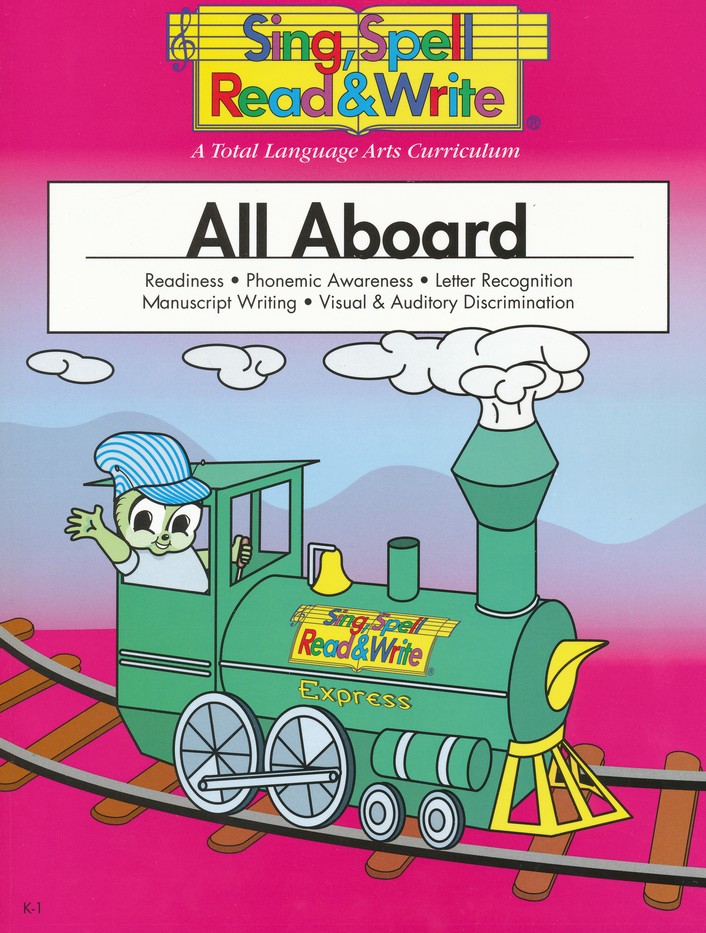 I also downloaded and printed alphabet mini books from Sparkle.
7. Have read aloud time. I need to do a better job of this. Tiana really enjoys being read to. She's at the age where she can sit through a book and focus. So I need to take advantage of this. I've got a whole box of books coming to my door step two weeks from now. I'm so excited to share them with her (and all the other kids). Soon to arrive…
Time for Bed by Mem Fox
Cloudy With a Chance of Meatballs by Judi Barett Barrett
Dear Zoo: A Lift-the-Flap Book by Rod Campbell
Where the Wild Things Are by Maurice Sendak
First Little Readers Parent Pack: Guided Reading Level A: 25 Irresistible Books That Are Just the Right Level for Beginning by Debora Schecter
First Little Readers Parent Pack: Guided Reading Level B: 25 Irresistible Books That Are Just the Right Level for Beginning Readers by Liza Charlesworth
Favorite Thornton Burgess Animal Stories Boxed Set (Sets) by Thorton W. Burgess
Mr. Popper's Penguins by Richard Atwater
Guess How Much I Love You by Sam McBratney
Brown Bear, Brown Bear, What Do You See? by Bill Martin, Jr.
Boynton's Greatest Hits: Volume 1/Blue Hat, Green Hat; A to Z; Moo, Baa, La La La!; Doggies (Boynton Board Books) by Sandra Boynton
Classic Characters of Little Golden Books: The Poky Little Puppy, Tootle, The Saggy Baggy Elephant, Tawny Scrawny Lion, and Scuffy the Tugboat
The Very Hungry Caterpillar by Eric Carle
The Story about Ping (Reading Railroad) by Marjorie Flack
First 100 Soft to Touch Numbers, Shapes and Colors by Roger Priddy
How to Train Your Dragon by Cressida Cowell
Biscuit Storybook Collection by Alyssa Satin Capucilli
Classic Starts: A Best-Loved Library (Classic Starts Series) by Sterling Publishing Co., Inc.
Tikki Tikki Tembo by Arlene Mosel
Classic Starts: Tales of Adventure by Sterling Publishing Co., Inc.
Charlie and the Chocolate Factory by Roald Dahl
My Rainbow Fish Book Box by Marcus Pfister
My Little Pocket Library Early Learning Fun by Roger Priddy
Brown Bear, White Bear by Svetlana Petrovic
Nanuk Flies Home by Christa Holtei
God Gave Us Love by Lisa T. Bergren
A Father's Touch by Joni Eareckson Tada
The King's Christmas List by Eldon Johnson
Max Lucado's Wemmicks: Punchinello and the Most Marvelous Gift, Picture Book by Max Lucado
Arch Books…
Born on Christmas Morn
King Josiah & God's Book
Parable of the Prodigal Son
Jesus Heals the Centurion's Servant
Jesus Raises the Widow's Son
The Parable of the Workers in the Vineyard
Jesus Heals the Man at the Pool
Jesus Returns to Heaven
Get Up Lazarus!
Samson
Happy Day Books…
Don't Do That Dexter
God Made You Special
Jesus is My Special Friend
God Made Our Bodies
God Made Dinosaurs
God Made Outer Space
Keep Trying Travis
God's Special Rule
I Can Follow Jesus
God I Need to Talk to You Series by Dan Carr…
God I Need to Talk to You About Stealing
God I Need to Talk to You About My Bad Temper
God I Need to Talk to You About Disrespect
God I Need to Talk to You About Being a Bad Sport
With five children, books are a great investment. I always want to surround my kids with many options for books so they develop a love for reading.
8. Emphasize character instruction. I really believe there is a window of opportunity for teaching character traits like obedience, learning to wait, sharing, kindness, respect, etc. Take advantage of the toddler years to impact the heart in these areas. If I were to jump into all the academics without my children's hearts being ready to receive instruction, it would be a constant battle to get them to learn. And I don't want to have that kind of relationship with my kids. I want them to find joy in learning but the prerequisite to that is a teachable heart.