It's Not Fair! That's my battlecry as a wife when I buy into the idolatry of equality.
Last week I got my nails done and accidentally messed up two toenails by snagging them on a grocery cart. They were such a pretty bluegreen color with glitter on top. When I destroyed them on the wheel of the cart, I absolutely had to return to the salon to repair the damage.
No guy will understand how important this is. My husband certainly didn't. I was thirty minutes late from my discussed ETA with him. He expected me to be home when he got back from his retreat and I wasn't.
Edric doesn't like coming home to a wife-less house. He always looks forward to seeing me. When I am not around it is a real downer for him.
When I got home, one of the first things he told me was, "You know how important it is to me that you are here when I get home. I really wanted to spend time with you and talk to you about the retreat and you said you would be back, but I came home and you weren't." Not the most romantic conversation after being apart for a day and a half. Plus, he was emotionally distant because he was frustrated with me.
At first I tried to explain the nail incident, but his reply was, "So what." His perspective was if you said you would be back, then there should be no excuse.
But in my mind, I was like, So what?! I was just 30 minutes late! Really?! Hey, didn't you just come from a retreat?! Is this the application…be irritated with your wife?
I will cut through the dramatic hours of silent treatment and fast-forward to the part where we settled the matter with apologies. I asked for forgiveness for being late and he asked for forgiveness for being over reactive.
The incident really wasn't a big deal. But, a woman's heart has all sorts of turns, corners and pockets where residual hurt and anger get stored if we don't flush these emotions out.
Just two mornings later when Edric's chirpy alarm woke me up at 5 am and Catalina started crying, I thought, It is MY turn to be grumpy. He forgot to turn off his phone alarm setting the night before. Since it was charging on the other side of the room, it went off for a while. Great, I thought, there is no way Catalina will let herself be put back down after that…especially since it went off a second time! With hardly a night's sleep, I thought I had every right to put on an air of, This is your fault that my sleep was interrupted. You owe me now. Cha-Ching! Time to cash in on some emotional pay back time. How can I make him feel badly? (Self-centered married people are funny like that.)
First, I tried to make more noise than usual as I got out of bed. A deep sigh, creaking the bed a little, chucking the pillows back on to the bed, picking up Catalina from her crib and talking to her as I changed her diaper.
Edric didn't notice any of this because he went straight back to sleep.
Sigh. Oh well…
I decided to take Catalina outdoors for an early morning prayer walk. That's right, a prayer walk. So holy. Not.
The wonderful thing about prayer is I cannot come before God in spirit and in truth unless I acknowledge my sins before him. So I sought to understand the grumblings in my heart and I traced it back to this: idolatry of equality.
If Edric can get irritated at me for being 30 minutes late then why can't I be irritated for being awoken an hour too early by his phone alarm?
And then a thought came to me. It wasn't mine. It was delivered by the Holy Spirit. Why are you so upset? Why must everything be about equality.
Hmm…I don't know. Because it's my right?
If Edric holds me to a certain standard or expectation then I want to require the same of him…you know, to be fair…
I am absolutely sure that all women can identify with me, married or single.
In fact, some weeks ago I received a comment from a reader (who will probably never visit my blog again). She said she doesn't agree with the idea that a woman must follow a man's leading. I don't blame her for her vehemence against the biblical concept of husband and wife relationships. It can seem "unequal" and "unfair." It looks like a husband gets all the power and a wife gets the raw end of the deal.
However, this really depends on a person's worldview. I have a biblical worldview so I absolutely believe that God's prescriptions for living are for our good. I have experienced this good and observed this in others, too.
Nonetheless, I definitely understand why women want equal treatment, respect, and opportunity. Each one of us, in one way or another has experienced "unfair" treatment as a woman — being labeled, taken for granted, cast aside, or abused. And our instinct is to protect, defend and fight for what we think is due us.
However, I had an epiphany that morning as I was walking and praying. God ministered to me. My cry for fairness and equality was corrupting my heart. Unless I had it, unless I was treated the way I deemed in accordance with my worth then I was not happy.
But am I really worth anything? I am a recipient of grace I don't deserve. Jesus died for me. He paid a debt he did not owe for a sinner like me. (Romans 5:8) So my worth is really dependent on the Lord, not me.
Furthermore, the condition for healthy, loving, and God-glorifying relationships is not equality. It's not, "you give your 50% and I will give my 50%." The key is to keep growing in Christ-likeness, regardless of your spouse.
Edric is a wonderful, wonderful, God-fearing and loving husband. I've talked a lot about this in other posts. But there are instances when I'm like, Who is this person?! How can he think and behave that way?! You can ask him and he would say the same of me. I call it carnal seepage – when selfishness leaks out of us.
If equality is the standard, the expectation in marriage, then it is doomed for sorrow. Marriage is so much about dying to self, letting God be the winner, letting him get the glory. John 12:24 says that unless a grain of wheat falls to the ground and dies it can bear no fruit.
When my marriage becomes about what I want at the expense of God's principles and his word, I trade true and lasting joy for present gratification. For example, the act of vengeance can make anyone feel good at first. But a vengeful person is not really a happy person.
Or, what about someone who insists that they ought to be accepted and respected for their lifestyle choice – a choice that goes against God's design and will for them? How can they be at peace deep inside? Initially, they may feel like they are living the life they always wanted. But give it time and they will meet an emptiness, a longing, and a desperate desire that can only be filled by God.
A few Sundays ago a very successful businessman shared that he once had everything a man could want — fame, fortune, women (besides his wife). He only thought of himself. But at a certain point, he realised it all meant nothing and he wanted to end his life. But God found him. He came into a relationship with Jesus Christ and his life was redeemed. His marriage was restored. The people around him whom he cared about began to want Jesus, too, because of his testimony.
I've heard countless stories like these that affirm a truth we must all confront sooner or later. Our greatest joy, our best life is found in Christ, in living according to his plan and purpose for us. The unchanging condition for experiencing this is to have a personal relationship with Jesus Christ and to love and obey him with everything that we are.
When people disagree with this, I don't lose sleep over their opposing view. If they really don't want Jesus they can try life their own way. God gives us freedom to choose our version of happiness. Temporal or eternal? It's like those Choose Your Own Adventure Books I used to read when I was a child. The ending was entirely my fault, in accord with my choices.
So going back to marriage. When I choose to submit to Edric, when I honor him and respect him, when I treat him with greater regard for my own preferences and it seems unfair that I have to give in, it's not because I have a martyr complex. It's not because I am the inferior sex in the relationship. It's because I trust in God's design for marriage. I believe that he is holy, loving, and good. He loves Edric and me the same. He died for both of us. He has given us the same inheritance in the faith. I know that choosing to glorify him results in my gain and not my loss. With God you never trade down, you always trade up. His ways are always better.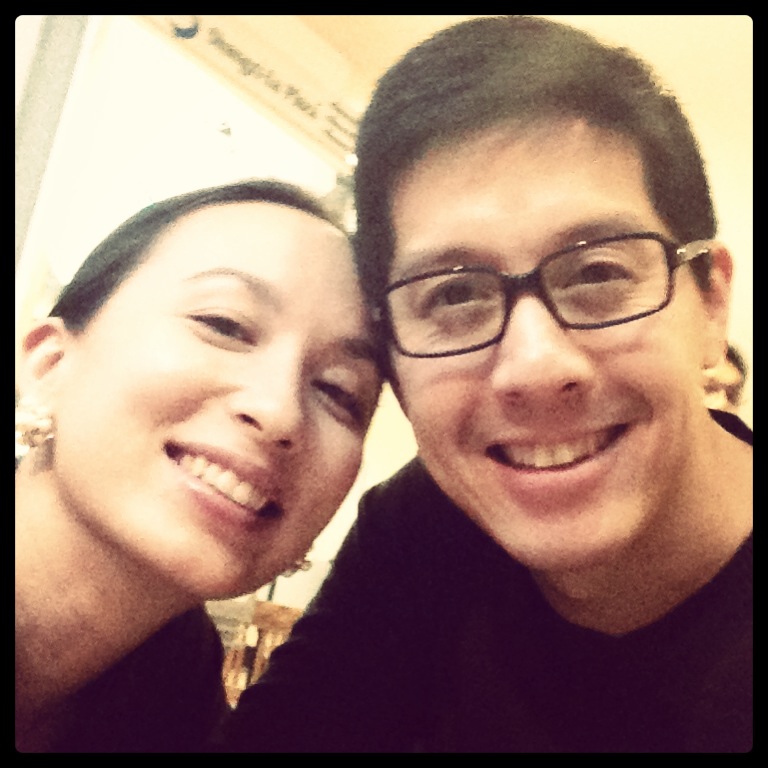 As a bonus…Edric told me that his new year's resolution is to be Christ-like in his behavior and attitudes. God has been convicting him to be more patient, loving, understanding, and considerate. He has also been asking me periodically, Have I been more Christ-like? I already had an amazing husband. Sure, he has his moments of "carnal seepage" just like I do, but with God, every year of marriage gets better.
So does it pay to insist on equality? Let's have a higher standard. Let's insist on being Christ-like towards our spouse, children, and others, and let God be the one to repay us as we live to please him.