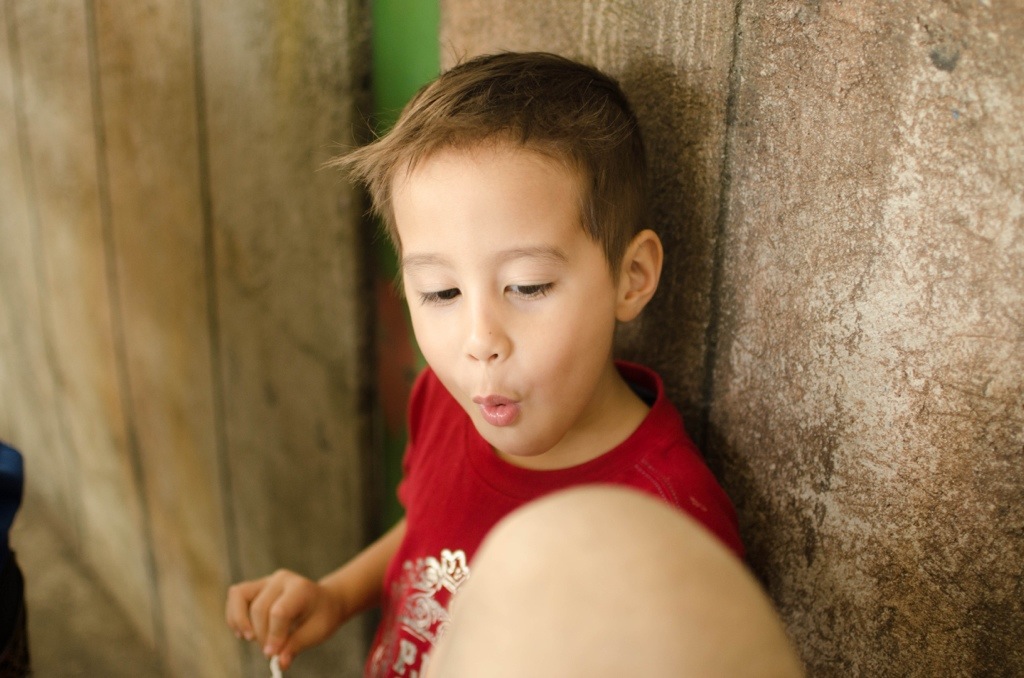 Some weeks ago my third son, Titus, was recovering from a cough and cold so he had to stay away from the other kids. Edric happened to see him peering out of the window, all alone. So he called out, "Do you want to go walking with daddy?" Titus was thrilled. He ran down the stairs and put on his shoes.
Edric walked with him all the way to the park and back. And Titus talked the whole time. He is not much of a talker so this was significant. Some of the things he said were, "So you and mommy have been married 5 times right, because you have five kids?" "Someday I am going to marry Tiana." Of course Edric corrected his understanding of marriage and explained why he can't marry his sister. It was a precious time, just the two of them.
When Titus got back home, he announced to his siblings that "dad went walking with him." He narrated how Edric saw him at the window and called out to him. He was very proud to tell everyone.
A child's self-worth is very much hinged on the attention and regard given by his or her parents. But, I think this is especially true for the time a father gives to a son. There is something special about the affirmation and validation a son receives from his dad.
I know a couple of guys who admitted that they tried to compensate for what their fathers' did not give by turning to unhealthy habits and behaviors, relationships, and friendships, or pursuing ambitions in order to feel whole.
No one can give back the years that a father was absent or heal the wounds that his flaws inflicted. However, I have also seen men who did not live with the example of a godly father or receive the love and affection of a dad recover from their deep brokenness. Their new identity and self-worth came through Jesus Christ.
Two Sundays ago, I listened to the testimony of a man who was physically and sexually abused by his own father. He was betrayed and harmed on multiple levels as a young boy. As a result, he grew up without a compass. In his young adult years he turned to homosexual relationships and a decadent lifestyle to feel happy. But he was never satisfied with that life.
When he finally encountered Jesus Christ and understood how much he was loved, forgiven and redeemed by God, he became a transformed person. Today he is living for Christ. He admits that he is still tempted by sexual sin but he continues to pursue God's design for him as a man. He has a peace and joy that he never used to.
I believe that no one is beyond God's grasp. God can always redeem the mistakes of our parents. As this passage says, "Behold, the Lord 's hand is not so short that it cannot save; nor is His ear so dull that it cannot hear." (Isaiah 59:1 NASB)
However, let us not be the kind of parents who shipwreck the lives of our children. We may not be as bad as a father who beats and molests his children, but are we present to disciple, lead and train our children, steering their hearts toward God?
Most likely, you are a young woman or a wife or a mom reading this post. And if you are married to a husband who is neglecting your children emotionally and spiritually, hope in God. Pray for him. (Look at yourself, too, and pray about the areas where you need to change…we can all change for the better.)
When Edric and I had a smaller family, I prayed for him to step up as the spiritual leader of our home, that his heart would be turned towards our children. At the beginning he was great at prioritizing me and his work, but he didn't really know how to be an intentional and purposeful father. But as we had more sons, he realized that they needed him. They needed him to model biblical manhood and to teach them what it means to love and follow Christ. And he couldn't do this unless he spent time with them and built a relationship with them.
Today parenting is a team effort between us. We still make mistakes but we continue to refer to God's word for guidance. We also ask for forgiveness from our kids when we fail to be Christ-like.
Just yesterday, Edric asked Titus to forgive him for being irritable. While I was correcting Titus and Tiana for speaking to one another with an unkind tone, I asked them, "Do mommy and daddy do that?" trying to point out that they should copy our example. Titus replied, "No, but daddy gets angry sometimes." He clarified that daddy doesn't shout but he can get irritated. Of course I passed on this observation to Edric. And he was very repentant about it and apologized to Titus, who readily forgave him.
Edric and I continue to pray for one another as we parent our kids. He prays for me to be the mom I need to be and I pray for him to have the wisdom he needs to lead our family. Author Frederick Douglass said, "It is easier to build strong children than to repair broken men." I agree with this but I also believe that whether man or woman, before God, we are all broken and need repairing. If we want to build strong children as parents, we have to recognize that we can't do it apart from Christ.
Furthermore, if we find ourselves in a season of parenting alone as a mother, then we can be encouraged by God's tender description of himself as father to the fatherless. What an assurance that he will provide in the areas where we cannot! Father to the fatherless, defender of widows— this is God, whose dwelling is holy. (Psalms 68:5 NLT) Kids need their fathers, but more than a loving, godly earthly father, they need the FATHER OF ALL.