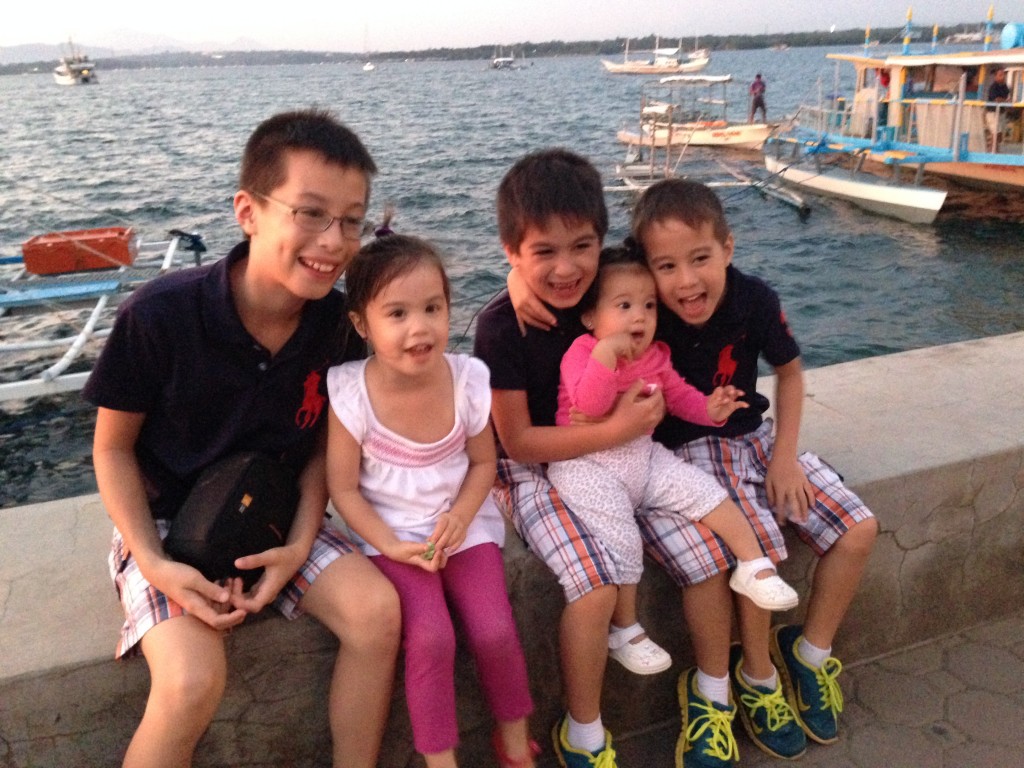 It's always interesting to see how my kids will respond to children who pick on them. Although it doesn't happen often because it isn't easy to gang up on five children (okay Catalina doesn't quite count yet since she is still a baby), the younger ones do get their share of unpleasant encounters with the bullying kind. When this happens Edric and I find ourselves having to weigh the appropriate response. Should we intervene? Should we tell them to fight back? To extend grace, to turn the other cheek and be Christ-like?
The other day Tiana came running out of Playdium in Fun Ranch sobbing. "I want to stay with you, mom. I don't want to play anymore."
This was uncharacteristic of her. At the time I didn't know what was going on so I encouraged her to go back in. She obeyed but thirty minutes later, she was crying again.
Upon investigating the matter, it was brought to my attention and the other moms who were with me (my sister and two sisters in law), that there was a boy who was yelling at my children and their cousins. He was also throwing objects at them.
Tiana, my sweet 3 year old, was especially affected. Had her father been around he may have handled the situation differently. He is especially protective of our daughters!
I asked the kids to point out who the boy was, and I saw this cute five year old who was complaining to the attendant on duty that he was the one being victimized. As I watched him gesticulate and make all kinds of dramatic statements about the kids who were bothering him, I found it hard to believe that this same little boy could harass a group of 8 children, half of whom were larger than he was. But my kids confirmed that he was indeed the culprit who was being nasty to them.
From the outside of the play area I called to him, "Come here, what is your name?" He answered without hesitation. I asked him, "What happened?" He explained that he had built something that some kids had knocked down. It hadn't been my kids or their cousins but he had blamed them. That's why he yelled and threw objects at them. My children looked on as this boy gave his defense. They must have realized what I had, that he wasn't really an unkind boy, that he was merely acting on an assumption.
Author and speaker, Craig Groeschel said, "hurt people hurt others." Sometimes it's worth it to find out where a "bully" is coming from. That afternoon I wanted to teach my children how to reach out to this boy who was in need of some friends to play with.
"Would you like to play with these kids?" I asked him. His furrowed eyebrows relaxed and his expression softened. "Yes."
"If you want other kids to play with you, then don't shout at them, okay?
He nodded his head.
I was still leaning over the rail as I introduced him to my kids and their cousins. Elijah immediately invited him to build a tower. And they all ran off to enjoy the rest of their time at Playdium.
My job is done here, I thought to myself. The kids got my cue.
I watched them run around the different obstacles together with this "bully" turned friend as part of their troop. At the end of the hour, he told them they were his best friends.
He was a very nice boy who had been misunderstood. I am not saying that all children who bully others are this sweet under their rough and tough exteriors. But I think it pays to try and understand what the root cause of their behavior is and what they are really after.
My nephew was in a big school and a boy drew on his shirt during class. But this same boy ended up wanting to be his friend. My nephew was kind to him and they became good friends during the course of the year.
Kindness may not always win against bullies but it's worth trying as a first response. If it doesn't work and a child keeps harassing your children, then do what we do…our kids have Muai Thai classes to defend themselves and those they love if necessary!
In the car, I told the kids that I was proud of them for playing with the boy.
"If someone isn't nice to you then reach out to them, if they still are unkind, it's not your problem anymore. At least you tried. We represent Christ so in our responses to people, we must treat others in such a way that they will be attracted to Christ. Now, if they fight you and try to physically hurt you, you guys do Muai Thai! You can defend yourselves!" 😉