Wouldn't it be great if we could have positively splendid learning days every single day…where our children have voracious appetites for reading, rise to the challenge of difficult assignments, and approach life with an insatiable curiosity to discover, know, and develop new skills? Wow. Wouldn't homeschooling be a dream?! Okay, okay, every single day may be asking for too much. But I think it's fair to expect that the good days can outweigh the tough ones.
Every homeschooling parent will encounter days when his or her child is not thrilled about studying. It's completely normal. If this sort of de-motivated behavior starts trending, then a parent may have to take drastic measures to fix the problem. But the occasional attitude hump and bump along the way is to be expected.
Here are some helpful questions to ask…How do we kick-start our children's internal sparkplugs? What is within our control to change, alter and improve? Could it be aspects like our perspective on our kids, the methodology we use, the materials we have chosen, or the environment we have staged for learning to happen? Is it something outside of our control? Like our children's physical conditions, their attitudes, or heart issues that are spiritual in nature?
Answering the above questions will allow us to isolate factors that contribute to our children's frustration or de-motivated approach to learning. For example, author George Harris, said, "When a child is given the right degree of difficulty in his studies so that he enjoys the challenge and experiences a feeling of accomplishment, he will improve in those subjects and carry those positive feelings into other areas of his life. A bored and frustrated child, on the other hand, will feel like a failure; that feeling too, will be carried into other areas of life, causing him to be afraid to try new things or learn new subjects."
Dr. Raymond Moore says that a home teacher is confronted with the onus to make classwork and all learning for a child both challenging and exciting so they will want to return to it again and again. Is this possible? Shouldn't our children simply swallow the bitter pill…that learning is hard work and they must accept this as their reality and get over their negative attitudes about it?
I've tried that approach. "Just do your work because you have to." On the one hand, there are moments when this is applicable. But it's very tiring to force a child to learn when he isn't interested in doing so. Can you imagine multiplying this sort of scenario 5 days a week x 10 months in a year x 13 years of homeschooling (if I homeschool from K to 12)?! I would give up in the first year for sure!
With a little creativity, I believe every child can be ENCOURAGED to learn and homeschooling can be a positive experience for both parent and child.
After experimenting with several approaches on my kids (they tend to be the guinea pigs for all my homeschool experimenting, especially when it comes to curriculums and methods), I came up with a simple system that has been working so far. I'm saying "so far" because seasons come and seasons go. Sometimes, what works for one year won't do for the next. What works for one child will have zero effect on another. But I praise God that SO FAR, this system is producing desirable outcomes.
For the longest time, I have placed post-it tabs in my children's books. These tabs mark the "stop" points for each day of work. For example, if I want Elijah to cover 5 pages of his math book, I will stick a post-it tab on the fifth page. When he sees the tab, he knows what he has to cover. I also put several tabs in each of their books so they can go past the tab and proceed to the next one if they are feeling particularly inspired and energetic about their work that day.
Using tabs as markers lets my kids know their daily goals. But this school year, I added another component to this tab system:
The kids complete their assigned task(s) for a certain subject area by working until they reach a tab. (The number of pages is pre-determined by me or agreed upon with my kids.)
After doing so, they pull off the tab and bring it to me.
I will check their accomplished work and sign the tab, indicating the date and subject area as well.
They will take the signed tab and stick it beside their name on a wall chart.

This process repeats itself with every subject.
By Friday, the kids count the number of tabs they have collected during the week and they can do one of the following: get 5 pesos for every tab or accumulate at least 20 tabs so they can draw from the MYSTERY JAR. (they may combine their tabs with their siblings' so their points are higher).

The MYSTERY JAR is filled with fun rewards that they get to pick from. (1 mystery jar draw = 20 tabs.)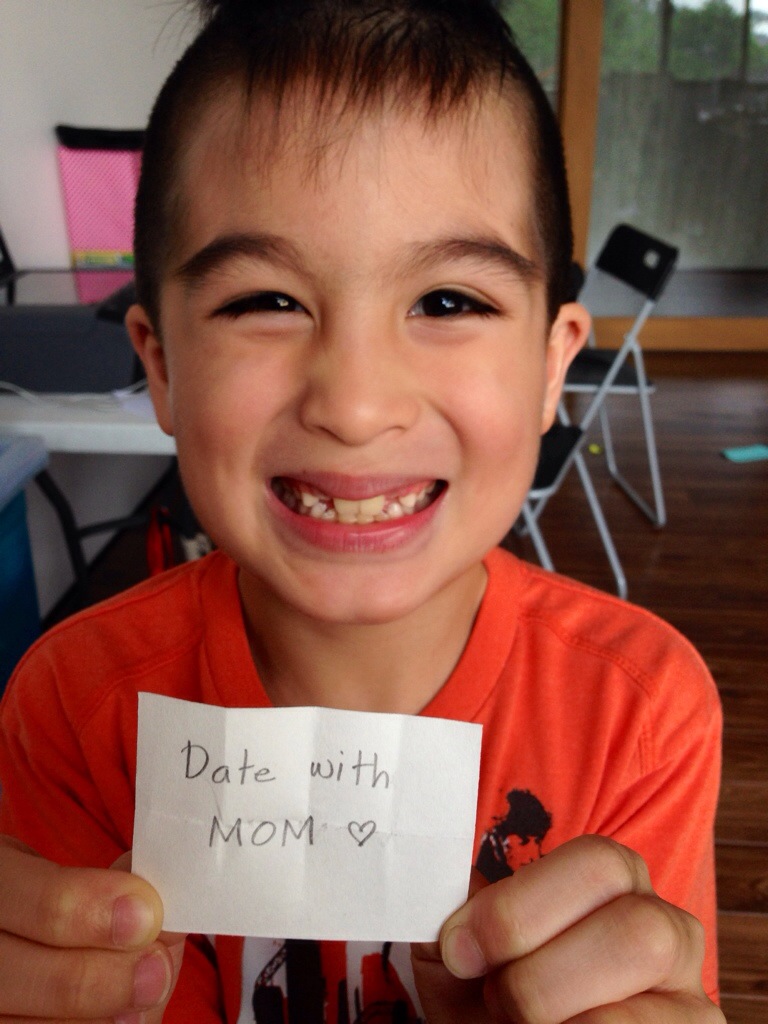 Last week we didn't get to do more than 3 days of homeschooling, so the kids pooled together their tabs and drew from the jar. They pulled out a prize that read, "Date with Mom."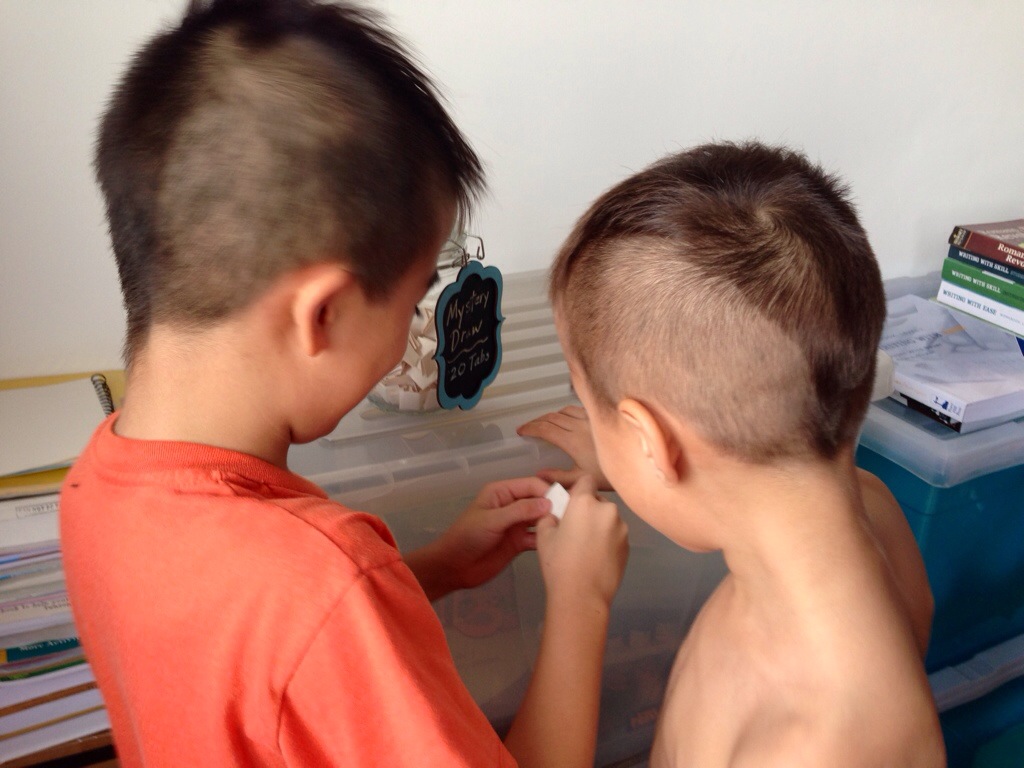 When Friday came along, I took all the kids to High Street for lunch and we also went to the bookstore. That was our "date." My mother-in-law joined us, which doubled the fun.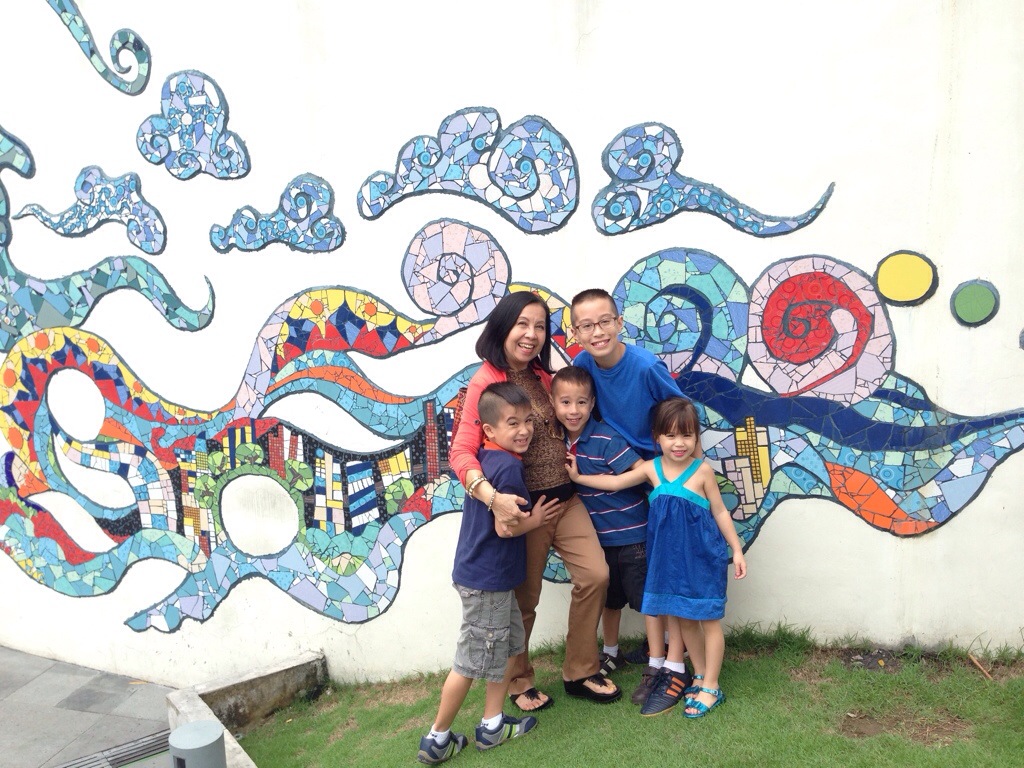 This week, the kids collected 60+ tabs which entitled them to 3 draws, 1 of which allowed them to have an extra draw. Here's what they drew from the mystery jar: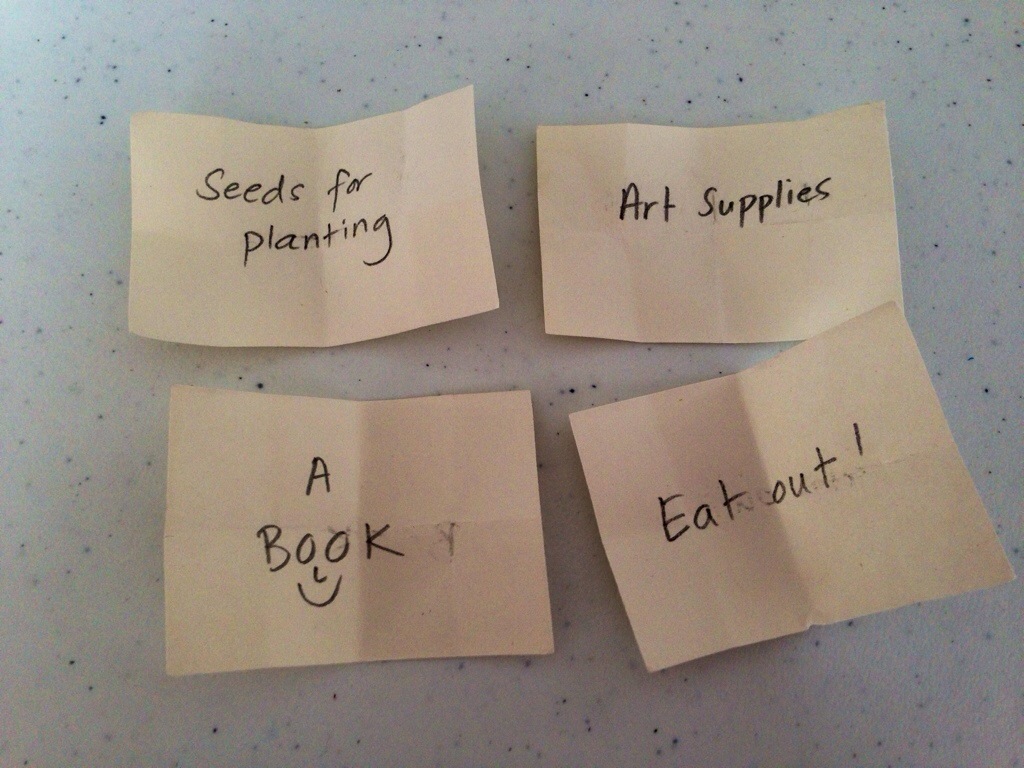 Somehow this tab thing is encouraging my children to go beyond their daily requirements. They use the tabs as a means to compete with one another (in a healthy way), and they look forward to redeeming mystery prizes for their hard work.
I hear them yell out, "I want to get more tabs!" and I see them dig into their books with eagerness. It's a lovely sight to behold for this mother of five! I'm grateful that my kids are generally easy to teach, but witnessing their added spunk and gusto energizes me, too!
Simple ideas like this one can help to motivate your child, especially when they are younger. Ideally, however, you want to get them to the point where they really enjoy learning, no matter how hard it becomes. I'm beginning to see this happen in my eldest son, Elijah. While the tab system inspires him to get his tasks done, he likes to learn with or without this system in place. As an older child, he feels fulfilled when he grows in knowledge and wisdom, and he enjoys the challenge of learning.
Eventually, I'm hoping that his younger brothers and sisters will be the same way. Edan is showing signs of progress in this area. Nevertheless, I will keep up this tab system, until I have to come up with something else. After all, my kids aren't the only ones who need motivating. I do, too! And getting to teach motivated children motivates me!