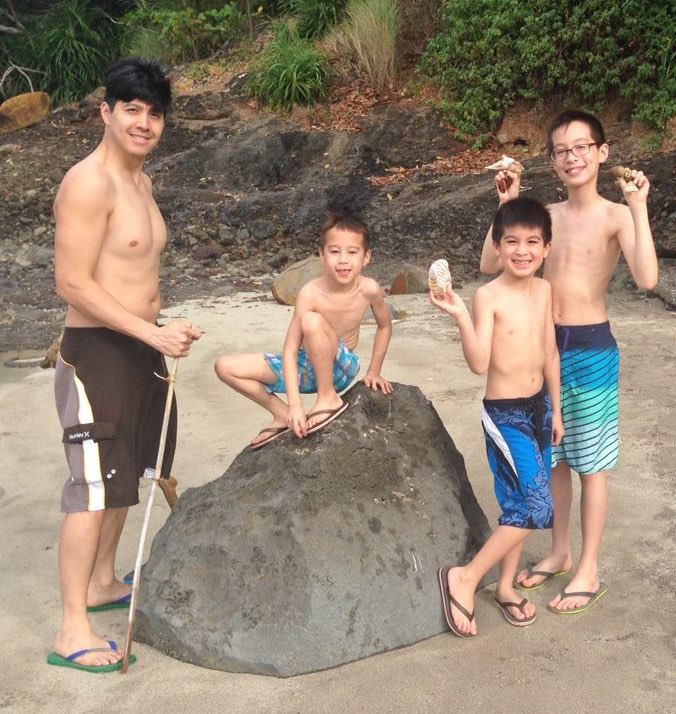 Having three sons offers Edric and I many opportunities to learn about what boys are like and how they develop into men. One thing is certain, they need guidance and direction when it comes to growing in their concept of manhood. Edric plays a vital role in this aspect of their development, and he has intentionally taken it upon himself to teach them what it means to be gentlemen.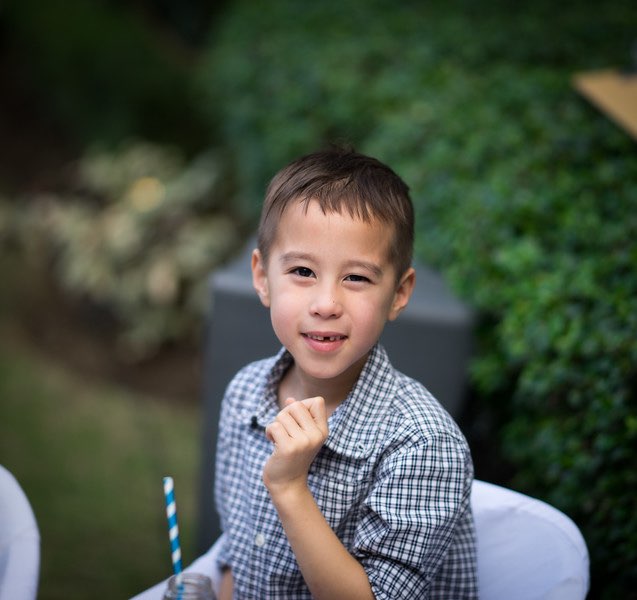 When teaching opportunities present themselves, he will pass on things like, "We need to let ladies go first. We need to hold the door open for them. We need to help ladies carry heavy bags." Everytime he leaves the home and the boys are left with me, he reminds them, "Protect your mom and your sisters." It's quite adorable when my sons take this to heart and insist on accompanying me when I have to run an errand in order to "protect me."
I recall an instance when Elijah accompanied me to 168 in Divisoria to buy toys for a birthday party. When I had to use the toilet, Elijah said, "I can go with you, mom." I thought he was afraid. So I said, "Okay, come wait right outside so I know you are safe." But he replied, "No, I will make sure YOU ARE SAFE."
These are simple ways that our children are learning to be gentlemen. However, there is a more important trait that all gentlemen should have that we are trying to instill in our sons – how to be buck-stopping leaders.
For the past few days, our family was at a retreat in Baguio, where Edric and I served as speakers. Our kids attended the children's classes, where they were grouped by various ages. Elijah and Edan shared the same class. When we asked them if they obeyed their teacher, they confessed to their rowdiness – hitting one another's heads and playfully agitating each other so they became a distraction to others. As a result the teacher separated them. We encouraged them to apologize for their behavior and they were in full agreement of doing so, acknowledging that their actions had been wrong. The next time they saw their teacher, they asked for her forgiveness, which she readily gave.
On the one hand, being a gentleman is about treating people with respect, being considerate of others before one's self, keeping one's word and dealing with people honorably and truthfully. On the other hand, it is about accepting accountability and responsibility for one's choices and mistakes, choosing to do what pleases God, and encouraging others to do the same.
As Edric likes to put it, "the buck stops with us (men)." He shares this often during seminars where he talks about the role of a man, challenging them to imitate U.S. President Harry Truman example, who popularized the statement "The buck stops here" – a sign that sat on his desk in the Oval Office. Prior to this, it was common to use the phrase, "pass the buck" when playing poker whenever the person holding the buck was tired of the responsibility.
In contrast, the "buck stops here" represents the kind of leader men are supposed to be. Edric refers to the passage in Genesis 3, the tragic choice to eat the forbidden fruit and the aftermath of this decision. Adam and Eve attempted to hide themselves, a ridiculous attempt to conceal themselves from an all-knowing and all-present God. In this chapter, God did something very intentional. He called out to the MAN. "Where are you?"
Edric asks men during seminars, "Why didn't God single out Eve? Eve, who took the first bite and convinced her husband to sin with her?" God sent a message to Adam – as the man, you are accountable, you are responsible, I put you in charge, what happened? This tells us that a man is accountable to God first, and then responsible to take care of those entrusted to his care, to lead them in the way God would have them go. He should not "pass the buck" by pointing fingers and blaming others or circumstances.
Perhaps I can illustrate this point with a story. When I was dating Edric, we struggled in the area of purity. He was a gentleman in the sense that he took care of me and looked out for my needs. He tried his best to treat me with respect. However, our hormones at that season of our lives were difficult to bridle. I'm not excusing what we did. Furthermore, it would not be fair for me to say that it was entirely Edric's fault. I made my own choices and I did things I'm not proud of. At some point, Edric and I became very convicted about what we were doing. We broke up in order to put God first and seek his will for us.
One of my prayers was that Edric would sit down with my parents and tell them everything we did so we could "come clean." I was amazed when, a few months later, while we were broken up, he called me and asked to have dinner with my parents on his own initiative. During that dinner he owned up to his responsibility as a man and put the blame on himself. It was the most awkward dinner of our lives. But I learned something remarkable about Edric, which only wanted me to marry him all the more!
A real gentleman says, "the buck stops with me! I am accountable. I am responsible." I saw this trait in Edric when he apologized to my parents saying that as the man in the relationship, he should not have allowed our relationship to become so physical. He claimed the fault was is even if I insisted that the blame shouldn't fall entirely upon him. My admiration for him increased 10-fold.
Up to this day, he is this kind of man. Of course he makes mistakes every now and then, but he will own up to them and burden himself with the responsibility of fixing problems that arise in our marriage and family. Furthermore, he will not let issues linger to a destructive point because he knows that God has put him in charge of the kids and me.
Admittedly, sometimes the problem is me! But Edric won't say, "See, this is all your fault!" In fact, he has never, to my recollection, ever said this to me. More often than not, he actually says, "You know what, I need to make sure that I disciple you better, to help you." Or, "I've got to step up and make sure I'm leading our family spiritually. This is on me." He will even add, "I'm back, baby! (for my sake) Have no fear, 'daddy' is here (for the kids' sake)," puffing his chest out and thumping it to give the moment some comedy.
When he makes this profession, I am confident not in Edric per se, but on the source of his ability to turn a situation around for the better or repair what needs fixing. Edric is dependent on God. He walks with Him and seeks to follow His principles. Therefore his enabling comes from God. Being a faithful follower of Jesus makes him a capable, buck-stopping leader. The aim of his leadership is to help those around him, especially the kids and me, to follow Jesus, too.
As women, we have a significant role to play to encourage the emergence of the inner, God-designed, buck-stopping leaders that husbands are made to be.
First, our outlook is important. I believe all husbands have the capacity to lead. This isn't a trait exclusive to those with dominant personality types. Interestingly, our sons show leadership in very different ways from one another. Elijah has a very big personality but he is a leader by example. Edan tends to be less vocal, but organizing people and delegating tasks comes naturally to him. Titus is a man's man. No matter what their personalities are like, each one of them can learn to copy the kind of leadership that Jesus Christ displayed for us. John Piper describes this as a combination of lion-hearted and lamb-like. Jesus boldly taught us how to live and he died for us to solve the problem of our sins, but at the same time he was among us as a servant.
Matthew 20:25 – 28 "But Jesus called them to Himself and said, 'You know that the rulers of the Gentles lord it over them, and their great men exercise authority over them. It is not this way among you, but whoever wishes to become great among you shall be your servant, and whoever wishes to be first among you shall be your slave; just as the Son of Man did not come to be served, but to serve, and to give His life a ransom for many."
Second, we can appreciate the instances when our husbands make difficult decisions for the family. Whether these decisions turn out well or not, we can call out the fact that it must be hard to make the choices they have to make. We can tell them that their leadership means a lot to us.
Third, we should avoid criticizing them when they fail, because they will from time to time. Let's ban comments like, "See, I told you so!" (Oh, I know this is hard! I have to bite my lip not to do this at times!)
Fourth, let them know that we are there to support them and pray for them, communicating that we believe God will help them to solve the problem and be the kind of leader they need to be. (Pray, pray, pray!!!)
I know it's hard to communicate these messages when we are disappointed in the leadership or lack of leadership our husbands may display. But our positive outlook, belief in their leadership by the power of Christ's enabling, encouragement, and prayers will do wonders! Men have so much pressure on their shoulders. The last thing they need is to be pressured by us.
For single women, how do you distinguish between someone who is a gentleman only on the outside and one who has the qualities of a buck-stopping leader? Observe the way a man you are interested in handles conflict, stress, problems, mistakes, and issues. Does he recognize and embrace his responsibility and admit accountability, seeking to find solutions that may entail sacrificing his own comfort and needs? More importantly, does he walk intimately with the Lord so that his responses are aligned with God's principles and honor Him? In the process, does he motivate others to do the same, including you?