The landscape of motherhood has changed significantly in the last decade.
Moms today…
• Multi-task on their smartphones (Pinterest, Instagram, online parenting communities)
• 61% of moms 18 to 32 are unmarried
• 64% say that parenting has become more competitive – pressure to be the "perfect" mom.
• Perfect means organized, educated, fit, focused on family, has a great job & able to cook.
• Will spend for organic/natural foods and products for their children. SOURCE: mothermag.com/millennial-mom-statistics
Interestingly, an article by livescience.com revealed that one of the distinct ways motherhood has changed over time is that today, moms feel a whole lot of guilt. When moms stay at home they fear they aren't contributing enough financially or they won't be respected. When they go to work they worry about neglecting their children. Today's moms also have more to do and less time to do it. As a result, we are more stressed about wanting to have it all. Trying to be supermoms makes us super crazy.
As I begin this entry I want us to lay aside the anxieties that loom over us and look at the mom God has called you and me to be. Who is this mom? And what is her purpose? What really makes her super? (I'm doing this as a cathartic experience for myself, because I need this!)
Unless we settle these questions, we will continue to pursue an image of motherhood that is based upon the world's standards of success and not on God's standards for us. We will be tempted to compare our children with others and derive our sense of security and worth from the way they perform or what they achieve.
Some months ago, my kids joined a basketball program and they weren't the superstars. Initially, I wasn't surprised because they hardly played basketball. Yet, as I watched their session, it became very obvious that their cousins outshone them in every aspect of balling.
When I got home, I complained to Edric, "You need to spend time playing basketball with the boys. They don't know how to play. This is your department. You and I are athletes but they are terrible at basketball. How can this be? We need to do something!"
He looked at me like I was a raging demoniac. Where was this ugly competitiveness coming from?
I wanted our kids to be good basketball players for pride's sake. Furthermore, I blamed Edric for not being intentional about training them at home. He didn't appreciate how I was pinning this on him and reacted to me, which resulted in a conflict.
Afterwards, I realized that my perspective was wrong. My disquiet and anxiousness about their ability to perform athletically were rooted in jealousy and insecurity. I didn't want their cousins to be superior to them in sports.
Colossians 1:17 says, "He is before all things, and in Him all things hold together." As a mom I need to remember that in Christ, I hold together. When I don't keep Him as my anchor, I end up wounding those I love with my negative perspectives, words and actions.
Motherhood isn't a contest. My children aren't trophies. The first thing I need to understand about motherhood is the word STEWARDSHIP. I don't own my kids. They were entrusted to me, to Edric, so that we might raise them in accordance with God's will and purposes. The Bible says, "For by Him all things were created, both in the heavens and on earth, visible and invisible, whether thrones or dominions or rulers or authorities – all things have been created through Him and for Him." Colossians 1:13-14
My fourth child, Tiana, put it very well when I asked her one morning, "What do you want to be when you grow up?" She answered with conviction, "I will be whatever God wants me to be." As a five year old she understood that she belongs to the Lord.
Since my children were made for the Lord, stewardship means…
…teaching my children to love and honor God with all that they are. (Deuteronomy 6:5-7)
…disciplining and correcting my children when they exhibit attitudes and behaviors that do not conform to His character. (Proverbs 22:6, Proverbs 19:18, Proverbs 22:15)
…protecting my children from influences or experiences that harden their heart towards Him or lead them away from Him. This includes minding my own example to them. (Psalm 119:9, 1 Corinthians 6:18, Proverbs 13:20, 1 Corinthians 15:33, Mark 9:42, 1 Corinthians 11:1)
…identifying the gifts and bents of my children and helping them to develop these for God's glory. (1 Corinthians 10:31)
…giving my children a vision for their lives – how God can use them to accomplish His will and purposes. (Proverbs 29:18, Romans 8:28, Jeremiah 29:11)
It is my God-given purpose to raise my children this way — a responsibility that I cannot delegate to others or pursue half-heartedly. I am accountable to the King of Kings and Lord of Lords for this sacred trust.
"For it is written, 'As I live, says the Lord, every knee shall bow to me, and every tongue shall give praise to God.' So then each one of us will give an account of himself to God." Romans 14:11-12
Someday, when I stand before the Lord, I will give an account of my role as mom. What did I do with the children He gave me to raise for Him? Will I be found faithful?
This doesn't mean that my children must turn out perfect under my watch. At the end of the day, my children are also accountable to God and they must make the choice to follow Him on their own. However, I do believe that God will look at the years that He gave me to teach and train them, and ask me what I did with those years. Did I do my best to build the right foundation in my children's hearts and minds — a foundation that will prepare them to love, obey, and follow Him?
The apostle Paul said in 1 Corinthians 3:10-12, "According to the grace of God which was given to me, like a wise master builder I laid a foundation, and another is building on it. But each man must be careful how he builds on it. For no man can lay a foundation other than the one which is laid, which is Jesus Christ."
Our task is a supernatural one, which can seem daunting and intimidating, but before I end this entry, I want to remind all of the mothers out there that God loves you and me. We are precious to Him. It's important to let this reality invade our hearts completely because motherhood requires us to be sacrificial and resilient. We aren't fit for the task when we meet each day empty and wanting, or oppressed by our own emotional and spiritual issues.
There was a time when I was overwhelmed with the responsibilities of mothering five children. It felt like I was in a perpetual season of imperfection. My homeschool schedule was shot and my children's academic progress was snail-like. I ended each day tired and lost. However, God brought me back to the truth that I needed to hear, the truth that calmed the turbulence inside me. He loves me. He is for me. He will uphold me.
"See how very much our Father loves us, for he calls us his children, and that is what we are…" 1 John 3:1
I have found that one of the best ways to encourage my children when they are feeling down, discouraged or frustrated is to remind them that I love them. I love them no matter what, just as they are. Similarly, but in an infinitely more amazing way, God loves you and me, even in our imperfection. We don't need to be supermoms to be acceptable to Him. What a relief!
Why should this matter so much? God will equip you and me to be the moms we need to be. As we seek His will for our children and parent them accordingly, Luke 12:29-31 assures us with this image of our Heavenly Father: "And don't be concerned about what to eat and what to drink. Don't worry about such things. These things dominate the thoughts of unbelievers all over the world, but your Father already knows your needs. Seek the Kingdom of God above all else, and he will give you everything you need. Luke 12:29 – 31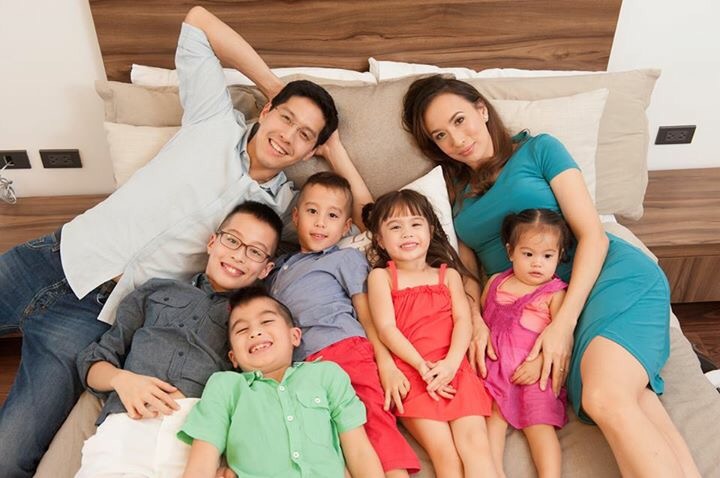 What a comfort to have a daddy we can always run to when we mess up, feel inadequate, fall apart, or need encouragement. He's not just any daddy, too. He is all-poweful, all knowing, all-present, and all-amazing!
He's saying to us, "Don't worry. Seek after me and I will take care of you."
As we focus on being faithful stewards of our children, let's not forget that we have a faithful Father who is committed to enabling and empowering us. We have a high calling to fulfill, but we are never alone as we do so. God puts the "Super" in all of us!