Edric and I were awoken at 3 AM to the sound of what we thought to be thunder. It wasn't until the morning that we were informed by our house help that the wall of our rip-rap fell into the street below.
Shocking! It looked like rubble after a bombing – rocks piled on one another and the earth exposed.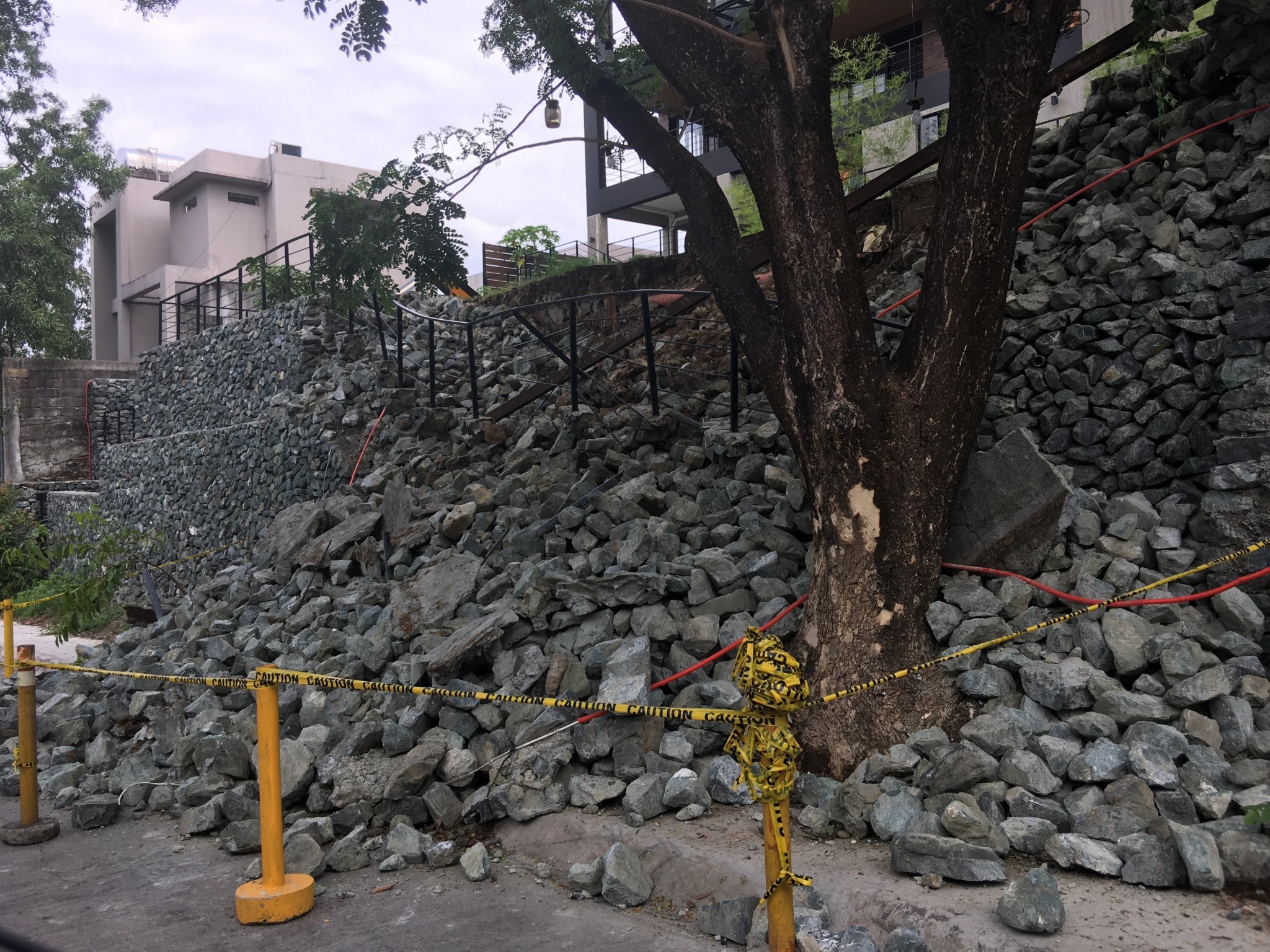 My two thoughts were, Thank goodness this didn't happen when our kids were playing in our backyard! God is merciful. God protected us. We had a houseful of children because my nephews and nieces spent the night, too. Praise God they weren't harmed either.
But my second thought was, Oh my goodness! What a disaster! 
I was tempted to blame the people behind our wall's construction, but where would that have gotten me? As I began to mouth out my frustration, Edric reminded me that this wasn't going to be productive. He was right.
We took a morning jog and I decided to pray and thank the Lord that he kept us safe. In the grand scheme of things, it was just a wall. Sure, there was major damage to it and it's going to be costly to repair it. But this Is something fixable. It's not a person's life, and praise God, it's not one our children's lives we are talking about here.
As I surveyed the rubble and looked at the mess it left on the street, I meditated on several spiritual observations:
First, there's always something to be grateful for. Our wall may be a tragic mess but we still have our lives and our home. Much of the world can't enjoy a comfortable home. At least we have one. And by God's grace, it's comfortable. Therefore my heart is thankful.
Second, the wall that fell represents what is physical. The earth underneath represents what is within all of us — the spiritual person. Our wall tumbled down but the soil remained compact and stable.
We will go through circumstances in our lives where the walls around us will crumble. Maybe we will experience sickness, financial struggles, relationship issues, or we will enter into a season of obscurity after the high of a success. Whatever it is, will our inner persons survive? What will hold us together?
Years ago when everything I understood about the world was torn apart because I was a victim of rape, I came to a cross road where I had to choose what I would believe in. What would I cling to as truth? Would I choose the path of hatred, unforgiveness, anger, fear, and doubt? I knew these emotions would lead me down a dark path…the wrong one. So I determined to hope in who God is and to interpret what happened through spiritual lenses. He gave me the grace to forgive the men who violated me, which put me on the road to healing.
Colossians 1:17 tells us, "He (Jesus) is before all things, and in Him all things hold together."
This has been true in my life and in the lives of countless people who have embraced this reality. Jesus will hold us together during times of crises.
Psalm 16:8 says, "I have set the Lord continually before me; because He is at my right hand, I will not be shaken."
Have you ever met people who have gone through incredibly difficult circumstances and yet the Lord transformed them into more beautiful versions of the persons they once were? I have! I have met amazing people who were victims of tragedy and yet they have blessed the world with their testimonies. They have declared what God has done and pointed others to Him.
In tough times, it is the inner person who is revealed. We may be able to hide behind pretenses and mask who we really are, but when we encounter obstacles; when people wrong us; when we lose something or someone important to us; and when we fall on desperate times, our true selves will be made manifest. That's when we will recognize what anchors us, and what defines us. And this is what others will see, too!
Third, it isn't the walls of our home that keep us safe at night. We can build a fortress to protect ourselves from intruders, natural disasters, and other calamities. However it is the Lord who makes us "dwell in safety." "In peace I will both lie down and sleep, for You alone, O Lord, make me to dwell in safety." (Psalm 4:8) True security is to know that God is sovereign and in control.
Fourth, this world is not my home. Last Sunday, Edric preached a wonderful message in CCF Baguio entitled, "Act Like a Citizen of Heaven." He challenged the audience to adapt attitudes and behaviors that glorify God and to set our mind on heavenly things. "For our citizenship is in heaven, from which also we eagerly wait for a Savior, the Lord Jesus Christ…" (Philippians 3:20)
Well, I believe that God wanted Edric and I to apply this message! So He gave us an opportunity to do so through this unprecedented disaster. Indeed, the broken things of this world remind us that we are destined for a better one.
On this earth we witness decay, death, and destruction. Therefore, let us NOT hope in what is temporal and passing. Let us not live like this is as good as it gets. "For the mind set on the flesh is death, but the mind set on the Spirit is life and peace." (Romans 8:6) May God open our eyes to recognise what He is doing as He molds our character through earthly struggles by way of people or circumstances, and may we look to Him for the life and peace that He gives and promises.
This has been a tough two weeks for me emotionally, and the wall falling was like an exclamation point in the midst of it all. Yet God has been my comfort. He has been my ROCK. "He only is my rock and my salvation, my stronghold; I shall not be shaken." Psalms‬ ‭62:6‬
Maybe something is happening in your life right now and the walls are tumbling down, or maybe you are standing in the heap of the rubble, in the aftermath of a tragedy. I pray that you will find your sure footing on the rock that is Christ. He will uphold you. He will help you rebuild what has been broken.