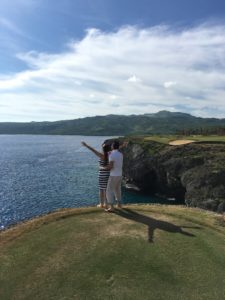 Saipan is one of those places you want to get lost in. Okay so you really can't get lost. It's a small island, part of the other 13 that make up the Commonwealth of the Northern Mariana Islands.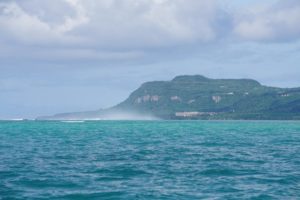 It was my first time to this region of the Pacific Ocean, a zone with one of the most temperate climates in the world. Warm and sunny. There are occasional rains, but for the a good stretch of the year it's like paradise to tourists coming from China, Korea and Japan. The joke is that it's too small for the eye of any storm to see. Last year they had a major storm but it was the first one in over two decades.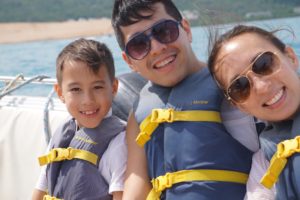 Edric and I were invited to review our stay from the angle of how it might appeal to Filipino families. We took Titus along because it was his turn to travel with us. It turned out to be the most suitable trip for a guy like Titus who enjoys adventure.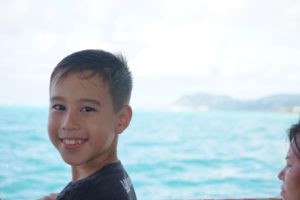 We stayed at the Fiesta Hotel which had a great location and beautiful beach front. Plus, it had the best cultural show on the island — The Joyful Dinner Show. (Edric and I laughed so hard during this show during the audience participation part.)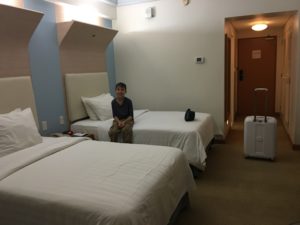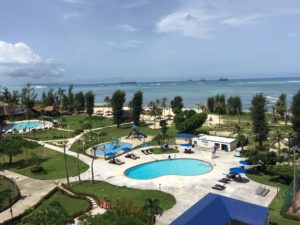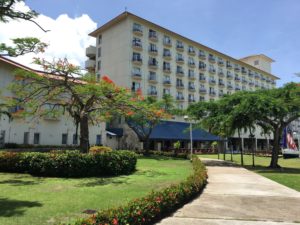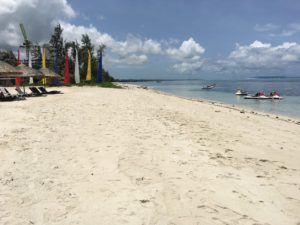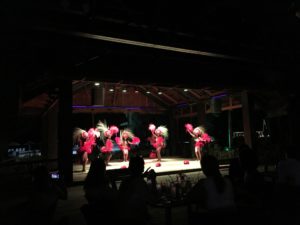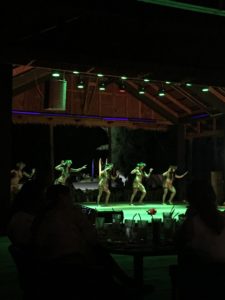 Saipan has got much to offer the adventurer and the photographer. I have chronicled our experience in photos for you to appreciate. (None of the photos have been edited. Most were taken with my iPhone)
Bird Island Lookout: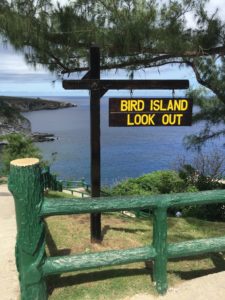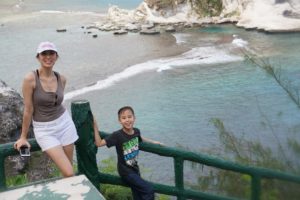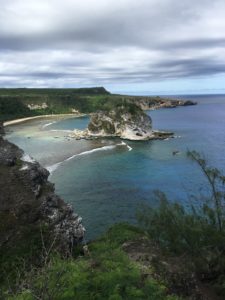 Taking a submarine trip to view underwater life and World War II wreckage: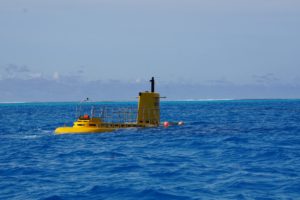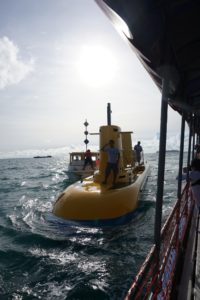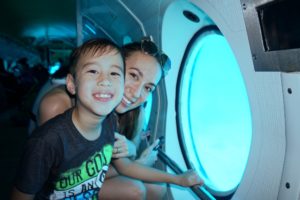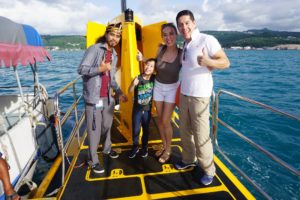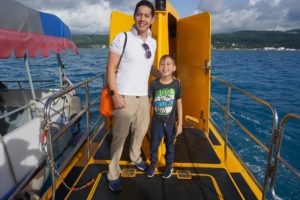 Parasailing on Managaha Island: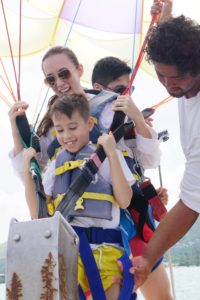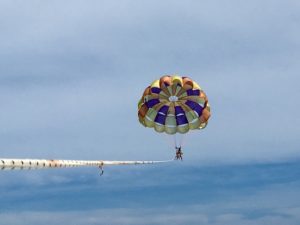 The amazing Managaha Beach where you can go snorkelling or diving in pristine waters: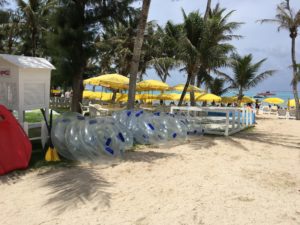 World Resort as a perfect paradise for children. They won't want to leave this water wonderland: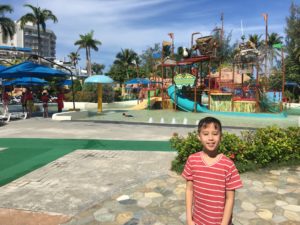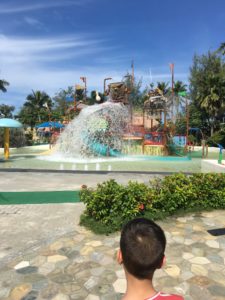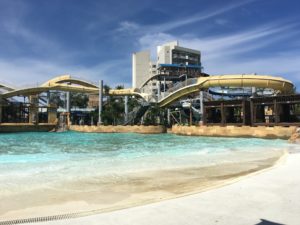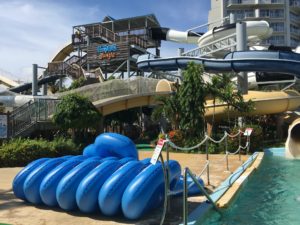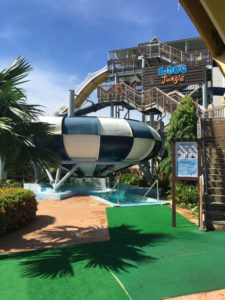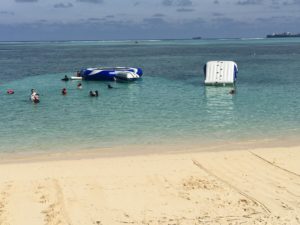 Learning to do Banana Painting with the locals: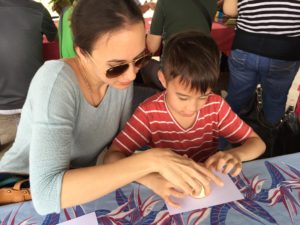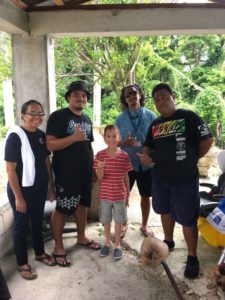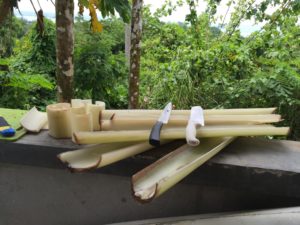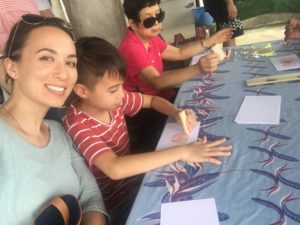 The famous Grotto dive site: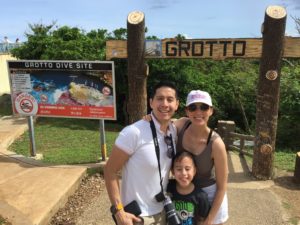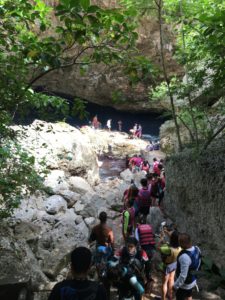 Ultra Terrain Vehicle driving through the streets and up to the highest point of Saipan thanks to Let's Go Tour Company: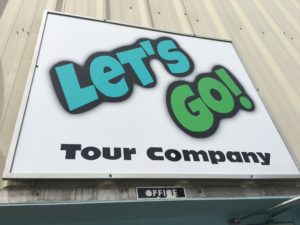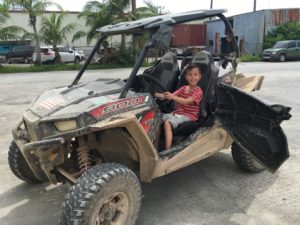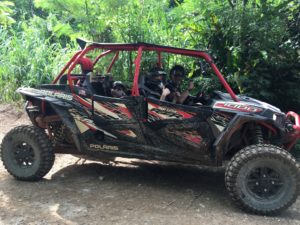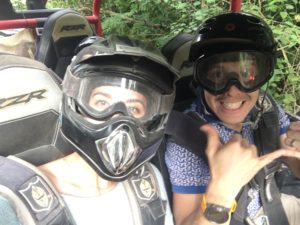 The Sand Castle Magic Show at the Hyatt Hotel (Titus got force-volunteered by the magician and was a good sport about it.) Please be informed that some of the dancing and the outfits worn by the women are provocative. Photos weren't allowed till the end, too: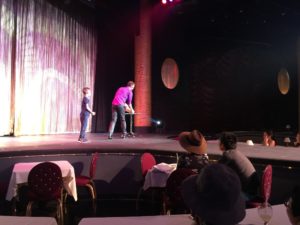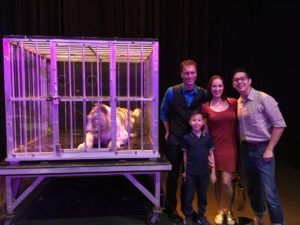 Lots of breathtaking sights where you can smooch your honey for a nice selfie: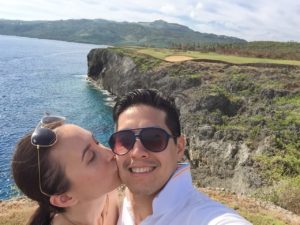 Here's my honest opinion about traveling to Saipan…There are three prohibitive factors that I have to divulge. First, the cost to fly there is pricey. At 500 USD per person for a four-hour flight that leaves in the wee hours of the morning, it feels expensive, especially because you can fly to South East Asian countries for less. However the good news is the Philippine Airlines will be working out a more reasonable fair soon. Second, you need a US Visa if you aren't a US citizen. Third, the hotels need renovating (especially their bathrooms) for the price they charge. (I'm kind of picky about details when it comes to hotels, so this is a personal observation.)
However, this doesn't mean you should scratch Saipan off your bucket list. Saipan has got the cleanest ocean I have ever seen. It's a diver's dream. For the record I don't dive but these islands are known for their dive spots. Huffington Post called it The Most Beautiful Place in America You've Never Heard Of.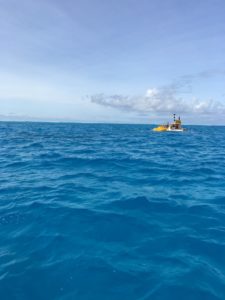 It's also wonderfully underpopulated with just 55,000 residents. There is no traffic and the air is pollution-free.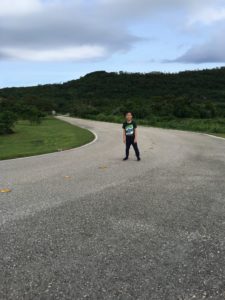 You can drive around in a Mustang and actually enjoy the top down. We had a blast doing this. What color do you want? Yellow, Pink or Red? (Apparently these are their most rentable colors.)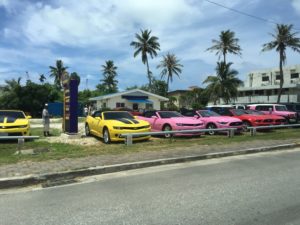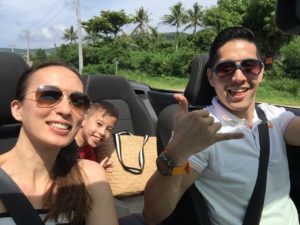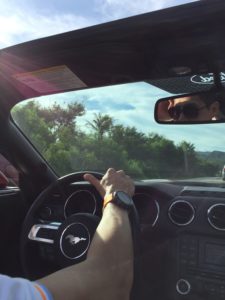 Plus, there's the aspect of its history. If you are into war history, this place has something to offer. The last command post of the Japanese was on Saipan. And the Hiroshima bomb was launched from an island just five minutes away by plane called Tinian. Furthermore, the Suicide and Banzai Cliffs tell an eerie tale of how the Japanese coerced locals to jump to their deaths before the US military took over the island, in an attempt to avoid capture and supposed torture.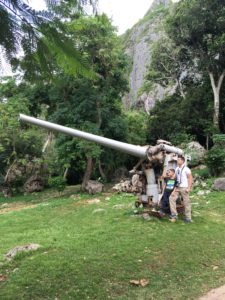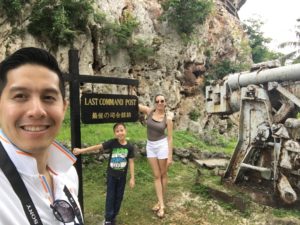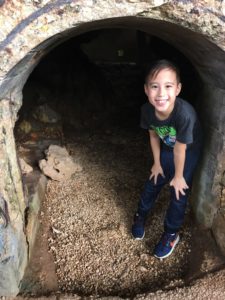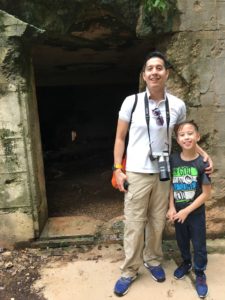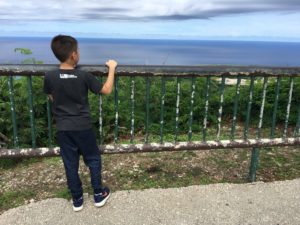 For golfers who like to play on a course with a spectacular views from ocean to mountains, there's also the Lao Lao Golf Resort.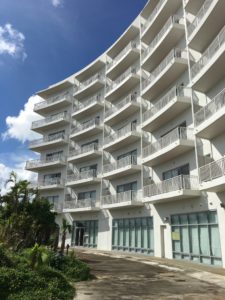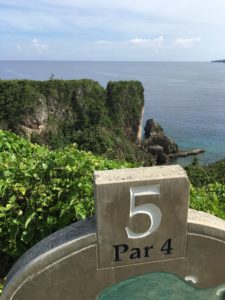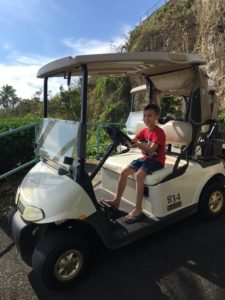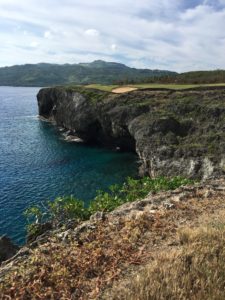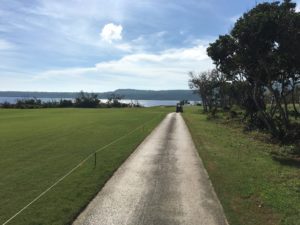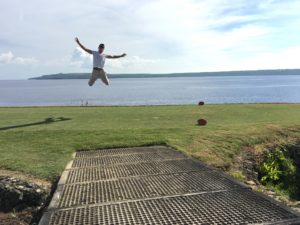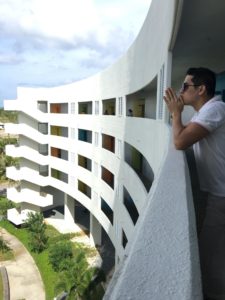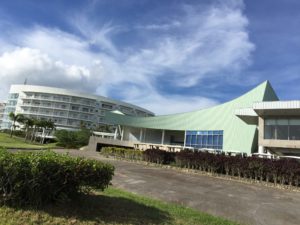 In the next three or four years, Saipan will attract greater interest as businessmen invest heavily in its infrastructure, facilities and resorts. So there's much to look forward to.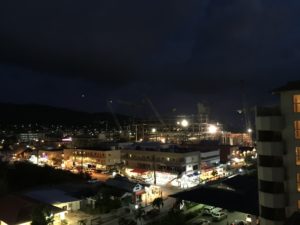 At present, it's one of those places that is perfectly contented to just be, very much like the people who inhabit it. It's all about being chill and laid back. (People gamble in t-shirts and flip flops). Edric and I took a peek into the casino and I was amazed to see how underdressed people were.
For a ridiculously high cost of 1 million USD at the casino, you can also be invited aboard the luxury Grand Mariana Yatch. We got to check it out for free as "media," which was a nice treat.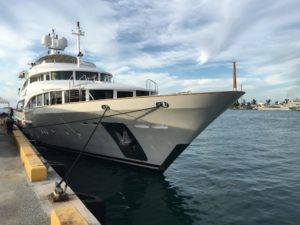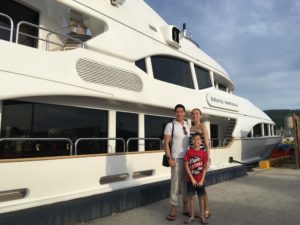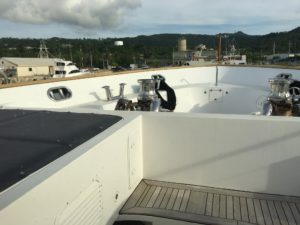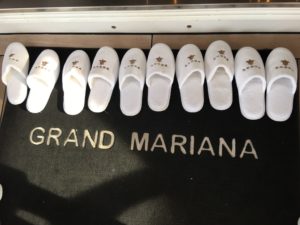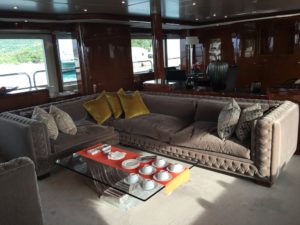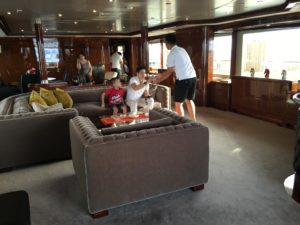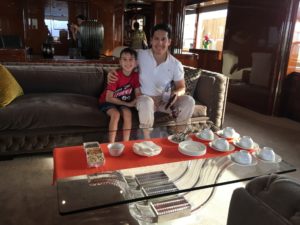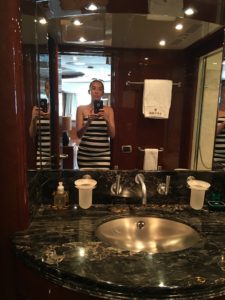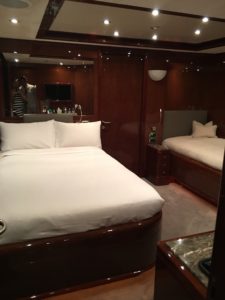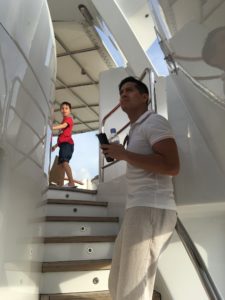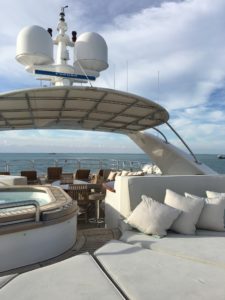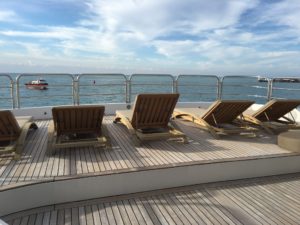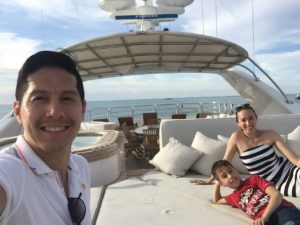 Chinese, Koreans and Japanese love Saipan. They are practically sustaining the entire economy with their yearly visits. For them it's an amazing getaway from their cold climate and crowded living conditions.
Personally, and this isn't with bias because I was flown there, Saipan had a mysterious appeal to me. It felt like a good setting for a novel, the kind of place that evoked nostalgia for the 80s and 90s but made you wonder why it seemed to be stuck in that time period. Some of the buildings in the main city were abandoned, others needed a good repainting. And the streets were pretty empty, except for a few locals and tourists in their beach wear. For Manila folk, empty streets can feel like a rare, unnerving sort of thing, but I liked the quietness.
Edric and I got to speak to the head of the Mariana Visitors Authority who gave us a very interesting summary of Saipan's history.
If you aren't Chamoan or Caroliñan (the original people), you cannot own property in Saipan. But if you are a businessman you can do a long term lease on properties. Saipan's status as a commonwealth of the United States is unique in all the world. They elected to be part of America in 1978 but with their autonomy preserved. People from CNMI look like people from Hawaii or the Mauri people of New Zealand, some of them even look Filipino.
Filipinos will feel an affinity towards the people, culture and traditions of CNMI. In many ways they are like Filipinos — familial, friendly, and easy going.
Perhaps in the near future, Saipan will also become a favourite tourist destination for Filipinos. In the meantime, Saipan will appeal to the traveler who isn't looking for the atypical sort of adventure. It doesn't have great shopping, or outstanding resort rooms, or cheap flights to it, but it's one of those places that you will enjoy getting lost in, exploring the wonderful outdoors, especially if you need a break from the harried, hectic city life that can be so tiring for us Manila peeps!
For more information on Saipan, check out My Marianas PH on Facebook.