To keep my kids motivated and excited about learning, I sometimes add little changes and incentives to our daily routine. Today, I let my younger kids study outside while the older boys were in charge of lowering and raising their books through a pulley system. Elijah and Edan used a rope and basket, and Titus, Tiana, and Catalina had to ring a bell when they needed new books delivered, or finished work raised back up.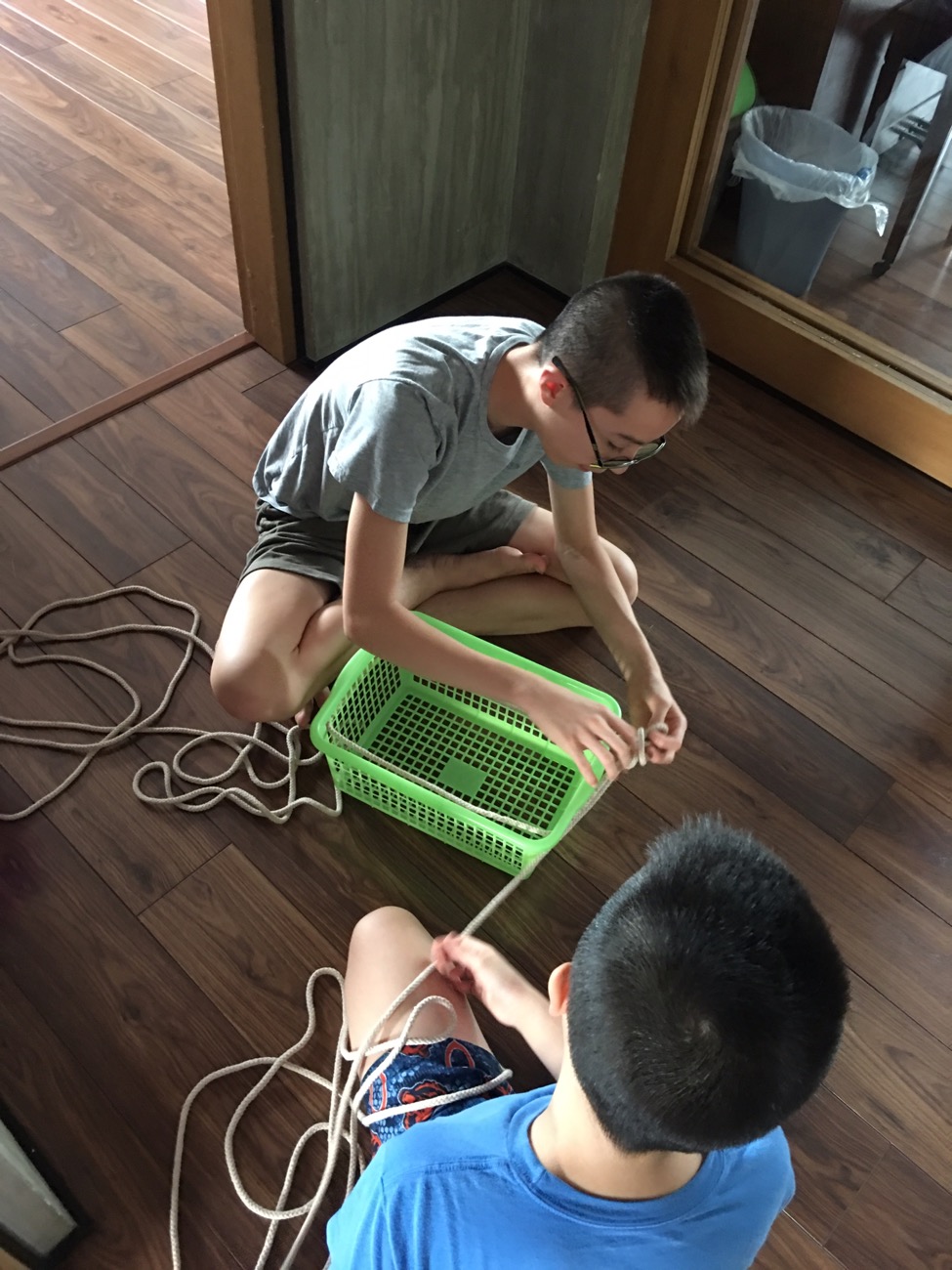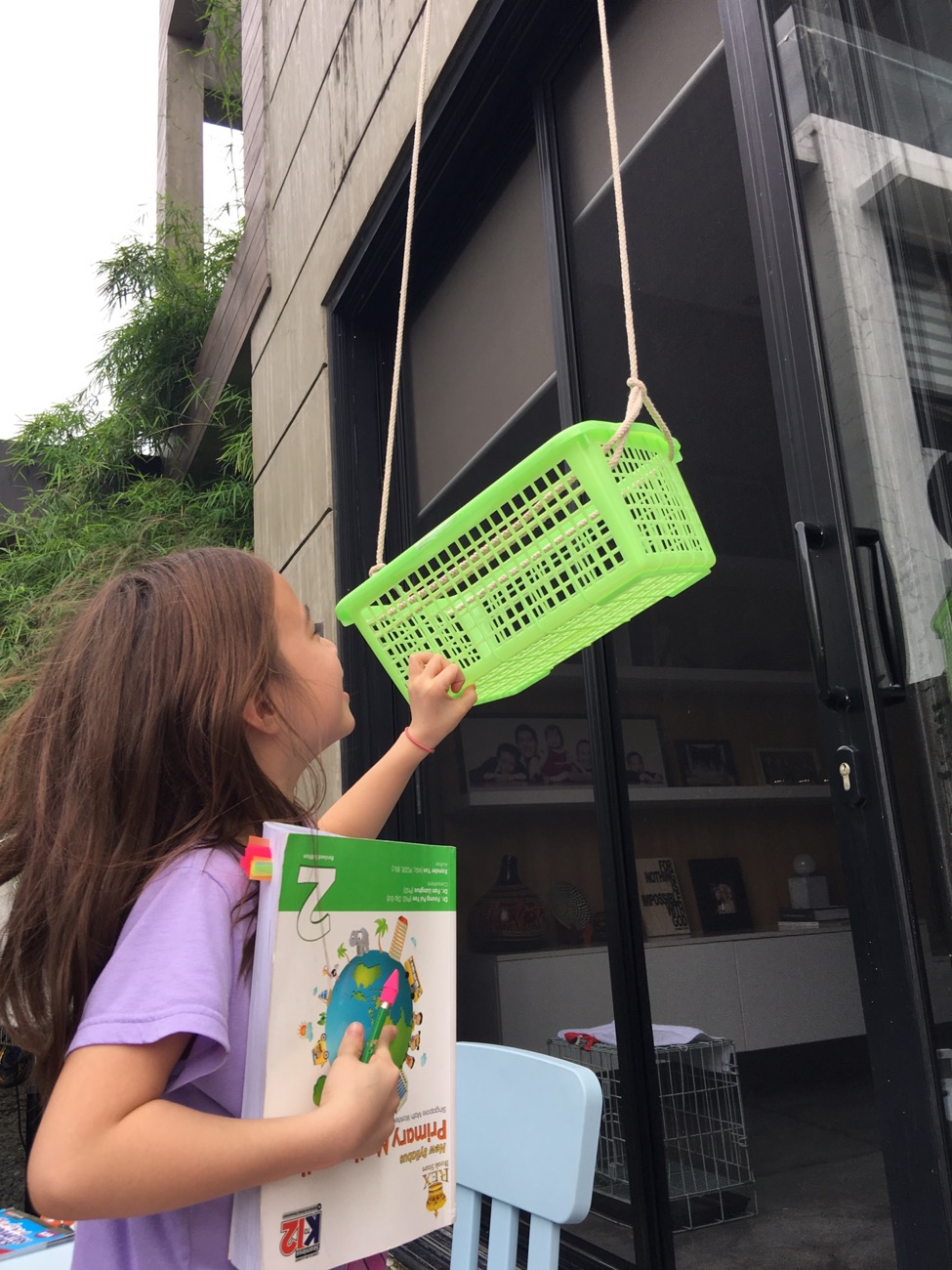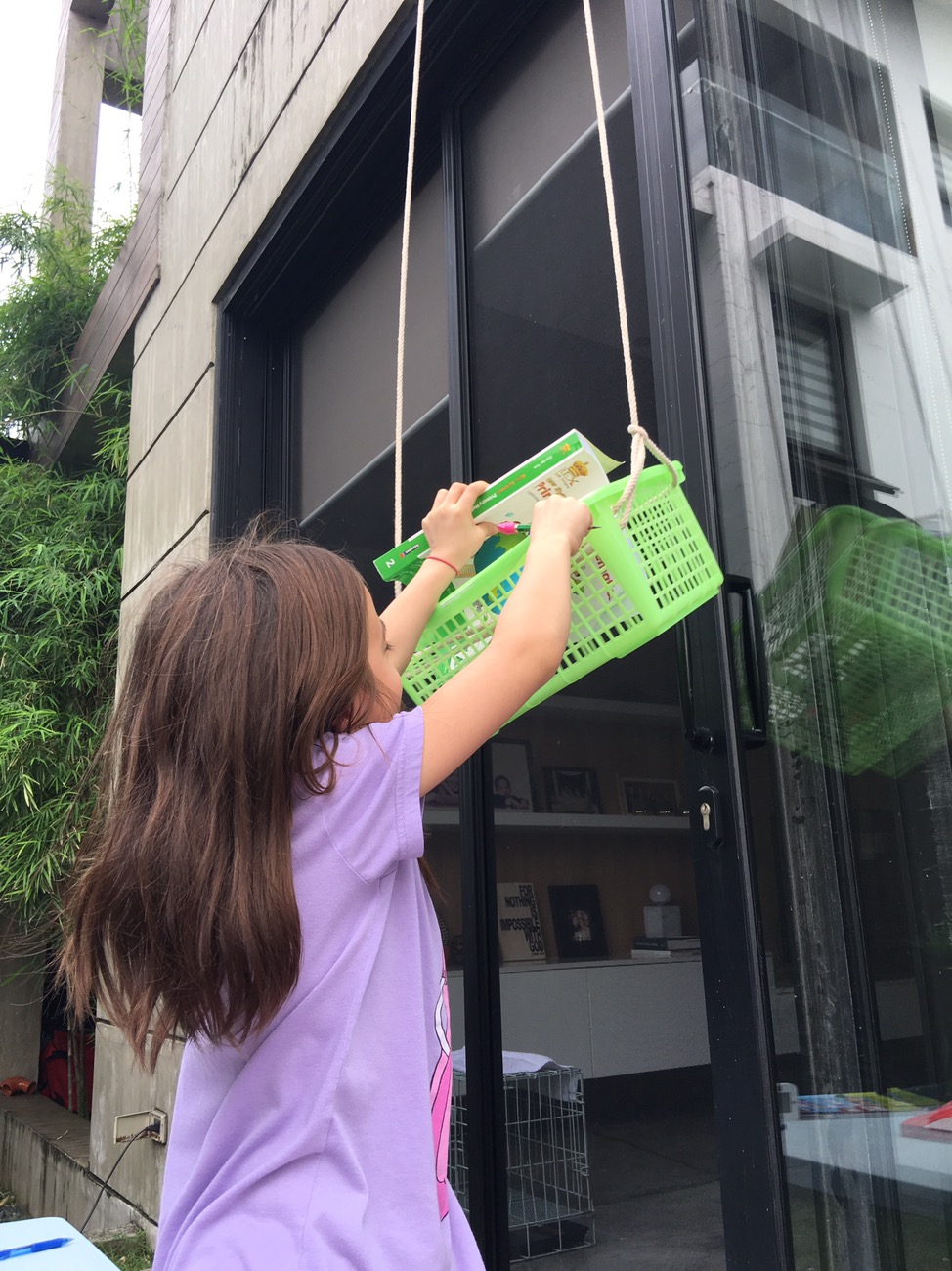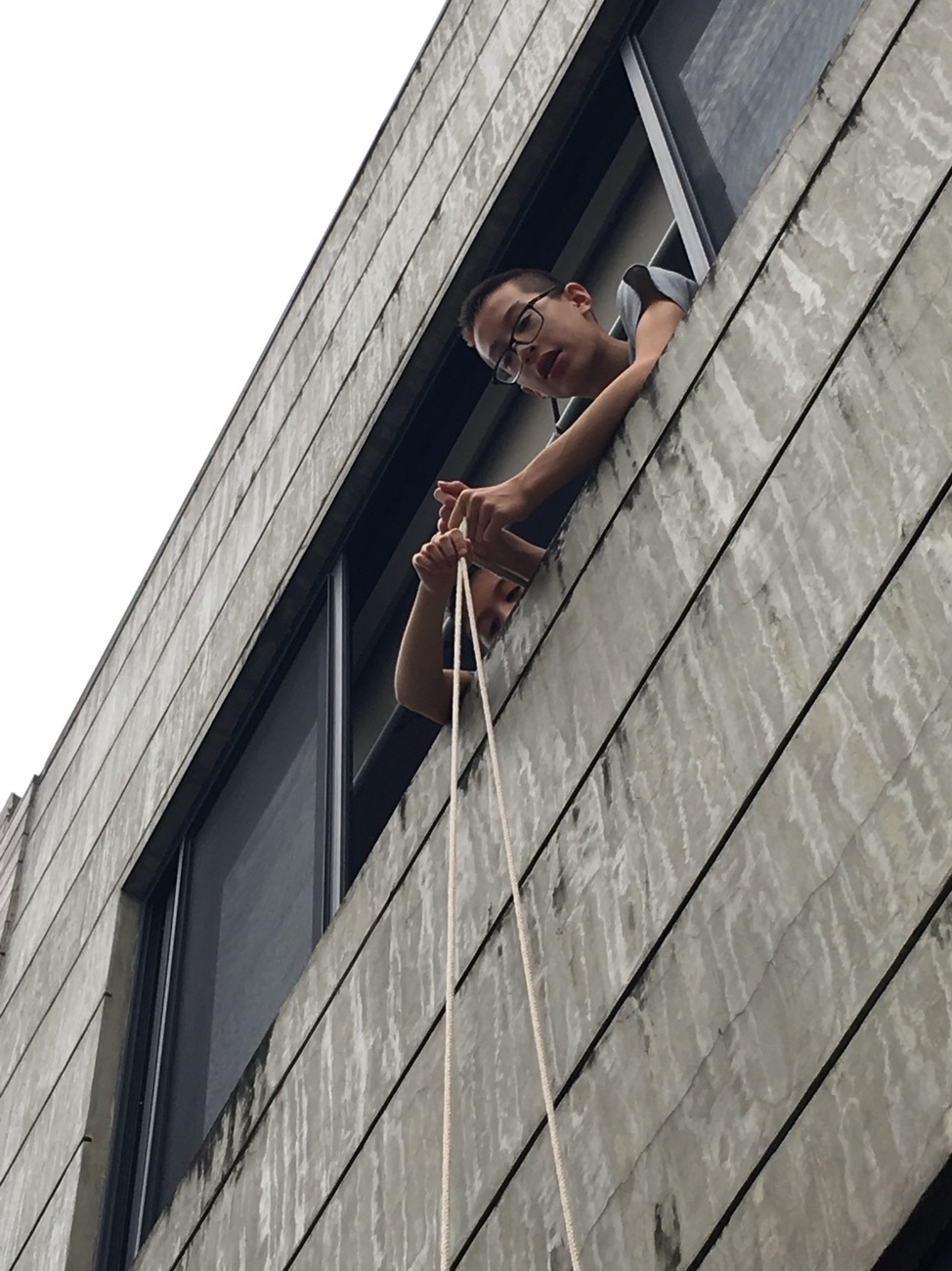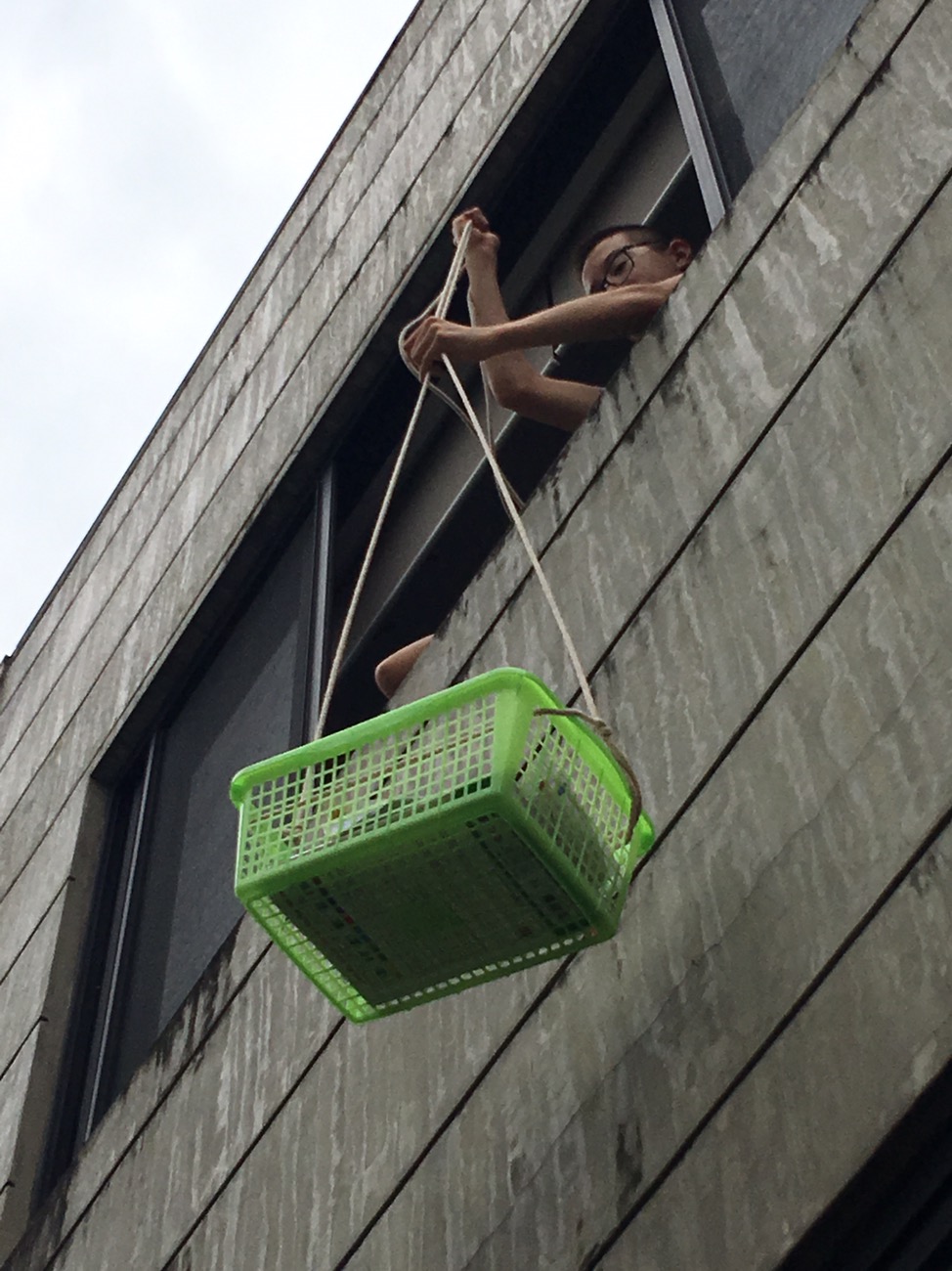 I sat outdoors with the younger kids who enjoyed being with the bunnies and sitting on a mat on the grass. It felt like an adventure. Plus, it was my secret way of getting them some healthy sunlight, too.
Titus, who is kinesthetic, really liked the set up today. He accomplished his work faster than usual. (Since he tends to get distracted, I also use a timer for him. He sets it and tries his best to beat the timer.)
I once heard a homeschool veteran and speaker say that motivation is what keeps a child learning. On the one hand, I want my kids to demonstrate the capacity to sit for extended periods of time in order to accomplish their tasks. Yet, I also believe in making adjustments when necessary to keep kids interested in learning.
When learning is a joy, my kids are engaged and willing to put in the time to finish a task. I have observed that my kids' desire to learn is fanned by five things.
The first is purpose. My kids, more notably the older ones, know that learning is part of God's plan for their lives. A foundation of skills, knowledge, and experiences is being built to equip and prepare them for God's kingdom-building work.
When we go off course in our homeschooling and head in the direction of high stress, I know we are losing sight of the purpose and focusing too much on performance. So I have to take my kids aside and have meaningful conversations with them that revolve around the why of our homeschooling.
The second thing the motivates my kids is the freedom to explore their interests. Whether their interest be in the form of a topic, activity, or object (and provided these interests aren't detrimental to their emotional, physical, mental and spiritual health), I give them freedom to pursue these.
For example, Elijah likes building apps and coding which requires him to be good at math and logic. So he pushes himself to learn math concepts that are beyond ninth grade requirements. I don't force him to study trigonometry, for instance, but he tells me he has to learn a bit of trignometry to do coding. So that's what he is doing.
Titus still likes to play. So being outdoors for him and using that pulley system felt like playing to him. He told me several times how much fun homeschooling was today.
The third aspect of motivation is experiencing success. It's discouraging for my kids to deal with repeated failure or the inability to understand a concept. So my job is to address learning gaps, slow down, or repeat lessons until they are ready to tackle more challenging levels and work. Sometimes I have to change the material I am using or make it more developmentally appropriate.
Tiana can't always write down sentences as a seven year old, primarily because she's not yet spelling well. So there are occasions when I ask her to tell me what her sentence is and I write it down for her. Or, I write down sentences for her to copy. At times, I also assist her as she tries to think of the words and letters. Titus used to be the same way, but as he became a better reader, he became a better speller.
My role is to help my kids learn, not to make them feel like they can't learn. Sometimes this means many baby steps to get them to a point of confidence and independence. Thankfully, Elijah, Edan, and Titus are, more often than not, able to study without me hovering over them too much. Tiana and Catalina will get to that point eventually as their capacity to read improves. In the meantime, experiencing mini victories as we plod along together encourages both of them to keep going.
The fourth thing what motivates my kids is our learning environment. The relational climate between us can positively or negatively affect their desire to learn. When I am irritable and impatient, they are scared to make mistakes or to disappoint me. This is unhealthy because learning becomes about pleasing me and avoiding conflict. Worst of all, my bad example can be perceived as hypocrisy, nullifying my attempts to teach them about the Lord and what it means to have a relationship with Him. Therefore, I must always be careful about my tone and my interactions with them. Am I exuding the joy of the Lord? Am I enjoying my time with them? Am I affirming them even as I help them identity their mistakes and correct them? Am I allowing them to express their frustrations and processing these with them from a spiritual perspective?
Lastly, kids must internalize that obedience brings blessings. When my kids don't feel like exerting effort to learn something I ask them to, especially the older ones, they remember the importance of obedience. It may not seem like fun to obey when it's inconvenient for them, yet the choice to do so translates to a change in their attitudes.
It's like my dad used to say, "Motion before emotion." Make the choice to do the right thing and the emotions will follow. Very often, their resistance is replaced with a smile and softeness of heart, and they apologize for their bad attitude (if this is present). The blessing is that God supplies the motivation and rewards their efforts.
When these five elements of motivation are present — a clear, God-centered purpose, interest-led experiences and pursuits, success, a positive environment, and obedience, homeschooling is a delight for my kids and me. Remove any one of these factors and the motivation suffers.
When the purpose isn't God-centered there is pressure to perform. When interests aren't acknowledged or accomodated then kids tend to get bored. When success isn't there, children feel like lessons are unreasonably hard or they feel insecure about their abilities. When a parent gets angry easily and the learning environment is tense, kids are controlled by fear. When children haven't internalized obedience, they may comply on the outside but develop resentment on the inside.
The good news is that God gives us the ability and the wisdom to provide these five motivating elements. So let's tap into His daily grace and ask Him for help!
"Keep on asking, and you will receive what you ask for. Keep on seeking, and you will find. Keep on knocking, and the door will be opened to you."‭‭ Matthew‬ ‭7:7‬