When one of my sons heard a relative say, "You are so short!" he teared…not in front of her but in private. The comment picked at an insecurity that he had been struggling with for the past year. Compared to his older brother, who has gone through puberty, he is significantly shorter. He also has friends and cousins his age or younger who are taller than he is.
In September I finally took him to see a pediatric endocrinologist who was recommended by my pediatrician, Dr. Joy Ty-Sy, from Cardinal Santos. Her name
Is Dr. Siok Sua Cua, also from Cardinal Santos, and she had my son get an X-ray for his hand. She also measured his height and checked her charts. The most encouraging part was that she asked my son to list down ten things he believed he was good at. Together with him, she went over each of these items and discussed them, focusing on the many areas and talents he had to celebrate. This was her way of de-emphasizing the height concern.
The positive news is that he is still within the normal, acceptable range for his height. Edric does have short genes in his lineage so that may be a factor, but so far, there's no major concern. Furthermore, Edric went through his growth spurt later on than his peers so he too was short at the same age.
I took my son to Dr. Siok Sua Cua for my own peace of mind, and for his sake, to allay his fears. Yet, even if she doesn't think there's anything to worry about at this point in time, and even if I try measures to prevent the possibility of height issues through diet, good sleep and exercise, my son may end up being, um, vertically-challenged. Deep inside, he has confronted this very probable reality, especially since people continue to make comments like, "I am much taller than you," or "Why are you so small?"
Therefore, Edric and I have been processing this concern with him so that he can have the right perspective. In fact, all our kids have to embrace the proper outlook on themselves and the unchangeable aspects of who they are. We have to positively program their minds with thoughts like, Thank you Lord for who I am, even if I would like to change somethings about myself.
I don't want to minimize the fact that my kids get verbally wounded. In fact, people often ask me if children who are homeschooled get exposed to "real" world experiences like bullying and learning to deal with difficult people. The answer is, "Yes! Of course!"
Bullies and insensitive people aren't found in classrooms and schools only. They can be present in your own family, among relatives and friends, and even in places like Sunday School or random social settings.
So, yes, my kids definitely have to deal with self-worth issues and overcoming negative messages about themselves when these are pointed out by others. However, the good news is that we are here to help them see themselves and their worth in Christ through spiritual lenses. They can't control what others will say, or avoid being compared to others, measured against "standards", and pressured to conform and meet up to the expectations of people. However, they can control how they will respond. We can teach them to receive these hurtful statements with grace and faith. Grace that doesn't retaliate with anger, and faith to believe that God has a plan for who they are and will use the hurt for their good.
(Please note, when the hurt is beyond verbal jabs and goes into the physical realm, well, that's a different story. We need to teach them self-defense!)
Recently, over lunch, Edric also reminded all our kids that they are special. They don't need to perform or do things to impress us or others, we love them no matter what. They are special because they are our children, and more importantly they were fearfully and wonderfully made by God.
"I will give thanks to You, for I am fearfully and wonderfully made; wonderful are Your works, and my soul knows it very well." Psalms 139:14
"The fastest way to kill what is special," Craig Groeschel explains, "is to compare."
When we compare ourselves with others, contentment ends. He warns that "comparison either makes us feel superior or inferior and neither of these honors God."
When we look at what we don't have, we neglect the gifts that we do have. This lesson isn't just for my kids but for me, too. I have insecurities I still battle with regularly. There are days when circumstances or people highlight how I fall short and fail to measure up to a standard of perfection or success that the world likes to elevate.
However, the focus ought to be on Christ, to run the race He called all of us to, not weighed down by a comparison mindset, the sin of discontentment and covetousness, as well as a-poor-me-mentality.
"Therefore, since we are surrounded by such a huge crowd of witnesses to the life of faith, let us strip off every weight that slows us down, especially the sin that so easily trips us up. And let us run with endurance the race God has set before us. We do this by keeping our eyes on Jesus, the champion who initiates and perfects our faith…" Hebrews 12:1-2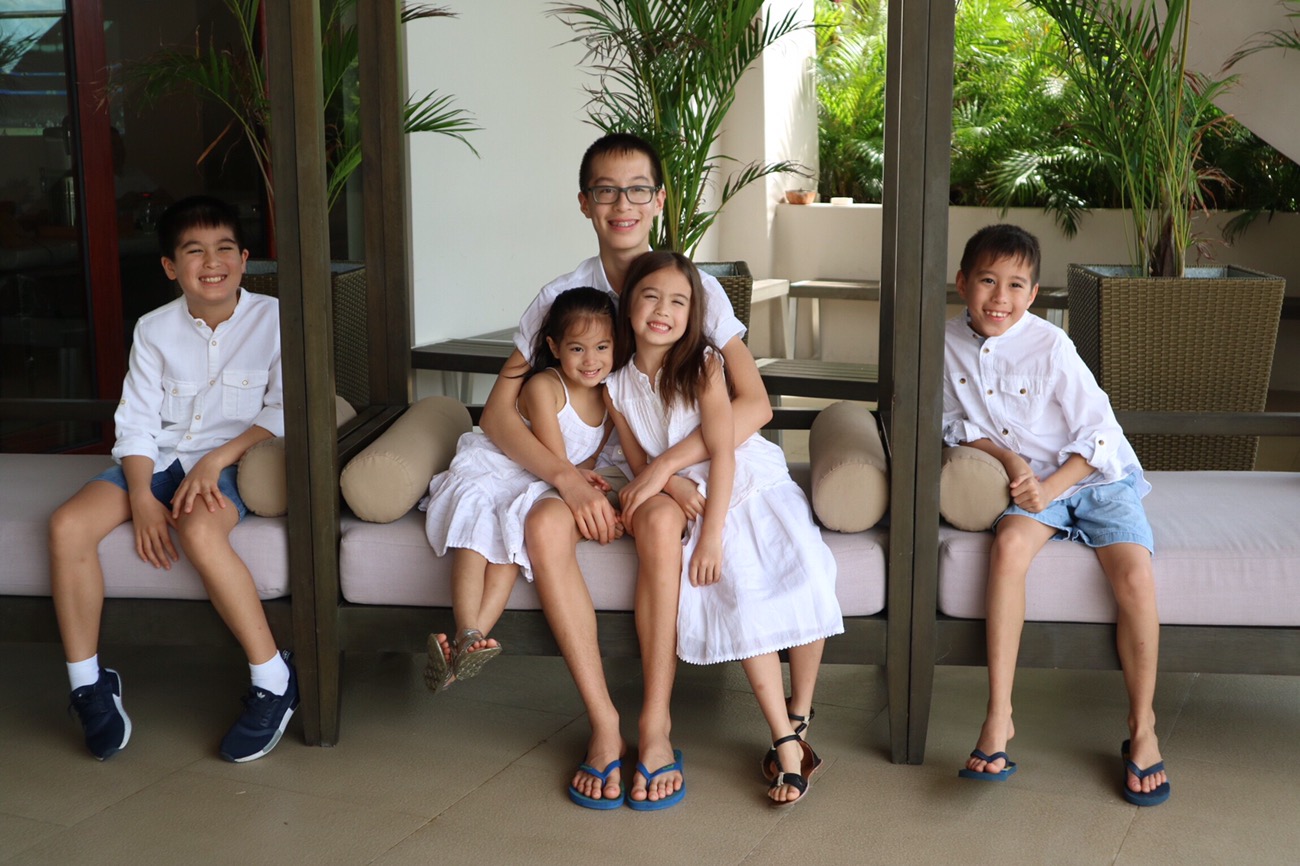 Edric and I need to tell our kids (and ourselves) that there will always be someone wealthier, taller, faster, better looking, more talented, and more popular than them (and us). It's not in the chasing after these things that we will finish our race well, but in the faithfulness of our daily pursuit of God and our obedience to Him. Groeschel encourages, "Don't seek to be important. Instead, be faithful. If you remain faithful, then what you are doing will become important and bring glory to God."
In my son's case, if you remain faithful to God, walking in daily obedience to Him, it won't matter how tall or short you are. You will have His favor and His blessing. I love you, son!