Spelling only a mother can understand.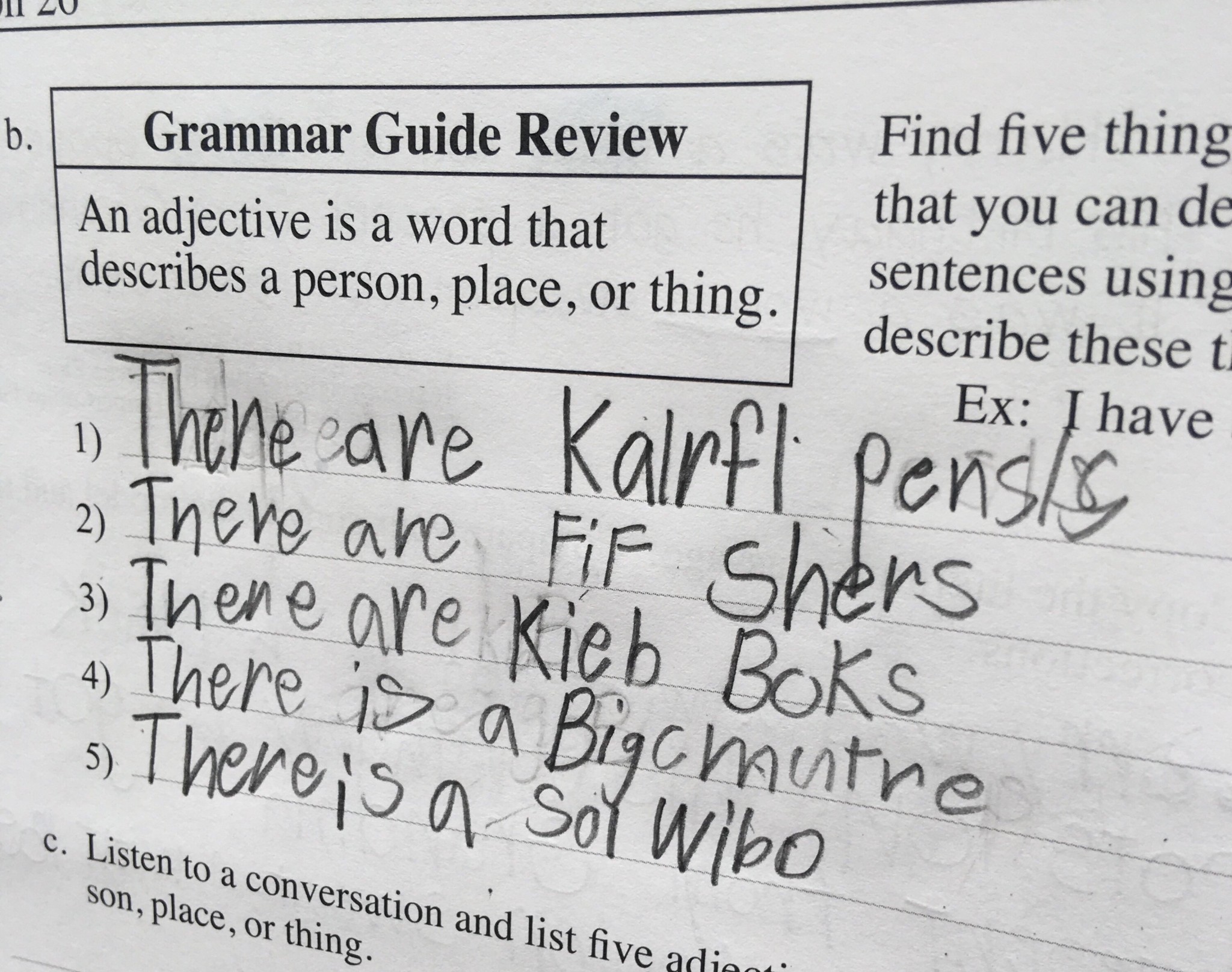 Sentence # 1 – There are colourful pencils.
Sentence # 2 – There are five chairs.
Sentence # 3 – There are kid's books.
Sentence # 4 – There is a big computer.
Sentence # 5 – There is a small window.
So this was my second grader's output this morning after being asked to write five sentences using adjectives. We laughed together afterwards at how undecipherable it was. To articulate these sentences and come up with them was easy. It was putting them down on paper that became problematic.
My first instinct was to be frustrated, but then I told myself, "Look, this is your job, to teach your child, to get them to the point where spelling is natural and easy. So if your child doesn't get it yet, well, you have to keep doing your job faithfully, patiently. It's not the end of the world."
How long will this take? Well, I really don't know. I'm thinking that if this child of mine isn't spelling well by the age of twenty-one, then we have a problem. Otherwise, this is all part of the learning process and I have to commit to it.
Instead of getting irritated, I told my child, "Don't worry. You will get it eventually. That's why mom is here…to help you."
For the record, that was not me. That was the Lord! If you have been following this blog, you know what I have thrown a pencil across the room and ripped a page of a book in front of my kids!
A big smile broke across the tiny face that anticipated verbal chastising from me. The confidence soared.
We pressed on together.
Every child has strengths and weaknesses that need attending to. Spelling may not be an issue for my other kids, but they have other struggles. One thing is for sure, they are all in process, in the process of becoming who God made them to be — mind, soul, body, and spirit.
I just love how Paul David Tripp worded it in his book on Parenting – 14 Gospel Principles That Can Radically Change Your Family, where he speaks on how our children, like us, are in process. "You must be committed as a parent to long-view parenting because change is a process and not an event."
Very often what incites me, as a parent, is that my children don't change right away. When I teach them something today and they forget it and do the opposite tomorrow, it's upsetting. For instance, I keep telling my son to focus on eating his meals right away instead of leaving everything to turn cold and unappetising because he does everything else but eat. I ask myself, how long will I keep sanctioning him for this until he gets it? Today, I banned him from using gadgets because he started playing with his brothers instead of finishing his breakfast in a reasonable amount of time. I didn't get angry, but it was like, sigh, this issue again.
I think my bigger problem is that I want lasting change in the hearts and minds of my kids but I'm not always willing to wait or repeat myself over and over again in order to experience it.
My second son, Edan, asked me today, "Why do people need to buy expensive paintings when there are apps that can transform a scene from nature into a painting-like image instantly?"
I threw the question back at him. "Well, what do you think? What makes something valuable and precious in the first place?"
He looked at me blankly. He didn't get it. I don't blame him. He's growing up in a world where instant is the norm, where immediate gratification is possible, for almost anything. So, yah mom, why can't I just print out a photoshopped version of a natural landscape and declare that as precious art? After all, it will look just like the real thing!
Well, what I hoped for him to deduce was how priceless objects and works of art take loads more effort and time to create. Furthermore, there is that distinguishing touch and style of a master artist that he or she developed and perfected over years of training and practice that sets these creations apart.
Sometimes, I have to admit that I can be unrealistic like Edan about how something extraordinary and beautiful takes time to produce. I want my kids to be better, more capable, more mature, today. Like, overnight. But children don't grow that way do they? We can't upload eighteen years of content and training into their brains in one day, a week, month, or even a year, and say, "Yey! My job is done!"
We have to guide them through their different stages, repeat ourselves often, teach and re-teach important skills and truths, disciple, discipline them, and love them no matter what.
Therefore, today, against my natural inclination to want expediency, I let my second grader know that I was committed to the process. Our homeschooling turned into a day of victory. No, my child didn't magically learn how to spell all the words that were misspelled. Instead, my child learned to be patient and hopeful — things that I believe are more important than academics. On Monday, we can work on the spelling.
As we encounter learning challenges in our children, and even character ones, let's remember they are in process. God has given us the privilege of walking, guiding, encouraging, and loving them while they are in process. We don't have to fear the future. Will they be successful? Will they turn out okay? Will all the effort bear fruit?
If we do our best to be faithful, let's be encouraged by this: "So do not fear, for I am with you; do not be dismayed, for I am your God. I will strengthen you and help you; I will uphold you with my righteous right hand." (Isaiah 41:10)
God will strengthen and uphold us so we can do the same for our children!
I love these chickadees!