Edric and I have been busy attending conference talks for the Global Home Education Conference, while our kids make friends and play with english speaking and non-English speaking children.
Yesterday, they rode the elevator on their own after heading back to their room to pick up some toys, games, and art materials to share with their new friends. Elijah, my fifteen year old, was hanging out with some older kids so he had no idea that his four younger siblings (ages 12 to 4) were trapped in the elevator for over ten minutes.
I had no idea either. When I took a break from the conference to check on them, they weren't with their friends. So I waited for a bit, but I wasn't too anxious since the hotel was a very reputable place. After some minutes, I caught sight of Edan, Titus, Tiana, and Catalina, exiting the elevator area in tears.
Goodness, what happened?!
They ran into my arms and cried. "We were stuck in the elevator!"
Three of them were traumatized. Titus didn't seem to be as shaken, although his eyes were a little misty.
After their nerves settled, they narrated what happened. Apparently, they had been jumping up and down in the elevator, which must have triggered some fail safe mechanism that automatically stopped the lift from descending. (So technically, it was their fault.)
When they realized they weren't moving, Edan took charge and suggested that they pray. He also had the sense to press the emergency button. A Russian speaking person on the other end tried to find out what was wrong. They were told to wait a moment, but this felt like forever.
In the meantime, Titus proposed that they sit on the floor, play with their games, do art, and make the most of the wait. (He is very often the optimist amongst all of my kids.)
Edan, feeling the weight of his responsibility as the older sibling for, decided they should sing a hymn. He got them to sing "When Peace Like a River…" even while the girls were in tears.
Tiana commented, "My nightmare has come true! I think we are going to die! I don't want to die! I don't know if I really know Jesus!" So, Edan shared the gospel with her and prayed with her.
When Tiana's panic kicked in, Catalina began to wail.
At some point the lights went out, and then they all thought they were going to die!
Thankfully, the elevator mechanism must have been reset and they made it to the ground floor alive. However, they were so traumatized that there was crying even afterwards, when they retold what happened.
Well, they learned their lesson about not jumping up and down in an elevator. In some ways, I think being stuck in the lift was good for them. It revealed their different character traits and personalities, as well as their fears. I told them how proud I was that they thought to communicate with someone using the emergency button. I was proud of them for looking out for each other, for Edan who took charge by leading them in prayer and song, and being strong, for Titus who was cool headed and positive, and for all of them because they trusted in God to get them out of their situation.
They had some post traumatic stress, and have avoided entering elevators without Edric and me, but in time I am pretty sure they will get over it.
At present, they are thoroughly enjoying our family trip…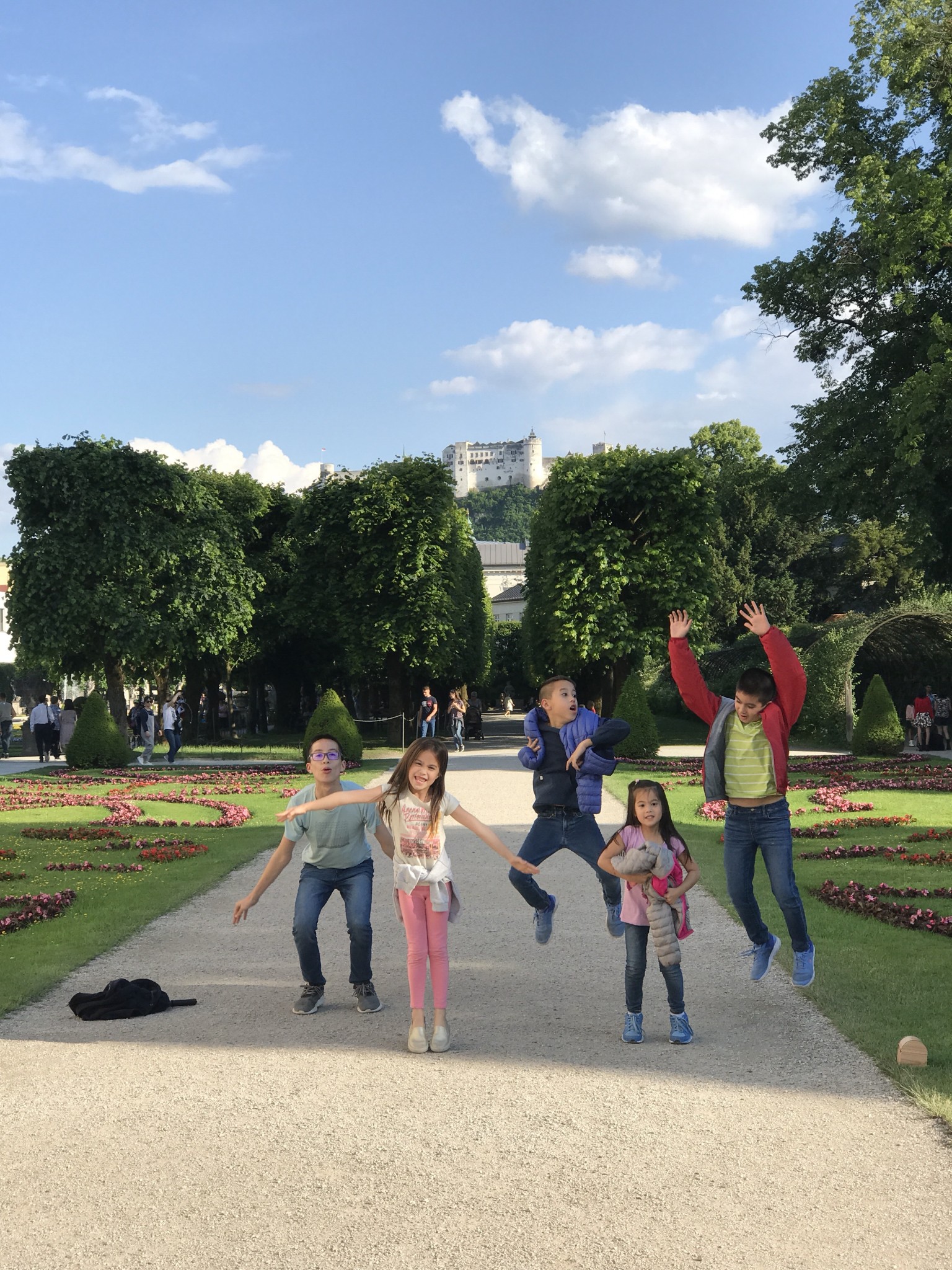 It was an eye-opener for Edric and me. We realized that it's important to prepare our kids for unprecedented circumstances and emergencies, to teach them to be calm, to pray, and to use common sense and wise judgment when they have to solve a problem. The second thing we realized is God takes care of our children. We may not always be there to rescue them from every crisis, but God is ever present and mindful of our kids. He is their Savior, not just in the spiritual, eternal sense, but even in the day to day. I can think of other instances in the past when he protected our kids, and it's such a comfort to know that He is more powerful and in control that we could ever possibly be!
The Lord says, "I will rescue those who love me. I will protect those who trust in my name. When they call on me, I will answer; I will be with them in trouble. I will rescue and honor them."
‭‭Psalms‬ ‭91:14-15‬