The kids were with me the whole day yesterday. Well, what's new, right? I am a homeschool mom. This is to be expected. However, yesterday felt especially long and draining because the kids were getting at each other.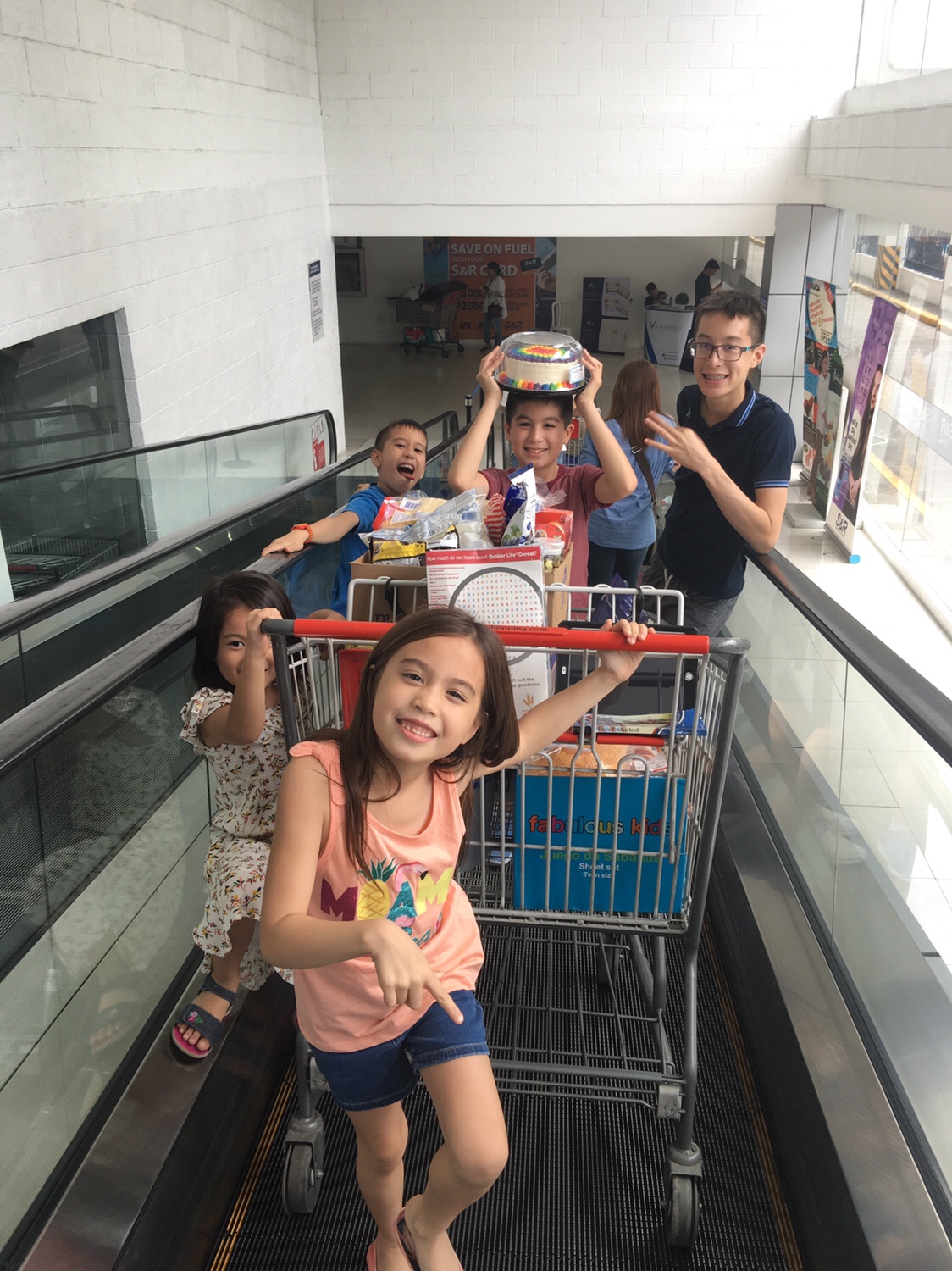 We were walking through S&R doing some grocery shopping when Elijah and Edan started arguing about their business venture. It's a small business they are trying to kick off. The two of them had a heated discussion about what it meant to be an "investor" and what kind of returns such an investor should be entitled to.
Later on, Catalina started wailing while sitting in the cart because Elijah was pushing her away from me to tease her. During lunch, Tiana and Catalina wanted to horde the chicken and prevent Titus from having any, especially the gravy. When we got back into the car, the kids' voices escalated as they complained about not making space for one another.
As we left S&R, I was very honest with the kids. I teared as I explained to them that it saddened me to see them treat one another that way. The reality was, I continued, that I couldn't control their behavior and force them to be kind to one another. What disheartened me the most was they have committed over and over again to practice being patient, to speak in more gentle ways, to avoid losing their tempers. However, they weren't following through with their commitments. At the end of the day, I added, this was something between themselves and the Lord. When they realized I was tearing, they became silent and remorseful, but I felt like this pause was only a temporary peace.
I felt very defeated as a mother, and I felt like a bad mother. Had I not trained them well? Why was it so hard to train them in this area? I know they love God, they love Edric and me, and they love each other. But, why was there this daily friction and competitiveness between them that led to verbal conflicts and unkind actions?
They didn't have the habit of yelling at one another. (Thank you, Lord.) However, the bickering…it was maddening.
As I enter into my third trimester, I am faced with the reality of adding another child to the mix of what already feels emotionally overwhelming.
I am not going to be enough as a mom to transform the hearts of my kids. I know this. I can do my part to teach and train them, to model what's right and caution them against what is wrong, but wow, I mean, wow, I cannot quite fathom how much more difficult it's going to be. There is this deep sense of inadequacy troubling me while I'm in the trenches of parenting my five children and anticipating the first months of breastfeeding my newborn.
One very redeeming aspect of all of this is Edric's leadership in our home. After I opened up to him about the kids and the stress I felt, he sat them down and addressed the issue of bickering and squabbling. I know the boys were especially responsive as he patiently, but firmly, reminded them of what our family values are, what it means to do things for the Lord, to please Him, and not to just do things for mommy and daddy.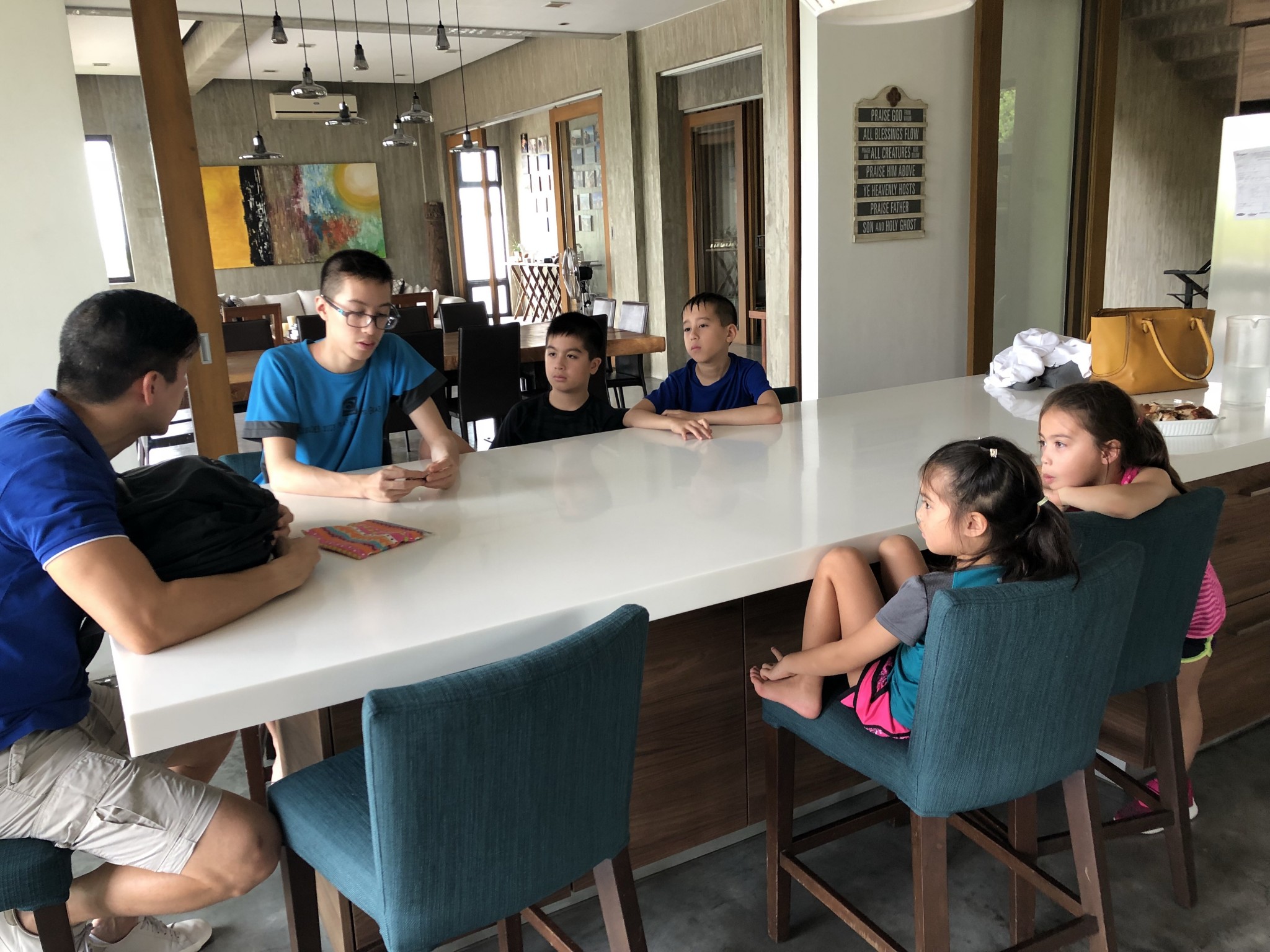 He did add a very real and frightening consideration for them to mull over. Rarely in all our years of homeschooling have we ever used the threat, "We will send you to school." It's usually a line homeschooling parents are tempted to give when their kids don't behave or aren't motivated to try their best. Well, in this case, I actually heard Edric use it!
He cautioned, "If there isn't going to be any real change, and your mom will continue to be stressed out because of homeschooling and taking care of the baby, then we may have to send you to conventional school." In response to this, three of our kids teared, while the other two stared at Edric wide-eyed with concern.
Of course, this is a last resort for our family. Honestly, even if it's stressful, I would rather deal with the sibling squabbles among my kids rather than rehabilitate them from all the competing influences and contradictory values they will be subjected to at school. I can't even enumerate the number of upsetting tales I am told by parents whose kids were exposed to pre-marital sex, porn, drugs, bullying, and unbiblical worldviews in the environments of even the most reputable institutions. So, I will take the bickering over these more damaging options. BUT, it is exhausting when they don't get along.
I'm trying to think back to how calm my own parents were when I would debate and fight my older brother, Peter. We would have these heated discussions where we argued back and forth. My parent didn't seem to be as frazzled as me. In fact, I don't even remember them making a really big deal out of these conflicts. I'm sure they were praying for us, and eventually, we learned to respect and be kind to one another when we were older.
Now that I'm on the parenting side of things, I'm learning what it means to surrender and be patient as my kids mature. It seems painstakingly slow sometimes. Sometimes, I want to round them up and shout at them to make them stop. But I shouldn't, and I can't do that. By God's grace, I don't. After all, it would give my kids an excuse to do the same. For now, I just cry and cry to the Lord because he has to be the one to cause lasting transformation, to convict them to be meek, gentle, and humble in their dealings with one another.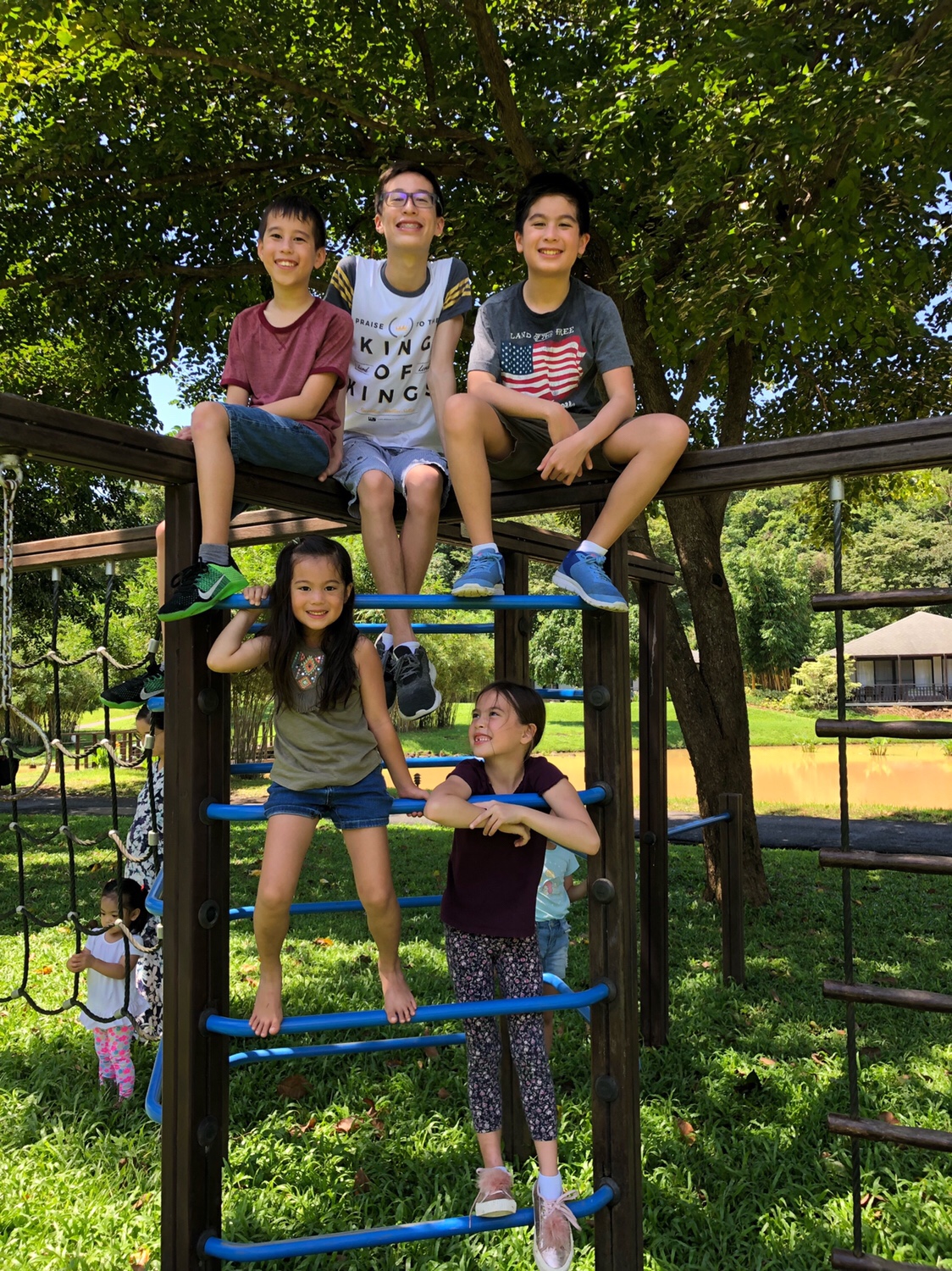 I love my kids to bits but parenting is tiring and humbling. There are moments of victory that make it all worth it, when God reveals that all the effort is producing fruit. However, there are moments when I am like, "What the heck am I doing? I have no idea. And I have no idea what to do!"
When the Bible says that folly is bound up in the heart of a child, it means that they are inclined to sinfulness, that their natural bent is towards selfishness and disobedience. Without intervention, they will NOT develop a heart for the Lord, a heart of compassion and love, nor a desire to please God. They will live to please themselves. Therefore, even if it is a challenge to discipline and disciple my kids, I can't delegate this to others or give up. Edric and I have to keep going and meet each season of parenting with courage and dependence on the Lord.
From what we've experienced so far, these are the tips that do work to minimize conflict between our kids. This doesn't mean that the bickering doesn't return, but at least it doesn't happen every single moment of every single day:
Don't have favorites. We need to show that our kids are equally loved and special to us. Otherwise, they feel the need to prove that they are better, and to best one another.
We have to follow through with discipline, and we have to be consistent. We can't let one child get away with inappropriate behavior and be stricter on another child. This makes them feel like there is unfair treatment, and they feel the need to tattle-tale. There were several instances when Elijah irritatingly said, "Catalina gets away with everything!" I had to be mindful of disciplining her for disobedience and disrespect.
We have to affirm and call out good character in our kids. Today, I witnessed Catalina being very responsible about cleaning up after herself after she went through my first aid kit to get band-aids. She smiled and went the extra mile to close every open drawer that she noticed in my closet when she heard me point out how proud I was that she was becoming very responsible. When my older kids put effort into being sweet towards each other, I appreciate them for it, and they remember to repeat the same behavior.
Avoid yelling and blaming children for our stress. When I've made the mistake of blaming my kids for my stress, it makes them guilty for the wrong reasons. The truth is, it's my fault when I fail to entrust them to the Lord, when I focus on how crazy I feel because of the way they are behaving. It's better to emphasize that my kids must learn to get along in order to please God and live out what he has called them to – to love one another. Yelling is definitely not an option because it will create more hurt and anger in the heart of my children that they may channel towards one another.
Model kindness and humility. The first relationship that our kids need to observe this in action is between Edric and me. We need to avoid arguing in front of our kids and being a bad example to them. When Edric sat down with the kids to address the issue of bickering, he actually apologized for his own tone and manner, which he felt they may have copied.
Encourage the older kids to set a good example. I've talked to Elijah and Edan privately on different occasions to remind them that their siblings look up to them. How they deal with conflict, and how they treat one another, and their younger siblings makes a big difference. When I take them aside, especially if it's one on one, they listen and express the desire to change. This doesn't work as well if I shame them in front of their siblings. The challenge to set a good example has to be done in private.
Ask questions and listen to understand. When my kids are getting at it, my temptation is to cut them off and force them to stop because it's just so darn annoying! Edric's way is much better. He's taught me how to ask the right questions, to address both sides, and to help the kids come up with their resolutions.
Prioritize the study of God's Word. Our kids need to fill their mind with truth. They need to saturate themselves in the Word of God, so they know for themselves what pleases him. We do this through family devotions and by making bible reading a daily habit for our kids. When our kids are acting up, we can ask them, "Based on this Bible truth or verse, do you think that what you are doing is okay?" We let the Word of God bring conviction to their hearts.
Have re-calibration meetings with Dad. Edric's role in the discipleship of our kids, especially with this recent issue of bickering, has done wonders. When he sits the kids down and has serious conversations with them about what they can change and improve on, they listen and they are motivated to change. They know he means business. Although these aren't scolding sessions, he is firm about what they ought to do and not do.
Keep praying and being faithful even when it feels like it's all gloomy and doomy. Even if I felt overwhelmed yesterday, it's comforting to know that I can keep going to the Lord and entrust my kids to him. I know he is faithful. He's the one with the power to transform the hearts of my children. "For I am confident of this very thing, that He who began a good work in you will perfect it until the day of Christ Jesus." (Philippians 1:6)
This evening, all is calm and well in our home. Edan is on the piano playing one of his pieces. Titus, Tiana, and Catalina are getting to watch a short movie. Elijah and Edric are enjoying a game of chess. I'm writing this and observing what's going on, and I'm grateful. Even if my kids aren't perfect, my family isn't perfect, and I'm not perfect, I know that God hasn't abandoned Edric and me, or left us without principles and tools to raise our kids.
I would like to ask for your prayers. Please pray for my kids, for Edric and me, when you remember us. Please pray that we will have the wisdom to parent our children the way we need to. If you have suggestions, please share them with me, too! I need help. Then maybe we can come up with a better list together that is both practical, wise, and effective!