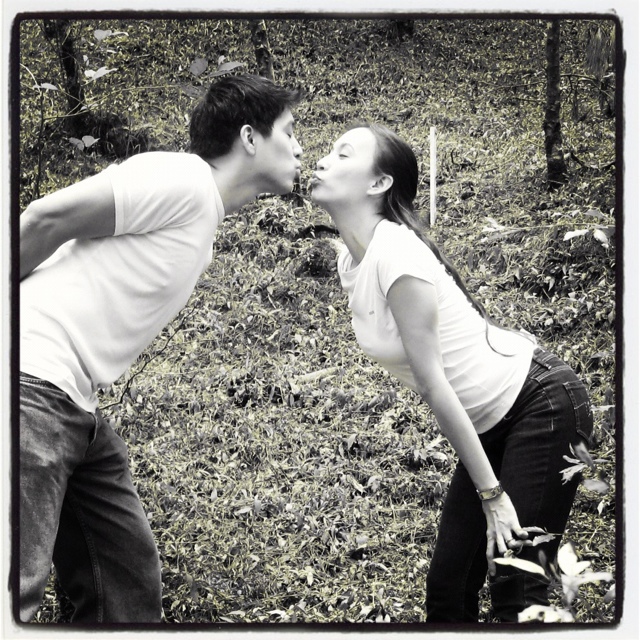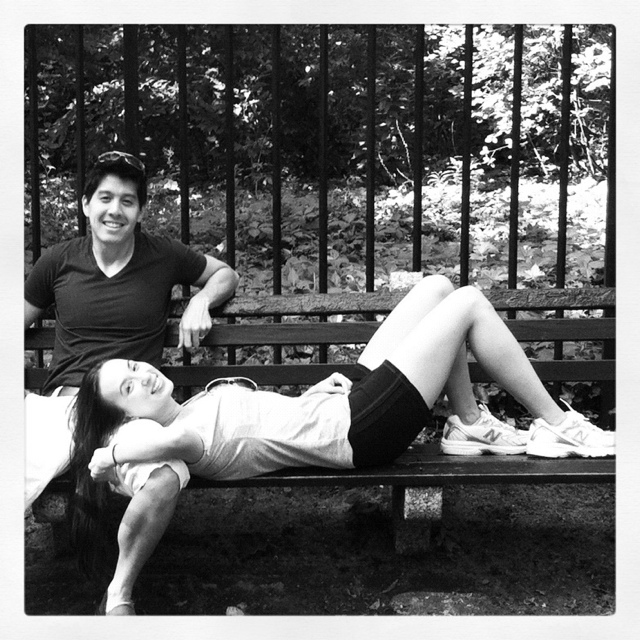 I mean that in a very good way. He wakes me up three times a week to go running even if I hate it. There are days when I wish he was lazy enough not to get out of bed but it hardly ever happens. Most of the time it is me who is trying to get out of running.
I used to be so into fitness. I mean, I played college soccer (football) and was on the UAAP team of Ateneo. Then came 1…2…3…4…children. And my body felt irrecoverable. Whatever glory days I had as an athlete seemed a very distant fantasy after pregnancy and childbirth.
I remember trying to do P90x two months after my daughter, Tiana, and my body felt like it was going to break in half. My abs were the mushiest they had ever been. I was trying to copy the Ab Ripper X moves but they were torturous. And there was my husband, easily adapting to the exercises. I was actually upset at him! Jealous! Even my sister who had given birth to her son had washboard abs after four months. But not me. Ab-sent was more like it.
Okay, so because I am back to my college weight people have very nicely told me, "You don't look like you have had four children," and I really have wanted to reply, "If you only knew the agony of it all! It hurts me to stay this way. Seriously. It 'hurts' to exercise and eat the right stuff because I am getting older. I have to fight gravity, hormonal cravings, a higher rate of muscle to fat conversion, and fatigue. And oh, by the way, you haven't seen my tummy. It is a more truthful gauge of my post-baby body!"
It hurts. It's true. Waking up early to run and feeling creaky while I do it is no fun. Right now, I only have my husband to thank for being the pusher that he is. If not for my pusher of a husband, I dread to imagine what kind of potato I would have turned into…surely a lumpy-lumpy-doo kind of couch potato.
Thankfully, my husband, Edric, is like a warrior. He is not the kind of man who will let things happen to him. He will make things happen. And I admire this in him. It is a very attractive masculine trait that makes him a natural leader and man of purpose. But I get dragged into his warrior-ness. Of course. Naturally. How can I be married to a man like this and not be infected and motivated by his personality? We are one after all.
So this morning, at 5:30 am, when he tapped my shoulder and said, "Are you ready to run?", I got up. I didn't want to, but I did. And when we got outside and there was a downpour, I even said, "This looks like acid rain." (Secretly I was hoping he would back down because he did think the sky was a different color this morning. I don't even know what acid rain looks like. He he) Well, we ran anyway.
Lord willing, I will keep running. But Lord willing, we will also find another fitness activity that is more engaging and interesting.
After reflecting on my resistance towards running, I began to recognize something fundamentally wrong with my motivation for exercising. It has been based largely on external factors — competing with others, the "pushing" from my husband, the happy hormones that circulate inside me after I exercise, and even pride. The pride part is I don't want Edric to be physically fit and I be a lumpy-lumpy-doo-gooey person next to him.
My problem is I have to develop an inner motivation to be healthy and fit. I can't be dependent on the pushing of my husband. And I need to stop eating junk like M&Ms! (Sometimes I exercise so I can eat bad food. Tsk tsk. Oh, but I love the little indulgences! Rice! Cheap chocolate!)
So here is the connection to the more important realization. Motivation is key — the why behind what I do, what everyone does, what my kids do…
Someday, I won't be able to "push" my kids the way Edric pushes me to exercise. Their desire to learn can't be external. I have got to work on cultivating their inner persons to learn for a greater purpose — the pull, instead of the push. I mean, I really have to reinforce it everyday and repeat it often that we are not learning just for learning's sake. Until they really get that, I will keep having to convince them to learn. And I don't want to do that. I know how it feels to be on the other side (like with running. Bleck!).
Homeschooling is not going to get any easier. In some ways, it may, like the routines, the expectations, and the closeness that I have with my kids. All these factors will help. But I am thinking of the days when my kids will really have to work their little tooshies off to make hard-core compositions and figure out algebra.(Okay, that includes me re-figuring out Algebra). I am also thinking beyond that to the moments when they will be confronted with very difficult decision making experiences that will test the truths that they have built their lives on.
Right now, what we are doing is still "comfortable." The problems and obstacles they encounter are not earth shaking. "Mom, I can't fold this piece of paper! Mom, how come I have to do five pages of this book? Mom, I don't get this word problem!"
Oh no, dear Mommy-o Joy! We are at the smooth part of the rapids and we haven't seen anything yet!
What will keep my kids going so they finish well? I don't want it to be the peripheral things that are considered good — our relationship, the value of responsibility, duty, excellence, the quest for knowledge, understanding, wisdom, fear, obedience, etc. There are many worldly and christian ideas and ideals that might be called acceptable motivations but I don't think these things can be the IT.
I think 1 Corinthians 13 tells us what ought to be IT.
Love…bears all things, believes all things, hopes all things, endures all things. Love never fails…(1 Corinthians 13:7, 8 NASB)
The apostle Paul said that love of Christ compelled him. If my children can say, "Jesus, you are my King of Kings and Lord of Lords. I love you. I want everything I do, say, and think to testify to this. And in the end may you receive all the glory for everything I am and become," then wow, that would be the IT.
The sobering reality is that if Edric and I can't give our kids the IT now, I expect they will approach life with the same kind of shiftiness, double-mindedness, and secret resistance that I have towards running as a form of exercise. Then won't have full conviction or complete resolve to be faithful to the end. In short, they will need a pusher. But, what they really need is a built-in propeller. Okay, we are going to work on that.
Now about running… I need to change my heart. "Lord, I am going to work out and be fit, strong, and healthy because I love you. Because I love you, I delight to follow your word and your principles. And your word says, my body is the temple of the Holy Spirit, therefore I must take care of it. The discipline of my body and good health does not have to be a meaningless, worldly pursuit, but a choice to glorify you, which I hope to do. Let joy replace the drudgery!" AMEN!