Over the past couple of months, one of my sons has been learning how to deal with failure and blocked goals. It has not been easy for him to accept it when he feels he cannot do something. In fact, he has admitted to Edric and I during several occasions that he struggles with pride. He likes to win, to be excellent, and to feel accomplished and competent. While these aspects of his personality may not necessarily be bad, they can be rooted in pride (which is the bigger character issue.) When we ask him to keep trying, he will sometimes say, "I don't want to." As a result, he stops short of experiencing the blessings of humility and obedience. We are working on this, but admittedly, it's not easy for me to be patient with my son's emotions. He gets into some sort of emotional tunnel-vision and struggles to listen to truth and act upon it.
For example, I took my kids wall climbing with some friends. My son and his cousin easily scaled the first few walls. However, when my son was confronted with a physical challenge that he couldn't overcome he acted like it was the end of the world. No matter how hard he tried, he couldn't finish one of the harder walls and he flipped out. But it really was a challenging wall. There is no way I could have done it. It was for very skilled climbers.
So there I was, trying to help him manage his frustration and expectations of himself. After all, this was part of growing in maturity — learning to deal with failure positively and having the right perspective.
But he said, "I don't want to go again. I can't do it!" And he broke down. The other kids around him asked me why he was crying. I knew this was an uncomfortable moment for him. I hugged him, but I also whispered in his ear, "You've got to suck it in and be a man. Try again. This is your first time to really go wall climbing. You already climbed three walls. This is a difficult wall. You just need to practice." I assurred him that it was okay not to be able to get it the first time. Yet, he kept focusing on his inability to do it. He did not want to listen to me.
Finally, I kept quiet. I realized that my comments were not really helpful. Be a man?! Really?! What the?! Was that my best pep talk?! So I just put my arm around him and let him settle down first. After a while, he climbed again. However, despite his best effort, he couldn't complete that one wall and he remained disappointed with himself.
I discussed this incident with Edric when we got home. Edric was familiar with this same behavior in our son.
We both understand that parenting is not an overnight thing. It requires commitment to the end goal of raising our kids to love God with all their heart, soul, mind and strength. So helping our son to change requires patience, creativity, unconditional love, lots of prayer, and selflessness on our part. It also entails that we prioritize heart and character transformation over external, behavioral fixes.
Well, I praise God for a husband like Edric, who does not give up on our kids and throw his hands up in the air and say, "I have had it!" (Which is sometimes what I am tempted to do!) Instead, he very wisely strategizes ways to disciple and mentor our kids.
With this one son, he planned bonding time which involved trail biking. During his first attempt, our son stumbled here and there, and got frustrated and angry with himself because he struggled through the trails and almost got lost. Again, he wanted to give up. But Edric did not let him. He planned another bike trip very early the next day for "character training — round 2".
This time our son didn't want to wake up. He told Edric, "I don't think I can do it, dad. I don't think I am ready." But Edric said, "Yes, you can. Let's do this." It was our son's obedience that had to kick in at this point. He got himself up, put on his gear and headed out the door with Edric.
I don't know how to explain it but there is something magical that happens when fathers spend purposeful time with their sons. Boys become men. As opposed to me ineffectively saying, "be a man" and giving him no reference or example to follow, Edric was able to guide him, teach him, encourage and affirm him man-to-man during their bonding activity.
By the end of their ride, they had scaled four hills and one very challenging incline. Our son managed to stay on his bike until the last part. He did have one bad fall at the tail end of their ride but he got back up and finished well without tears and with a positive spirit.
What was the secret? Edric explained to me that he was firm but affirming. He narrated to me their experience and how he would continually remind our son, "just follow me and listen to my instructions." He kept saying, "You can do it!" and profusely complimented him when he would make a climb or difficult turn.
When I talked with my son, he told me his version. "I obeyed and followed daddy, and I didn't get lost. When I got to the hard parts, the hills, daddy told me to shift my gears so I would be able to go up easier and I did. And daddy was so proud of me because I did it and I did not fall (until the last part). What I learned was to listen to daddy and to overcome."
I thought our son's experience was a great example about our relationship with God. God is committed to transforming us. He doesn't let us remain us we are, but customizes circumstances to teach us life lessons that will draw us closer to himself. If we refuse to cooperate and obey, we miss out on the victory he has in store for us. And worst of all, we do not experience intimacy with him — the greater blessing. But if we listen to him and obey his voice instead of focusing on ourselves, our inabilities, our fears, our disappointments or our doubts, God faithfully comes through for us. We may not be exempted from pain or hardship, but God never leaves us or forsakes us. He goes with us and he goes before us. We just have to follow and trust him.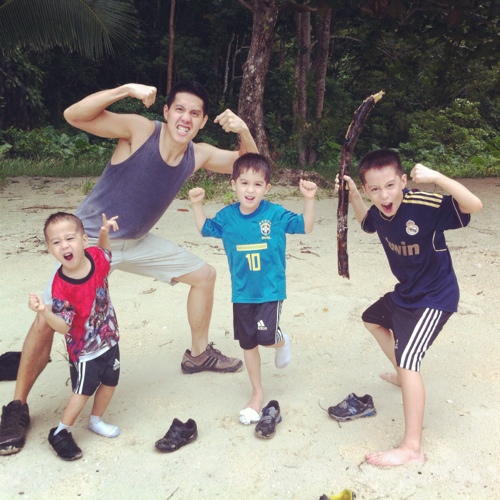 Yesterday, our son told me, "I want to grow up to be strong like Daddy." In the same way, when a person walks closely and intimately with God, he finds himself saying, "I want to be like you, Lord. Help me to be like you."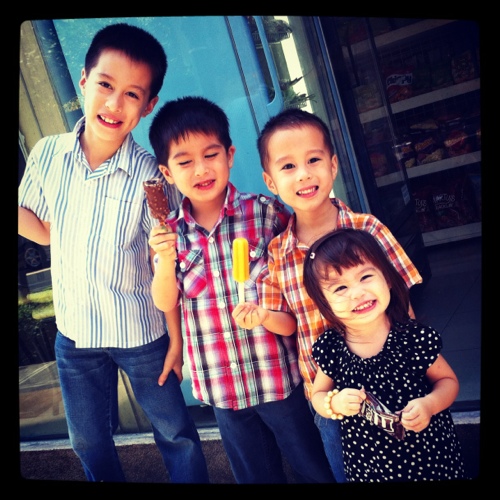 Our kids are still growing and maturing, and Edric and I always have to remember that we are in it for the long haul as we teach them what it means to be Christ-like. Parenting is not a sprint. It is marathon. Character transformation in our children does not happen in an instant. It is lifelong.
Character transformation in our lives is the same way. It takes time to become the persons God wants us to be. And, unlike earthly parents who can fail at their commitment to teach and train their children, God, as our heavenly father, does not fail us. God will never fail us!
'Do not fear, for I am with you;
Do not anxiously look about you, for I am your God. I will strengthen you, surely I will help you, Surely I will uphold you with My righteous right hand.' (Isaiah 41:10 NASB)