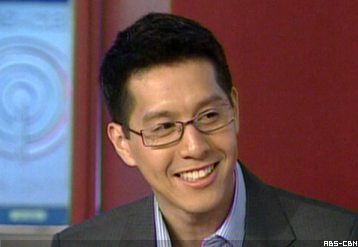 My husband, Edric, has been a host of a show called On the Money for the last couple of weeks. It airs 3:30, 6:30 and 11 on weekdays on ANC with replays on weekends.
How it all came to be was really quite miraculous and God-ordained. It wasn't anything that either of us was expecting, but there was clear leading from the Lord, from his word, wise counselors, and circumstances to venture into this unchartered territory. His main motivation was to allow God to use it as a platform for ministry and influence.
He's kind of been taking it step-by-step, show-by-show, without giving much thought to the implications on people's perception of him as a TV personality. In the first place, popularity was not his goal. But being on ANC every single day and several times a day has given him a lot of "face" time. He was even voted as "Cutest" Newsman of 2012 by Spot.ph.
Whoa! This was surprising news to him when he heard about it this morning. It had a bit of a "showbizzy" feel to the whole blurb about him. Frankly, I didn't think it really captured who he is. I wish they had let me write the article! It was really more about his physical appearance. But Spot.ph did say that this was all about brainless fun.
When he told me this morning, he was laughing and said he was actually embarrassed. "Are you sure you're not flattered?" I teased him. "No way! That's the last thing I would want to be recognized for!"
I believed him. He doesn't like that kind of attention. It's sort of anti-thetical to what he would like to be known for (if at all). I know he'd rather be known as someone who passionately loves God and lives for him. But they don't give out awards for that, at least not on TV. That would be the day!
He does hope that the show, On the Money, will help Filipinos to better manage their finances. And beyond that, he is looking forward to how God will expand his borders for the sake of the gospel.
It is definitely challenging to be in the media. For example, I watched his interview about being voted "Cutest Newsman" and everything he said about God was cut out when they wrote about him online. That's to be expected, of course. So the best way he can represent his beliefs and views about faith is to be excellent at what he does so that people will care enough to listen. And that's my prayer for him. That's his prayer for himself.
I've put my "friend" hat on (which I do as a wife when he needs a confidant or someone to bounce off ideas with), and we have talked about whether being a TV host will conflict with his priorities – God, wife, children, work, ministry (in that order). And we have talked about whether it will detract from his homeschooling advocacy. We have also discussed what the gains will be, as well as the possible pitfalls. (Thankfully, ANC values integrity and wants it's personalities to do the same. At least it seems that way.) We've both come to the conclusion that the biggest temptation is really pride.
At the end of the day, Edric doesn't want being on TV to change the core of who he is. I don't want it to either. He didn't even want to look at the Twitter feeds or Facebook comments of people who were talking about him being voted "Cutest Newsman." It was partly because he found it silly, but partly because he didn't want to focus on that and get a big head about it. I was the one who wanted to look at all the comments while we were playing a board game with the kids. But the kids were like, "Mom, you are violating our game rules. No Ipads." Geez…so strict!
There we were, playing a board game as a family, and Edric was fully present and engaged, focused on the children, on all of us.
Cutest newsman or not, I'm blessed to be married to Edric Mendoza. He does look good on camera but I'm more thankful that he's got a good heart, a heart that loves the Lord, that loves his family. I know the world doesn't care much about this. But the kids and I do.