Last May, we began a house building project that was going great until we encountered problems with the foundation. Because it was a major issue, everything came to a halt. We had to re-visit and re-work plans — a process that has now taken close to six months.
The lot was given to us as a gift some years ago. It's got a beautiful view of the city but it is a sloping lot. Structurally speaking, it is not simple to build on it. And besides that, we discovered there's a fault line very near the property. Since we stopped construction, we have been looking to find solutions to remedy and salvage the existing structure.
Until recently, I wasn't stressed out about it. Edric, too, was pretty cool about the delay. But when it seemed like nothing was happening for a long while, I began to feel anxious, disappointed and frustrated. It especially hurt when our children would express their longing for a bigger place to live. They wouldn't complain but in their prayers, Edric and I would hear them say, "Lord please help us to be able to build our house…please help us to have a bigger home."
We have actually lived like happy sardines in our condo for the last 7 years. It has been a wonderful blessing. However, with our growing family, the big personalities of our children, and the amount of space they need to play and run around, the next stage has been to build a house. Right now, the kids all sleep in one room…four of them. Their beds fit together like puzzle pieces and they love it. We reserve the third bedroom for homeschooling and playing.
Truthfully, we have enjoyed our urban lifestyle. We have been going in and out of elevators for like, forever. We appreciate the ease with which we can get around. There's our favorite gelato ice cream place just a few blocks away. There are an endless number of restaurants to try (We've tried almost all within a 500 meter radius). We like being able to leave our place for days without worrying about break-ins. And we have adjusted to the constraints we have by taking trips, spending time outdoors, and giving stuff away periodically to clear out more storage. So the condo has not, for the most part, felt like a cage. God has been so generous towards us and we are grateful.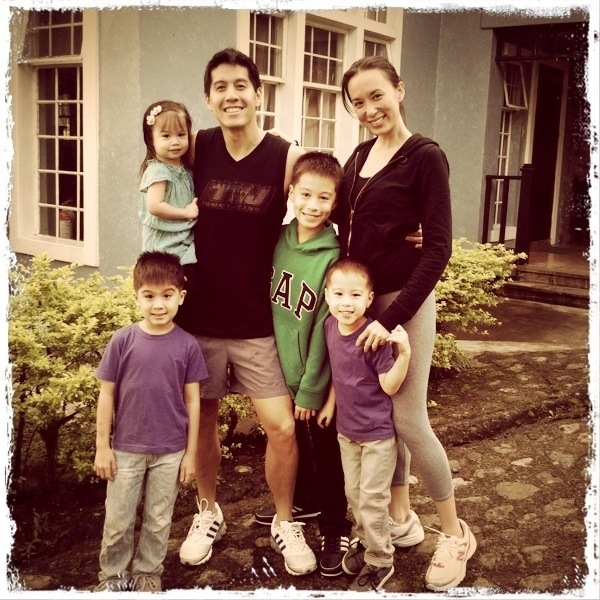 However, I know the kids dream about having a house. During a couple's retreat that was held in Baguio last September, we were staying in a cottage and the kids were absolutely thrilled. They ran into it on the first day, started exploring, and said, "Wow, a home!" Edric and I both heard them and our hearts sank. At that particular point in time, we were supposed to have been in the finishing stages of our house…picking out tiles, paint color, fixtures…all the fun stuff.
Last night, Edric and I had a discussion about the house after watching Breaking Dawn Part 2. (I'm ashamed to admit that I wanted to watch this movie. And I'm more ashamed to admit that I read the books after I gave birth to Tiana. My sister in law had them and I was so bored while breastfeeding, I read all of her books. As cheesy as they were, I couldn't put them down. I absolutely wanted to know how the whole saga ended.) Okay, back on topic…Edric and I started talking about our house plans after the movie. I found out that there was another issue that was brought to the table that would postpone building plans again. What?! It is uncharacteristic of me to vent unless invited to, but I went on and on in the car.
"I don't understand why it's taking this long. Why does there seem to be a block every time we are about to re-start the project? Is there something we are doing wrong? I feel like blaming someone! Who should we blame?! I'm so tired of hoping and then being disappointed. We are planning to get pregnant again. How can we possibly fit in our condo? I'm so annoyed that every time we are about to proceed, another issue is brought to the table. Why can't everything be settled once and for all so that we can move forward?! I feel so angry! Let's just forget the whole thing and not build this house!"
I was not upset with Edric. After all, he wasn't the enemy in all of this. I was upset at the circumstances. Usually, I escape to solitude to process my feelings. But, I was so fed up with the situation that I really started expressing myself aloud. But when I started to unload like that, it tipped him over. It was 11:30 PM. Nothing was going to get done at that time. And since he didn't have an immediate solution and he was too exhausted himself to respond to my litany of useless questions, he finally said, "Okay, I've hit a saturation point." He didn't want to hear what I had to say anymore. This upset me further because I felt like he was rejecting my feelings.
The last few minutes in the car were quiet. When we got home, I went to our bedroom and Edric watched basketball. Inside of me, I was kicking and jumping up and down in irritation. I didn't want to be around anyone. I wanted to throw something. Of course I didn't. I just said, "Lord! I'm so angry right now. I don't understand why this house project has been delayed for so long. I feel troubled. I really need to hear from you. Please speak to me. Do you not want us to build this house? Just take it away if it's not from you. Just put an obvious, clear stop to it. I don't want it to be like a carrot dangling in front of us, stimulating false hope."
I opened up my Bible to Luke 12:22-32, the last chapter I had read for my quiet time.
And He said to His disciples, "For this reason I say to you, do not worry about your life, as to what you will eat; nor for your body, as to what you will put on. For life is more than food, and the body more than clothing. Consider the ravens, for they neither sow nor reap; they have no storeroom nor barn, and yet God feeds them; how much more valuable you are than the birds! And which of you by worrying can add a single hour to his life's span? If then you cannot do even a very little thing, why do you worry about other matters? Consider the lilies, how they grow: they neither toil nor spin; but I tell you, not even Solomon in all his glory clothed himself like one of these. But if God so clothes the grass in the field, which is alive today and tomorrow is thrown into the furnace, how much more will He clothe you? You men of little faith! And do not seek what you will eat and what you will drink, and do not keep worrying. For all these things the nations of the world eagerly seek; but your Father knows that you need these things. But seek His kingdom, and these things will be added to you. Do not be afraid, little flock, for your Father has chosen gladly to give you the kingdom.
Weeping as I read verse 32, God made me see. Joy, I have not withheld my kingdom from you. How can you doubt, worry, or be so agitated over a HOUSE? Did you not say, in faith, that I would build this house? Do you not trust me? Do you forget that I know your concerns, your needs, your desires? His words came to me gently and I felt ashamed.
God could easily make this house project happen. But he has allowed unprecedented obstacles and trials to develop my character. (Edric and I resolved our discussion before bedtime, and I apologized for my negativity. He also spent a good hour laying on his back listening to me express myself, which was a sweet gesture because I knew he wanted to sleep.)
God had a follow up message for me. This morning, I turned on Christian music for Tiana and Titus. I set out kitchen pans for them to bang on to practice their rhythm skills. The first song that played over the computer made me bow down in awe of how God speaks. The kingdom of heaven has been given to you. So do not be afraid. Do not run away. Do not be afraid, little child. Your father is pleased to give.
Over and over again these words were sung as the music played. It was the voice of a young child singing, but it was God's special comfort to me, a remembrance of what I had read last night. Again, I began to cry in gratitude for the mindfulness of God. Here I was stressing out over the house building because it wasn't happening according to my time-table. My ranting was emblematic of a spirit that was not at rest and not surrendered, but worried, fearful, troubled. God knew that all I needed was to be reminded of his character – that he is in control, that he is good and delights to give what is good to his children. He didn't say, "The house building will be resumed tomorrow." I have no idea when it will resume. But I know who God is. No maneuvering, manipulating, complaining, ranting, fighting, and finger-pointing will get this house built the way it should be unless God builds it.
During the ground breaking 6 months ago, we had a family ceremony with our architect and contractor. Edric asked me to make a placard that we could stick into the ground as part of the ceremony. The kids also wrote thank you letters to the Lord and we prayed as a family, with the building team. On the placard, it read THIS IS THE HOME THE LORD WILL BUILD. The verse I put on it was this…Psalm 127:1 Unless the LORD builds the house, they labor in vain who build it…How quickly I dismissed this truth and conviction in the face of mounting uncertainty and recurring disappointment.I had to come before the Lord and ask for forgiveness for my doubt and my attitude. How little was my faith! Six months of waiting and I was buckling?
As I fixed my eyes on the Lord my perspective was re-aligned with what is true.. My comfort is that God doesn't change. Circumstances, people, and dreams may. And longings may or may not be fulfilled. While this reality troubles me, I rest in the greater reality that God is always the dependable constant. He is who he says he is. Therefore, I need not panic, fret, loose my cool, or get angry when things don't turn out the way I want them to. Instead, I need to learn to wait and be at peace in my inner most being that all is moving according to plan…his plan, not mine.