Before it sounds like I am on a campaign to define an entire generation's perception on women, this is a personal reflection. It is my own wrestling with the realities of what a woman should be, a woman who is married and has children.
While I believe that a mom's priority should be the home, women are, more often than not, lauded for what they accomplish outside of the home. I read about women's successes in the corporate realm, professions of choice, businesses or advocacies. I watch them on the news, and ask myself, Did I miss out on something here? Am I living on another planet or maybe a different island with my Robinson Crusoe family? Am I lesser because I did not venture upon that track and join hands with the multitudinous number of women who are deemed significant by society because they have been catalytic to change, to history? Have I put limits on what I can and should be doing because I have turned my energies towards the home?
When I dwell on modern day perceptions of what women ought to be, that we must not only take care of our homes and the people inside them but be income generators, or a force to contend with in society (especially in terms of rights), or ably climbing the corporate ladder, or maybe breaking world records, too…well, it makes me feel like being a wife and mother are insufficient aspirations, undeserving of a standing ovation.
So I have to go back to what I decided a long time ago — that I would live for the praise of a different audience. And while bombarded by portrayals of the cosmopolitan woman…her celebrated independence and dominating power, I would not make that my pursuit. Instead I would concern myself with what God, my husband and children have to say.
In Titus 2:3-5 it reads, "Older women likewise are to be reverent in their behavior, not malicious gossips nor enslaved to much wine, teaching what is good, so that they may encourage the young women to love their husbands, to love their children, to be sensible, pure, workers at home, kind, being subject to their own husbands, so that the word of God will not be dishonored."
I like this checklist. It tells me to focus on loving my husband, my children, to be a good worker at home, and to do so in a way that honors God. Should God call me to anything more than this, he will confirm it. For the time being it is pleasing to him that I should wholeheartedly commit to fulfilling my roles as wife and mother. I need not burden or pressure myself to be more.
That is the cerebral part of my conviction. But there is an emotional side to it, too. God uses tender moments with my family to affirm the belief that home is where I should be. Like yesterday…
My second son, Edan came to me in the study room with a bird in his hand, wrapped in a white washcloth. "Mom, this bird fell from a tree. Can I keep him?" I saw him cradling the bird and I thought, this bird is probably going to die. What kind of bird falls out of a tree?! My second thought was, Is this bird carrying some sort of flu that will infect Edan and the other kids?!
I laid those thoughts aside and asked the kids to get a cup of water. We embarked upon a collaborative mission to save this bird. Titus eagerly went to get the water and Edan gently laid the bird on the ground. The bird toppled over on to its side like it had rigor mortis and its claws were curled in a strange sort of way. But it's eyes were open and it was still breathing so there was a smidgen of hope that it would survive. We stood it back on to its feet and dripped water into its beak. It drank the water. Afterwards, I asked the boys to get some cooked brown rice and bread. As best as we could, we tried to feed it, giving it sips of water in between each dot of food.
Edan was very concerned. So I asked him to pray for the bird. "Pray that if it is God's will, it will live." After he prayed and we did our part to try and revive the bird, the boys found a box to keep him in.
Then the unexpected happened. As we lifted the bird into the box, it miraculously flew away! From looking half dead it regained its strength and found a tree to rest in.
This was a happy but sad turn of events for Edan. He really wanted to keep the bird. I reminded him that we had prayed and God healed it so we ought to be thankful. The rest of the day he kept asking me if he would see the bird again. Of course I could not answer definitively. And then this morning he asked for my phone which had a photo of him holding the bird saved on to it.
"Mom, can you print out this picture?" This was the first time he ever asked me to print out a photo for him. When I asked him why, he said he wanted to keep it so he could look at the bird.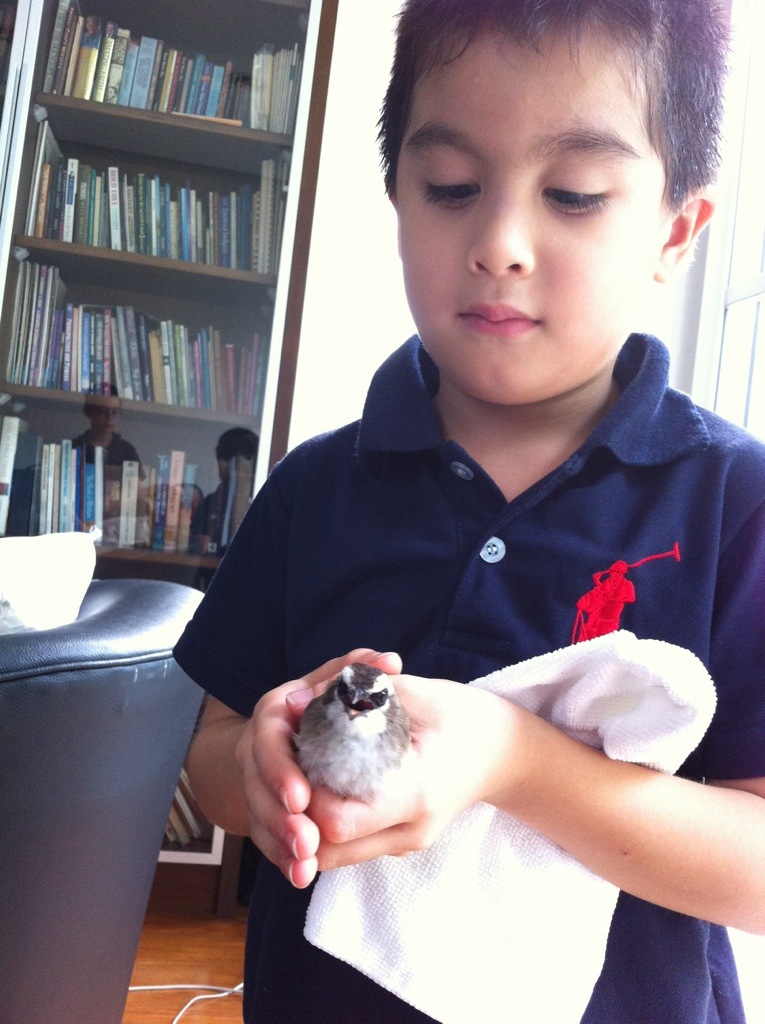 My heart melted. I did not realize how attached Edan had grown to that bird in the short hour of being its friend. He even made a drawing of the entire incident…the bird falling from a tree, the cat being nearby, himself coming to its rescue.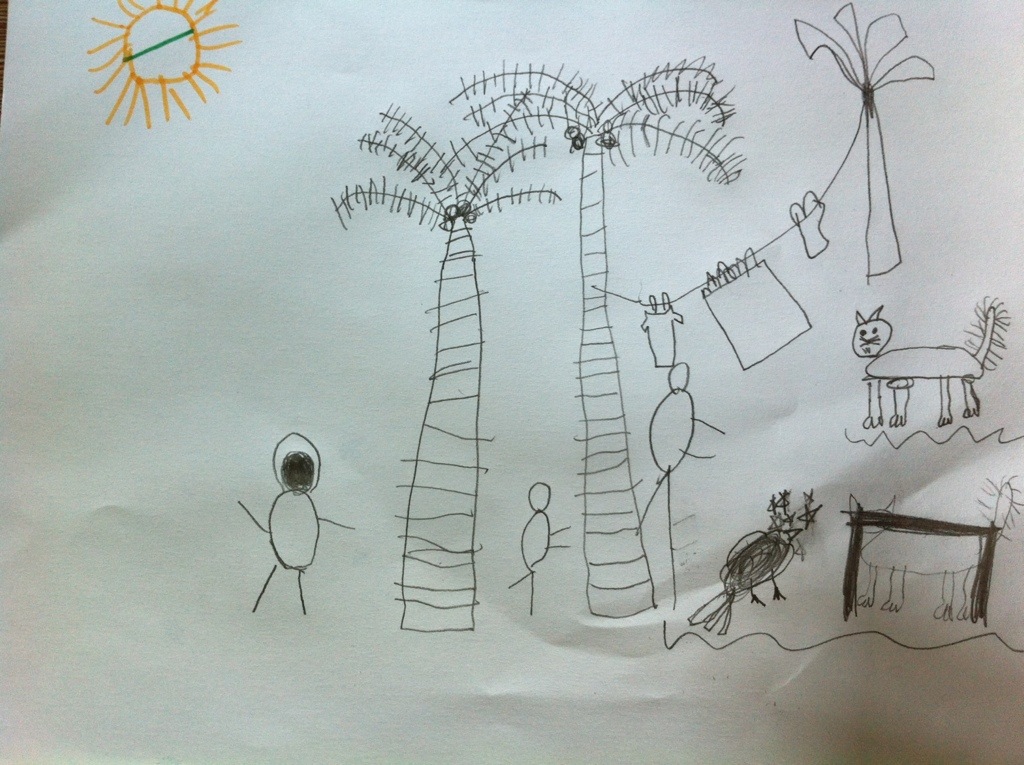 I treasure these priceless moments with my kids — the interactions and insights into who they are. These circumstances cannot be timed or manipulated into form. I need to be around to catch them in their spontaneous appearances.
So when I stumble upon a conversation, an article, a news bit about "successful women" and start to feel that temptation to compare or measure myself against that standard, I think about the joys that I would not trade and the regrets I wouldn't want to live with. Some of my greatest joys are being present for stories like Edan and the bird that fell from a tree.
I imagine that these stories will become the memories we laugh and cry about as a family when we revisit them someday. I don't want to look back and regret that I had not made those memories with them. I have the privilege of making them now and that's what I am doing! I also praise and thank God that he has so orchestrated the events of my life so I can choose to be at home.