One of the habits I appreciated about the home I grew up in was the habit of unconditional forgiveness. My parents instilled in my siblings and I the concept of keeping short accounts with one another. Forgive with liberality. Forgive with grace. Do not hold grudges or harbor resentment. They modeled this by example.
I recall an instance when I had to make a big confession to my parents about how physical Edric and I had been while we were dating. We didn't have sex but we did everything close to it. We really played with fire. As a result, I lived with a deep sense of shame and guilt. All the while, my parents did not suspect that Edric and I were struggling in this area.
Two years after we started dating, Edric and I mutually agreed to break up because we wanted to honor God. We believed that it would not be possible to discern God's individual plan for our lives if we continued to play games with him, if we weren't committed to purity by his standards. So we parted ways in the year 2000. It was a painful separation, especially since we both imagined getting married in the future. But being away from one another resulted in much spiritual fruit. Edric and I grew in intimacy with the Lord and we experienced how he directed the course of our future.
The next year, Edric asked for my hand in marriage. However, between the break-up and getting engaged, Edric and I made the decision to confess how we had struggled with physical purity in our relationship. It was awkward to do this because at the time, we were not dating. We weren't even talking on a regular basis. Our break-up meant no communication while we spent time discerning God's will. So I prayed that if God really wanted me to marry Edric, then one of the things he would do is meet with my parents and tell them about our impurity.
Whew. I didn't know how this was going to happen. And my other prayer was, please help my parents to still accept and love Edric even after we confess everything.
I was kind of asking for a miracle. What father wouldn't pull out a shotgun and chase an ex-boyfriend away after hearing something like that?! But I believed that God could redeem the whole situation and bring everything to the light in a way that would glorify him. More importantly, I wanted to be right with him, with my parents, with Edric. After all, how could I expect God to speak through my parents about whether Edric and I should get married in the future if they didn't know the whole truth?
Well, one day, out of the blue, Edric called me and asked if he could meet with my parents. Whoa. This was it. This was going to be that dreadful encounter with the truth that I wanted to happen but was scared to confront at the same time.
The meeting pushed through over a dinner. It was embarrassing, healing, and life-changing. My parents teared and expressed grief over our choices, but they also extended forgiveness. Their response toward us was redemptive. We were given a new start, a clean slate. (Edric and I didn't get back together until months later but that moment proved to be a key event in the events leading up to our engagement.)
I cut the details of that dinner short because I want to focus on how that event impacted me. Receiving unconditional forgiveness restored me spiritually. I felt like I could move on with my life without having to lug around a big metal ball of guilt. And the communication between my parents and I was repaired because I had asked for their forgiveness and admitted to my deceit. Of course, this meant I had to bear the consequences, too…like stricter accountability and earlier curfews.
(I found out later on that Edric had the same sort of talk with his parents. Both of us were convicted not to mislead our parents about what our relationship had been like.)
Being forgiven helped me to better understand the heart of God. And I must add that my dad did not chase Edric out of the house with a gun or machete. He and my mom counseled us and offered their godly wisdom on the matter.
Throughout their years of ministry, I also witnessed my parents forgive those who have insulted, threatened, accused, and criticized them. Although I was tempted, at times, to take offense on their behalf, their example of not retaliating in anger or holding on to resentment convicted me. They forgave people whether or not an apology was given. And they moved towards them in love by being willing to see their perspective, saying sorry for making mistakes, and choosing not to let hurt build up like a wedge between them.
This too taught me that forgiveness is a choice. It's not dependent on a person's apology. It is within our power to say, "I will forgive you," even before they ask for forgiveness. We can do this because God has freely forgiven us through Jesus Christ, his son.
Hebrews 4:14-16, "Therefore, since we have a great high priest who has passed through the heavens, Jesus the Son of God, let us hold fast our confession. For we do not have a high priest who cannot sympathize with our weaknesses, but One who has been tempted in all things as we are, yet without sin. Therefore let us draw near with confidence to the throne of grace, so that we may receive mercy and find grace to help in time of need."
If I had not grown up in a home where forgiveness was given with liberality, it would be difficult for me to understand the grace of God. But seeing unconditional forgiveness modeled by my parents made me want to practice the same thing with Edric, my own kids, and with others.
Furthermore, the Bible tells us, "For if you forgive others for their transgressions, your heavenly Father will also forgive you." Matthew 6:14
This passage tells us that those who bestow grace receive grace. I also believe that those who have experienced God's forgiveness and encountered his grace will be motivated to forgive others. They will not withhold forgiveness.
My children are still young but they need to experience grace. So when they come to me with their offenses and say, "Mom, will you forgive me?" I readily forgive them. I tell them, "Of course I forgive you. I will always forgive you, no matter what."
Does this make them think, Yeah, I can keep doing wrong things because mom will always forgive me… Of course not. It encourages them to do what is right the next time. Because my children have a relationship with God, they want to obey and honor Edric and I. Yet the reality is they make mistakes, just like we do. So Edric and I help to repair what is broken in them – their relationship with one another, with us, with others, with God. Forgiveness motivates them to turn away from sin and pursue righteousness.
One morning, I heard Edan encouraging his younger brother, Titus, to approach me for forgiveness. He encouraged Titus by saying, "Just say sorry to mommy and ask for her forgiveness. She will forgive you no matter what. She will always forgive you." I can't even remember what Titus was sorry for but I remembered Edan's perspective on the situation. I'm glad he had the confidence to say this to Titus.
But Edric and I can't just model forgiveness, we need to model asking for forgiveness, too. Just this morning, Edric asked Elijah to forgive him for being impatient because he got snappy while they were playing a strategy game. At the breakfast table, Elijah expressed how he appreciated that Edric said sorry for that incident because he felt badly about it.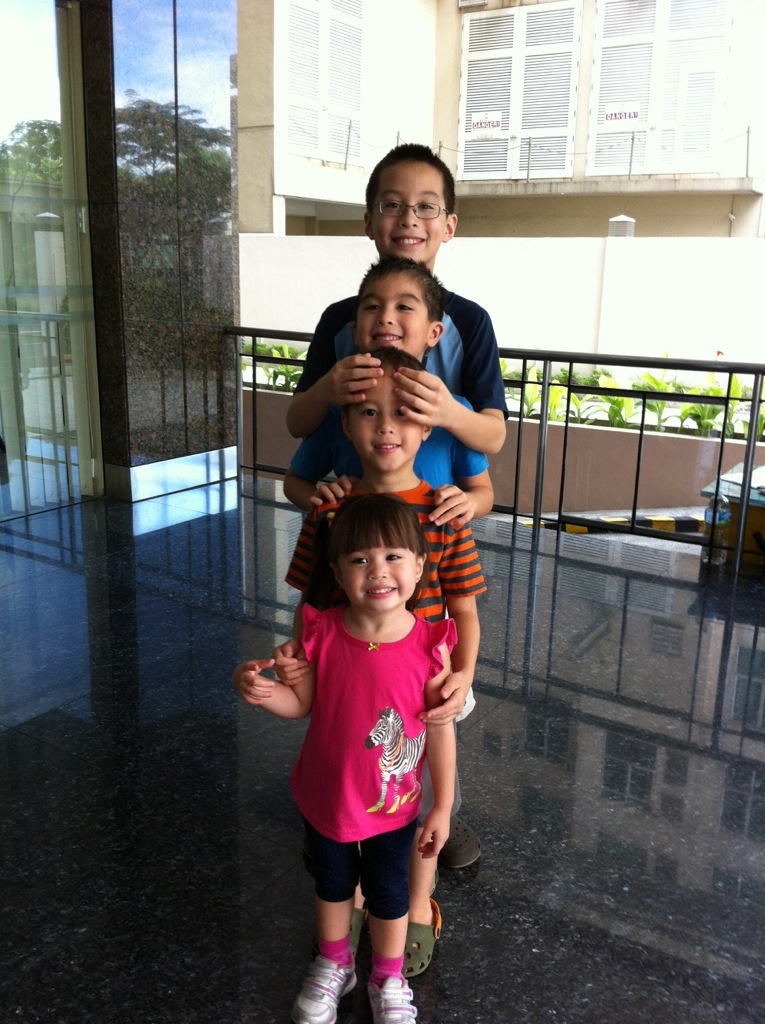 My prayer is that Edric and I will continue to cultivate unconditional forgiveness in our home. Whether it is forgiving our children or asking for forgiveness from one another, I hope that this reassures our children that they can be honest about their failures with us. I hope that this will keep their hearts tender and give them the courage to ask for forgiveness and not cling on to sin as they grow older. More importantly, I hope they will realize that they have a heavenly father who loves them so much. They can come before him with their weaknesses and imperfections. He will not only restore them, he will give them the power to overcome sin and live a life that is pleasing to him.
For You, Lord, are good, and ready to forgive, And abundant in lovingkindness to all who call upon You. Psalm 86:5 

I have this book that I've read to the kids called First Virtues for Toddlers by Dr. Mary Manz Simon, and one of the poems in it is about forgiveness. It is such a simple poem but with profound meaning and opportunity for application, especially for young children:
Tiger, Tiger share today, what the Bible has to say…
To forgive means move on past. Don't let angry feelings last.
If a friend steps on my toe, I will pardon her, you know.
When someone won't share a toy, I forgive that girl or boy.
Then we have a brand new start. I feel kindness in my heart.
"I forgive," are words I say almost every single day.
If a friend does not play fair, I forgive to show I care.
God forgives, so I can, too. That is what I try to do.
"I forgive," God says to you. Are those words that you say, too?