Some weeks ago we hand-fed giraffes in the Singapore Zoo, which was especially fun for Tiana who loves animals. When we got to the lions, she asked, "Can I feed the lions?" She was innocently insistent on it so I had to respond, "If you feed the lions they might eat you!" It probably wasn't the most prudent thing to say to a little child who could potentially develop an inordinate fear of big cats. However, at the time, I just needed her to understand that it wasn't a good idea. Lions were not the cute kitty-kitties she perceived them to be.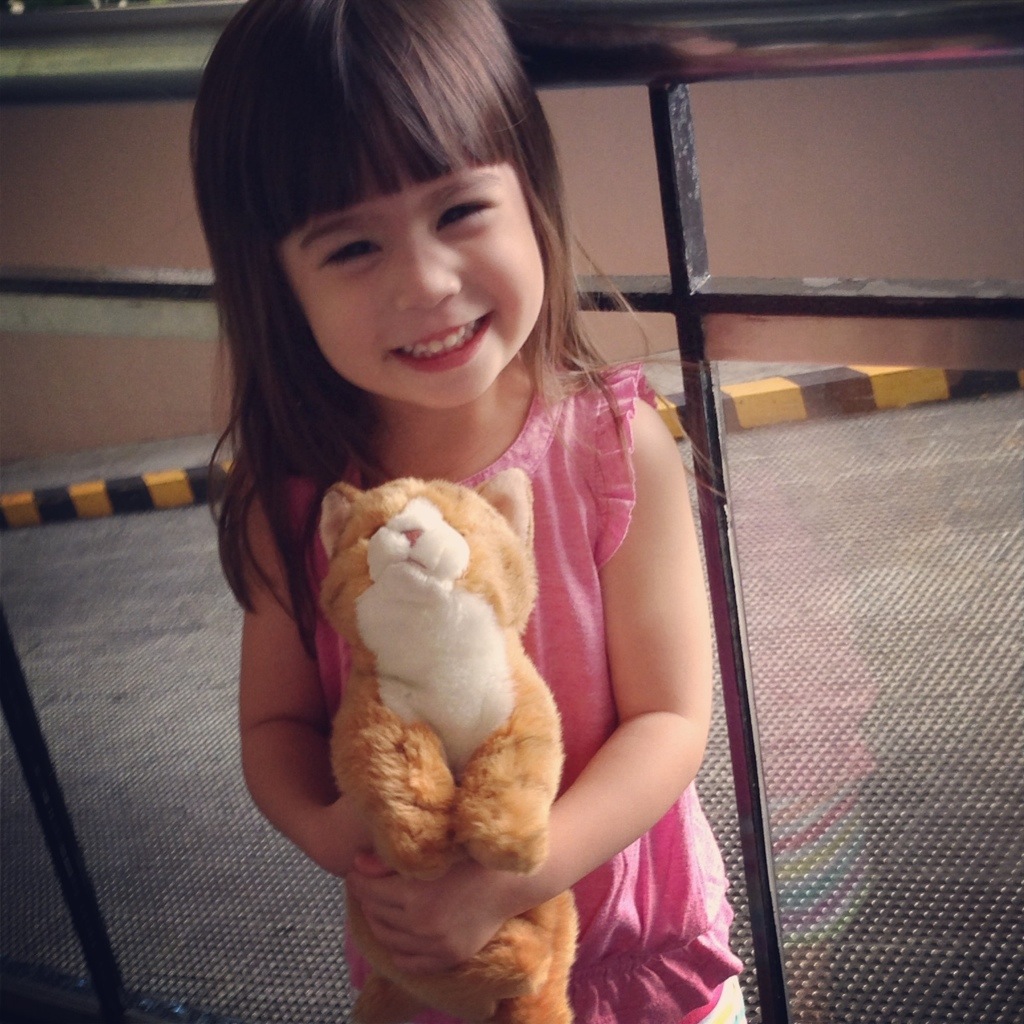 Today, as I remembered that dialogue, I thought about how we can be as clueless when we ask things of God. Without realizing it, we make petitions and requests and want a yes, but God, in his infinite wisdom and perfect love, says wait or no. And unless we trust him and believe in his character we can mistakenly think that he does not want what is best for us.
For example, after Edric and I had Elijah we wanted to have another child. Thinking it would be easy to do so, we kept trying but to no avail. It was disappointing to get my period month after month. Having to wait on God's timing was a struggle. But when we finally did conceive it ended up being just the right time. We had a three year gap between both boys which turned out to be a blessing. Elijah was old enough to be a helpful and accommodating older brother. We were also able to afford the move into a bigger apartment.
Another example was my bout with bad skin. One of the consequences I experienced after struggling with impurity in my relationship with Edric (in college), was acne. For the first time in my life, I had breakouts that were horrible. And it was very humbling for me because I could not fix my skin. I went to a dermatologist but God did not allow my skin to be healed right away. This happened when Edric and I were broken up. I felt really ugly and I prayed so hard for my skin problem to go away. But God said, no. In fact, I was left with some scars afterwards.
Was it wrong to ask to be healed? No. Yet, God was teaching me to be humble. He wanted me to remember that his forgiveness is always available but there are consequences to my choices. I still have these scars and I don't have perfect skin. I wish I did. Edric does and so do my kids! As for me, I get occasional breakouts in my 30's! I don't have acne anymore but whenever I see my scars I recall what God said to me, "This will be a reminder to you that you are never to use your physical body as an instrument for unrighteousness."
God is always more concerned about our character than our comfort. He is molding us into Christ-likeness and needs to empty us of ourselves so we can be spiritually fit for his purposes.
The Bible tells us…Now in a large house there are not only gold and silver vessels, but also vessels of wood and of earthenware, and some to honor and some to dishonor. Therefore, if anyone cleanses himself from these things, he will be a vessel for honor, sanctified, useful to the Master, prepared for every good work. Now flee from youthful lusts and pursue righteousness, faith, love and peace, with those who call on the Lord from a pure heart. (2 Timothy 2:20-22 NASB)
During worship this morning, the pastor, Ricky Sarthou, invited his wife, Aggie, to share her testimony. At the beginning, she talked about how God did not answer her request to take away her cancer. But she made the choice to surrender her life, dreams, and desires to him. When she decided to rejoice and find hope in Christ through her battle with cancer, God healed her for his glory. Even the doctors could not explain how she could have survived. It was a miracle for her to be delivered from stage 4 cancer of the breast that had metastasized to the bones. She has been cancer-free for the last 10 years! And the best part of all, she has used her cancer as a platform to effectively minister to others.
God always answers our prayers. Whether it is a yes, wait or no, he always has a better plan — for his glory amounting to our greater good.
Pastor Ricky said, "We pray to surrender." I cannot agree more. The key to effective prayer is to say, "Lord, not my will, but yours be done. You know the desires of my heart, but you know best, so I trust you with my life."
Post notes on the skin thing…
When I got back together with Edric after our breakup period, I was so self-conscious about my skin. This was a season when he was doing a lot of commercial modeling, too, and he was around all kinds of attractive people. But, he did not date anyone during our break-up and he also saw past my skin. He admits that he was surprised when he saw me, but when I asked him what he thought about it later on, he explained, "I loved you for who you were. The longing to be with you was greater than the physical." Shortly after this he proposed to me and we got married, too. Yeah!
Even though God did not answer my prayer about my skin clearing up right away, I believe God used it for good in my life. First, he taught me not to depend on outward appearances but to work on my character. Second, he wanted me to really internalize the reality that there are consequences to sin. And third, he allowed me to see that Edric truly loved me for the person he saw inside which was incredibly reassuring.
God continues to teach me to look at his heart and his greater purposes when I don't understand why he allows circumstances or why he says no when I want a yes. And being a mom and having to say no or not now to my own children when their wants are not for their ultimate good (like Tiana and her feeding-the-lion-request) has helped me to recognize that God's perspective is always higher and more complete than mine could ever be…and I need to rest in the truth of that.
"For as the heavens are higher than the earth, So are My ways higher than your ways And My thoughts than your thoughts." (Isaiah 55:9 NASB)