I have always been stubborn about bringing my babies out earlier than they ought to be. I just figured it wasn't realistic to have them isolated at home for the first three months of their lives like my pediatrician and friends would always recommend. With every other child I've had, they were out and about within the first few weeks and they remained perfectly healthy.
Elijah attended his first birthday party at 9 days old. Tiana had her first photo shoot at 9 days old. All my other babies were in church with me by the second week, hidden in a sling. So I figured it was no big deal to do the same with Catalina. She's been to several groceries, meetings, our house construction site, the Manila International Book Fair, a seminar I gave last week, restaurants, church, bible study group, and anywhere else I have had to go because I am her bottle.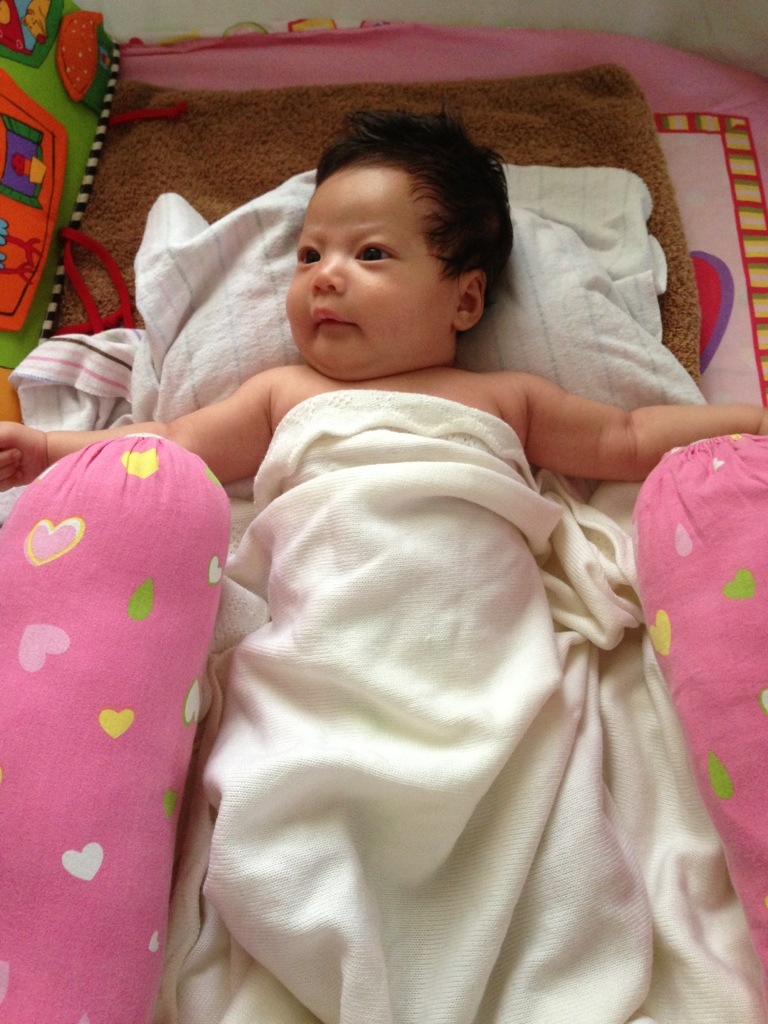 Well, now I am kicking myself for being so carefree. She picked up a cold and cough in the last three days that has been miserable for her (and for me!). I'm not 100% sure the bug came from outside the home because her siblings and cousins were coughing and sniffling this past week. They could have been the source. I would put Tiana up there as number one on the list of suspects, too. She came pretty near Catalina's face a number of times.
I learned too late that everyone who is sick in the house must wear a gauze mask to avoid infecting an infant. By the time our pediatrician told me this, the virus was already incubating. All the while I assumed that babies who get breast milk have a superior immune system. Apparently this isn't always the case. My doctor said they are better protected from gastrointestinal infections but not necessarily the respiratory kind.
Taking care of Catalina has been such a journey for me as a mom. She is just a month old but she has introduced me to many firsts. For instance, she was the first of my babies to ever be confined in a hospital. She was the first to adamantly refuse being put down. And now she is the first one to ever battle a virus at just a few weeks old.
I was tempted to worry, especially since pneumonia cases are on the rise. However, yesterday morning, I was encouraged as I watched the live stream video of our church's Sunday message. In Isaiah 6:1-3, it says "In the year of King Uzziah's death I saw the Lord sitting on a throne, lofty and exalted, with the train of His robe filling the temple. Seraphim stood above Him, each having six wings: with two he covered his face, and with two he covered his feet, and with two he flew. And one called out to another and said, 'Holy, Holy, Holy, is the Lord of hosts,
the whole earth is full of His glory.'"
No matter what is going on my life, God remains on the throne. He is the majestic and holy one who sits as King over all the world. And he is present with me, right here, right now, even as a write this. When I start to feel stressed I think of how big, awesome, powerful, and perfectly holy God is, and my problems diminish in their gravity.
I don't know why he allowed Catalina to get sick again after all she went through during her first two weeks of life. When I ask the why question, I am inclined to draw all kinds of inconclusive reasons. Is it to humble me? Is God not pleased with me? Is it to teach me faith? Is it to make me more dependent? Is it a lesson on choice and consequence (I took her out of the house and compromised her immunity)? I have no idea.
It can be unsettling to live with unanswered questions and to keep speculating. So I will not dwell on the why. Instead I will cling to what I do know. God loves Catalina and God loves me. He is a good father. When he allows affliction, he doesn't abandon his children while they struggle through it. He knows how hard it is for Catalina to be sick. He knows that it pains me to see her this way. He knows that I am getting even less sleep at night. He knows that I want her to be well. It is of great comfort to me that he sees all and knows all. Nothing escapes his notice.
My part is to keep seeking God and move towards him, instead of withdrawing or questioning his ways. He gives and he takes away as Job says, but He is blessed still. So this is an opportunity to praise him for who he is and to remember that all things belong to him — my children, my life, my comfort, my wants and desires…
On the practical side, I am doing what I can to help Catalina get better (most of these things were advised by Dr. Joy Ty-Sy, our paediatrician):
1. Use a Nebulizer 3x a day. Titus needed this when he was very sick two years ago. So we invested in one for our home. It has been put to good use since then. Whenever my kids have bad coughs, nebulizing allows them to recover more quickly.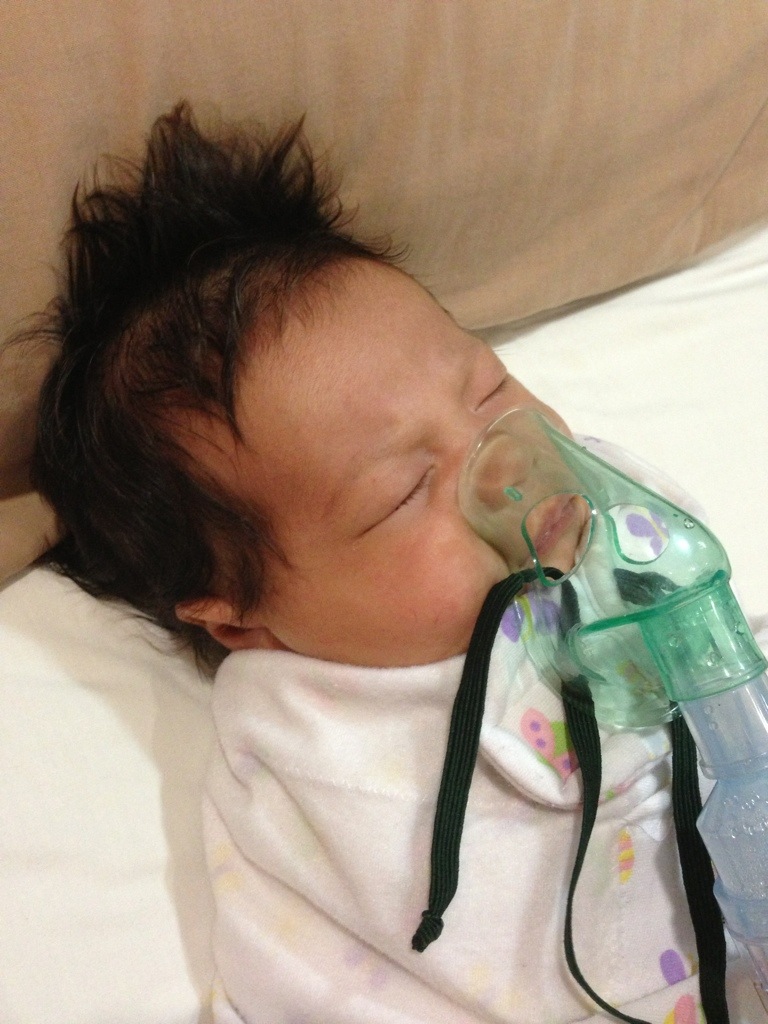 2. Spray saline solution into nostrils. To keep the mucus soft, I use a saline spray called salinese. I have used it for my other kids too. Of course it's uncomfortable but it does decongest their nostrils.
3. Give plenty of time to rest in a quiet room. I was busy last week so Catalina was out with me. This affected her sleeping patterns which probably lowered her immunity also.
4. Keep the head propped up so it's easier to breathe. When she lets me put her down (which is becoming more frequent, hurrah!) I use a pillow. But I don't let her sleep without someone watching her. (It's not ideal to have pillows around the crib for babies. They can suffocate if they roll over. So someone has to be with them.)
5. Avoid the use of air conditioning. The cold, dry air aggravates the throat and makes her more prone to coughing. Without the ac turned on, she slept more soundly.
6. Suck out snot using Nose Frida. Thankfully, Mothercare sells Nose Frida, the snot sucker. It is the best! I was planning to order one online and have it sent to Manila for future use but my sister-in-law, Jennifer, told me that it is available at Mothercare in Global City. So after dinner last night, Edric and I drove over there and got one for P660. We used it right away and it cleared Catalina's nostrils very efficiently.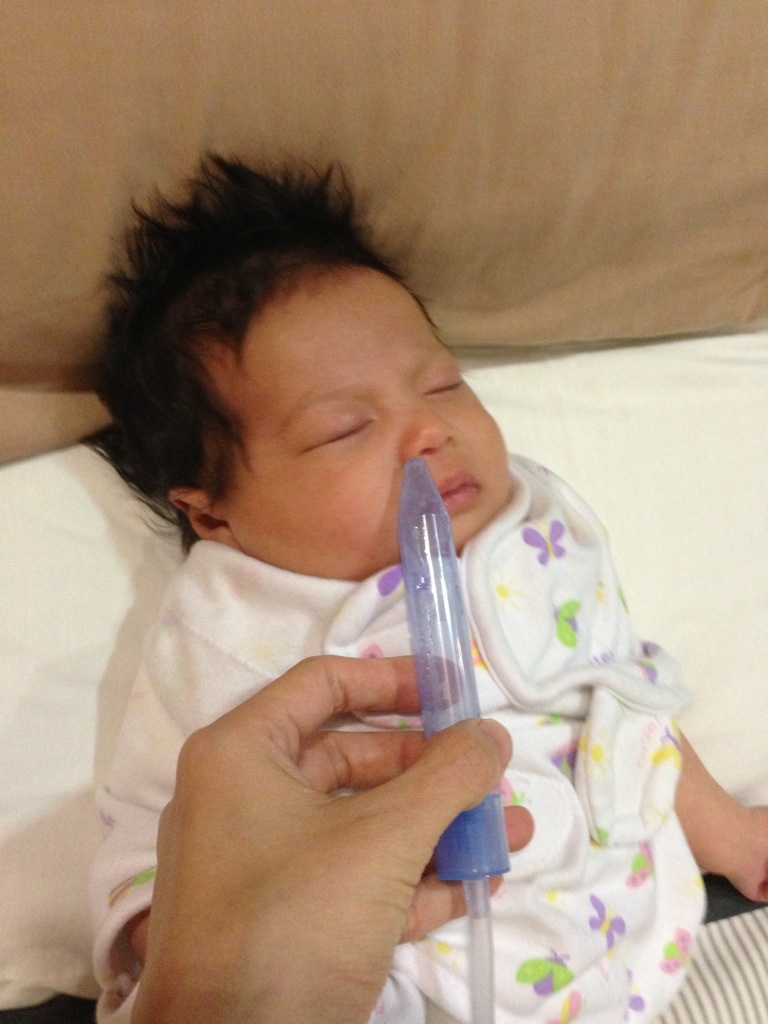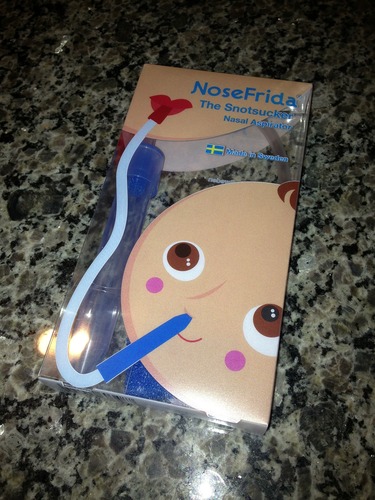 Nose Frida works well for babies and young children who cannot blow their noses themselves. All you have to do is place the tip of the syringe at the opening of each nostril and then you suck out the snot using a mouthpiece that is attached to a tube which is connected to the syringe. It sounds disgusting but the snot never reaches your own mouth. There is a filter that blocks this from happening. Plus the syringe is pretty sizable to contain the snot so it doesn't travel up the tube. I actually found it fun to get all that gook out of her nose. My, how unglamorous I have become!
It's not easy having an infant who is sick. I am being stretched in a new way as a mom. Catalina has thrown up several times because of her cough. And she is not nursing as much. I tried to mix breastfeeding with breastmilk through a syringe to feed her this evening just to make sure she is getting enough.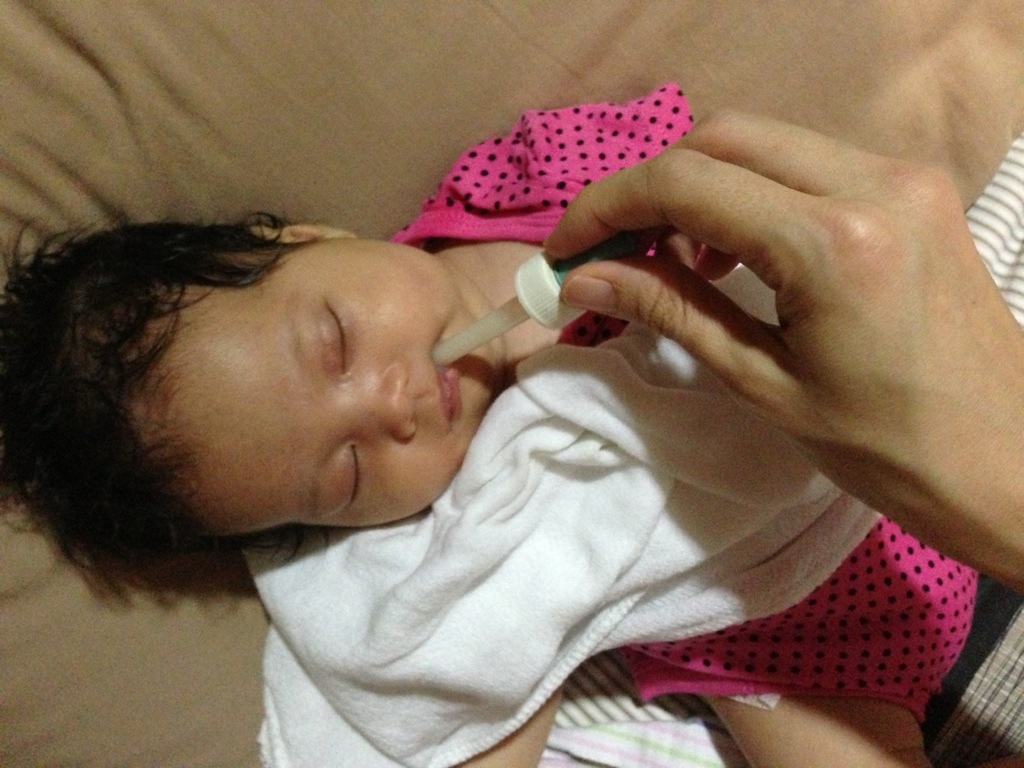 On the up side, Catalina seems to be sleeping longer in between feeds. And she has been lying down in her crib or on our bed! It doesn't always work but what a relief when it does! Wonder of wonders!  I have also been able to leave her at home with our househelp several times in the past few days to run errands.
Catalina is not yet well. Dr. Joy says I still need to observe her and watch out for certain danger signs — high fever, changes in her cough and breathing. This feels like round 2 of our hospital experience except that it's all happening at home.
Well, when I start feeling down about Catalina being sick again, I think about passages in the Bible like this one… Do you not know? Have you not heard? The Lord is God from of old, creator of the ends of the earth. He does not faint or grow weary, and his knowledge is beyond scrutiny. He gives power to the faint, abundant strength to the weak. Though young men faint and grow weary, and youths stagger and fall, They that hope in the Lord will renew their strength, they will soar on eagles' wings; They will run and not grow weary, walk and not grow faint. (Isaiah 40:28-31)