My daughter, Tiana, curiously asked me one morning, "Where is God? How come I can't see him?" This was a follow up question to a discussion we were having about Jesus' death and resurrection. She had watched a clip of The Passion that showed Christ on the cross. Concerned and troubled, she wondered if Jesus was still there and dead. I explained to her that he came back to life and didn't stay dead because he is God. But she wanted evidence…physical evidence.
It is not easy to convince a 3 year old that God is present even if we cannot see him. Her grasp of what is real is the tangible world she sees, feels and hears. So a description of the spiritual world left her perplexed and baffled.
"But WHERE is he?"
She couldn't grasp the concept. I had to look up another clip of the movie that showed the resurrection part so she could be appeased. I found something on YouTube and that seemed to pacify her for a bit, but whew, what a discussion.
Interestingly, I had the same discussion with the Lord last night as I looked over at my baby, Catalina. She was lying in a plastic crib with a tube in her nose for oxygen, a second tube in her hand for IV and antibiotics, and a third chord attached to an oxygen, pulse and breathing monitor. Her breathing was slightly labored but she was sleeping. It must have been close to 3 am.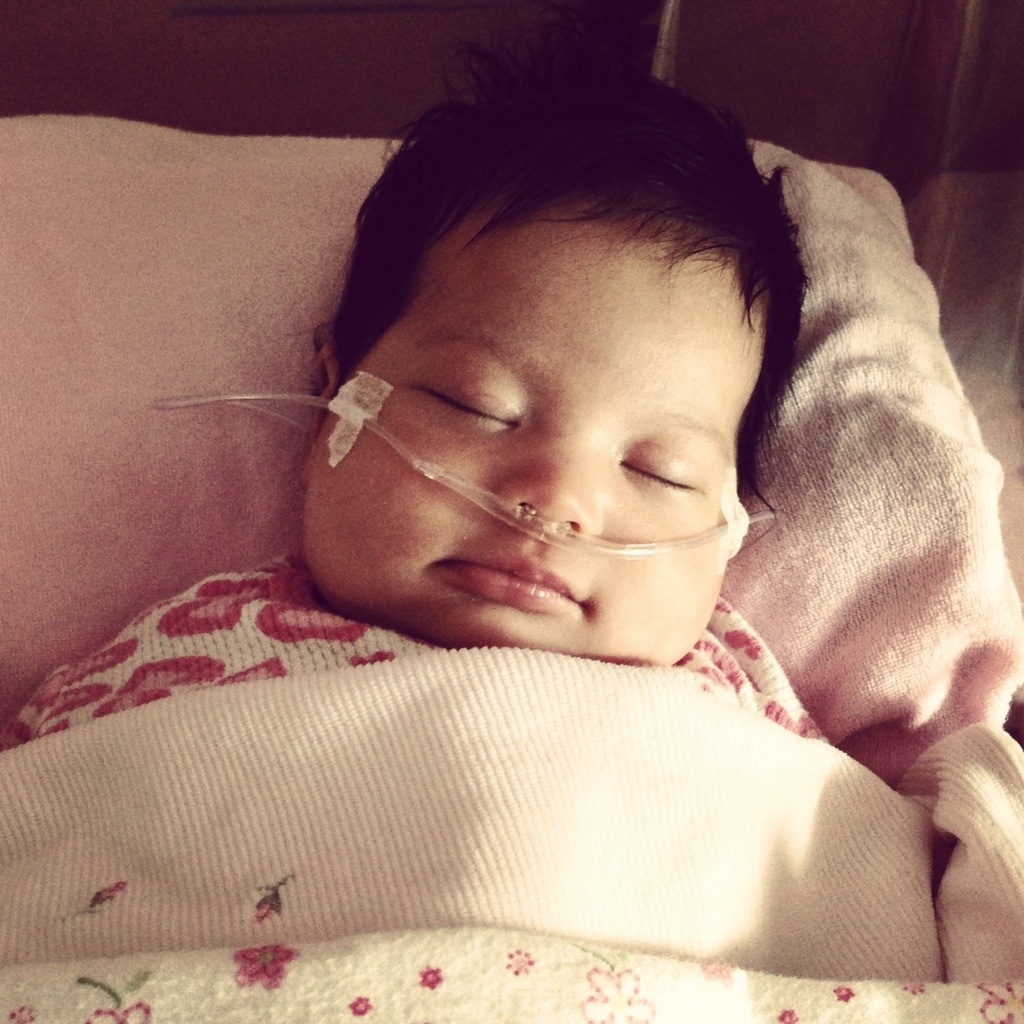 Admitted yesterday morning for pneumonia, Catalina is back in the hospital again. We brought her in to the ER of Cardinal Santos as advised by our pediatrician after I communicated to her that Catalina was lethargic, not eating, and her cough had worsened. It sounded tight and deeply obstructed.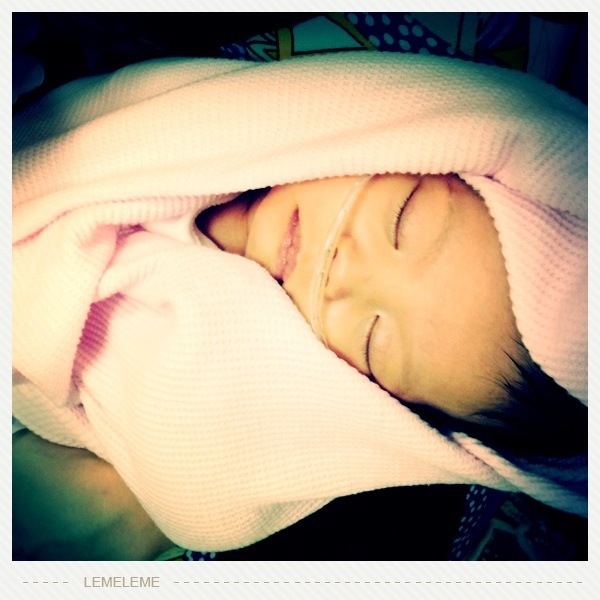 I've gone through some major crises in my life but none has ever compared to the pain of seeing my children suffer. If I knew what it was like to get my heart torn out of my chest, well, that would be it. Apart from the loss of a loved one, I cannot imagine a greater hurt in this world than seeing the afflictions of my children and feeling helpless to save them.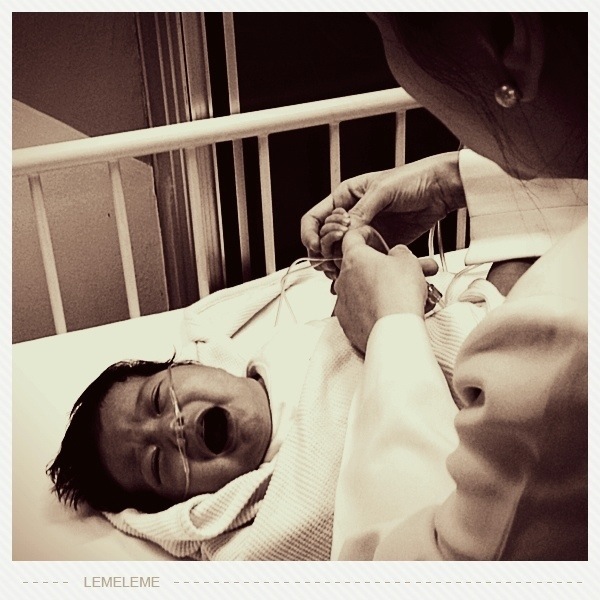 The hope I had for Catalina's recovery grew dim as she struggled through Monday night to find comfort. I could provide no remedy. I had suggested to Edric that he sleep in the kids' room because the AC was turned off in ours. (He had already dealt with so much interrupted sleep in the past month. Getting to sleep on the floor of the kids' room was a luxury!)
Of course this meant that I was alone in our room. I cried and cried out to God that he would heal Catalina, pleading with a desperation I had not felt before. Edric came in to check on me and he saw me bawling. His words of assurance were sweet and tender but I was lost in my grief.
Is this what it was like to be Hannah in the Bible? She was consumed with the desire for a child and no one could comfort her for being denied one, not even her husband. And I felt the same kind of obsessive desire, wailing for help, asking to have my child back. I wanted her back to being demanding and needy if that's what it would take to have her healthy again.
God gives an instinct to mothers that makes her keen at interpreting tell-tale signs of distress and peculiar behavior in her children.
I recognized that something was gravely wrong when Catalina became uncharacteristically quiet and disinterested in feeding. Having grown accustomed to her demands to be carried and nursed frequently, I knew her cough and cold took a turn for the worse.
When our pediatrician confirmed that we should bring her to the hospital the next day, I felt both anxious and relieved. I suppose I knew what was ailing her but I suspended my thoughts until Dr. Joy checked her. The prospect of getting a confirmation was almost comforting. I wanted to know what we could do to cure her.
Edric cleared his schedule so we could do this together. I always say that Edric is my knight in shining armor because he is consistently present when I need him most. He will take charge and do whatever he can, sacrificing his own time, comfort, and needs to be there for me or the kids.
On the way to the hospital, I asked him if Catalina's lips appeared bluish but he said it was probably the lighting inside our van. I didn't think so. I had looked at those lips for the last 36 days of her life and knew what color they ought to have been.
We got to Cardinal Santos pretty quickly, avoiding the traffic because we left after school started. Since our pediatrician, Dr. Joy, is a friend, she made sure we were well attended to as soon as we got to the ER. Her residents were on standby and she came almost immediately after we arrived. At her instruction, Catalina was given a tube for oxygen. She was not getting enough air into her lungs. If the normal reading is 95 above, she was only at 81%. The oxygen helped to bring back the pink in her lips and cheeks.
I observed Dr. Joy's expressions as she placed the stethoscope on Catalina's chest. She didn't seem pleased with what she heard. She had this way of coupling objectivity with deep concern that softened the blow of her initial diagnosis. When she said there was phlegm in Catalina's lungs and that it was most likely pneumonia, I broke down. She hugged me and said, "Don't worry. I will be here. This is treatable."
I knew what this would entail for Catalina. We had been through this when she was born…tubes, needle pricking, blood tests, antibiotics, living in the hospital. Edric and I did not like that part, but knowing that her pneumonia would be arrested and treated was good news. It was caught in the early stages, occupying just the inner lungs.
Where is God when these things happen? When crisis seems to negate the promise of his blessing upon those who follow and obey him, what is the impact? I seemed to have found myself asking the very question that my 3 year old Tiana was, "But where is he, how come we cannot see him?"
In faith I believed that God would heal Catalina while we were at home. I didn't expect to be in the hospital again. Yet here we are. And I have been honest with God. I expressed that I was hurt and grieved that he allowed this. There was a dark moment when I felt unloved and unconsidered. But last night while I watched Catalina sleeping, I believed with all certainty that God was present. He had not abandoned us or forgotten his promises.
He made his presence felt in a number of ways:
– He caused my maternal instinct to kick in, to respond with a sense of urgency when I realized something was wrong. Had I waited too long, Catalina would have been deprived of oxygen.
– Dr. Joy's commitment to care for our daughter was and has been of great assurance.
– We happen to be staying with my parents as we transition to finish our new house, so our four other children are not alone. They are with their grandparents and with their cousins.
– God has also embraced us and covered us with the prayers of family and friends, their well wishes, and kind words.
– When the doctors needed to find a vein for Catalina's IV and it seemed impossible because many of her veins were unusable due to her previous confinement, Dr. Joy asked her friend, Dr. Apples (an anesthesiologist) to find one and she did…on her first try!
– Had she been sick soon after her stay in St. Lukes, giving her antibiotics would have been complicated because the bacteria might have developed a resistance.
– The stage of her pneumonia is early and treatable. Some people have big spots of the bacteria in their lungs, Catalina's occupies just 1/3 of hers.
– So far, her first blood culture has showed nothing, and her CBC has no elevated white blood cells.
– Last night, she slept peacefully in intervals of about two hours which allowed me to rest, too.
– We are in a room right beside the nurses' station so they respond quickly to our needs.
– Personally, I have been very blessed by Edric. He has repeatedly communicated to me that he will take care of me and be here for Catalina and I.
What an eventful first month of motherhood I have had! So much pain, joy, fatigue, faith, worry, frustration, hope, darkness, and deliverance personally packaged to help me grow in character. I do not know what else is in store for me, for Catalina, for our family. I sent a text message to Edric this morning because he has been out today for work:
"I miss you but it's good to be alone to process all of this. I feel very broken — emotionally, physically, and spiritually. I know God is present through all this and this comforts me but it still hurts that he allowed this to happen. It's like the weariness of being in a war where the victory is certain but the fighting is necessary."
His response…"I love you babes. I will take care of you." (Awww)
—
I read this passage in Psalms today and I know it was for me — to declare and praise God. Whatever is happening now doesn't change what I know to be true about God's character. He is good. And I will praise him whether smiling or in tears, whether joyful or afflicted.
But as for me, I will hope continually, and will praise You yet more and more. My mouth shall tell of Your righteousness and of Your salvation all day long; For I do not know the sum of them. I will come with the mighty deeds of the Lord God; I will make mention of Your righteousness, Yours alone. O God, You have taught me from my youth, and I still declare Your wondrous deeds. For Your righteousness, O God, reaches to the heavens, You who have done great things; O God, who is like You? You who have shown me many troubles and distresses Will revive me again, And will bring me up again from the depths of the earth. (Psalms 71:14-17, 19, 20 NASB)