It's 6 AM and I have about 10 minutes to write a post before my darling baby, Catalina, wakes up and wants to be fed again. If I'm lucky, I might get 30 minutes.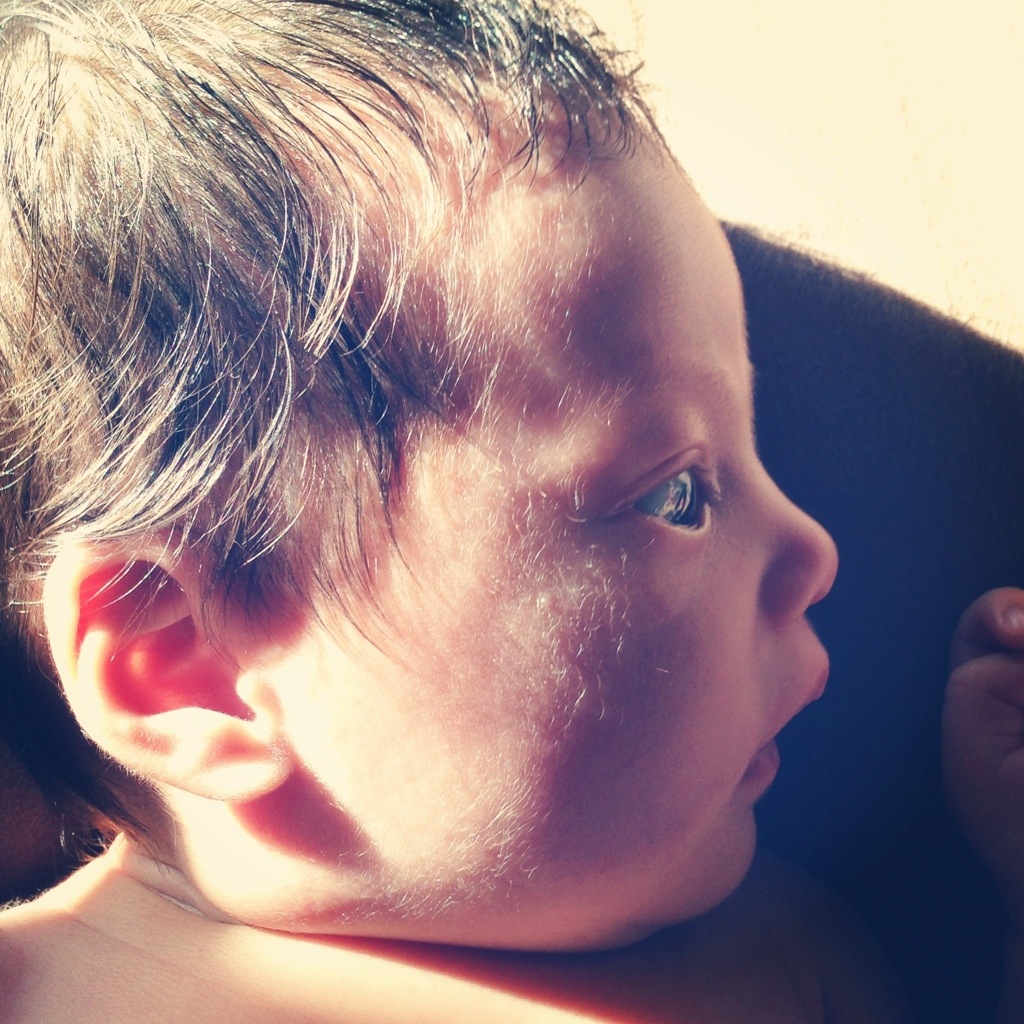 I thought for sure she would be my easiest baby. But, of all my children, she is the one baby that doesn't want to be put down and left alone. I'm hoping this passes after the first few weeks.
With my previous babies, I could lay them in their crib or bassinet after they were fed and they would dose off to sleep. This would free me to do what I wanted to. Catalina, on the other hand, will fall asleep while I'm holding her and wake up crying a few minutes after she realizes she isn't in my arms.
I've also had to feed her 8 times almost every night. When she does better, I can get through a night with just 5 to 6 feedings. If I want her to go for longer stretches, I have to cradle her in my arms so she feels secure and wakes up less. But this means I have to be in an inclined position. Waaaah!
Even though Catalina is my fifth child, going through this stage again makes me feel like she is my first. I suppose this is because of all the energy and resolve I've had to invest in taking care of her. Even though I prayed diligently during my pregnancy to have a baby who was easy to take care of, she has turned out to be my most challenging. First, there was the confinement at the hospital. Now, it is her feeding schedule and personality. I feel like such a rookie. I also feel like a hostage!
I feel like my liberties have been taken away. I feel like I am being controlled by a 3-week old infant! My sense of duty makes me fulfill all my motherly responsibilities and of course, I love her to bits, but on the flip side, I am a little bit resentful that she is a "difficult" baby.
How ungrateful the human heart is! How selfish I can be as a mother! I wanted a baby that was easy to control and now that I find myself being controlled by Catalina, I am grumpy. I'm ashamed to admit it, especially since I know women who have ached and longed to have a first child. Here I am, with my fifth, ranting about the un-pleasantries of motherhood. Somebody slap me.
Edric has commented several times, "What's wrong with you? Why can't you accept that this is what it is?"
My initial counter-thought was…you have no idea what you are talking about. Do you have to breastfeed every 30 minutes or 1 hour? Do you have to perpetually hold an infant so that you can't even use the toilet or take a shower? Are you awake at 3 am, looking at a very awake baby and begging her to fall back asleep so you can too? Have you put your whole life on pause, including very important responsibilities and the activities you enjoy so you can be available 24/7 to meet the needs of your child? Do you change poopy diapers and wipe a poopy butt every other hour…
Of course I didn't say this. Edric has his own cross to bear. It was one of those useless, imaginary dialogues in my head. And besides, he was right. What's wrong with me?! I love my babies. I wanted to have another child. Edric may not understand what it is like to be a mom, but he was right about accepting things for what they are.
I can't force-fit Catalina into this baby mold…this idea I have about what all MY babies should be like. So, either I change my perspective or I continue wallowing in self-pity and miss out on enjoying this stage.
When I woke up this morning thinking about how hard it has been, a wonderful thought came to my mind. God ministered to me by reminding me that he doesn't allow difficult circumstances without reason. For every challenge, he supplies greater faith, greater capacity, and greater grace.
He is definitely teaching me to be thankful and grateful. I have the privilege of being mom to another healthy, beautiful child. She is a gift from the Lord and not an inconvenience or an interruption like I am ashamed to admit she sometimes feels like…especially when I am really tired and want to change her personality. She may be more needy, clingy, and demanding than my other kids were as babies but on the brighter side, she doesn't projectile vomit like Tiana would after every feed. That was pretty miserable. And she doesn't pee on me like my boys would. That was always gross.
Thankful people are happy people. I haven't been rejoicing too much this past week because I haven't been grateful.
Thankfulness is saying, "Lord, this is not what I wanted but you know best so I thank you for putting me in this circumstance. Help me to trust that this is exactly where you want me to be right now and give me your joy so that I glorify you with the right attitude and behavior."
The Lord is also teaching me to be humble. Sometimes I can act like such an expert for having been there and done that when it comes to being a mom and having babies. But here's a reality check. Everything I am able to do and everything I know is not to my own credit. My enablement comes from God. Successful parenting is possible only when I remain connected to the source – Jesus Christ. The moment I feel like I am completely capable on my own, I'm in big trouble.
Honestly, I was assuming that this was going to be a breeze. My overconfidence bordered on arrogance. I had this vision of homeschooling while holding my baby in one arm, writing in the afternoons, reading stories to my kids, cooking meals for my family, pushing my baby in a stroller to the park, and being able to go out on dates with my husband. ALL FANTASY!
Greater faith, greater capacity, greater grace. God knows I need this more than I need an easy baby. Will I be able to do all the things I listed above? I imagine that in time, the answer will be yes. For now, I've got to go attend to Catalina who needs to be fed again or wants to be carried. But I'm smiling! I'm choosing to be a happy hostage because God's word says… Rejoice in the Lord always; again I will say, rejoice! Let your gentle spirit be known to all men. The Lord is near. Philippians 4:3-5