I have this ganglion cyst right under the skin near my knee. Due to cosmetic reasons, I saw a doctor twice in the last month to get it removed. My skin has been sliced open on two occasions just to drain it and cut it up so it will dissolve into my body. Well, it keeps filling up with fluid again. It's totally annoying. The last time, the cut was deep and long enough to need stitches so I am definitely going to have a scar and unfortunately, for nothing!
Well, there was one satisfying element about getting my skin sliced. I got to watch the procedure and take a video of it for my kids because we are doing Human Anatomy for science. I showed it to them and they were like "Ew! It looks like a jelly!" Well, I hate that jelly thing. I want it out, out of my body. I've dreamt about cutting it out myself and seeing what it looks like as a whole piece. I know, I sound like a crazy person! It just keeps coming back so I will probably see an orthopedic surgeon to get his opinion if it really gets bigger.
Whenever I mention this cyst to Edric, he seems totally disinterested. He thinks I'm fixating on it too much.
"Hey babe, my cyst came back. Look, look. Do you want to feel it?"
"No, I don't want to feel it!"
He was concerned when the surgical procedures were being done and he called to check on me. But since they were both fails, he thinks I should just let the darn thing be. Sigh.
As I was thinking about this cyst problem, trying to get rid of it in an obsessive sort of way has revealed how controlling I can be. I can't relax until I get what I want done to this cyst. And because it has not happened it troubles me everyday!
I didn't listen to the advice of my orthopedic surgeon friend and another dermatologist friend who said I should leave the cyst alone. They said it would scar. But I was stubborn and tried to have it removed anyway. So now I have it still and an unsightly line that marks the spot where it is.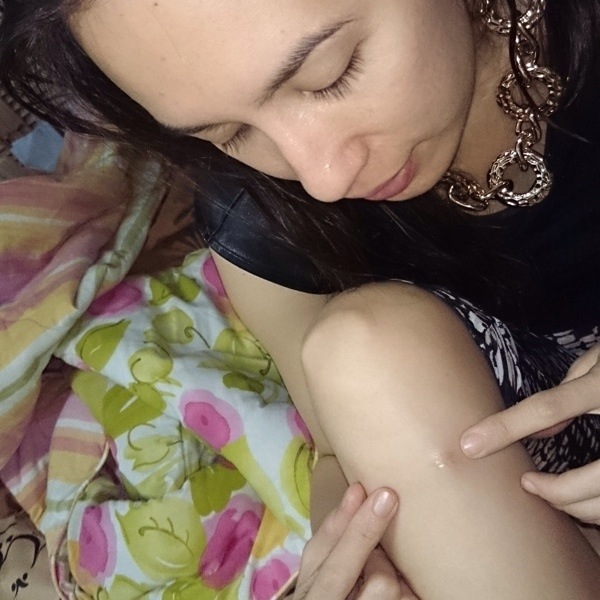 This ganglion has been a good character lesson for me. God uses these life experiences to teach me something worth writing about. So here it is…the return of the ganglion, a reflection on the unchangeables in our lives.
We all have things that trouble us, things that we want to change, get rid of, or get away from. It may not be something shallow like my ganglion. It could be a physical attribute that is a source of insecurity…a past experience that continues to affect our identity and self-worth…a difficult circumstance that seems to rob us of our joy and peace…an actual person whose presence in our lives causes us pain…or someone who is just plain annoying!
Whatever it is, Christ exemplified the remedy in the Garden of Gethsemane when he said, "Abba! Father! All things are possible for You; remove this cup from Me; yet not what I will, but what You will." (Mark 14:36 NASB)
Jesus demonstrated what it means to trust in God's wisdom. He acceded to God's purpose — that salvation of mankind made possible through his sacrifice. He made a choice to submit to the will of his Father.
There will never be a sacrifice as important as the one Christ made. But, we are all elected to bear certain undesirables that we would rather not. What comforts me is that God's plans factor in the grand scheme of eternity. Our finite understanding does not. We see but a glimpse when we string together the past, present, and future. And unless we have the grace to look beyond the veil of this material world, we may mistakenly believe that we live for it — it's pleasures, it's demands, it's trophies, it's philosophies, it's values and standards. And we may also believe that we are crippled, shackled and defined by the hardships that are found in it. How pitiful indeed if this is the measure of our glory and end. But it isn't!
"For all that is in the world, the lust of the flesh and the lust of the eyes and the boastful pride of life, is not from the Father, but is from the world. The world is passing away, and also its lusts; but the one who does the will of God lives forever." (1 John 2:15-17 NASB)
We are destined for a higher joy made full in the presence of our Creator and King. And when we can say, Lord your will be done (for the big and small troubles we would otherwise wish away), we are living with a recognition that this earthly existence is not the best of what is and will be. In light of this, the temporal and passing things that cause us so much stress do not seem to be worthy of the attention and energy we give to them. If God has willed these unchangeables in our lives, like ganglions that will not go away, let us be thankful. For the time being, they are permitted to be but our assurance is that God's will is EVER in our favor. It is not a gamble to hope in Him or to look forward to the way he will use these things for our eternal good.
After you have suffered for a little while, the God of all grace, who called you to His eternal glory in Christ, will Himself perfect, confirm, strengthen and establish you. (1 Peter 5:10 NASB)