Since giving birth, I have fumbled through many days wishing I was a better version of myself. It feels like I am in a season of imperfection. Twenty-four hours seem like an unfair amount of day to accomplish all I want to.  And the expectations never cease. My husband wants my undivided attention. The kids are constantly looking for me. Catalina is entirely dependent on me. If my responsibilities ended there, I would be able to manage. But they don't.
We just finished renovating our condo so I can check that off the list but we still have to finish our house. This is the last stretch – the finishing and furnishing stage. We were supposed to have been done by December but this final part has dragged on. Praise God for parents (Edric's and mine) who have lovingly housed us in the interim.
The waiting is uncomfortable. I am itching to organize all our things. I dream about shelving and what will go on those shelves. My fantasies revolve around the kinds of routines we will have as a family, entertaining friends and loved ones, starting a new bible study group, watching our kids go crazy with all the space they will have to play in, being like a Martha Stewart and crafting. (I have a sewing machine coming soon!)
The restlessness to be in our own home grows everyday and I struggle with being grateful and thankful. I also struggle with feelings of inadequacy because I am not "on top of things."
I am still a homeschooling mom. But I'm embarrassed to say that my schedule with the kids has been shot to heck.
Tuesdays the kids have their music, art, and pe classes. Wednesdays I have site meetings and playgroup. And on Thursday Tiana has ballet class. So I frontload on Mondays, squeeze in what I can on Thursdays and try to make up for what we don't cover on Fridays. Of course, there is breastfeeding that factors in there, too.
Sometimes I wonder if getting pregnant, giving birth, homeschooling, renovating a condo, and building a home converged at the wrong time. It's humbling not be able to do what I would like to do with excellence.
Edan told me the other day, "Mom, you've been gone a lot. You are gone all the time." An exaggeration, but I knew what he meant. He misses me. But I have so many important etceteras that I attend to. I have to canvass for good deals and make purchases for the house. I have to trouble shoot issues. I have ministry commitments. Geez, I have to breastfeed.
So the kids have been feeling neglected…
And then there's Edric.
The other morning I was set off by his unhappiness over the quality of our breakfast. At first, he was talking about how breakfast didn't look appetizing.
"I know that I'm going to be hungry after I eat."
This was his politically correct way of saying he didn't like oatmeal and eggs. To make sure he got enough, I added cheese and bread, and pineapple slices to his meal. He had to rush off to work, so I arranged it all on a plate for him to eat in the car. But he was like, "It's hard to eat this because there's no liquid."
Sigh. My negative thought: Et tu, Brute? No one is happy with me. 
Before we parted ways, Edric was apologetic and did say, "I don't like to be this person (meaning an irritated, complaining person) but I know I am being this person so I'm sorry." I felt a little better but there was no time for sweetness. He had to go to a meeting and I had a baby to go home to who needed to be fed.
After feeding Catalina, I sprawled out on the bed and started crying. I can't remember what dramatic nonsense I was blubbering in between sobs while I prayed out loud to the Lord. But it had something to do with feeling very discouraged.
So I turned to God's word for encouragement. I was reading Ezekiel and it wasn't very comforting. Not one bit. He had to eat a barley cake that had been cooked over dung. Over poop?! And he was made to lie on his right side for 390 days and then on his left side for 40 days. "Now behold, I will put ropes on you so that you cannot turn from one side to the other until you have completed the days of your siege." He  didn't have much water to drink either.
Lord, what are you telling me?! I'm not getting how this relates to me. I want to read something soothing to my spirit. This is depressing!
I read on anyway. And as I did, I had certain realisations…
The first: Stop whining. Just stay faithful.
Ezekiel was told to do all sorts of crazy things as a sign to God's people. If anyone had something to bicker about, Ezekiel would have been a pretty good candidate. But he did as God told him to. He was a faithful mouthpiece, warning God's people of the wrath to come due to their sin.
What about me? Am I faithful? Or do I make excuses for my attitude and behavior when circumstances aren't to my liking? 
My confession is I make excuses. For example, I keep thinking that when we are finally in our house I will be more scheduled, more of a home maker, more organized, more disciplined, more available to Edric and the kids. But I have to do all that now, not later. I have to be a better Joy now, not later.
The second: Rest in God's presence. Fix my eyes on Him. 
I've been so fixated on myself. I want my children to appreciate the sacrifices I make. I want Edric to thank me profusely for serving him and being a good wife. When I don't hear their praises tickle my ears, and worse, when they complain and make me feel like I'm not meeting their expectations, I feel angry inside. So wrong.
God reminded me that I need to come to him with all of my longings, my fears, my dreams, my disappointments and find rest in him. I need to enjoy his presence, to tap into his grace so I can love the people around me, especially Edric and the kids. When I don't do this, I'm a needy, gripe-y, anxious, and ungrateful person.
This song by Philips, Craig and Dean has ministered to me time and time again since I first heard it many years ago…
"My faithful Father, enduring Friend, your tender mercy's like a river with no end. It overwhelms me, covers my sin. Each time I come into your presence I stand in wonder once again. Your grace still amazes me, your love still a mystery, each day, I fall on my knees, your grace still amazes me. Oh, patient Saviour, you make me whole. You are the Author and the Healer of my soul. What can I give you, Lord, what can I say? I know there's no way to repay you, only to offer you my praise…"
Over the weekend I was at the beach and I read this in Ann Voskamp's One Thousand Gifts Devotional, "The answer to anxiety is the adoration of Christ." 
I may be in season of imperfection but I can honestly say there is joy in this season because of the ONE who can perfectly satisfy, heal, make whole, protect, and hold me — my Lord and Savior, Jesus Christ.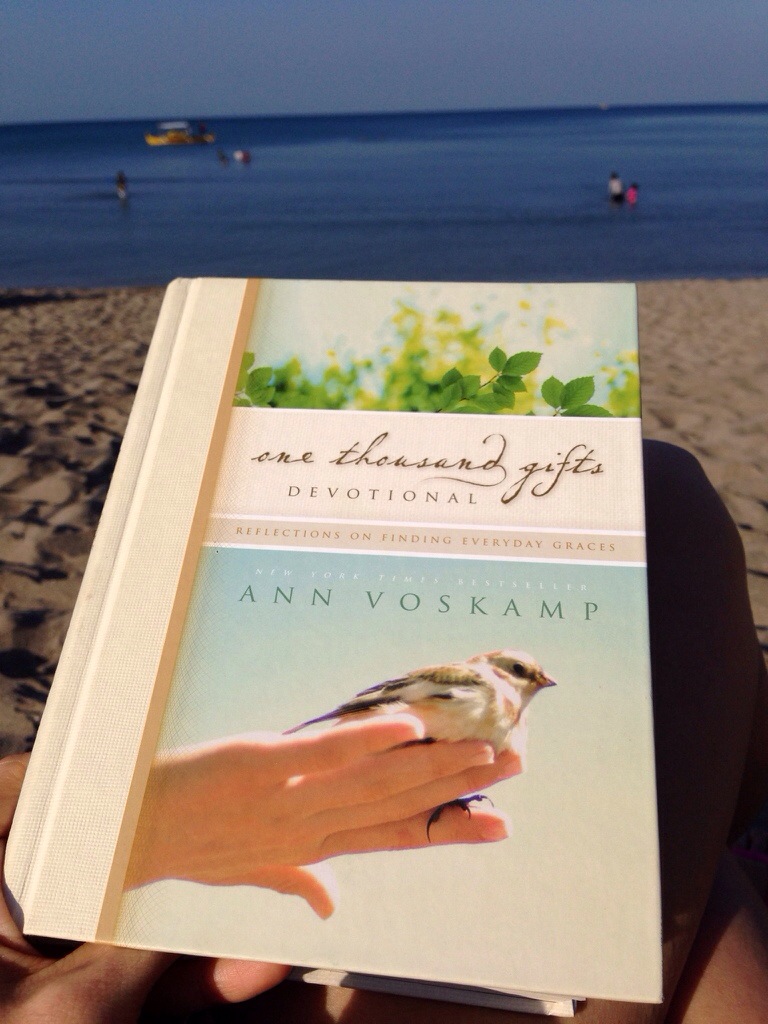 Psalm 51: 7 – 12, 15 -17
Purify me with hyssop, and I shall be clean;
Wash me, and I shall be whiter than snow.
Make me to hear joy and gladness,
Let the bones which You have broken rejoice.
Hide Your face from my sins
 and blot out all my iniquities.
Create in me a clean heart, O God, 
and renew a steadfast spirit within me.
Do not cast me away from Your presence
 and do not take Your Holy Spirit from me.
Restore to me the joy of Your salvation
 and sustain me with a willing spirit.
O Lord, open my lips, 
that my mouth may declare Your praise.
For You do not delight in sacrifice, otherwise I would give it;
You are not pleased with burnt offering.
The sacrifices of God are a broken spirit;
A broken and a contrite heart, O God, You will not despise.