Have we ever stopped to consider the birthday presents we buy our kids? I must confess that I am not always very discerning or purposeful about the gifts I buy my children. Most of the time I am excited to get them what I know they will like. I delight to see their reactions everytime they open their presents. It brings me a deep sense of joy to be able to bless them.
However, as our children grow older, Edric and I have been challenged to give gifts that are aligned with the values and principles we are trying to pass on to them.
Elijah, our eldest, turned eleven last month. He has matured so much in the last few years. And he has become much more intelligent and able minded than I ever was at his age.
Sometimes I don't even understand what he is saying because it is beyond my very simple brain. His recent preoccupation has been memorizing the periodic table of elements with his brother, Edan. Titus is kind of joining in on this new interest they have picked up because of an app called Toca Labs.
Titus told me the other day, "Mom, I am eating sulfur."
"What?!"
"Eggs have sulfur. It's an element."
Of course I laughed out loud. This was most certainly the influence of his older brother, Elijah!
The day of Elijah's birthday, I asked him what he wanted. Of course, as his mom, I knew that a gadget would have been at the top of his list. But ever since he started helping his dad out by speaking with him around the country, he has begun to understand that it's not easy to make money. So he doesn't ask for anything too expensive.
Since he is into science, I bought him a couple of Kidz Labs experiments. He was very content with those and very grateful.
Separately, Edric had it in his mind to bless Elijah with an IPad. We were discussing this in the car without Elijah around and Edric was pretty set on getting him one. Initially we both thought it was a great idea. Elijah has really "proven himself worthy" to receive a present like this. We imagined how thrilled he would be. We were at that tipping point. "Let's get it!!!" But we decided to suspend our excitement and think through the implications.
For some parents this may be a snap of the finger decision. Many of the kids we know his age have cell phones and an IPad, maybe even a laptop! He doesn't own any. His only gadget is a very basic Kindle Reader.
At present we share two IPads between 7 of us in the family. Okay, Catalina doesn't count. There are some good things about this. The kids always have to divide time on the IPad so they can't ever play too long when they get to do their educational games. The IPads don't babysit our children or keep them preoccupied constantly. They are taught to interact with others and be engaged in what is going on around them.
With Elijah, the considerations are a little different. He speaks with Edric around the country and he could use a tablet for monitoring his stocks and doing his reports. He is responsible and able to self-regulate his desire to play games. Plus, he is well aware of the dangers to avoid online.
Nevertheless, we thought of how it may negate the perspective we are trying to instill in our kids when it comes to material things. We want to protect them from entitlement issues — just because they want it, just because we can afford it, we will get it. That's not the way we want them to view money. And once we start getting one child his own IPad, we will have to do the same with the rest at some point. It's not a trend we want to begin in our family.
Instead, we want to uphold the character trait of restraint and learning to wait for something you value. In a culture were instant is the expectation, children don't have to deny themselves too many pleasures or put up with a lot of inconveniences.
My concern is this may soften their resolve to work hard if they are going to get what they want handed to them anyway. Furthermore, their appreciation for what they have may vanish quickly because there is no investment of effort on their part. If we give them too much too soon, it may not prepare them for the real world either.
A businesswoman friend of mine was just talking about how challenging it is to hire young people today. They are not willing to put in the hours and energy to do an excellent job at work. Their ethic is one of convenience. To be successful, children need to realize that it's going to take time, energy and resources to pursue their dreams and receive the fruit of their hands.
After nearly 400 episodes of Edric's personal finance show, On the Money, he has consistently identified entitlement, the got to have it, I deserve it mentality as the number one problem of people with money issues.
So Edric decided that he wouldn't go with a gadget. Instead, he taught Elijah how to set up his own savings account for his birthday. Elijah already has some money invested in stocks and Edric has an existing account for him (and each of our kids).
However, it turns out that BDO has a junior savings account option which allows children 5 to 12 to manage their own money. The maintaining balance is only 100 pesos and they can start earning interest off 500 pesos. They get a passbook and debit card, too. Requirements for opening this account are an NSO certified true copy of a child's birth certificate, school ID and two ID photos. Elijah went through all the motions of setting up his bank account. So proud of him, my big little young man!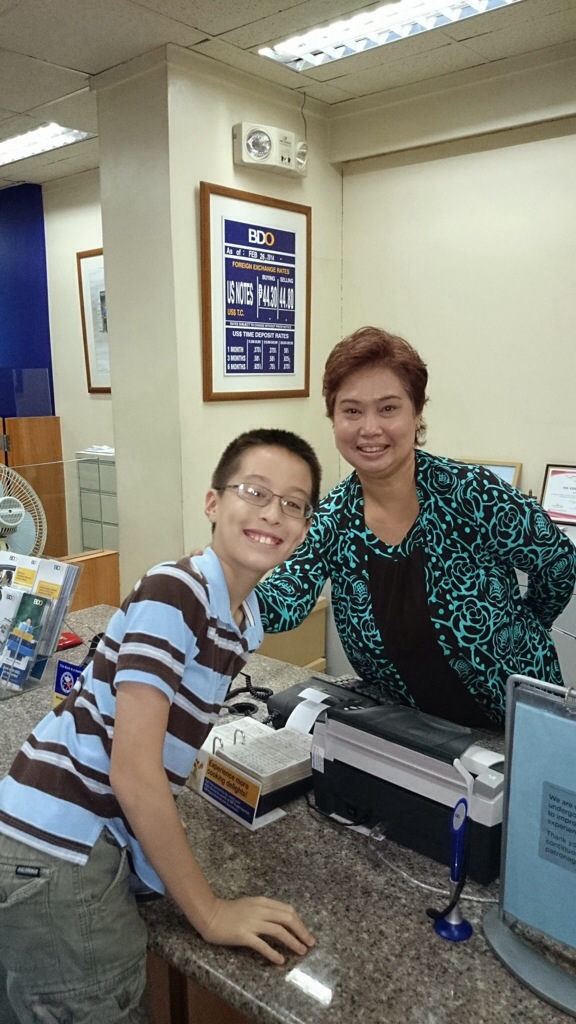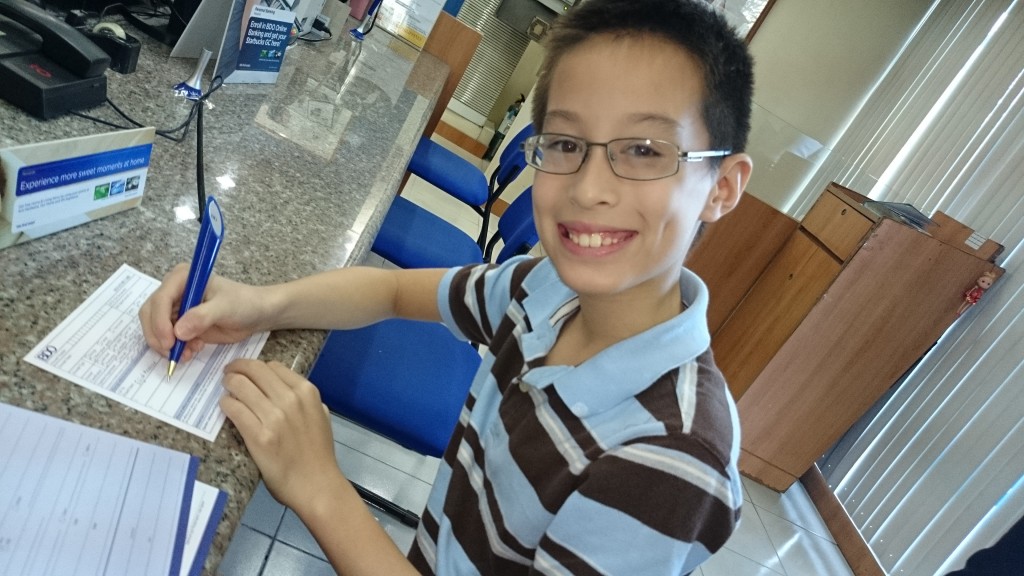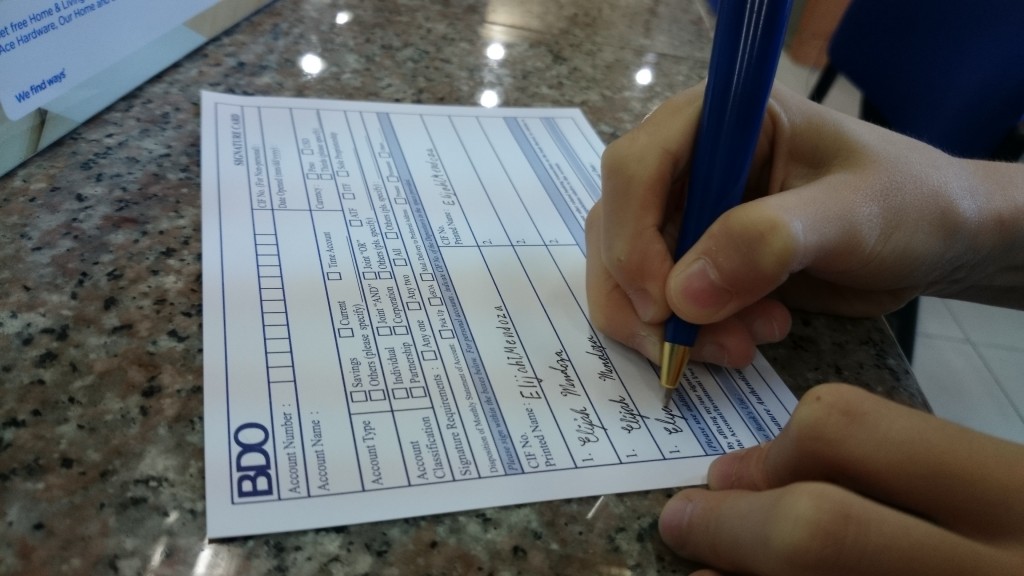 Elijah was so happy that he got this as a present. And he is so motivated to put what he is earning from speaking into that account. He is also hoping to save up for a tablet on his own and looking forward to being able to buy one with his money.
As parents Edric and I are learning that we need to evaluate the gifts we give our children. A good question to ask is will it profit them in the long term? We may be giving good things but perhaps we can give something better, something that will help them to grow in character or acquire a valuable skill.
All things are lawful, but not all things are profitable. All things are lawful, but not all things edify. (1 Corinthians 10:23 NASB)