(Based on a testimony Edric asked me to share for CCF Cebu…)
Last year, Edric was challeneged by the leadership of CCF (our church) to spearhead the Family Ministry. When he told me about it, I was thrilled. This was something that we have always been passionate about – marriage and parenting, leading families to Christ.
However, Edric wanted to pray about it first. He was very busy hosting his daily show, running a homeschool program, a small business, and he started to do speaking engagements for companies and organizations in and out of Metro Manila. His reasons for taking on all these commitments seemed very valid. We were in the middle of building our house so he was working hard to provide for it.
By the end of 2013, after giving it much thought, praying about it, and seeking the counsel of mentors and confidants, he made the decision to accept the responsibility to lead Family Ministry. This meant that he had to synchronize the activities of Life Academy (the new school that is based in CCF Tiendesitas) and NextGen (Sunday School), and create a plan and quarterly campaigns to reach out to soon-to-be married couples, married couples, and parents.
When he said yes to the role, I was excited. And our D12 (bible study group) was looking forward to how God would mobilize all of us to serve in Family Ministry.
Most of the activities were going to be launched in April 2014. However, as February and March rolled out, I noticed that Edric's schedule was crazier than ever. He didn't seem to be cutting down on his other activities. On certain weeks, he would have three out of town speaking engagements, sometimes more. (He would always bring Elijah, who speaks with him, for accountability and protection.)
These events were over and above all the other responsibilities he was in charge of. Plus, he had me and our 5 kids to take care of emotionally, physically and spiritually.
I became concerned. I didn't know how he was going to manage everything without neglecting his more important priorities and without causing the needs of the ministry to suffer.
Sure enough, he went from one week to another harried. His days were packed with meetings. He was exhausted. I really missed him as a husband. But my bigger question was how is he going to give his 100% to God's work? Is his mind even focused on God's work?
When Edric is spiritually off, it is manifest in his temperament. He has the tendency to be irritable when he's so focused on his doings and neglecting the being, being spirit-led and spirit-filled. As a result, his tone can get abrasive and he can be reactive when circumstances don't pan out according to his expectations.
On Tuesday this past week, Edric and I experienced some tension. He complained about breakfast and I felt hurt by his tone and attitude. When he realized that he was wrong, he apologized for being agitated. Of course I forgave him but when I was alone, I really cried and prayed to God.
I was honest about my feelings of loneliness, fear, anxiety, and frustration. Lord, I don't want my husband to be this way. I feel like his spirit is not right. And I'm so worried about family ministry. How can he head it if he is so busy? If his heart seems distracted? And how can I follow him? I don't want to follow him if he is like this. Can you speak to him?

That afternoon, he flew with Elijah to Davao and strangely, he came back the next day with his vocal chords shot. It was so bizarre.
He had to get checked up and the doctor told him he had laryngitis and pharyngitis! The doctor said, "You have to rest your voice and take steroids."
I couldn't believe it. I had prayed but this was over the top! I felt bad for him but at the same time, I had this guilty excitement that perhaps this was a message from the Lord for him.
Some time later, I tried to ask him nonchalantly, "So what do you think God is trying to tell you?" Edric was very humble as he narrated what happened to him (with a very hushed sounding, frog-like voice.)
On the flight to Davao, he told me he was on the airplane seated beside what he described as "a sweaty guy who looked like a terrorist." He admitted that this was a total judgment call on his part. God prodded him to share the gospel. Instead of saying yes I will, he ignored God's leading. Preoccupied by what he had to do that evening, and affected by his stereotyping of the fellow, he didn't want to do it.
It wasn't until the end of the flight that he started chatting with the guy. The man turned out to be a very kind seaman who was looking forward to being with his family. By then it was too late to share the gospel. Edric had to rush off to the speaking venue and regrettably, he had missed out on the opportunity.
So that night, God took away his voice! Edric told me that God spoke to him, "If you are not going to use your voice for my purposes, then you will not get to use your voice for your purposes." It was a loud and clear message!
The next day, his tapings had to be cancelled and his speaking engagement out of town had to be cancelled, too.
I need to add here that years ago Edric and I had a conversation about what kind of torture he wouldn't want to have. (The useless conversations you sometimes have when you are married.) He said an unimaginable torture for him would be the inability to talk. And lo and behold, this is exactly what happened!
On a humorous note, Edric was very patient and cautious with the things he said in the last three days. When our eldest son spilled water on him at the restaurant, he was very calm.
Why? He had no voice! He had to be very selective and choosy about every word that came out of his mouth. In fact, I kidded him, "Hon, it's been so peaceful between us lately. You have been so 'gentle and quiet.'" Ha ha ha.
More significantly, losing his voice made him evaluate his priorities. God got his attention and re-calibrated his heart. Instead of being concerned about his cancelled tapings and speaking engagements, all of which bring him extra income, his mind was set on this weekend.
Both of us had to give a parenting seminar. And he had to orient parents on homeschooling and deliver a financial stewardship talk for families in Cebu. On top of that, he had to preach at CCF Cebu on Sunday.
His message was about "Living for the Line" as inspired by Bruce Wilkinson's book called "A Life God Rewards." Edric was to preach about what it means to live for eternity. Well, there was no way God was going to let him give that message without an authentic experience to back it up. So the laryngitis and pharyngitis were divinely appointed experiences to make sure he was living for the line himself.
At first, he was worried that his voice wouldn't come back by the weekend. But I encouraged him. "Don't worry, hon. God will give you your voice back. This will be his work." By faith, I believed that God would do a miracle.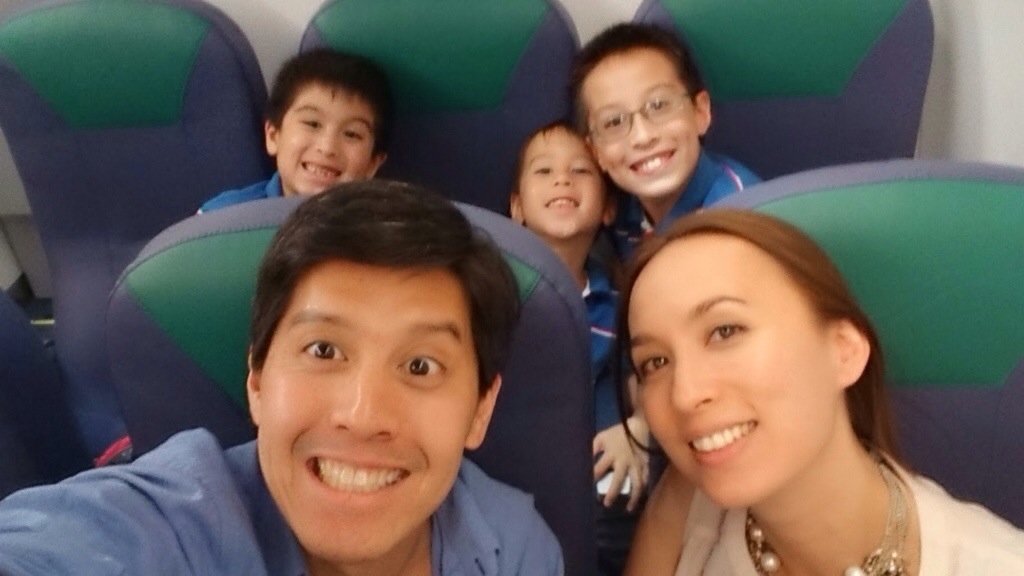 We prayed and everyone around us prayed. On Friday, we arrived in Cebu and spent time with the kids at Imperial Palace. (It is a world-class water park in the Philippines. Totally awesome.) His voice was recovering but it was still raspy and strained. But amazingly, by Saturday, he was able to talk all day and he was able to speak in Sunday Service yesterday!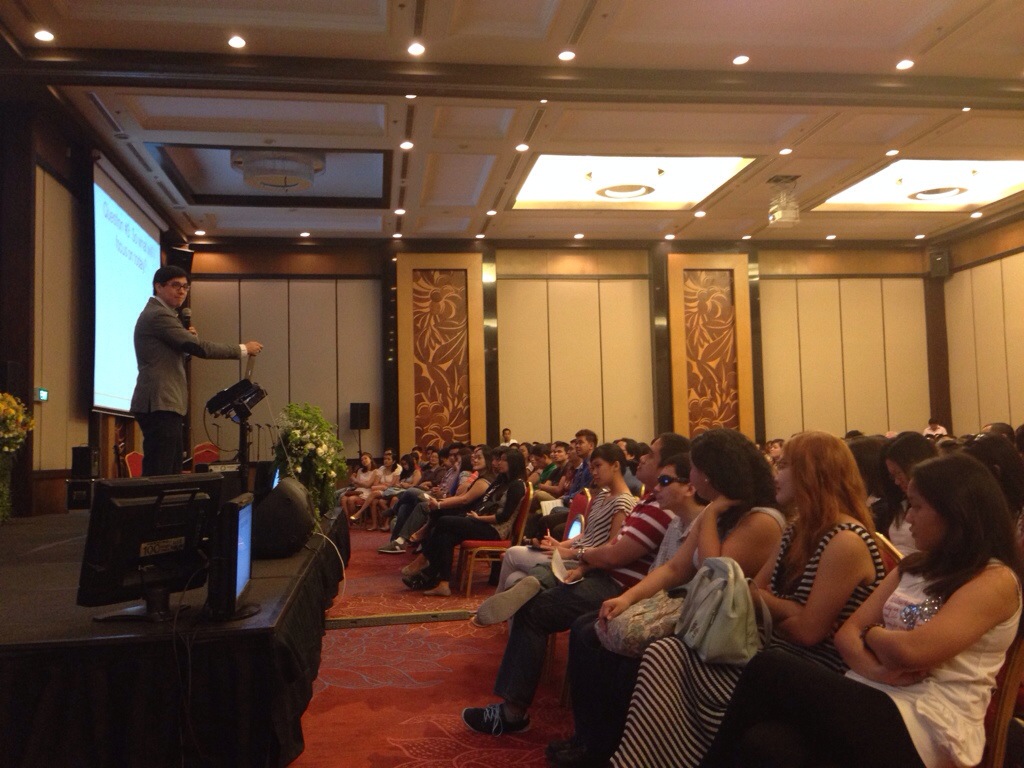 Edric has a renewed fire to align all the doings of his life to match God's agenda — to build God's kingdom. The initial anxiety I felt is gone, not because Edric won't ever get side-tracked or spiritually distracted again. He and I are both prone to this pitfall for as long as we are on this earth. My real comfort is knowing that the ministry we will commit our lives to is not one we bear alone. This is God's work. It will be done with God's power. And he will raise up the people and prepare their hearts for it in the way he deems necessary. If that means throwing in a laryngitis/pharyngitis moment to catch someone's attention (like my husband's), he will use it for good.
As for me, as a wife, my encouragement is to keep praying for Edric. My most valuable role is to support him this way — to pray that he will keep loving God and serving him with all that he is.
When I am tempted to nag Edric because I don't like what he is doing, I don't agree with his perspective, or I am hurt by something he did, I want to remember that God is Lord of my marriage, intimately involved and all-knowing about our weaknesses, character flaws and issues. He is committed to helping us grow and change to become more like Him. He is committed to making us spiritually fit for his work. I need not panic, manipulate or attempt to control Edric or circumstances. Instead, I must focus on fulfilling my role as a wife and keeping fervent in prayer.