The kids and I spent the morning at Splash Island with my siblings and their kids a few days ago. We were having a belated celebration for one of my nieces who turned 7. It was my first time to visit Splash Island and I would give it a 6 out of 10 for cleanliness and upkeep, an 9 out of 10 for fun.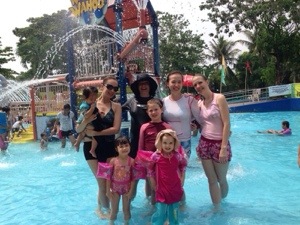 From a parent's perspective the hygiene and sanitation factor is important to me, especially since I have little kids who often put their fingers in their mouths and swallow pool water all the time. But my kids could care less about these things. They were laughing about the frog that was swimming in the water, which the lifeguard nonchalantly picked up and chucked out of the pool, and the dark mold which made creepy patterns in the water tube slide (according to Titus).
Regardless of how Splash Island has aged over the years, the kids had a blast. Some of them even liked it better than Imperial Palace (a beautiful, world-class water park in Cebu).
Unfortunately, two unpleasant things happened during our water park morning. Elijah lost his very expensive prescription glasses, and Edan's old and ugly crocs were stolen. (I find it hard to believe that anyone would have wanted those shoes!)
The day began with the kids bouncing around in the huge wave pool. Since I had gone to the park with 5 kids, no yaya, and no Edric, I wasn't very "on the ball" about certain details. One very crucial detail was telling Elijah to give me his glasses before he got into the wave pool. Initially he wanted me to keep them in the locker but I was afraid that he wouldn't be able to see anything if he got lost in the park. So I told him to keep them with him. Bad idea.
While I was preoccupied with watching my three younger children, Elijah and Edan took on the biggest waves right away. A few minutes later, Elijah's glasses were knocked off his face by a wave. Unable to see clearly, he had no idea where they were in the water. I was at the opposite end holding Catalina so I couldn't rush over to help him find them either.
Some moments later, my siblings and I tried to look for them, hoping they would be washed "ashore." Nothing turned up. I prayed and prayed. I also asked Elijah to hold on to Catalina when the wave pool was turned off so I could do a more thorough search. Since I didn't bring goggles, the life guard was kind enough to lend me his. On any normal day I wouldn't have used a stranger's goggles, but I was pretty desperate! I swam along the sides of the pool to check the corners at the bottom. I dove down numerous times to survey the floor. Even if the water was kind of murky at the part where the waves came from (which should have totally disgusted me), I didn't stop my hunt until I covered every inch along that end of the pool. My siblings searched other areas of the pool as well. Sadly, it was all in vain. Visiting the lost and found twice and asking them to call or text me in case the glasses were turned in didn't make a difference either. Sigh. I felt horrible.
In the meantime, Elijah didn't seem to mind a bit. He couldn't see much but he was having such a good time it didn't really matter that the entire park was blurry from his perspective.
The kids and their cousins spent the rest of the morning on the slides while I held on to Catalina. I was kind of glum because I couldn't believe the glasses were gone. Plus I dreaded to call Edric at work to let him know.
In the changing room, I finally phoned him. Surprisingly, Edric didn't seem too upset. He was disappointed but he didn't get angry. I didn't really expect him to flip out but I thought I was in for a teaching session that might have begun with, "So what were you thinking when you told him to wear his glasses while swimming?" There was none of that.
At about 12:30 pm, I had to leave. The boys stayed with their cousins and I took the girls home. During the ride home, I profusely apologized via text, telling Edric again how sorry I was. I didn't check my phone until a while later but when I did, I read this message…"I love you and I will always take care of you."
What?! Wow! I texted him right back, "Thanks babe. That actually made me cry…" To which he replied, "Great, that's the idea."
He knows what a sucker I am for sweet, tender professions of his love for me, especially when I make a mistake and feel very ashamed and unworthy. In the grand scheme of things, losing a pair of glasses may not have been a big deal. But ever since we moved to our new home we have emphasized to our children the value of being good stewards of God's blessings. Letting Elijah wear his glasses while running around the water park was a very irresponsible decision. I should have made it very clear that he could wear them while walking from one ride to another and then asked him to hand them to me before swimming.
While I was mulling over my impaired judgment, the last thing I thought I would receive was a text message telling me that I was precious, important, and cherished. When Edric sent me his message, I felt a sudden rush of joy. He didn't rub salt on my mistake by giving me a lecture about responsibility. Instead he emphasized my value to him as a wife. That made my day! In fact, I was so excited to spend time with him that I dressed up in an outfit I knew he would like, dropped by the store to buy him snacks, and went to his office for an impromptu visit. He was thrilled to see me.
When we were finally in the car together, he looked at me with a big smile and said, "I like it when you give me undivided attention!" He also asked, "Did you notice that I didn't say anything negative when you called me about the glasses? That's my new realization. I won't say anything if I have nothing good to say and I will wait before responding." (Edric is such an intense person that he can be reactive when circumstances trigger his emotions.)
Of course I noticed! And I loved it! After all, he knew that I was very cognizant of my wrong. So he took a much kinder approach and reassured me that I didn't have to fret over what happened because he loved me and would always take care of me.
I felt transported to one of those cheesy scenes where I was running towards Edric in a field of flowers wearing a white billowy dress (no braces or bangs) and everything was golden with sunshine. My, my, my, the power of words spoken in a timely fashion to soothe and calm the soul of a perturbed lover (aka me)!
This incident made me realize that spouses need to say things like this to one another more often. It's like a magical formula for romantic feelings. It's hard for lovey-dovey feelings to blossom when the soil of a relationship is overgrown with the weeds of fear, shame, anger, disappointment, insecurity, and unforgiveness. But when unconditional love is offered, especially to the one who is undeserving, it inspires them to change for the better and to love the giver in return.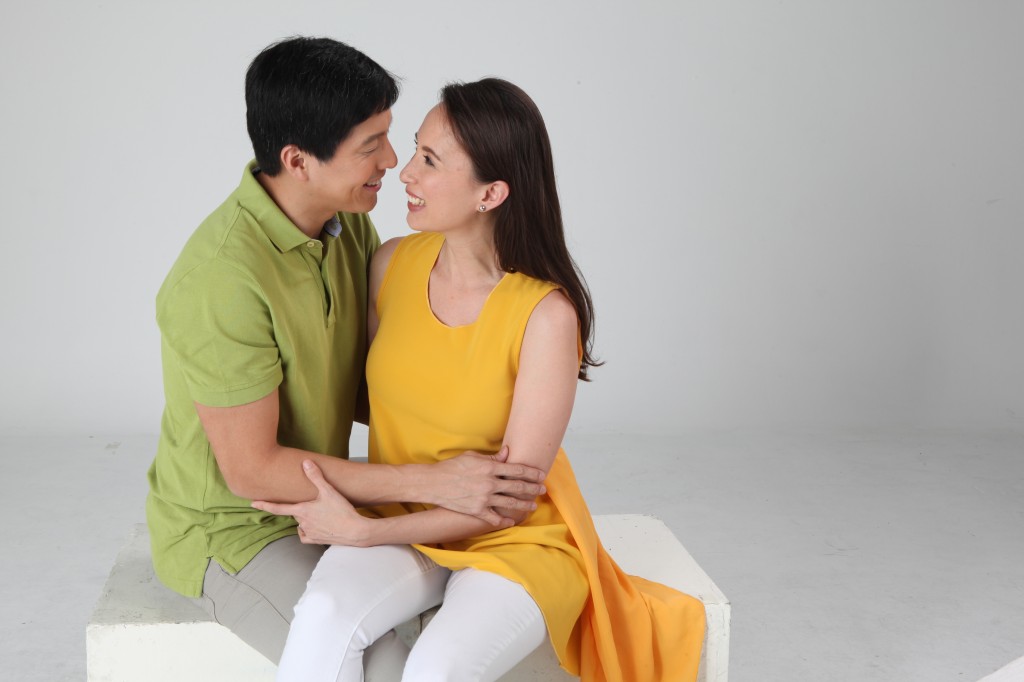 From a spiritual perspective, it's the same way with God. An understanding of what He did for us on the cross should result in the desire to repent of sin, serve him, follow him, and be with him. He is the truest example of unconditional love and he invites us to rest in this love rather than hide in our shame or continue in sin. Furthermore, being filled with His love allows us to channel it to others…especially to our spouses who need it the most from us!
Beloved, let us love one another, for love is from God; and everyone who loves is born of God and knows God. The one who does not love does not know God, for God is love. By this the love of God was manifested in us, that God has sent His only begotten Son into the world so that we might live through Him. In this is love, not that we loved God, but that He loved us and sent His Son to be the propitiation for our sins. Beloved, if God so loved us, we also ought to love one another. (1 John 4:7-11 NASB)