We are living in an almost finished house. It's not quite done which means we still have workers around from 8 to 5pm, Monday to Saturday, doing a number of jobs. Yesterday, they supposedly finished a customized chimney for our range hood.
This range hood's original chimney was problematic because the exhaust hole was to the right of it. So the hole was exposed when it should have been covered by the stainless steel casing that came with the range hood. However, there was an oversight in the design of the hood's location. As a result, we had an ugly exhaust tube spilling out of the chimney.
The solution was to make a new stainless steel chimney to hide this miscalculation. To begin with, this error of the exposed tubing was an eye sore in our kitchen. But yesterday's solution took the crown for hideousness.
I watched the workers assemble what looked like an over-specked metal case on top of our range hood. At the onset I was a little hopeful. But all hope dimmed as I saw them piece together the most unsightly-looking range good chimney I have ever seen in my life. As they peeled off the protective tape that was supposed to keep the stainless steel scratch-free, I couldn't believe my eyes.
The steel was banged up and uneven. It had a door on it that was an inch thick which didn't close completely. Formed into the shape of a rectangular box jutting out of our white wall, it looked like a metal coffin. Upon opening it, which was difficult in itself, there was room enough to hide two little children's bodies if they were bold enough to use it for hide and seek. The comedy if it all was the workers demonstrated to me the structural integrity of the casing by pulling on it with their weight. I suppose this was meant to impress me. But I couldn't get over how ugly the finished product was. It dawned upon me that this was their first time to ever make something like this and they had no idea what they were doing.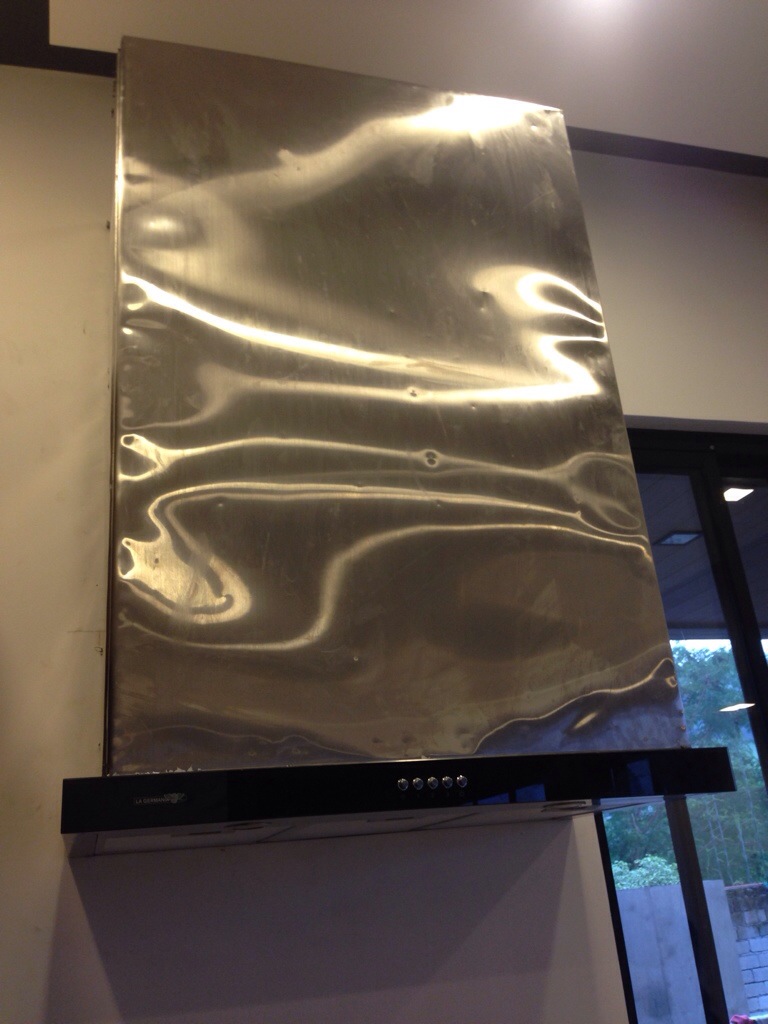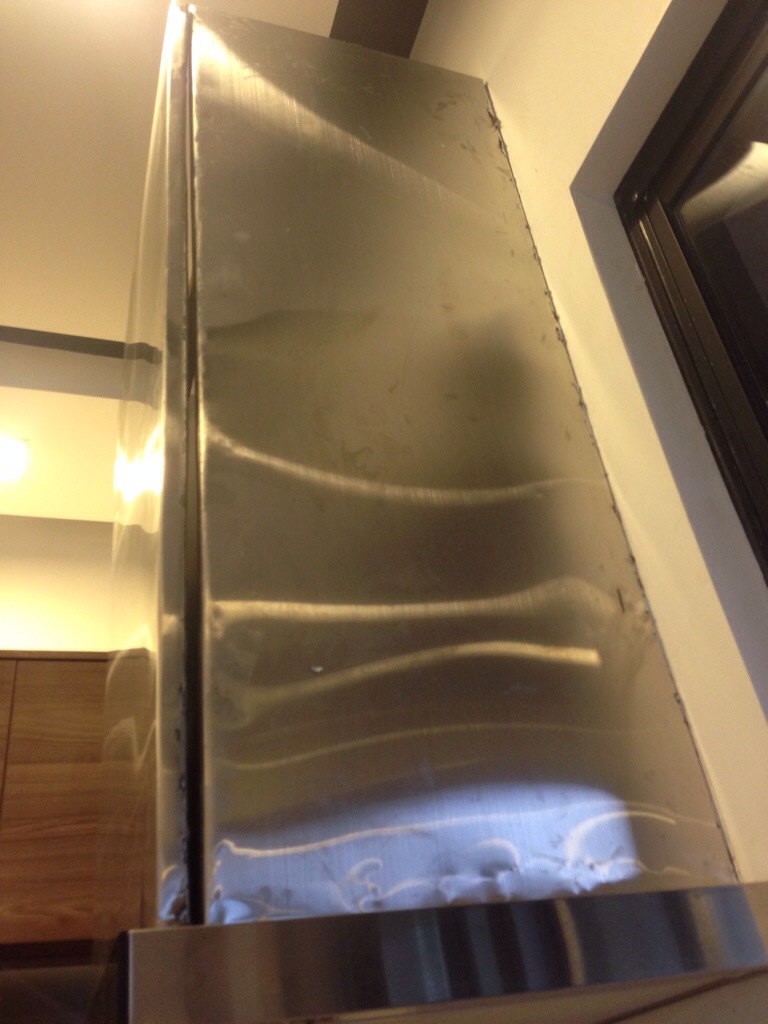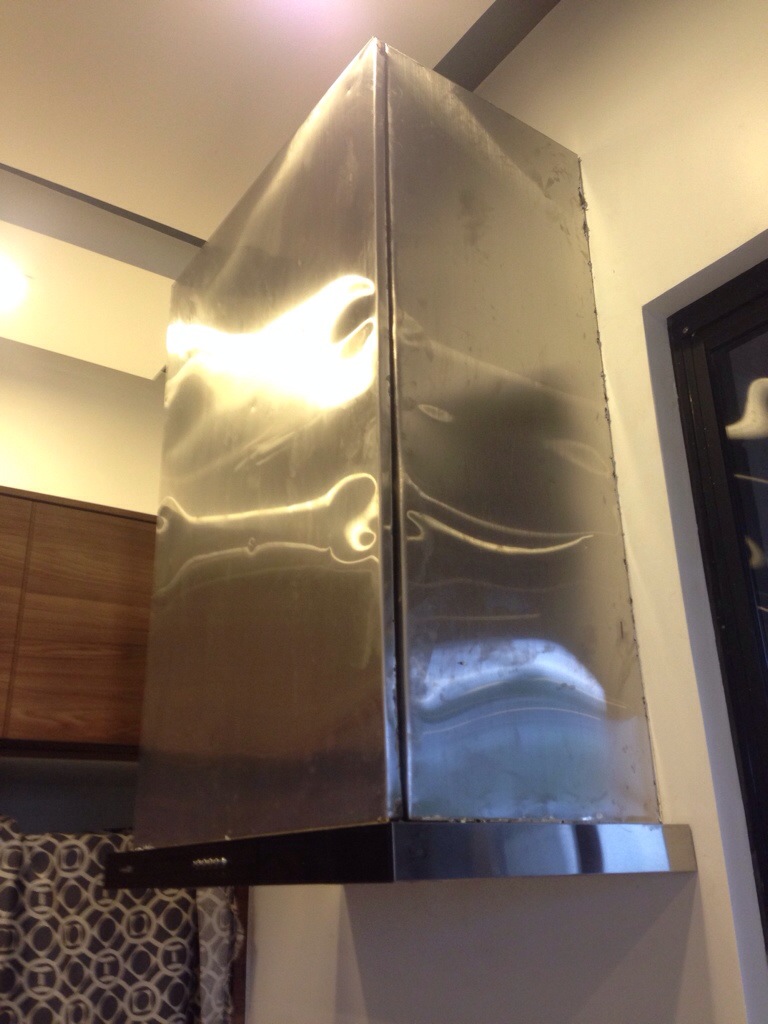 My sentiments were difficult to contain. I left the kitchen out of holy fear. If I had stayed and taken in the complete unveiling of this monstrosity, I felt the rising temptation to mouth out expletives of the most unholy nature. At the same time, I felt like the workers had simply been misguided. It wasn't completely their fault.
Calm down. Calm down. Breathe.
I ran up the stairs to our bedroom balcony to be alone. I tried calling people who were responsible for this mess up and no one was picking up their phones. Neither contractor or architectural party could be contacted. This only increased my feelings of aggravation. I wanted to yell but what would that accomplish? Our balcony's location was perfect for carrying sound waves down to our neighbor's houses. So I cried by myself and I prayed for calm and perspective.
There are a few things that have troubled me deeply about our house construction. For the most part, our home has turned out to be better than we imagined. But sometimes, in the little details, I notice bad design decisions. Whether it be thoughtless execution, unnecessary mistakes (like all our sliding glass doors getting scratched up when they were cleaned by the workers), or lack of experience, the results are costly on many levels. First, there is the obvious monetary cost. Second, there is the loss of trust and confidence in the capabilities of those in charge. Third, there is wasted time. Feelings of frustration are only heightened when those who are in the position to fix the problem aren't available, or they don't know what they are doing either.
Therefore, homebuilding has been an exercise in self-control over anger. Sometimes I want to pull my hair out as I vacillate between restraint and the desire to spew out verbal venom. It's so difficult to remain level headed when I am looking at something that has fallen utterly short of my expectations.
However, when I step away and yank myself out of the moment, I am able to see what is really going on. What is an ugly range hood chimney in light of eternity? Nothing. Absolutely nothing worth crying over or getting angry about!
Over dinner tonight my siblings and I talked about a young man who just lost his life to cancer. So many people all over the world have greater issues than banged up stainless steel. But sometimes, building a house can feel so important and essential to happiness that I forget about what really counts.
There are people out there who need to know how much God loves them, who are searching for answers to questions that really matter. There is real ugliness in this world that needs to be healed by Jesus Christ. Am I crying over these things? Am I channeling my energies and resources towards the building of God 's kingdom?
But God said to him, 'You fool! This very night your soul is required of you; and now who will own what you have prepared?' So is the man who stores up treasure for himself, and is not rich toward God." (‭Luke‬ ‭12‬:‭20-21‬ NASB)