It must have been about 10 years ago when I mentioned to Edric that I would like to get braces. At the time, our expenses were diverted to other concerns so we didn't have a lot of flexibility. He did say that I could have them eventually but there was no specific time frame.
Admittedly, my teeth weren't in bad shape. There was slight crowding which Edric thought wasn't a big deal. However, every year, when I would run my tongue across my front upper teeth, I noticed that the ridges in between my teeth were beginning to feel more pronounced. I really believed that it was best to get braces put on in my twenties. However, since Edric assessed my case as a non-priority, everytime I asked him, "Can I get braces?" he would tell me to wait.
This bothered me. I didn't feel like I was asking for much. I wasn't the type of wife who expected designer jewelry, bags, watches or shoes from her husband. In fact, my perspective on the braces request was, "I'm not a high maintenance wife. I just want to fix my teeth." Even though I didn't verbalize this, I began to develop a sense of entitlement about getting braces. In fact, I kept a corner of resentment in my heart for a number of years.
As God began to bless us more financially, I thought Edric would accede to my desire. Yet he remained convinced that I entertained phantom issues about my teeth. Eventually, I surrendered the wish to the Lord. I was convicted to trust that if God really wanted me to get them, he would soften Edric's heart towards the idea. So I parked the braces issue and moved on. Afterall, imperfect teeth didn't debilitate me. I could live and function just fine without them. It was spiritually healthier for my ego, too, not to make the pursuit of physical beauty my source of joy or happiness.
Fast forward to 2014. I was probably too old to get braces, but one day I was at Dr. Marla Valenzuela's clinic for a prophylaxis, when she broached the idea of Fast Braces. As the official distributor of Fast Braces in the Philippines, she was offering a significant discount for them. Through the years of taking such wonderful care of our family's teeth, Dr. Marla knew I had wanted braces for a good long while. She presented me with a flyer from her office.
Without insisting, I asked Edric again if it was alright for me to get braces. This time he said, "Sure."
What?! Sure?! I was thrilled! Furthermore, my brother and my two sisters-in-law were going to get Fast Braces, too! It became a family affair.
Last April, Dr. Marla cemented the initial four brackets on my incisors. Three weeks later, all brackets were completed on my upper teeth. After an interval of three more weeks, the lower braces were done, too. They were painful but not unbearably so. Usually the pain would subside after the first week of adjustments. Plus, I needed to lose post-pregnancy weight anyway. For those who know what bracket adjustment discomfort is like, eating isn't too exciting.
Results were immediate. Every week, I saw an improvement in the spacing of my teeth. The physics of Fast Braces allow them to move teeth optimally without compromising the roots. According to Fast Braces' website, it is a "patented bracket design that is triangular in shape so that the crown and the root of the teeth can move at the same time. This gives patients the results with less sensitivity, in about a year, and in some cases, just 3 months."
Furthermore, Fast Braces don't require extractions so teeth aren't forced to deviate far from their original positions. I do have to say that the results may be different than conventional braces in the sense that conventional braces fit every tooth beside each other so they are flush. I'm not an expert but this is probably due to the space extractions afford. To learn more, Fast Braces' site gives comparative results and findings between conventional braces and their own: http://www.fastbraces.com/how-it-works/research-technology
I'm very happy with the results of my teeth. At the end of the day, I was comfortable with Fast Braces because I trusted my dentist. Furthermore, since Fast Braces is new in the Philippines, there is strict accountability. Dr. Marla was in continual contact with Fast Braces in the U.S. to update them on my progress and get feedback. Every check-up I had with her, she took photos and emailed them to the U.S. so she could consult with the dentists there. I also had to get pre and post panoramic x-rays to verify that my roots were just fine.
This experience was a 10-year-in-the-making-lesson for me as a wife. Had I forced Edric to afford braces for me earlier on, I would have worn traditional ones for at least a year and a half. Maybe even 2 years. Plus, it wouldn't have been as easy for us to pay for them. Since I surrendered my yearning to get my teeth fixed to the Lord, he worked it out so that ten years later…
Edric gave me the go signal without feeling hostage to my demands.
I got a significant discount on my braces.
I wore my braces for just 6 months!
The retainer I was given was super cool. It's a clear mold that fits my teeth! No awkward wire!
I am wearing my retainer in this photo…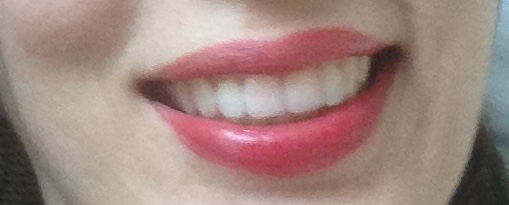 —
I must admit that there are times when I don't like Edric's decisions. When he denied me braces years ago, I wasn't happy at all. But I've learned too many times in life that God speaks through Edric. This braces story was yet another reminder to wait on God. Sometimes I am tempted to coerce Edric or force him to give into what I want, when I want it. But God's timing is always better and he uses Edric to guide me to the right person, place, and circumstance for my greater good. When I have issues with obeying and following Edric, it's not because Edric is the problem, it's because I don't trust God. I don't want to embrace God's will for me as a wife, which is to listen to Edric. So it's worthwhile to meditate on passages like Jeremiah 17:7. "Blessed is the man who trusts in the Lord and whose trust is the Lord." If I want to be blessed, I need to honor God's principles, and honoring God's principles as a married woman translates to obeying and following Edric.
Now that my braces are off, we are celebrating together! Edric is very glad to have the metal out of my teeth!