When my kids have their once-in-a-while "meltdowns" during our homeschooling, I am faced with two options. The first is to be annoyed, which is a very real temptation that may involve a response like, "Get over it and do your work. I have no time for your drama."
Obviously, this would be counterproductive as it is unfair to expect my children to turn their emotions on and off like a switch does to a light bulb. So I usually go for option two, which is to give my children space to feel the emotion that is overwhelming them, to process what they are feeling, and then to pray about it. After all, I have several children to teach so having one absent from our homeschool room actually makes my life easier! But the more important objective is giving my kids the opportunity to hear from the Lord, and allowing the Holy Spirit to minister to them more effectively than I can, especially when the meltdown is at its peak. This type of response is more effectively applied with older children who have a relationship with Jesus Christ because they are Holy-Spirit-equipped to process their circumstances.
Yesterday, my oldest son, Elijah, pushed his IPad away while muttering, "I can't do this! I got everything wrong! I don't like math anymore!"
"Are you okay?" I asked calmly, attempting to diffuse his frustration.
"No, I am not and you can't help me. Nobody can help me." (He tends to use superlatives in his sentences when he is emotionally charged.)
It wasn't the most respectful thing to say to me, but I knew where he was coming from as a perfectionist. So I requested that he take a break from his Khan Academy work and go to his room. He got up, huffing and puffing about what a failure he was and threw himself on to the bed to cry.
When Elijah makes mistakes, his morale plummets due to the high standard he expects of himself. Even if I tell him, mistakes can be positive when we learn from them and it's okay to make mistakes, mistakes are part of growing, that's not what he wants to hear. More often than not, the best recourse is to back off and give him space to cool down.
After thirty minutes, I lay beside him on the bed and gave him a big hug and kiss. "I love you." I assured him. And then I listened to his ranting about how upset he was and how he didn't want to try because he couldn't do his math well.
When he quieted down I asked him if his mistakes were due to an understanding issue or just carelessness. He admitted that it was the latter. I suspected it was probably so because he prefers to solve math problems mentally, without writing down the solutions.
Since it wasn't a matter of understanding the formulas involved, I didn't think it was a big problem. He just needed to slow down and take time to review how he arrived at the answers he did. Furthermore, I asked him if I could sit beside him and do the problems with him.
He really perked up with this suggestion! The idea of sitting side by side to tackle the work gave him renewed incentive to try again. (He is a time person.) So that's what we did, as a team.
With each problem, we raced to see who would get the answer first. When I needed to review my math formulas I asked him to help me, which he enjoyed doing. In fact his mood changed completely. He was enthusiastic as he demonstrated how to solve the problems and as we compared our answers. I let him take the lead and he gladly did so, assuming the role of instructor as I played the part of student. In the process he answered every problem correctly. What began as a meltdown turned into a fun bonding and learning experience.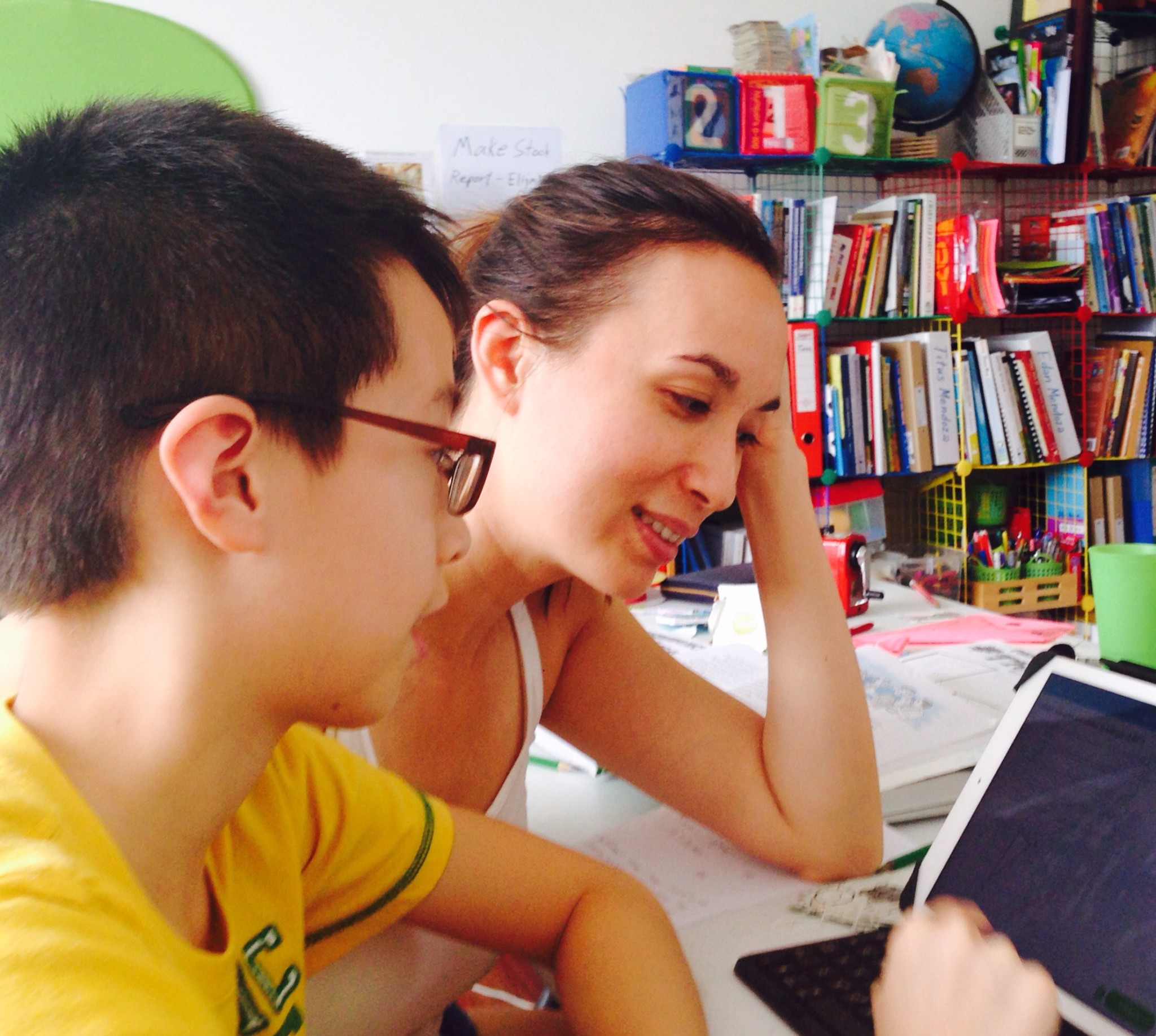 When we finished, Elijah turned to me and said, "Thank you, mom. Thank you for listening and not lecturing me. And I really like it when you are with me."
This you know, my beloved brethren. But everyone must be quick to hear, slow to speak and slow to anger; (‭James‬ ‭1‬:‭19‬ NASB)
One of the sweet privileges of homeschooling is being able to ask my kids to take a pause from their "school" work in order to assess and pray about their emotions and attitudes. This gives the Holy Spirit room to convict them and minister to them. It also allows me to think through how I should respond so I avoid the default reaction of irritation when my kids say, "I don't want to do my work, mom." After the beneficial pause, which lasts between five to thirty minutes, I can come along side my children to walk them through the challenge of a difficult assignment.
This wouldn't be realistic in the conventional school model, so I praise God my kids aren't in a classroom. We aren't rushed to finish course work during the day when it's more necessary to stop and address a heart condition or encourage the love for learning. I also get to know my children better — what enlivens them, what demotivates them, what they need to improve on. Best of all, I see the grace of God at work as he helps them deal with their struggles and come out of them positively. God works in my own life, too, teaching me what to say and what to AVOID saying (which is my number one area of improvement in life…keeping quiet and being gentle!)
He who is slow to anger is better than the mighty, And he who rules his spirit, than he who captures a city. (‭Proverbs‬ ‭16‬:‭32‬ NASB)
I once read that parenting needs to be about long term goals rather than short-sighted ones. Short-sightedness is stressing out when my children aren't eager to do their homeschooling work or when they don't seem to get the material as expediently as I hope they will. I can fall into this mode of parenting which turns me into a tyrannical teacher, one who is pressured to MAKE my kids succeed academically. Or, I can set my sights on the long term goal of parenting.
My long term goal is to raise my children to love God with all that they are and to develop their gifts and abilities for his glory, so they can effectively declare the gospel. When that is my fixed mark, the kids and I can set aside the homeschooling task at hand because there is a more redemptive cause at stake — recalibrating my children's hearts to adapt Christ-centered perspectives and attitudes. I want their minds primed for instruction rather than forced to receive it. I also want them to know that my love and acceptance will cushion their failures.
When these elements are present as we homeschool, the joy of purposeful learning and teaching returns and the atmosphere is one of peace and calm. But everyday births a new challenge or resurrects an old one so it's only by God's grace that we survive each year of homeschooling to pursue another one!