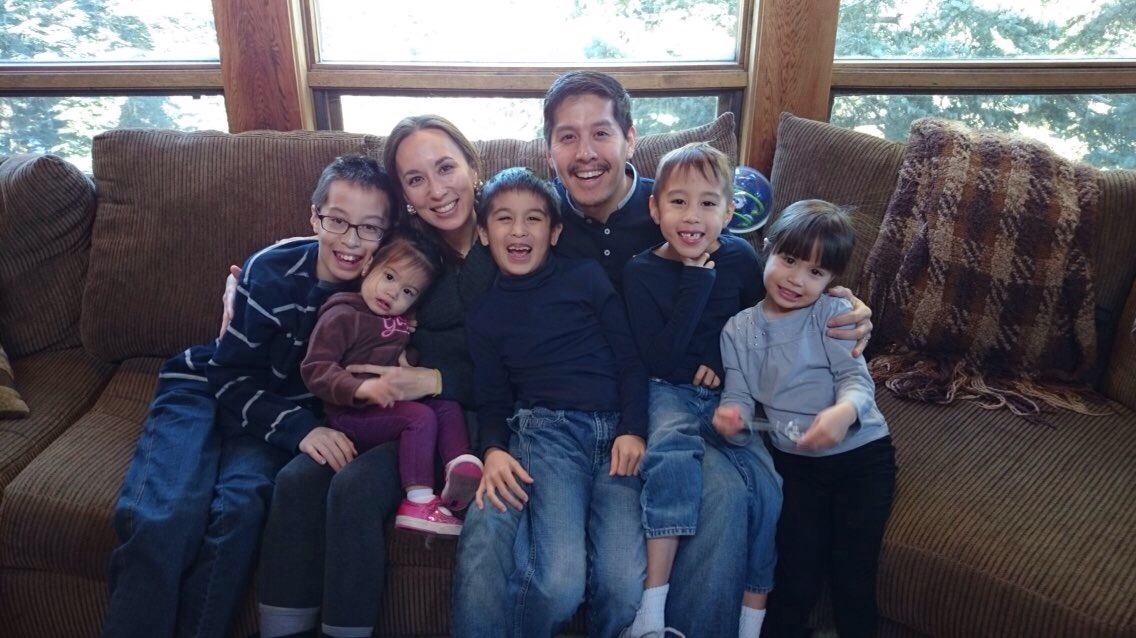 I know my kids love one another but there are moments when this love is demonstrated in ways that amaze me. In the past week I can think of two outstanding ways they communicated this love.
The first was over the weekend. Elijah and Edan were side-kicks to Edric's speaking engagement for a consumer goods company. They each had a part to play in his talk. Afterwards, the organizers were so enamored by them, they gave Elijah and Edan four gift cards from Toy Kingdom worth P1,000 each.
Interestingly, when they arrived home in the early afternoon, their first instinct was to tell Titus and Tiana that they were going to share the gift cards with them. They proposed a plan to go on a group shopping trip (with our permission) so each of them could buy a toy worth P1,000 or they would make adjustments if one person wanted something that worth more than P1,000, for as long as they didn't go over P4,000. Catalina was too small to join them but they promised to get her something, too.
I don't remember being that generous as a child! Of course I loved my siblings (and still do), but if I had worked hard and gotten paid for it, I don't think it would have occurred to me to share my "winnings" with my brothers or sisters when I was their age!
Edric and I brought the kids to SM Aura's Toy Kingdom on Monday evening. On the way up to the floor where it was, the kids organized themselves into pairs. Elijah took Titus' hand and Edan held Tiana's as they went up the escalator. These were the pairings they decided on. Elijah and Titus would look for toys together and Edan and Tiana would do the same.
When they got to the store, they calculated the costs of the toys they were interested in purchasing. Tiana asked Edan if she could buy a puppy with long blue hair. He looked at the price and said, "Ok!" Tiana was thrilled!
The three boys gravitated towards the science toys section and selected two boxes of experiments for Edan and Titus. Finally, Elijah got a K'nex kit. They included a Minnie Mouse doll for Catalina. Their spendings were just under P4,000. Titus and Tiana thanked their older brothers for the toys and we all headed back home.
My second encounter with their love for one another was today, for Elijah's birthday. I woke up a little later than usual and caught sight of Edan in the playroom working on an art installation of origami cranes. He was meticulously arranging them and lining them up by color. On a piece of paper he wrote "Happy Birthday, Elijah…"
For several days Edan folded paper cranes and implored the assistance of Titus and our household help. He created an assembly line system to accomplish the task of folding 160 cranes in various colors. This feat took him several hours over several days. It certainly was a commitment!
This morning, when I surveyed his finished work, it was beautiful! What a testament to the love Edan has for his older brother, Elijah. (It was very sweet of him to include Titus and the names of our household help in his Happy Birthday sign, too. I suppose this was his way of giving them credit for the shared effort.)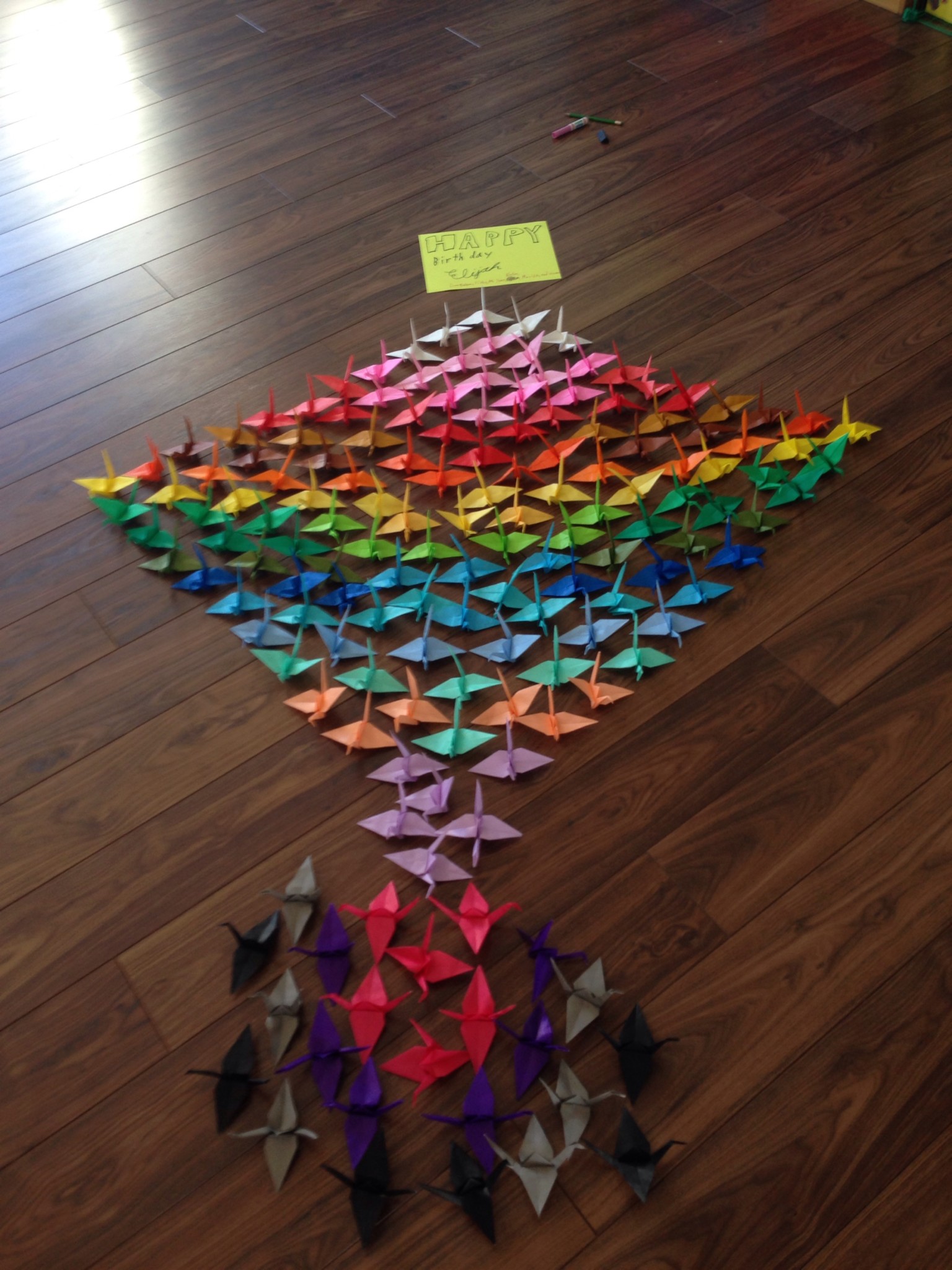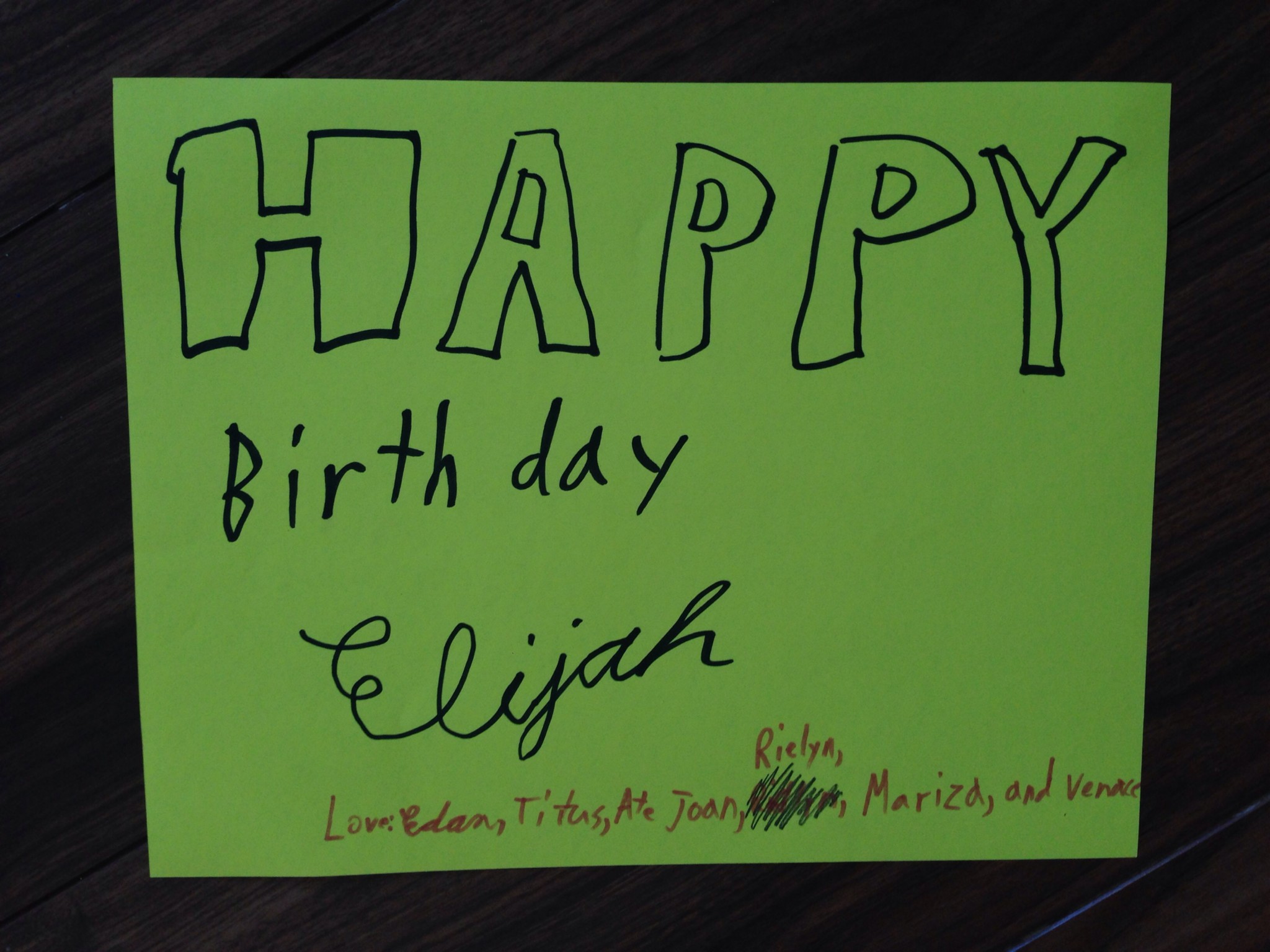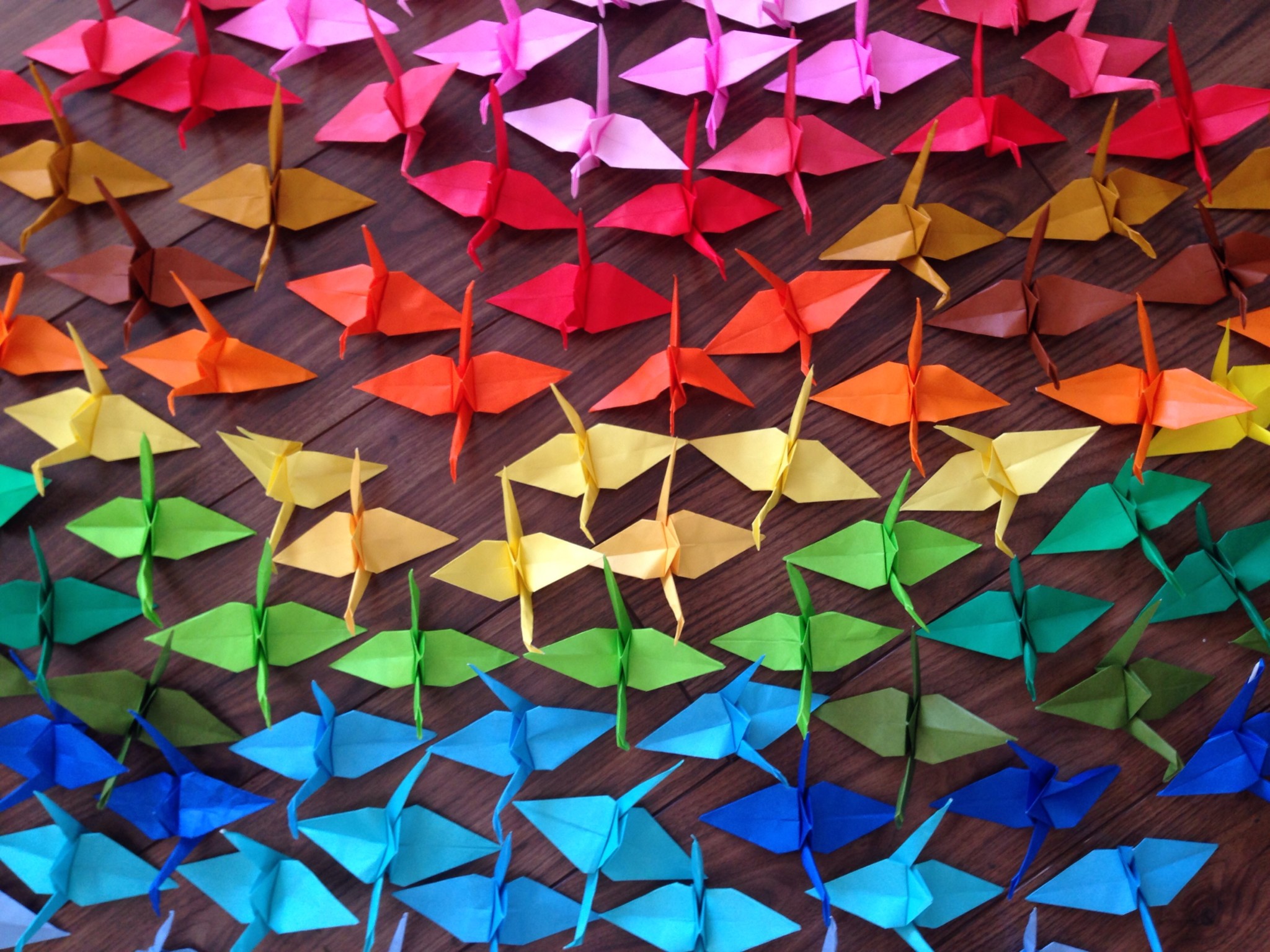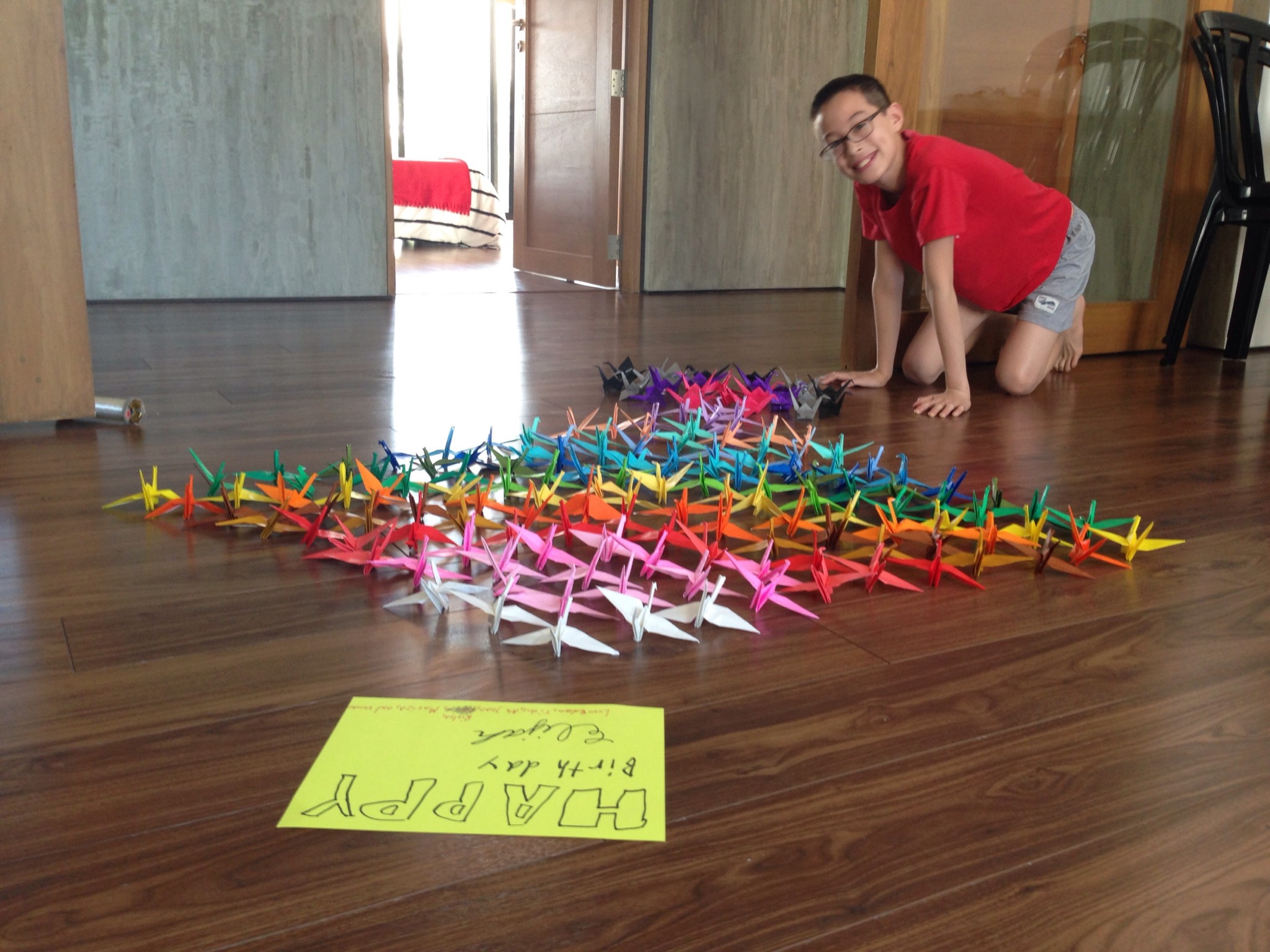 When I asked Edan why he presented this gift to Elijah, his reply was, "WE love him." He added that he wanted Elijah to know that he is special.
"Is he your best friend?"
"Yes. But Titus, and Tiana and Catalina are also my best friends…"
I was very blessed by the tenderness with which my kids love one another. They don't always get along because of their differences. And sometimes their selfishness leads to conflicts which require my mediation. However, I know they are truly best friends. And I believe this deep love for one another is a reflection of their relationship with Jesus Christ. I don't think they would get along this well and be as devoted to one another if they didn't know Jesus. He is the one who enables them to love like this — to forgive and to accept and to enjoy one another.
May this Bible passage encourage you today:
We know what real love is because Jesus gave up his life for us. So we also ought to give up our lives for our brothers and sisters. If someone has enough money to live well and sees a brother or sister in need but shows no compassion—how can God's love be in that person? Dear children, let's not merely say that we love each other; let us show the truth by our actions. Our actions will show that we belong to the truth, so we will be confident when we stand before God. (‭1 John‬ ‭3‬:‭16-19‬ NLT)