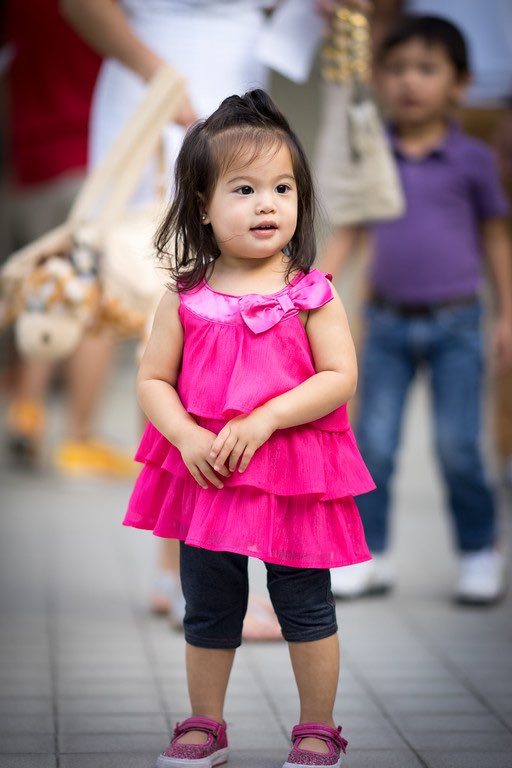 My fifth child, Catalina, was my first child to display her relentlessness and fighting spirit so early on in her life. At times I wondered if this was due to her traumatic entrance into this world. Having been hospitalized twice in her first month of life, she had numerous needle insertions into her veins for IVs and antibiotics. Plus, she was separated from me physically when she was first confined. Even if I was allowed to see her to feed her, she didn't experience the immediate bonding that I had with my other kids.
Her very large and loud personality became apparent when she turned six months old and escalated to include undesirable behaviors when she turned one. As a one year old, who was talkative and expressive, she not only vocalized her frustrations, she antagonized her siblings and others when she had the opportunity to do so.
I still remember our one month stay in the U.S. in December, when she discovered that carpeted floors provided the perfect surface for throwing a tantrum. She would hurl herself onto the floor (sometimes face down) and shake her legs madly when she didn't get her way. For emphasis, she would also roll from one location to another.
I would watch this display of her temper, half amused that she thought this would make a difference, and half horrified that she expressed her anger this way. In all my experience of parenting five children, she was the first to unravel herself in this manner.
As I observed her reactions to situations that she deemed unfavorable, I wondered what she was thinking. Did she really believe that her actions would result in me picking her up or responding to her demands?
Had she been my first child, I might have been less calm. But having seen the positive effects of discipline on my four other children, I was hopeful that she too could be trained to obey and process her emotions with greater restraint. However, I also knew that it would be challenging. The very traits I mentioned at the beginning of this post, which are admirable to have in a person who has learned to control them, are not easy to channel appropriately by a one year old.
Clearly, her outbursts were unacceptable. The question was, how would Edric and I lovingly address the necessity of discipline in our little fireball of a daughter? How were we going to introduce obedience and self-control when she was barely over a year old?
Our U.S. trip provided the fitting time to begin our training. Edric and I were with Catalina 24/7. We studied her carefully and we watched her constantly.
One of her favorite things to do when playing with her younger cousin, Joshua, was hit him on the head. She had no regard for the fact that he was a helpless eight month old baby who could not run away from her tyranny. Almost every time she passed by him or stood near him, she managed to include a bop on his head that made him wail in pain. Furthermore, she found his unusually large and adorable eyeballs fascinating, and she wanted to poke them out of curiosity.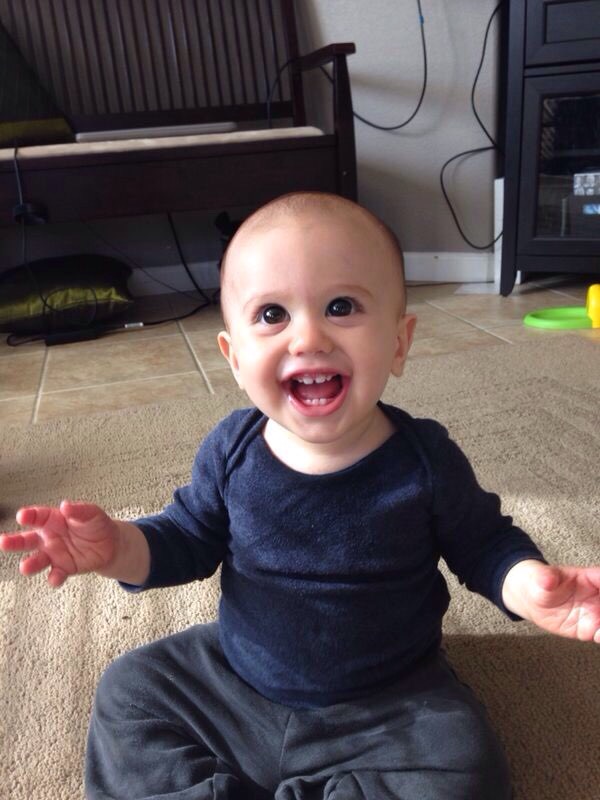 (This is cousin, Joshua)
Obviously, none of these behaviors could continue. I praise God for my gracious sister and brother in law. But I know they were afraid for his very life! So were Edric and me!
Since setting her aside and talking to her were ineffective and she defied us when we told her, "No, don't hit," our next recourse was to introduce spanking. We were very clear in our instruction. "Catalina don't hit. You obey." She would acknowledge and then minutes later, she would raise her hand or a toy and strike her cousin on the head with it!
A parent knows when her child is being defiant and when that same child is acting in innocence and ignorance. This wasn't a case of innocence or ignorance. We saw the intent to disobey on her face as she smacked her cousin numerous times then looked at us or her panicking siblings who would report, "Catalina hit Joshua again!"
Since Edric and I had never hit Catalina and the ladies who worked for us hadn't done so either (or are kids), we were perplexed as to how Catalina developed this bully-ish attitude. And even though we did not understand what kind of pleasure she got out of tormenting her cousin, it was decided that she would receive her first official spanking for disobedience. During a moment when I caught her in the act of hitting, I took her to the bathroom with a wooden spoon in my hand.
In the bathroom, I held her close and reminded her that we told her not to hit her cousin. I also told her that she did not obey so I was going to spank her. Then I gave her a good swat across the bum, enough to sting but not wound the skin. She cried and I embraced her tightly, waiting for her to calm down. Then I looked her in the eyes and said, "I love you. But mommy spanked you because you did not obey. Do not hit Joshua. Obey." I repeated this several times until she filled in the blanks. Catalina will "OBEY".
I know she understood me because she said, "No hip (she couldn't quite say the word hit). Obey." In fact she would say this when she was near Joshua, as a kind of mantra to suppress her urge to antagonize him.
Over the course of our stay in the U.S. she did test us and attempt to hit again a number of times. So we spanked her in the same manner. By the end of our trip, however, we could leave her alone with Joshua and she stopped her bullying.
Several weeks after we arrived in the Philippines and we had our wonderful househelp to assist me, they told me she was easier to take care of and that she had changed. Furthermore, everytime Catalina passed by the drawer where our own wooden spoon was kept, she remarked "Obey. Good girl. Obey. No hit. Spanking." She connected that spanking was for her disobedience.
Our disciplining is hardly over. While the spankings are now fewer and far between, we continue to train her to wait and exercise self control, to be attentive, and to accept our commands without throwing a fit or tantrum. She is also learning how to say sorry and hug her siblings when she is unkind towards them.
Our present hurdle is teaching her to manage her temper when she doesn't get her way. For example, if she wants to look at my Iphone and her siblings pull it away from her because we want to limit her exposure to gadgets, she will cry out to express her irritation and sometimes, she may even slap them back! It's no longer about hitting to bully a younger child, it's about fighting back when she feels wronged.
First, we tell her siblings not to grab toys or objects from her because this causes her to go into "survival mode," where she antagonizes them in return. Second, I try to use the distraction technique, where I present an optional activity to divert her attention. Third, if she does get upset because she is denied what she wants, I take her aside so I can talk to her about her inappropriate responses. I also give her the opportunity to apologize to her siblings.
It's not easy to discipline a little child. The word discipline has, at its root, the word disciple which means a follower. And we want all our children to follow Jesus Christ. However, Catalina is just a year and seven months old. So her capacity to grasp spiritual truth is still immature. While she sees us praying to Jesus and she observes that we talk about him, she is not yet able to understand what it means to have a fallen nature that needs to be redeemed by Christ. But she is manifesting this nature!
Until the age when we can explain God's redemptive plan for her life (which usually happens around three years old for our kids), we have to remain consistent about training and teaching her to obey. Even if she is a very strong-willed girl, it is our responsibility to help her develop the will to obey and respond positively to our authority.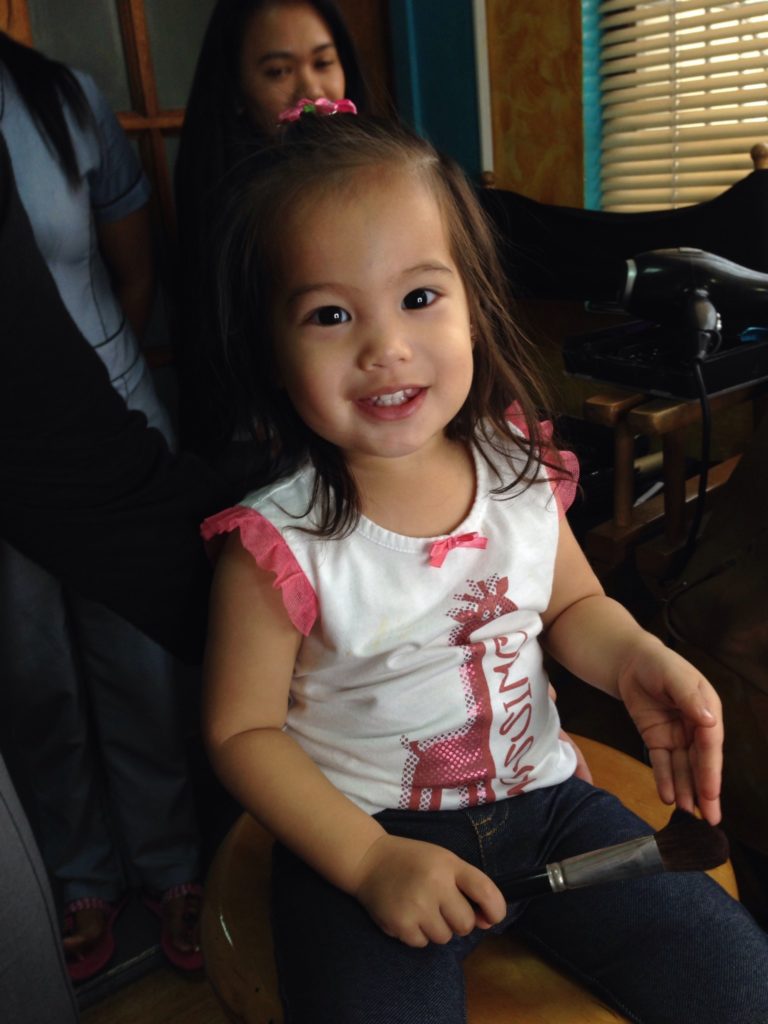 I am looking forward to the day when Catalina will embrace obedience because she knows it is God's good will for her life and it leads to blessing. Until then, this is going to be a journey as we get to know her better and learn to best address the areas where she needs to grow and mature.
Every child has a strong-will. But how they manifest this will and when it erupts as a counterforce to parental authority is different for each child. Our duty, as parents, is not to be intimidated by it or give up trying to train our children to submit to our authority. We are to discipline our children for their greater good and protection, prayerfully considering what kinds of disciplinary actions work best, and always in the context of a healthy, loving relationship with them.
Focus on the Family suggests that parents need to be authoritative versus passive, permissive, or authoritarian. Authoritative parents "provide the best combination of love and discipline…not overbearing, but compassionate yet firm with their authority. They have clear boundaries but are also very loving. Everyone knows who the boss is, but there's also a connection between parents and child, a consideration that respects and honors who the child is while not compromising his or her disciplinary needs. The result is a child high in self-esteem and equipped with good coping skills. This secular sociological study (by sociologist Reuben Hill) found that the parent who balances love and discipline, without compromising either, produces well-adjusted kids who maintain a positive relationship with Mom and Dad. This research, the best available today, affirms parents who express love well and maintain a high degree of control in their home." (source: Focus on the Family – Effective Child Discipline)
Hebrews 12:11 "All discipline for the moment seems not to be joyful, but sorrowful; yet to those who have been trained by it, afterwards it yields the peaceful fruit of righteousness."
Proverbs 13:13 "He who scorns instruction will pay for it, but he who respects a command is rewarded."