When we moved into our newly built home a year and a half ago, Edric and I dedicated it to the Lord. First of all, our house was finished through much prayer and God's faithful provision, so it most definitely belonged to Him. Each month of the construction phase He supplied what we needed to complete it. My prayer always was, "Lord, please provide above and beyond what we need to finish and furnish our home." (Up to this day, he continues to add to what we have so we can get pieces here and there to decorate our organically modern home.)
Psalm 127:1 says, "Unless the LORD builds the house, they labor in vain who build it; unless the LORD guards the city, the watchman keeps awake in vain."
When the monumental task of constructing our place loomed over us at the very beginning, Edric and I claimed Psalm 127:1 as both a promise and a reminder. Even though we had an amazing architect and contractor, we knew that God was our architect, contractor and designer. We also prayed that this would be a home where God's presence would dwell and His purposes would prevail.
Therefore each space was considered with ministry in mind…ministry to our family and ministry to others. How could we make areas that invited people to conversation and connectedness? How could we be hospitable with our home, and utilize it for gatherings where people hear God's word? What configuration for the rooms would encourage family bonding and keep our kids close to one another?
Shortly after our home was livable, we invited family and friends over. Our furniture wasn't complete and the decor needed help, but we couldn't wait to use our home to bless people.
Some of the events we hosted were chaotic and crazy, others quiet and intimate. Some things were damaged and soiled, but we don't have pricey furniture or decor, and we don't own luxury goods or keep wads of cash at home. So I did not feel stressed when people were all over the house. There was nothing super costly to break or even to take! More importantly, God blessed us with this home to steward it for His use. Hence the title "For Official Use Only." Or, more accurately put, "For God's Use Only."
It deeply delights us when people come together in our home for fellowships, bible studies, activities and play dates. The joy outweighs the cost and the clean up that follows.
At the turn of the year, Edric and I decided to be more intentional. So the first event we hosted in January was for neighbors. We teamed up with our couple's bible study group to invite their family and friends to a backyard barbecue. Because everyone helped out, decorating and setting up became such a fun bonding experience. Some baked cookies, others lent their tables and chairs or house help, others came early to string lights and style the tables, and still others contributed ice cream and dessert. We also prayed two weeks prior that neighbors would come.
To be honest, I had my qualms. Would neighbors be willing to show up at another neighbor's house whom they didn't know? And without alcohol being served to loosen everyone up? (Of course they didn't know that alcohol wouldn't be served when they were invited.)
Well, the good news is that eighteen of the invited guests came, excluding the headcount for their kids. Most of them met us and one another for the first time. Edric got to insert a short talk on how to live in 2016, which centered on the principle of numbering our days. So our guests heard from God's Word and they sat through the entire thing! Only one guy had to stand up and take a call.
After the evening came to a close, I thanked the Lord for the privilege of having a home where we can host occasions like this.
God tells us in Romans 12:13 to "practice hospitality." It takes effort and monetary sacrifice to do so, but Edric and I remind ourselves that God built this home for the sake of the gospel. Yes, He also gave it to us to enjoy and raise our family in, but may it best be known as a home where people live out the gospel message of God's love and forgiveness, and where people who step inside it experience how much God loves them!
Getting the backyard ready:
Praying as a team: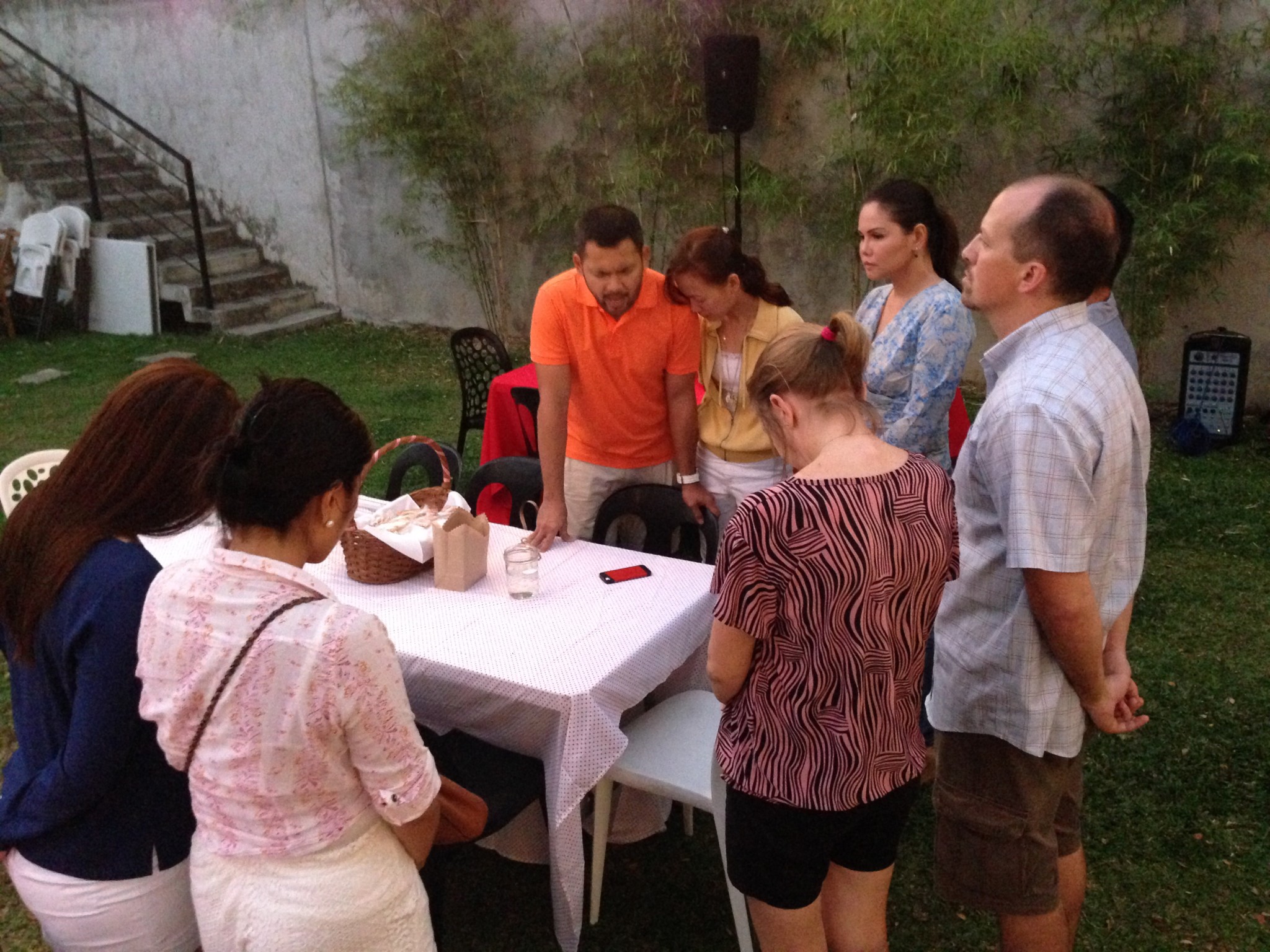 Preparing the food: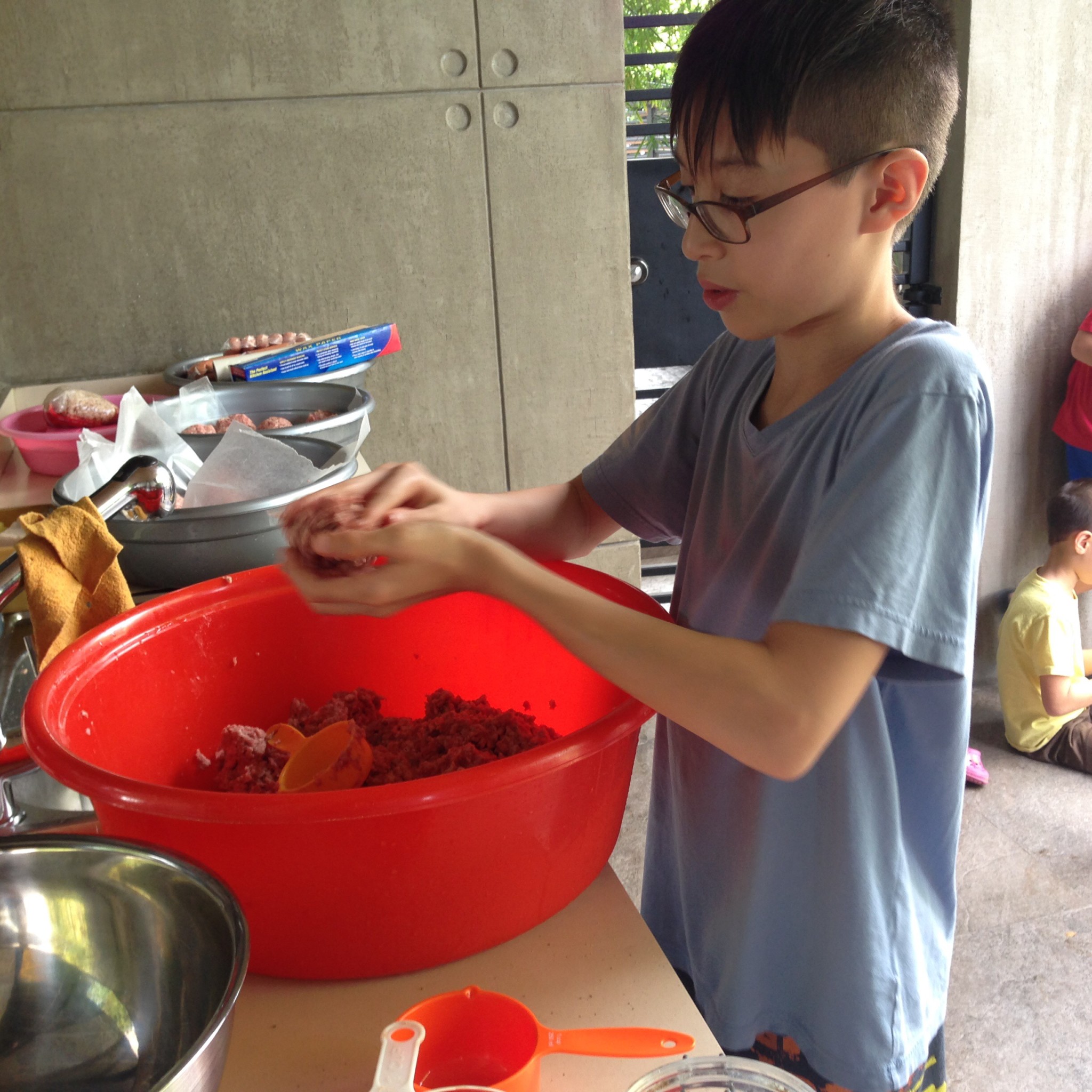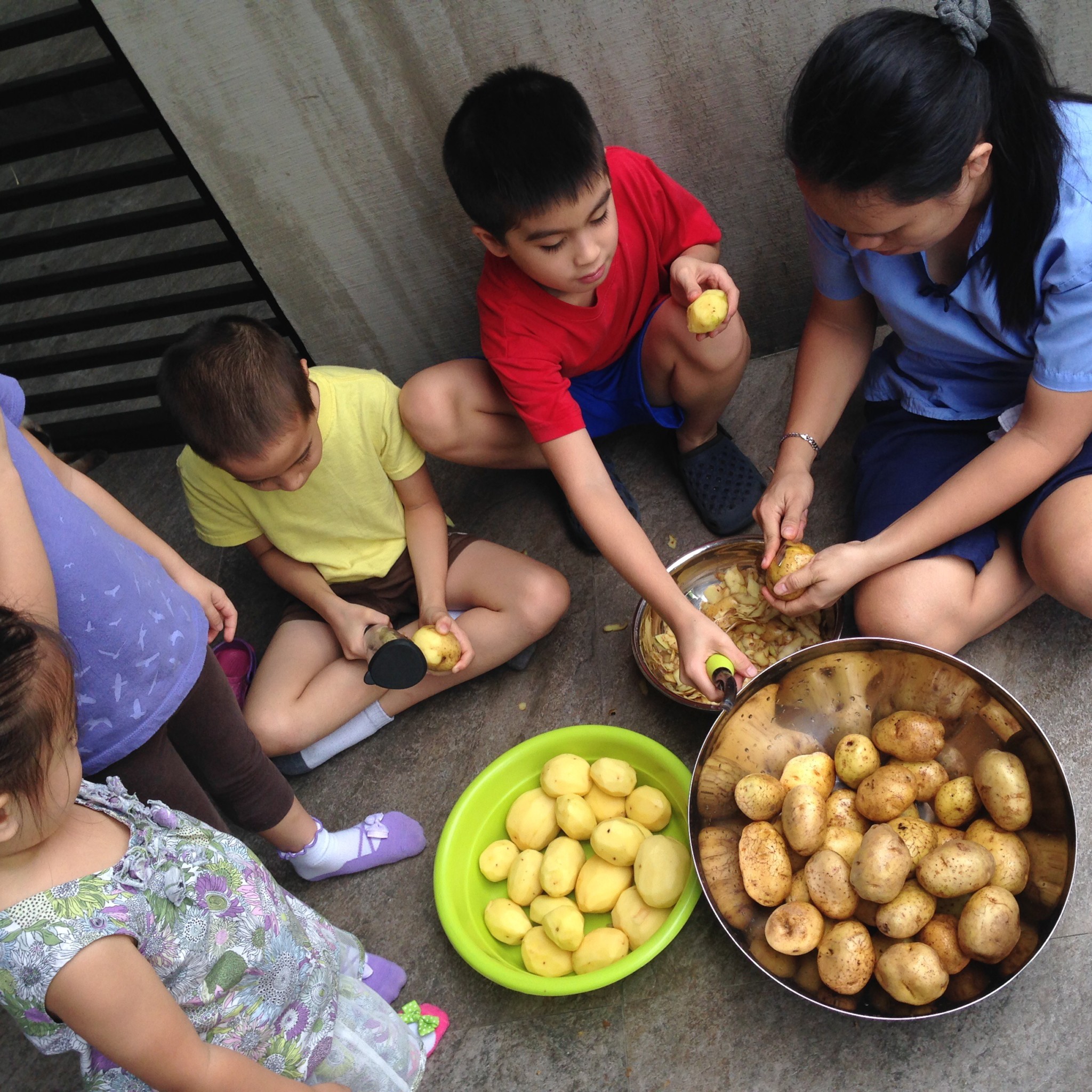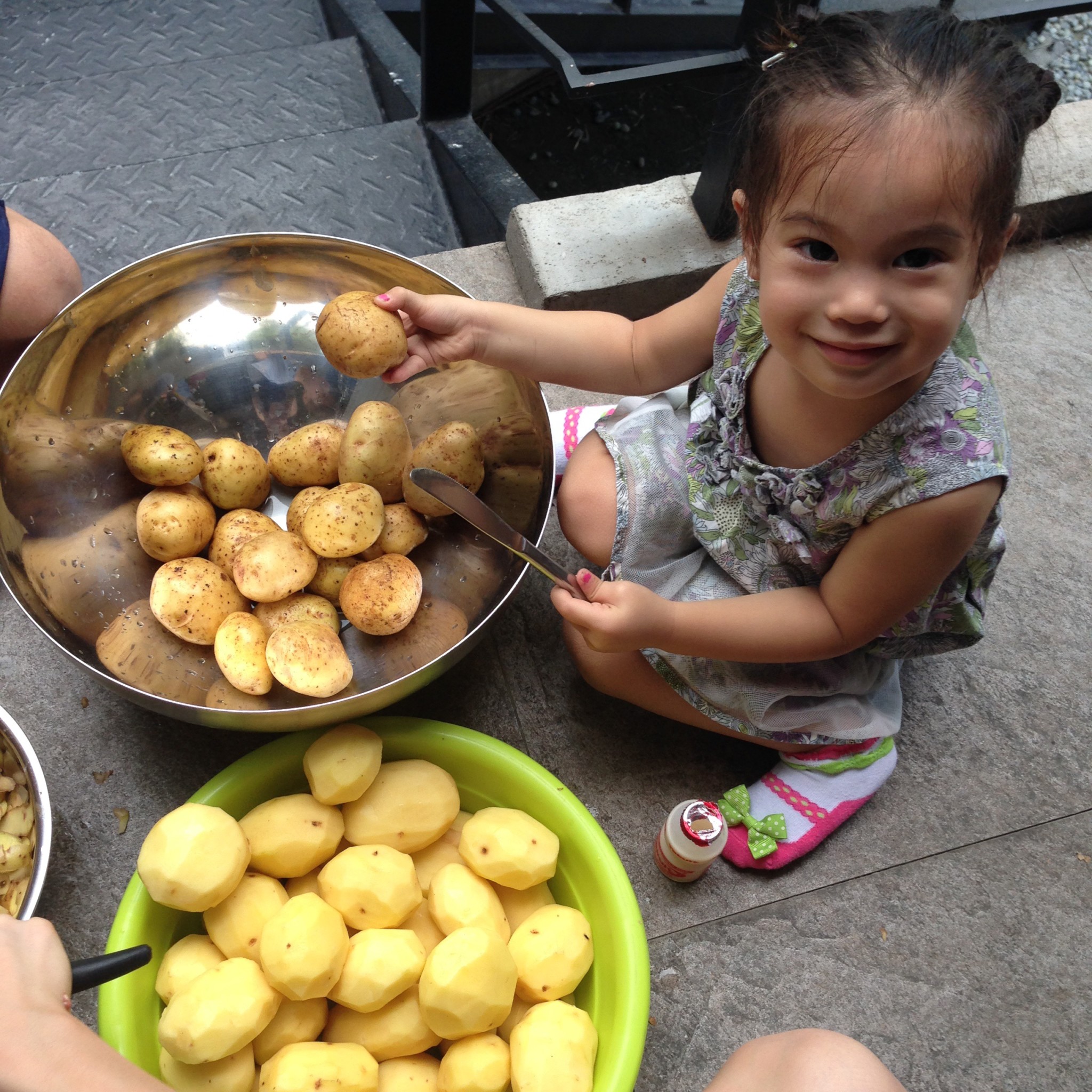 The guests arrive (each person who invited someone sat beside their guests):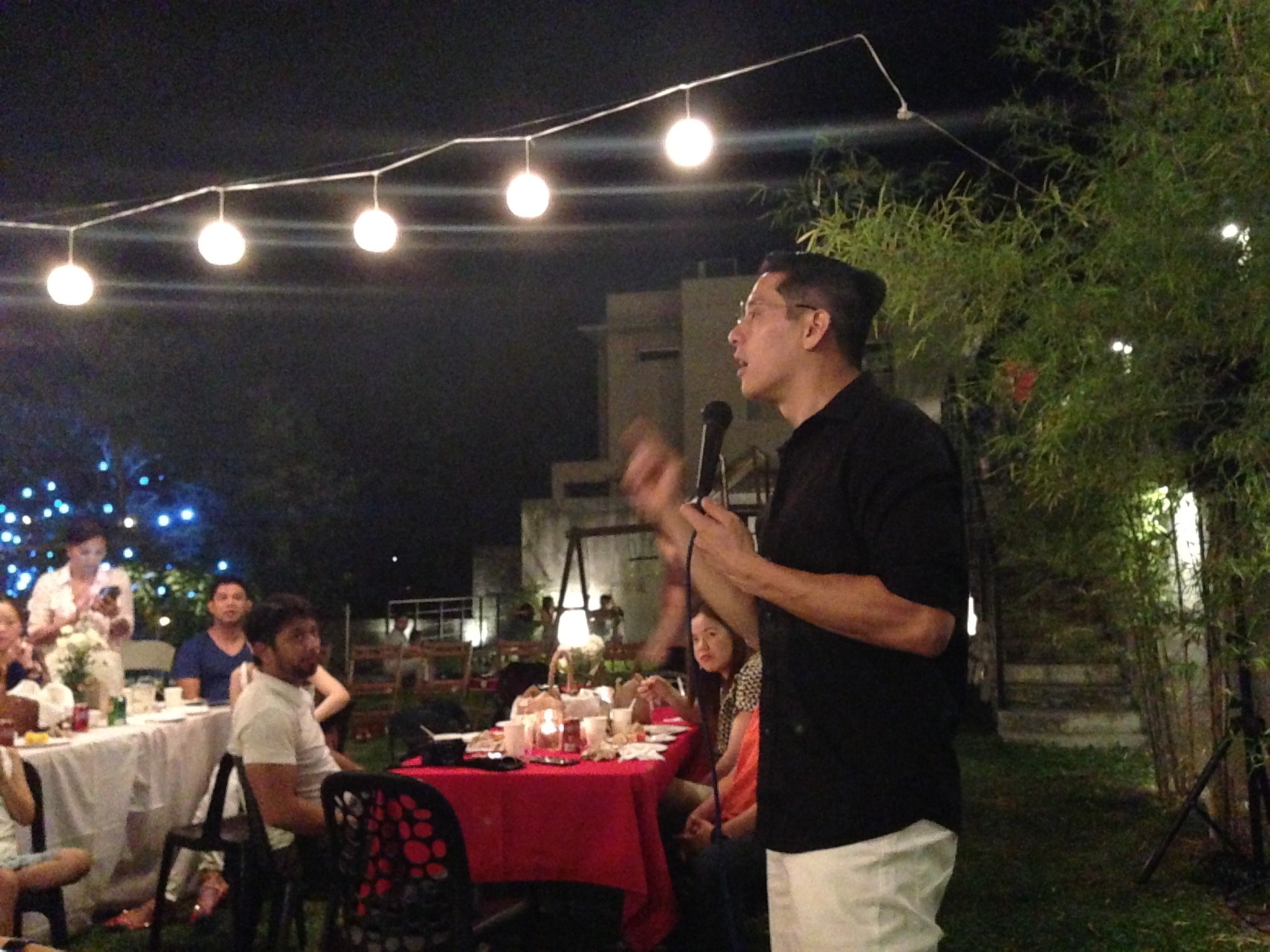 If you want to organize your own backyard barbecue, here are some printable homemade food labels you can use: