Edric and I will be fifteen years married in July. That's not a milestone by some standards, but in a day and age when many marriages don't make it past the five year mark, I'm deeply grateful. First, I'm grateful to the Lord because he's the reason why we are still together. Second, I'm grateful to Edric who chooses to love me everyday, even when I'm not always lovable.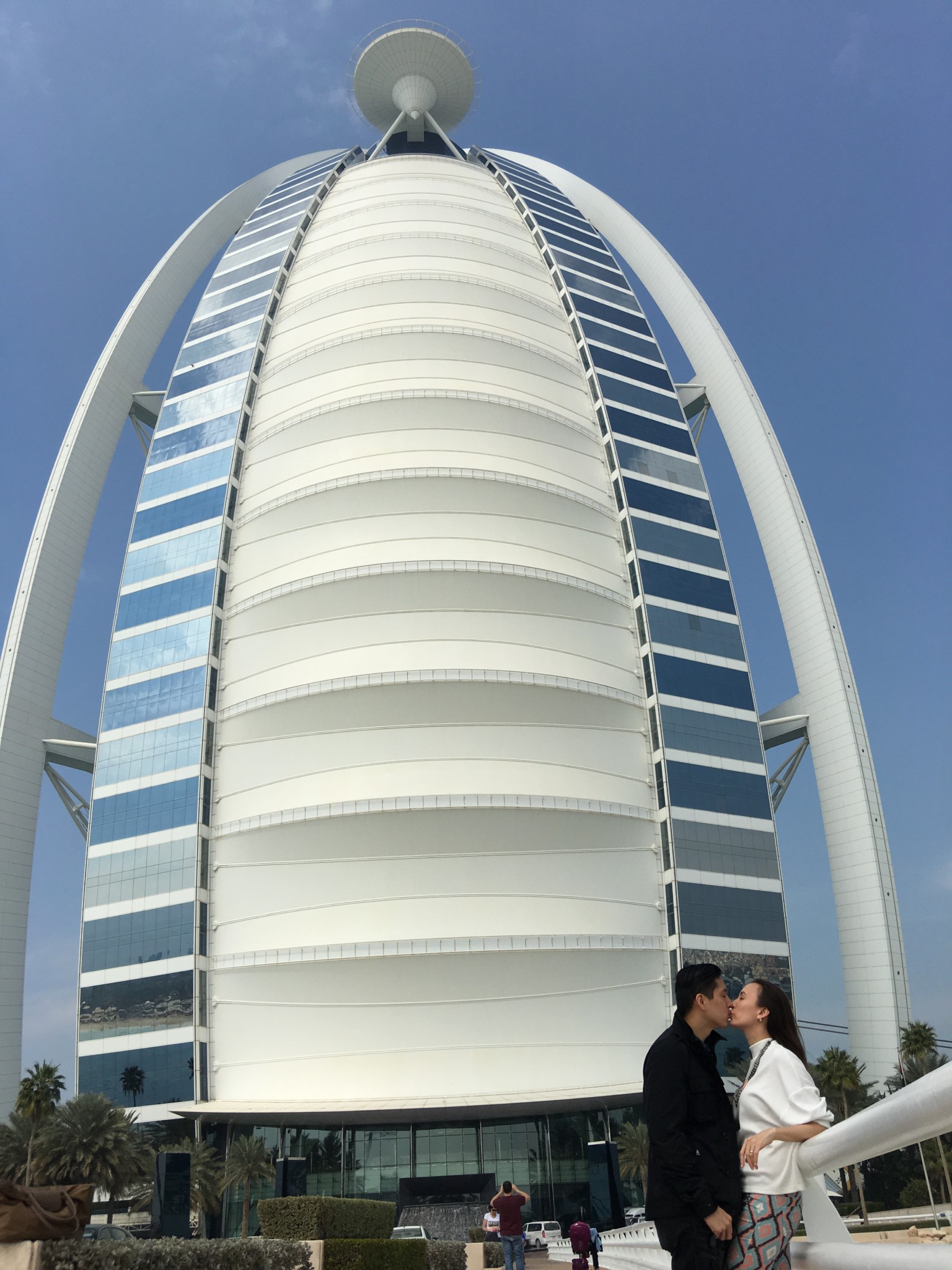 Since it is the "love month" I decided to write a piece to thank my husband for being the kind of man that didn't sleep around before marriage. It sounds very unromantic for me to put it this way, but if you read through this, you might begin to believe, as I have, that this is one of the most romantic gifts a husband can ever give his wife (and vice versa). How I wish I could have offered virginity to Edric, but as many of you readers know, I was once upon a time a victim of rape. (Read about my story in my book: When A Good God Allows Rape)
When I met Edric in college, I thought he was a good-looking guy. He told me to say "handsome" when he read this part over my shoulder. It was his unpretentiousness that kept me interested, second to the fact that we connected on a spiritual level. He didn't mask his person behind a façade. He was sincere, honest, and easy to trust.
As we got to know each other, he opened up about his past relationships, and I found out he was still a virgin. A virgin? Even in our day they were becoming a rare breed, especially for guys. Although he admitted to me that he struggled with pornography, he didn't ever sleep with any of his girlfriends or other women. (Edric shared about his pornography struggle in my book so I'm being open about something he has already been open about.)
I knew it was important to preserve one's purity. Events in my life took that away from me, but I still committed NOT to have consensual sex with anyone until I got married. I hoped to meet a guy who valued the same standards, too, so it mattered a lot that Edric had stayed pure. It told me something about his character as a man. I know he wrestled with the realities of what happened to me but I praise God it didn't turn his heart away from me. Very much a rescuer, it inspired him to be my protector.
Our courtship wasn't perfect, however. I have confessed this in other articles I have written about us and in my book. We got physical and stumbled along the way, but I praise God we didn't experience sexual union until we were married. Prior to marriage, Edric and I also told our parents about the physical struggles in our relationship. We admitted to the wrong choices we made that brought us very close to the edge of what would have been the greatest mistake of our history. This was part of coming clean.
The Bible says, "Marriage is to be held in honor among all, and the marriage bed is to be undefiled; for fornicators and adulterers God will judge." Hebrews‬ ‭13:4‬ ‭
We wanted to begin our relationship anew, with everything out in the open to honor the marriage bed. We also kept our engagement short — 4 months — to avoid further temptation.
I was blessed to be able to look forward to our honeymoon because it the first time for me to experience sexual intimacy as God designed it. (My encounter with abuse didn't count, of course!) Edric whisked me away from our reception at a very early 9 PM. He concocted an elaborate plan to escape through the funicular that connected Tagaytay Midlands to the Highlands. This is where we got married. I don't even think we said goodbye to people, which seemed like the socially inappropriate thing to do but he could not wait for our "celebration" to begin.
We spent our first night together as husband and wife in Tagaytay Highland's Spa & Lodge. In keeping with tradition, he insisted on carrying me over the threshold of the doorway of our room. Attendants and onlookers smiled in a congratulatory way. All this while I found Edric's energy amusing as he acted like someone on an adrenaline high. But it made me feel special, treasured, and wanted.
The next day we headed to Baguio where we had a cabin all to ourselves. We didn't need a grand trip to Europe or a foreign country to look forward to. All we cared about was a nice room somewhere cold. Think about the olden days when all that was necessary was a tent. Since we didn't have a lot of money when we started out, Baguio provided the perfect setting for lots of cuddling.
During our honeymoon, I didn't have insecurities about how it would go. I trusted Edric. I knew he had saved himself for marriage and didn't have multiple partners to compare me to. This doesn't mean that I wasn't nervous. And I am not going to inappropriately divulge the details of our first night. It was not "perfect" because we weren't experts in the bedroom, but that's what made it so perfect! We had nothing to prove to one another. There were no benchmarks to measure ourselves against. I remember feeling like it was the beginning of a beautiful journey of discovery, just between us — sacred, tender, profound. Edric gave me the privilege of being the first and the promise of being the last, till death do us part.
The sex act in marriage is a pledge and a seal. It is the becoming of one flesh before God — the real ceremony of matrimony. In the Genesis account of Adam and Eve's marriage the word marriage was not used at all. When Eve was presented to Adam by God, it reads, "The man said, 'This is now bone of my bones, And flesh of my flesh; she shall be called Woman, Because she was taken out of Man.' For this reason a man shall leave his father and his mother, and be joined to his wife; and they shall become one flesh. And the man and his wife were both naked and were not ashamed." (Genesis‬ ‭2:23-25‬) The ceremony was simple and uncomplicated. Adam was joined to Eve and they became one. Similarly, the person God has made for you is the only one you are supposed to be joined to as one flesh — physically, emotionally, and spiritually.
God, in his wisdom, didn't make many versions of Eve for Adam to choose from, either. (He wouldn't have any ribs left. Just kidding!) God made just one. And he knew exactly what she should be like and what Adam would like. I think it's important to say this because sometimes we don't trust God to give us what we really want in a spouse.
However these passages of scripture tell me that God always knows better. He knows the desires and longings of our hearts. He is mindful of our needs and He provides the best answer to them, better than we can ever imagine or hope for. Adam didn't know what he was missing out on. He didn't declare himself alone. It was God who said it wasn't good for him to be alone.
Amazingly, when Adam saw Eve he felt a bond and connectedness to her that was unlike any other that he felt with God's creatures. As he beheld her she appeared to him comfortingly familiar and yet mysteriously and wonderfully different. Can you imagine for a moment what the Lord must have been thinking as He saw Adam's eyes lock onto Eve's with delight? I am sure He reveled in their joy, as he does in our joy when we get married.
As designer of marriage, God is also the best matchmaker. But we struggle with waiting on Him to bring this person to us. As a result we rush into relationships that feel right and many times end up broken inside when we have to leave them. God demonstrated from the very beginning that this was not his design. Marriage was between one man and one woman that he made for each other. He didn't intend for us to suffer through the break ups and heartaches that come when we commit ourselves to many other people before marriage. And He most certainly didn't purpose for us to bring those hurts into our marriages.
We don't often have the foresight to anticipate how past sexual experiences will affect our relationship to our spouse. Enjoying the intensity of sexual union and achieving oneness becomes complicated. Firstly, we program ourselves to view sex as a tool to achieve something that is self-serving. Some women control their boyfriends by using sex to keep them interested, others thrive on the attention men give them for their sexiness. Some men pressure women to sleep with them under the pretense of expressing love when what they really want is to enjoy the pleasures of sex. Still others like the conquest involved in being able to bed a woman — the more, the better. Sadly this self-seeking paradigm is brought into marriage and a spouse looks at sex as something that is for their benefit. It's not about giving but about taking.
Secondly, sex before marriage stimulates a desire for the illicit. And when it becomes monogamous, couples ache for the excitement that once came with the forbidden.
Thirdly, it's hard to remove images of sex with others or feelings about past relationships when a person engages in sex with their spouse. They don't want to remember the things they did with others but it invades their minds anyway. Guilt overcomes them which results in the inability to perform with liberty and freedom.
Lastly, one's sexual history can cause trust issues in marriage. It's not so far fetched to think, "If my husband slept with women before, what's to keep him from doing so when we are married?" If he didn't internalize the sacredness of sex in marriage when he was single, there's no guarantee that he won't explore the same behavior when he is married.
Interestingly, people think it's okay to have sex with others before they get married but not afterwards. But sleeping around before marriage is like conditioning oneself for unfaithfulness and adultery (of the body and mind) when sex is viewed so casually prior to the committed and permanent relationship of marriage.
Marriage won't guarantee faithfulness. I am not saying Edric and I are impervious to adultery because we didn't have casual sex with people when we were single. It's only by God's grace that we stay faithful to one another, and we will only finish well by God's grace. But moral purity is a discipline. And Edric often tells me, look at track record. That matters. If a guy sleeps around before marriage, it doesn't matter whom they marry. She can be the most beautiful woman in the world but she will not be good enough to keep him pure. I am not discounting the grace and power of God to deliver someone from their past but there are real problems that we carry into our future when we violate God's commands. Galatians 6:7 tells us, "Do not be deceived, God is not mocked; for whatever a man sows, this he will also reap."
1 Timothy 4:7-8 says, "But have nothing to do with worldly fables fit only for old women. On the other hand, discipline yourself for the purpose of godliness; for bodily discipline is only of little profit, but godliness is profitable for all things, since it holds promise for the present life and also for the life to come."
A person who has disciplined himself to say no to sex before marriage will find it easier to say no to sex outside of marriage when he becomes a husband. He has made it a habit to please God. His default is to run away from sin rather than towards it. Certainly other factors play a role, too, like having good communication as husband and wife, meeting each other's heartfelt needs, exerting effort to upgrade your marital sex life, being willing to improve to better satisfy one another, being connected to people who can hold you accountable for sexual purity, etc. The truth remains that sex outside of marriage is not something you can do and walk away from without consequence to your entire person or your future spouse.
Some years ago I was speaking to a friend who confessed to me that she would think about her sexual experiences with her ex-boyfriend when she had sex with her husband. And her experience with her ex was better! Another friend told me that her husband felt rage every time he saw her ex-boyfriend. This ex-boyfriend was the first person my friend had lost her virginity to, and he couldn't get over it. Yet another friend admitted to me that her martial sex life was not exciting because they explored everything before marriage. In marriage they hardly had sex. Some other friends had issues with faithfulness because their spouse programmed their appetites to enjoy elicit sex. Having slept with multiple people before marriage, monogamous sex wasn't as desirable.
Sex isn't the only thing to enjoy in marriage but it is a big part of what makes marriage a special relationship. And we need to do everything we can to protect it. I praise God that I am reaping the benefits of being married to a man who didn't sleep around. But at the end of the day it's not his love for me that saved him from promiscuity. It was and is his love for God.
As I age physically, he remains committed to honoring his purity for me and guarding his eyes and heart. This conviction comes from his relationship with God and not necessarily his undying devotion to me. Love for God is evidenced in the choices we make, whether single or married, and the history of a man's choices will tell you whether he truly loves God, especially in the area where he is prone to weakness and great temptation — the area of sexual purity.
Therefore if you aren't married, take a good and honest look at the man you are with in a dating relationship or the man you want to marry. The man he is today will not miraculously change into a holy, righteous person who will be committed to pursuing purity as a husband if he is not making it his current priority to please God. Furthermore, the same weaknesses he struggles with at present will become the same chink in his armor when he is married.
So don't settle for a man who hasn't valued his purity, yours, or other womens'. And don't give your purity to a man who claims he loves you who isn't your spouse. Sexual promiscuity and experimentation may be portrayed as pleasurable and normal in this world but they are not God's design for us. He purposed for a man and woman to present themselves to one another "naked and unashamed" as Adam and Eve did, husband and wife, without the guilt, sorrow, or fear that many people deal with today. At the same time, God is a redeemer. If you have failed to value purity the way He wants you to, it's not too late to repent and start committing to it. You can still honor God with your mind and body. You can still flee immorality and receive the grace and power of God to live a life that pleases him.
"If we confess our sins, He is faithful and righteous to forgive us our sins and to cleanse us from all unrighteousness." 1 John‬ ‭1:9‬