One Christmas, my daughter received a set of Dora the Explorer clips, hairpins, and slippers from my mom. Instead of thanking her grandma, she flipped out and burst into tears. I don't want Dora!
I couldn't believe it! This was my sweet Tiana. How could she respond with such ingratitude? Of course I was deeply embarrassed and apologized profusely to my mom who was very positive about the whole thing, but I was more concerned about Tiana's attitude and perspective.
When her emotions settled, I took her aside and had a conversation with her. I discovered that she was afraid her cousins would make fun of her Dora things and she wanted something else. In short, she forgot all about her grandma personally picking out the Dora present for her and she focused only on herself.
It became an opportunity to instruct her heart, but it also revealed the very human tendency that all my children have (myself included) to be ungrateful.
Beyond the bad attitude, ungratefulness, on a more serious level, is a rejection of God's will and plan for us. To grumble is to doubt His character, specifically His goodness, loving kindness and sovereignty.
It equivalent to saying, "I don't believe you really care about me, Lord, or that you want what is good for me. I don't deserve what is happening to me. If you really love me, you would take this away or improve my circumstances."
This is what the Israelites did when they grumbled many times in the wilderness, forgetting how God manifested His power and faithfulness in their midst and choosing to focus on what they missed about Egypt. In my quiet time today, I read about the Israelites complaining that they didn't have any meat to eat. They were tired of the manna.
Wait a second! Who gets to eat sweet flakes that fall from heaven and settle on the ground like dew?! God provided for them in a miraculous way every day!
"It was like coriander seed, white, and the taste of it was like wafers made with honey." (Exodus 16:31)
Yet I am far removed from the physical conditions that the Israelites had to weather. I can't imagine living in tents from one sandy place to another, with five children in tow, bearing the extremes of hot days and cold nights, wondering how I will feed and clothe my family, and listening to instructions from an old man who used to be a Egyptian prince, who became a murderer and then a shepherd and now a prophet.
Whut?! This is messed up. No home, no steady job, no time table for when the experience will end, and no concept of where we are going except that I need to trust that God is speaking to and through Moses because he's God's mouthpiece. He's the prophet who performed all the miracles to rescue my family. Maybe I am crazy for going along with this plan and hazarding the lives of my family. Maybe Egypt was still better. Work was tremendously hard but at least I could count on shelter and food. This, however, is not what I signed up for! I am not discounting the miracles, but I can't help thinking that I miss my old life.
When I count the realities of what the Israelites endured, especially through the eyes of a mother, I can understand that it must have been challenging to believe that they were better off in the desert.
Some years ago a good friend of mine lost her husband in her early thirties and was left to care for three young childern. She was in a position of real need, physically and emotionally. I didn't even know what to say to comfort her.
Like the Israelites, I wasn't sure what God's plan was all about. And I was tempted to think that God made a mistake in this instance. But it also dawned on me very recently that we can be so consumed with the difficulty of our circumstances that it eclipses the faithfulness of God entirely. We fail to appreciate every thing He has done and is doing.
I felt convicted about my own ingratitude for the many ways that God provides, protects and prospers us on a daily basis. For example, our house is three stories high. Besides that, it sits on a hill. So it towers above the ground of our backyard at about 20 meters. If any of our children were to fall off the highest floor of our house, they would die. Last year, during one of the occasions when their cousins came over to play, my daughter, Tiana, and my niece, Teegan, climbed over the railing of the third floor and stepped onto the two and a half foot wide glass ledge that hangs over the backyard.
They attempted to get a discarded milk carton that one of the cousins tossed onto the ledge. Thankfully and only by God's divine protection, they did not fall or slip! When I found out about it, it was after-the-fact, as the other children reported the incident to me. I nearly cried from the horror of thinking they could have died!
God watches over our children all the time. However, we tend to make a bigger deal about the instances when He allows them to get sick, injured, or hurt and wonder if He really cares about us. Or, maybe it's not about our kids. Maybe we look at the problems in our own relationships and circumstances, and feel like life is unfair, that we deserve better.
Similarly, the Israelites scorned the manna God sustained them with instead of appreciating what it was and what it symbolized. They perceived it as a curse rather than a blessing as they cried out for meat, wishing to return to Egypt. They looked at what they didn't have. But, hello, short-term memory! Egypt = slavery!
"Say to the people, 'Consecrate yourselves for tomorrow, and you shall eat meat; for you have wept in the ears of the LORD, saying, "Oh that someone would give us meat to eat! For we were well-off in Egypt.' Therefore the LORD will give you meat and you shall eat. You shall eat, not one day, nor two days, nor five days, nor ten days, nor twenty days, but a whole month, until it comes out of your nostrils and becomes loathsome to you; because you have rejected the LORD who is among you and have wept before Him, saying, 'Why did we ever leave Egypt?"' Numbers‬ ‭11:18-20
In Egypt they groaned under severe bondage, and God rescued them with a full feature show of His incredible power through the 10 plagues, and the parting of the sea. But in the desert, they still called out, give us Egypt! Despite the many instances that God displayed His ability to take care of them, they did not trust Him.
This is so emblematic of our tendency to forget what God has done for us. We don't recognize what He has saved us from and continues to save us from. Sure, the desert wasn't Disneyland. It was unpredictable, uncomfortable and perilous, but God gave the Israelites everything they needed.
We read this in Nehemiah 9:19-21, "You (God), in Your great compassion, did not forsake them in the wilderness; the pillar of cloud did not leave them by day, to guide them on their way, nor the pillar of fire by night, to light for them the way in which they were to go. You gave Your good Spirit to instruct them, Your manna You did not withhold from their mouth, and You gave them water for their thirst. Indeed, forty years You provided for them in the wilderness and they were not in want; Their clothes did not wear out, nor did their feet swell." Nehemiah‬ ‭9:2, 19-21‬ ‭
As I sit here, pondering the heart condition of the Israelites, I can't judge them for their better off-as-a-slave-in-Egypt-than-in-the-desert-with-God mindset. The Israelites were indoctrinated by a culture and belief system of a nation whose people worshipped counterfeit versions of God, whose Pharaoh exalted himself as god and treated them as possessions to abuse and control. So the Israelites needed a soul detox experience to flush out wrong perspectives, appetites, and values that were not just anti-God, but anti-freedom…anti-fullness of life.
This leads me to believe that God's methods for rescuing us haven't changed. Perhaps the meaning of "desert" has. We go through different versions of the wilderness in our own lifetimes. And it's tempting to express discontentment and to grumble, to lose faith in who God is and in His promises.
But God's purpose remains the same. First, He aims to bring us to the point of recognizing that He is what we need and want — that Egypt represents our state of slavery to sin and a life bound for destruction and He represents our salvation. (By the way, we all come from Egypt.)
Second, the discontentment and discomfort we experience that lead us to compare or cry out, not fair, I don't deserve this, or why me, is very often God taking us through the wilderness to liberate us from a culture and belief system that has enslaved us to counterfeit pleasure, freedom, and happiness. Sometimes this means that time in the desert will take longer than we hope it will. And sometimes this means that we will be at very desperate points when we are thirsty, hungry and tired of the wilderness living.
However, I do believe that God means for us to see beyond the water, manna and the meat. God knows we need physical solutions and He can easily provide these. But He sees our greater spiritual need and seeks to be the answer to it.
Furthermore, to be hungry is not the most tragic thing. It is the poverty mindset — thinking we are stuck in a desert, abandoned and forgotten, and in need of more (be it money, popularity, control, relationships or maybe even physical well-being) in order to be satisfied. But until our hunger is directed towards God, we will never be content with the little or the much that we have. Our cravings will not cease when we alleviate them with temporal, immediate, earth-centered fixes. Life will feel like a perpetual wilderness even if it may look like paradise to others.
In his book, Life Without Limits, limbless but amazing Nick Vujicic poignantly stated,"Life isn't about having, it's about being. You could surround yourself with all that money can buy, and you'd still be as miserable as a human can be. I know people with perfect bodies who don't have the happiness I've found. On my journeys I've seen more joy in the slums of Mumbai and the orphanages of Africa than in wealthy gated communities and on sprawling estates worth millions."
No matter where we go to seek for satisfaction in the world, the answer isn't going to come from the world. Every person and place that looks like the answer can very soon turn into a wilderness that leaves us wanting and aching for more. In contrast, Jesus said, "I am the bread of life; he who comes to Me will not hunger, and he who believes in Me will never thirst." John‬ ‭6:35‬ ‭
God knows when we are hungry. He knows when we thirst. He made us. But these physical yearnings are meant to open our eyes to the spiritual reality of what we truly hunger and thirst for. Until we learn the lessons intended for us in the wilderness, we cannot be ready for the Promised Land. Our cravings and inclinations will remain earth-centered when they ought to be Christ-centered. Only He can develop in us a hunger and thirst for what pleases Him.
As I end this reflection of my time in the Word, I better understand why contentment is a condition of the heart more than anything else. When I was newly married, Edric and I didn't have much money. We got married young. But since I came from a family with means, I felt embarrassed at times that I couldn't afford the same luxuries my parents or siblings had. And somehow I felt like money afforded me a sense of security and self worth. In its absence or the lack of it, I began to feel discontent. God had to teach me that money is not what will make me happy.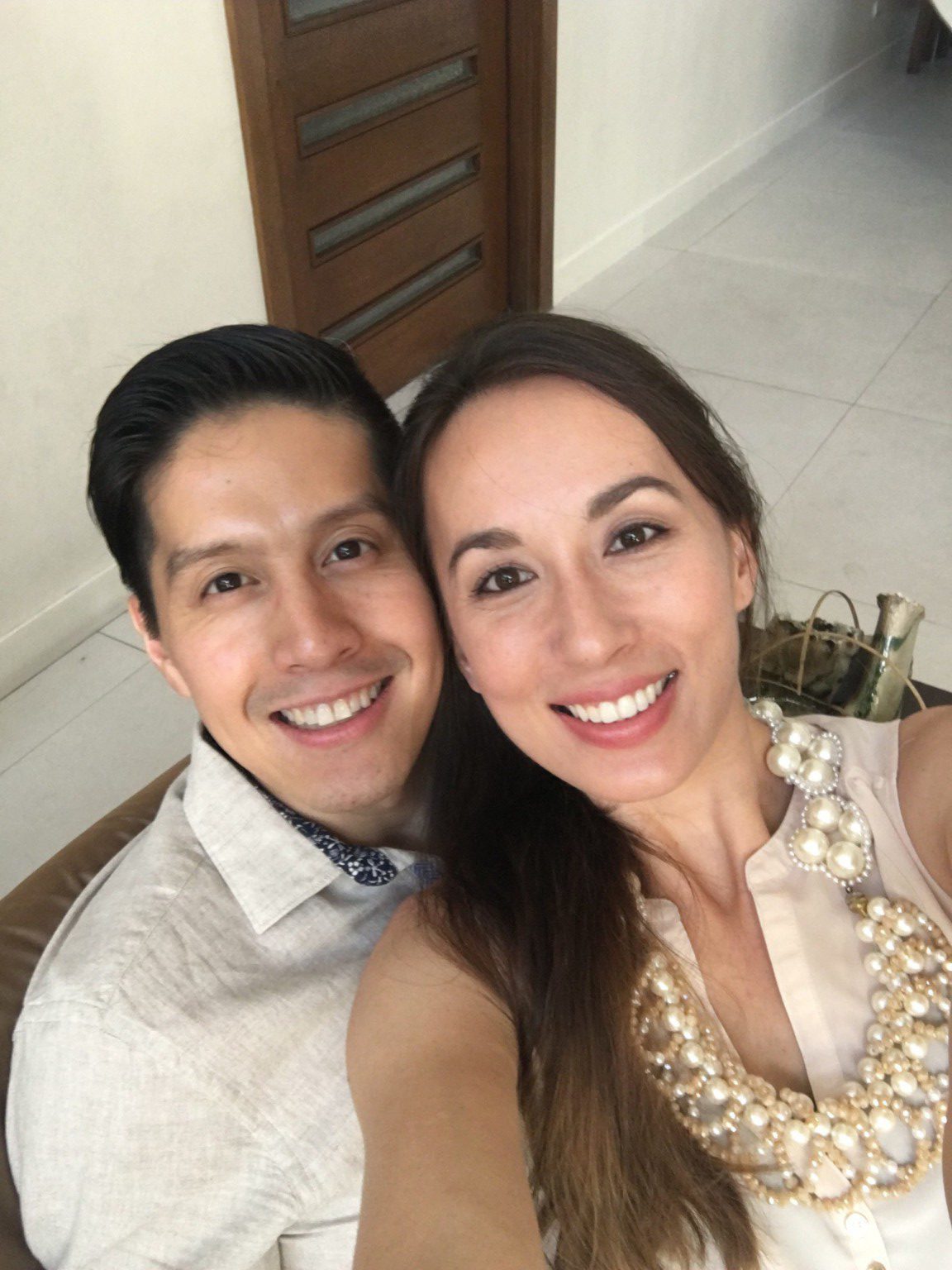 Instead, contentment was being able to say, Lord, I thank you and trust you through every season and circumstance. You are my bread, the sustainer of my soul. You have given me everything I need to accomplish your purposes and to know you. Thank you for providing for my needs. But more importantly, thank you for saving me from a life of sin and destruction. As long as you are with me, I can go through the deserts of life. Let me learn the principles you intend for me to embrace, so I will be prepared for your promised land. 
I have to remind myself of the same things even today. There will always be wants that I wrestle with. I pray you and I will be encouraged by the words of Paul: "Not that I speak from want, for I have learned to be content in whatever circumstances I am. I know how to get along with humble means, and I also know how to live in prosperity; in any and every circumstance I have learned the secret of being filled and going hungry, both of having abundance and suffering need. I can do all things through Him who strengthens me."
Philippians‬ ‭4:11-13